An exceptional site with charming hosts! I recommend The Happy Hamlet to all those who want a great and unique experience: beautifully decorated rooms with many delightful details, delicious meals, and Nicolas & Suska, prepared to cater to any needs their guests may have to make them happy. We spent a fantastic day in The Happy Hamlet and we already dream of returning soon! — LAURA P., Communications agency director, Bordeaux

More lovely guest reviews >>
---
Not Your Ordinary Meeting Room.
---
We've all done the exercise of hours-long meetings in the auditoriums. The Hamlet invites you to take your next get-together outside the ordinary facilities, in a setting that encourages your mind to flow and an ambiance.. to remember, to say the least.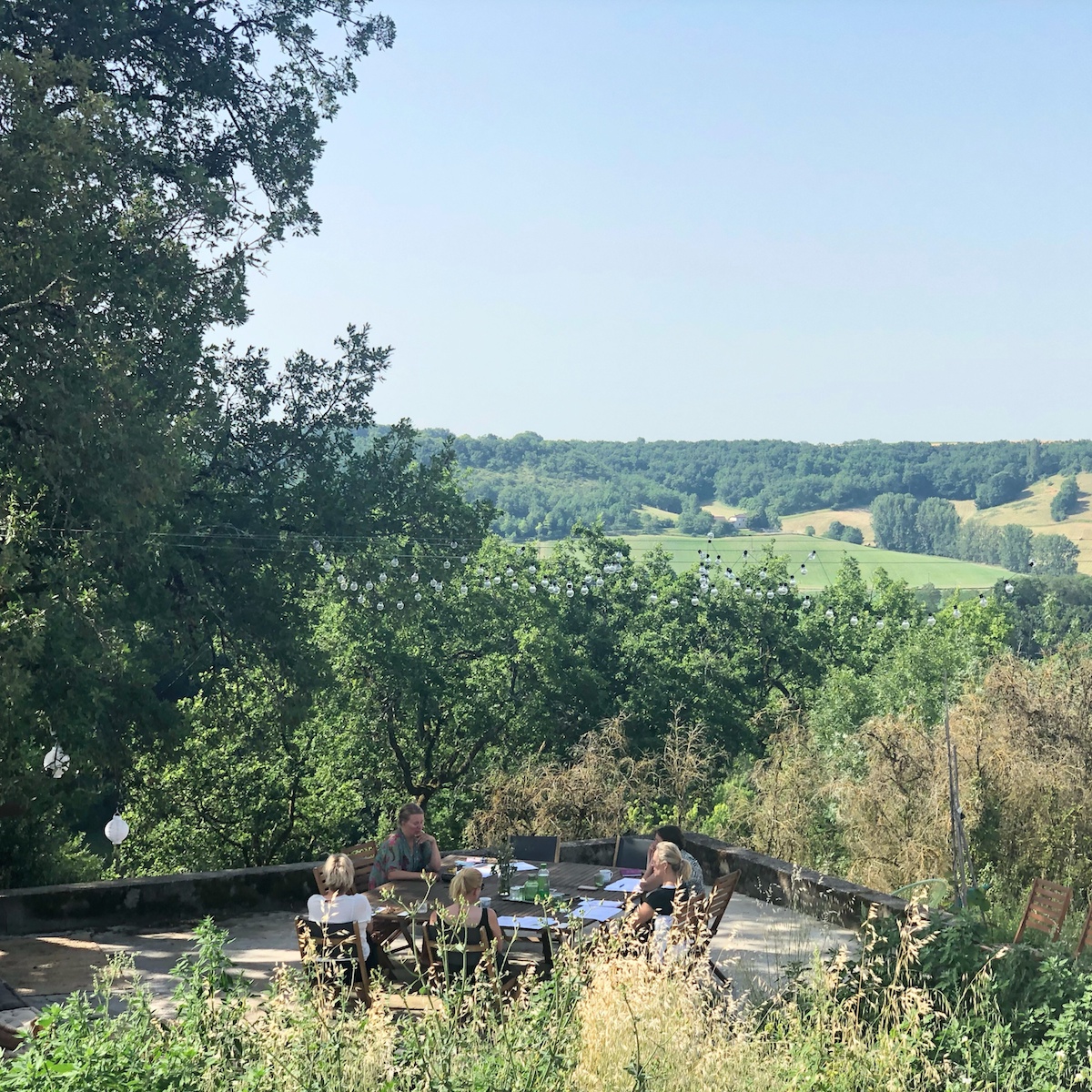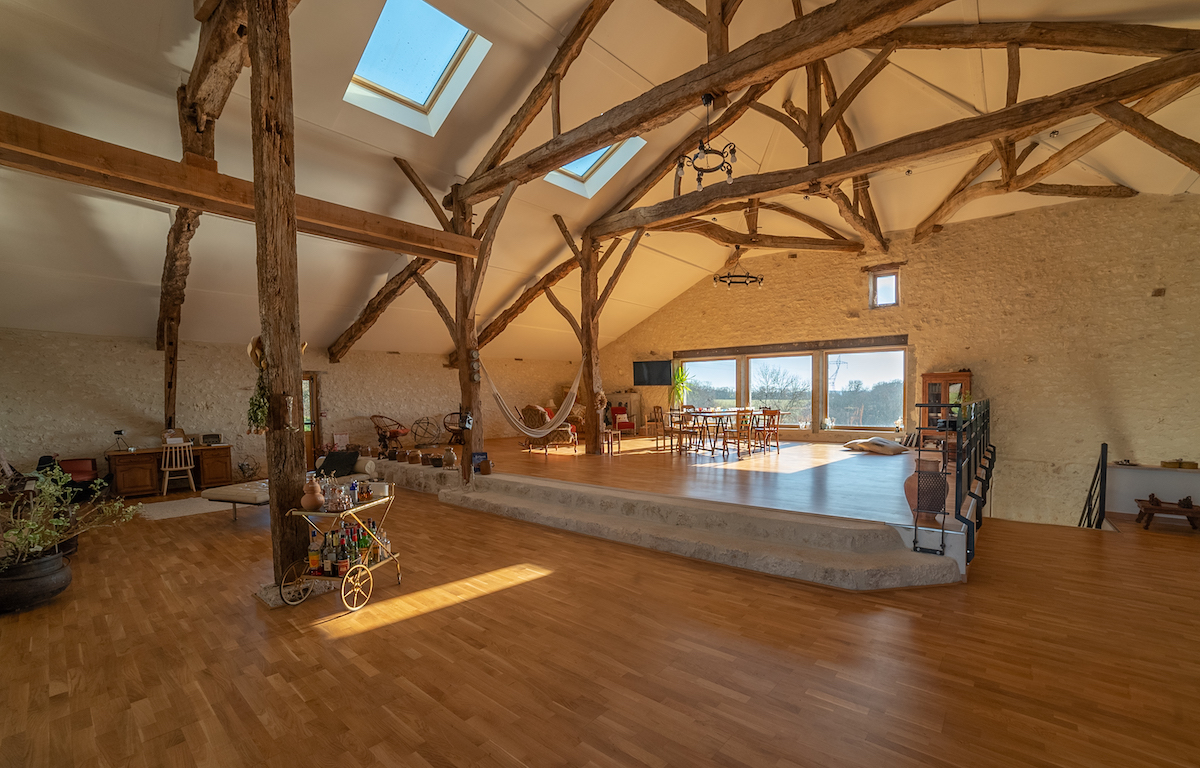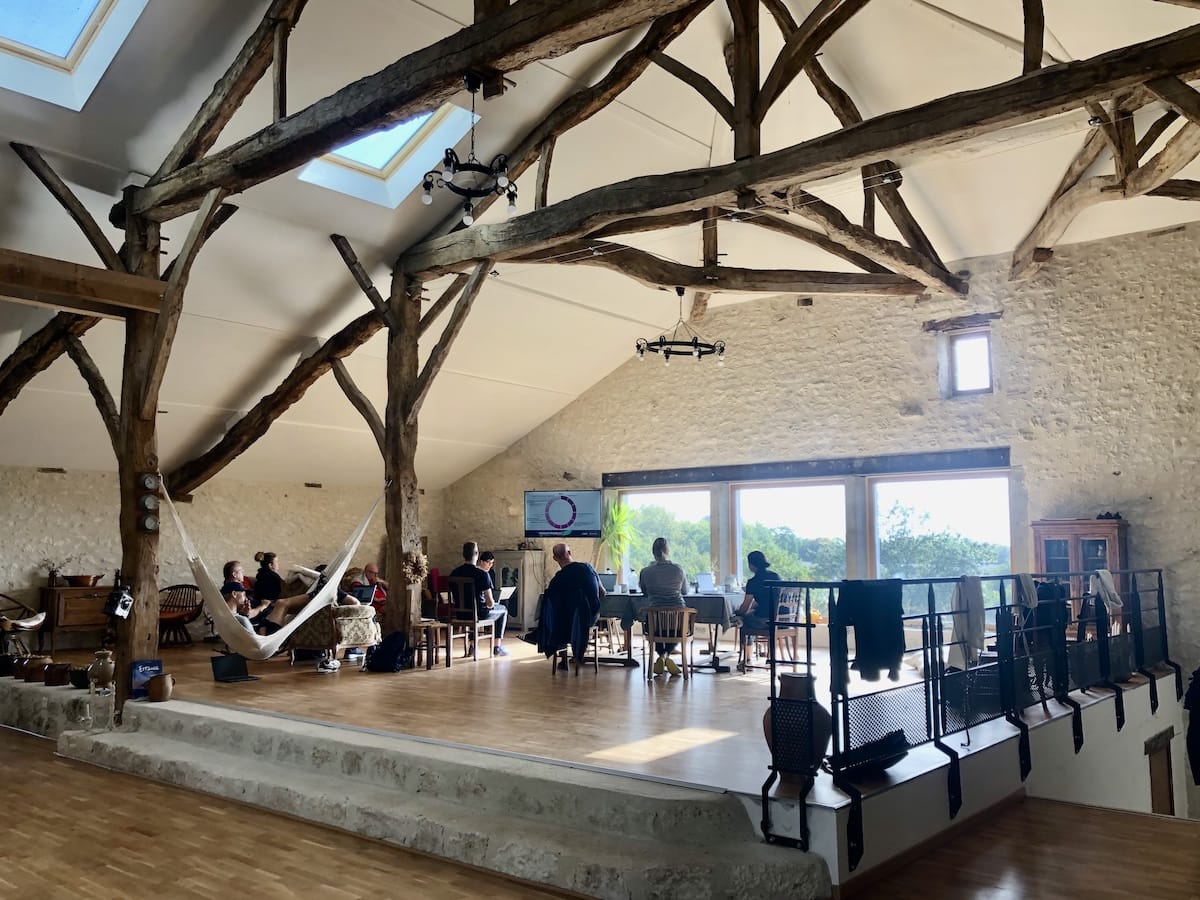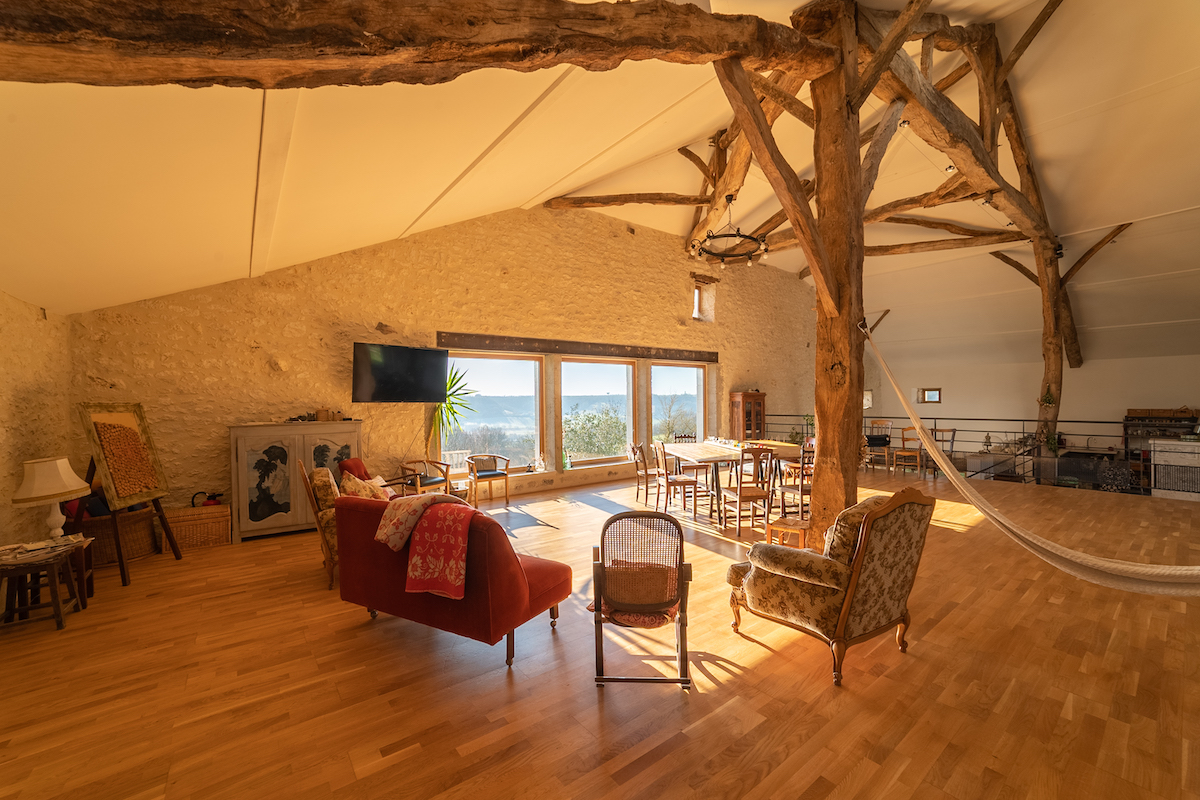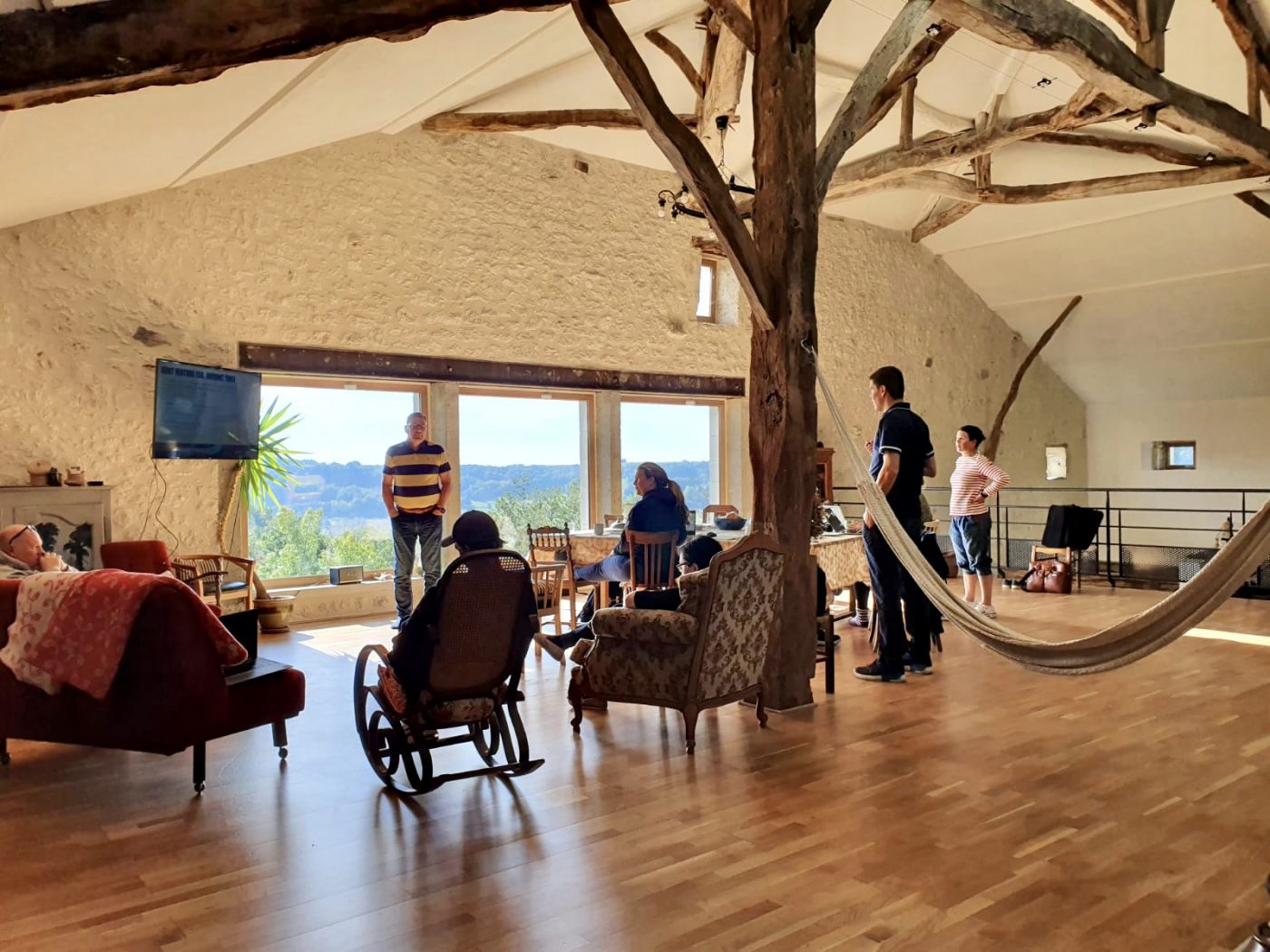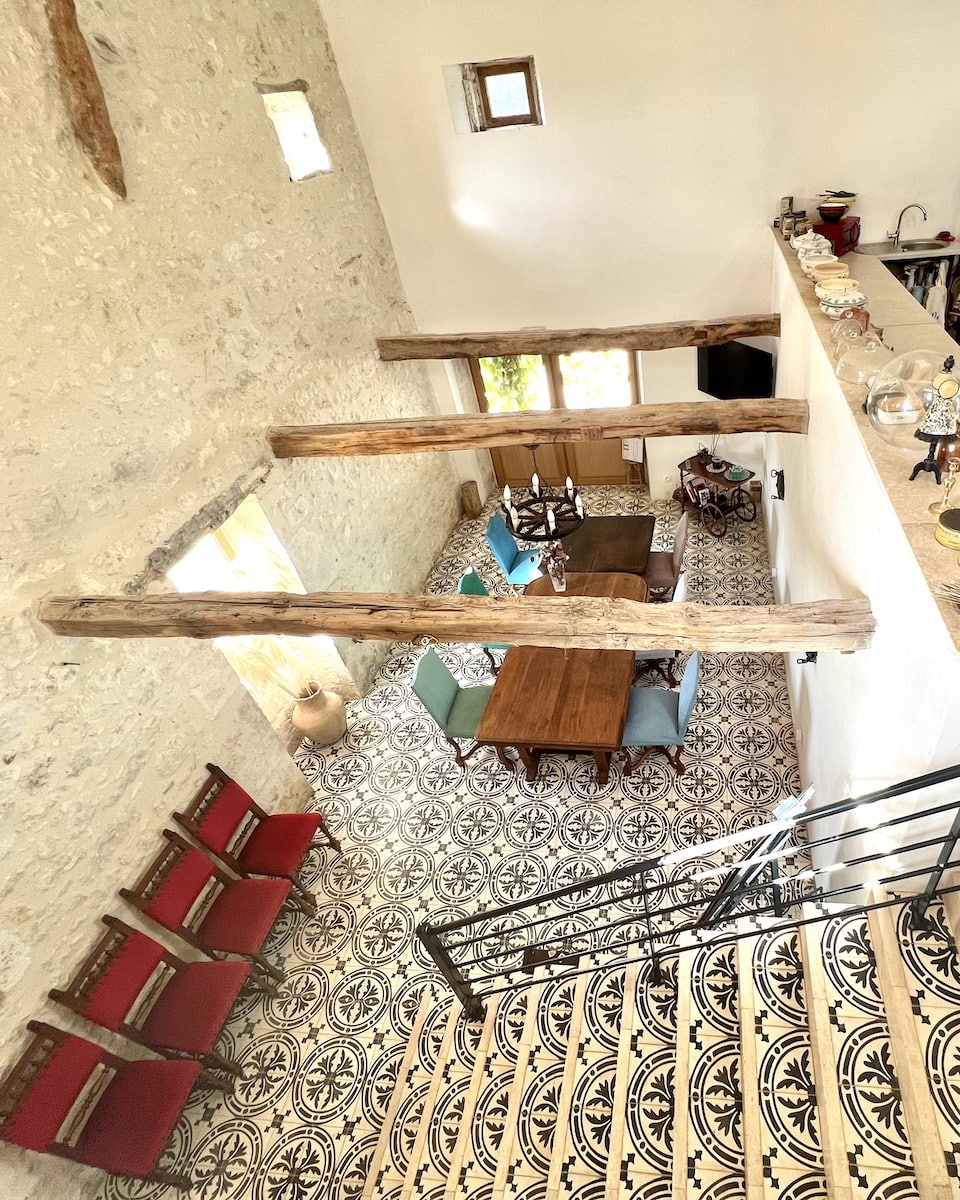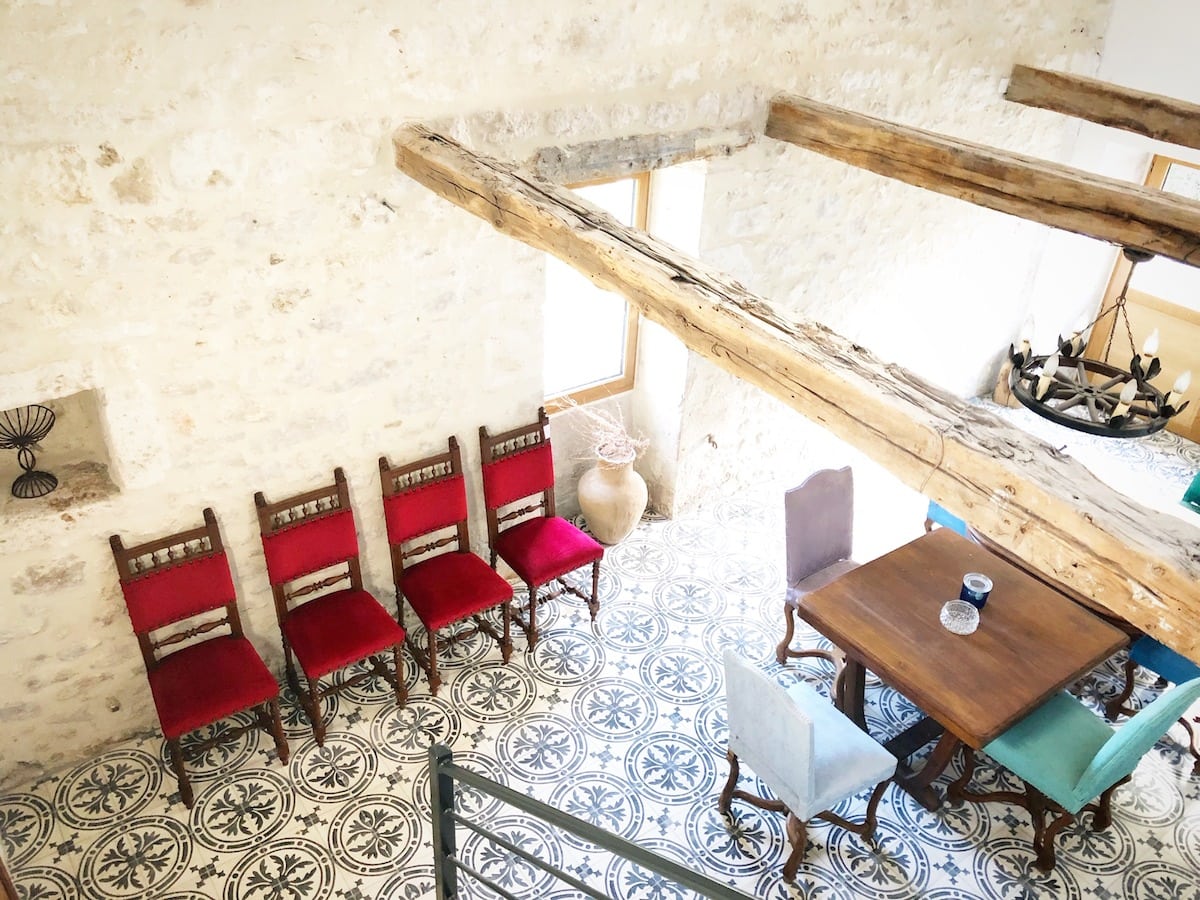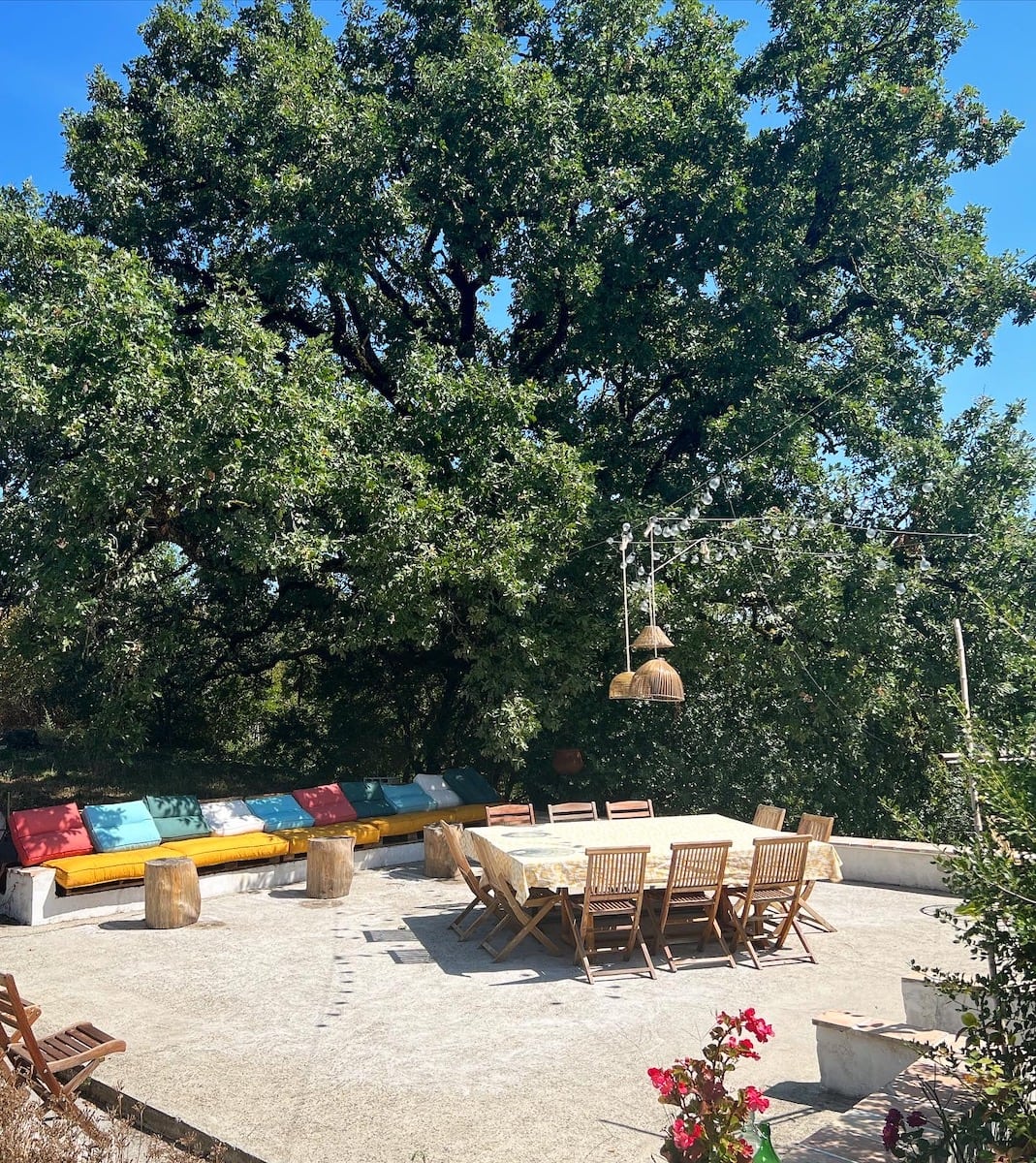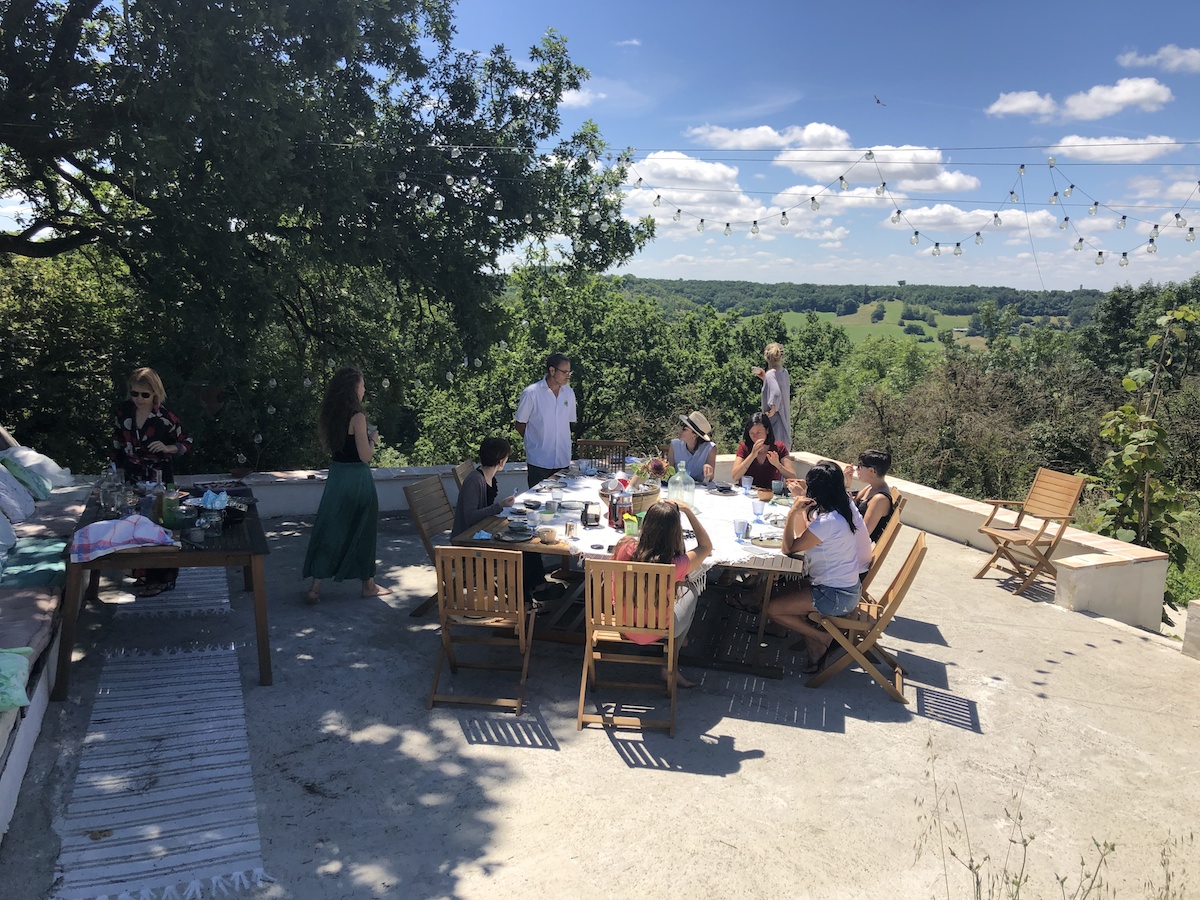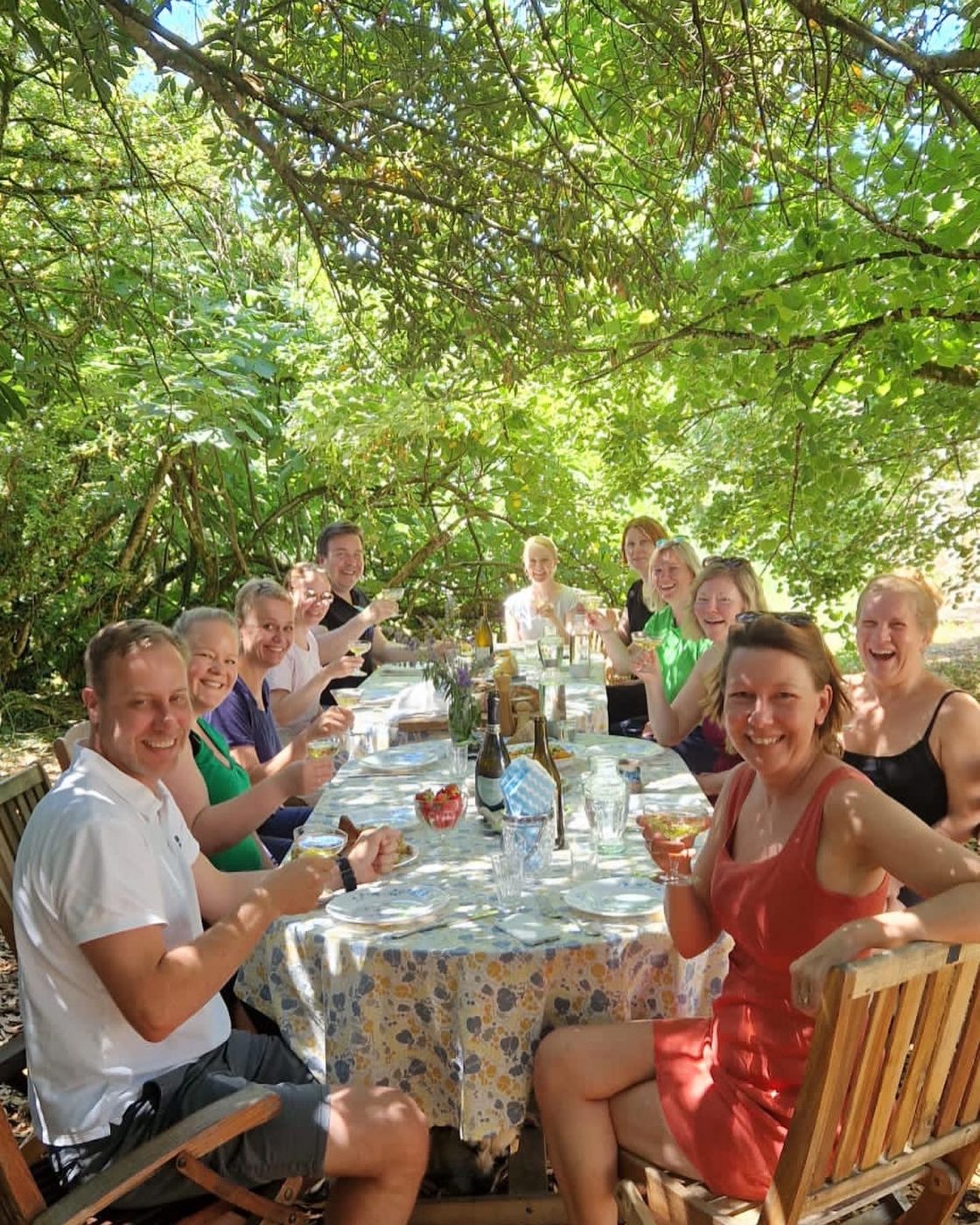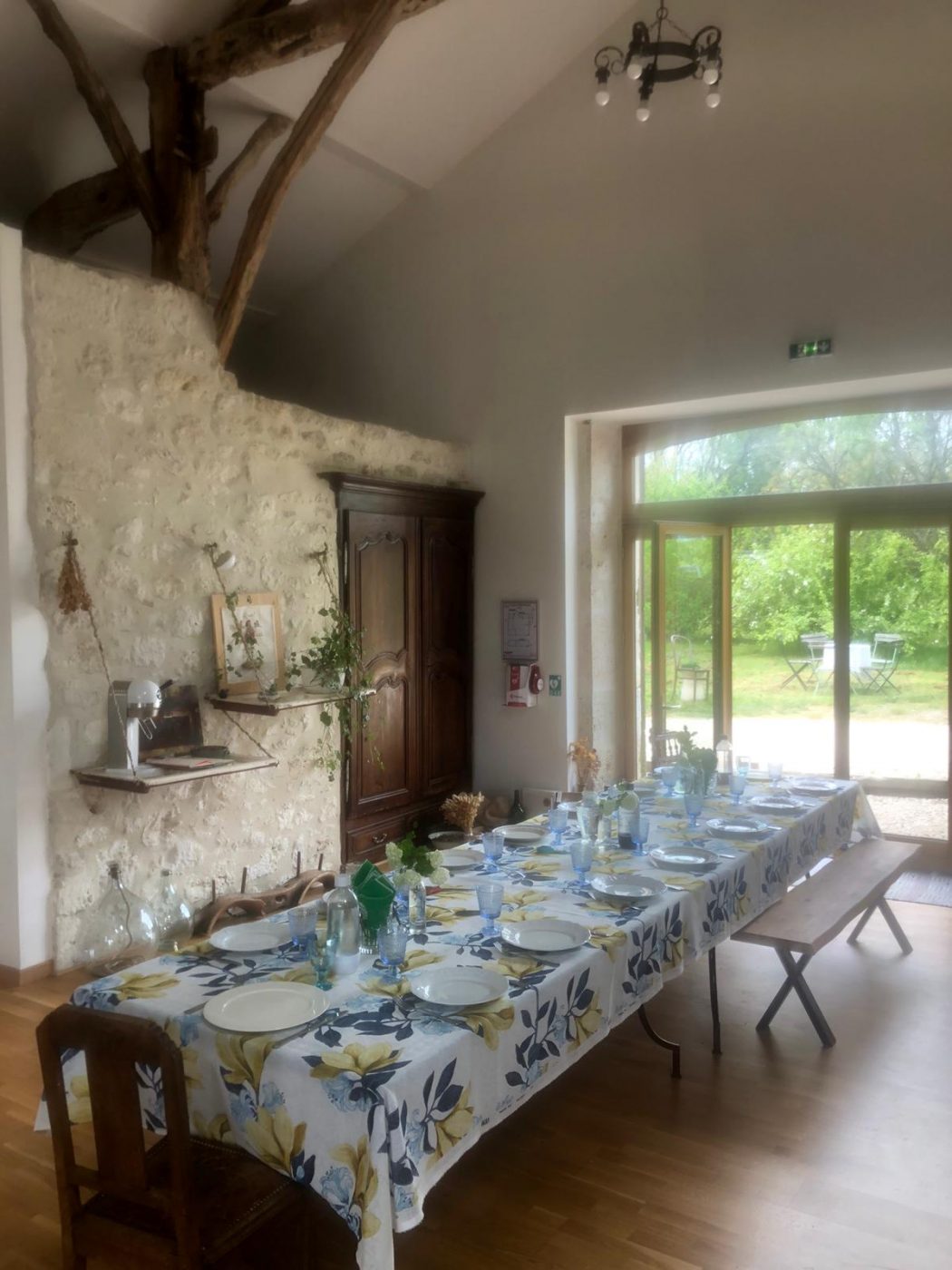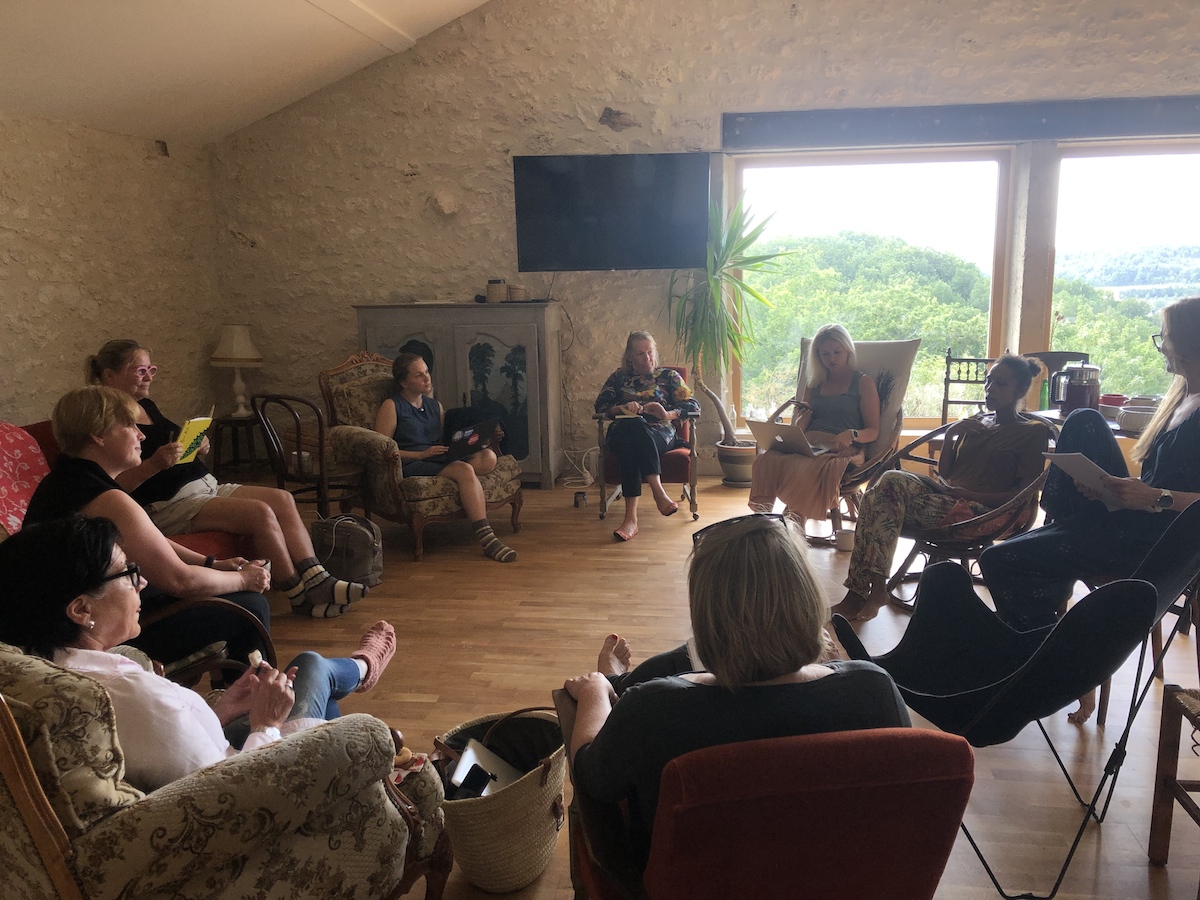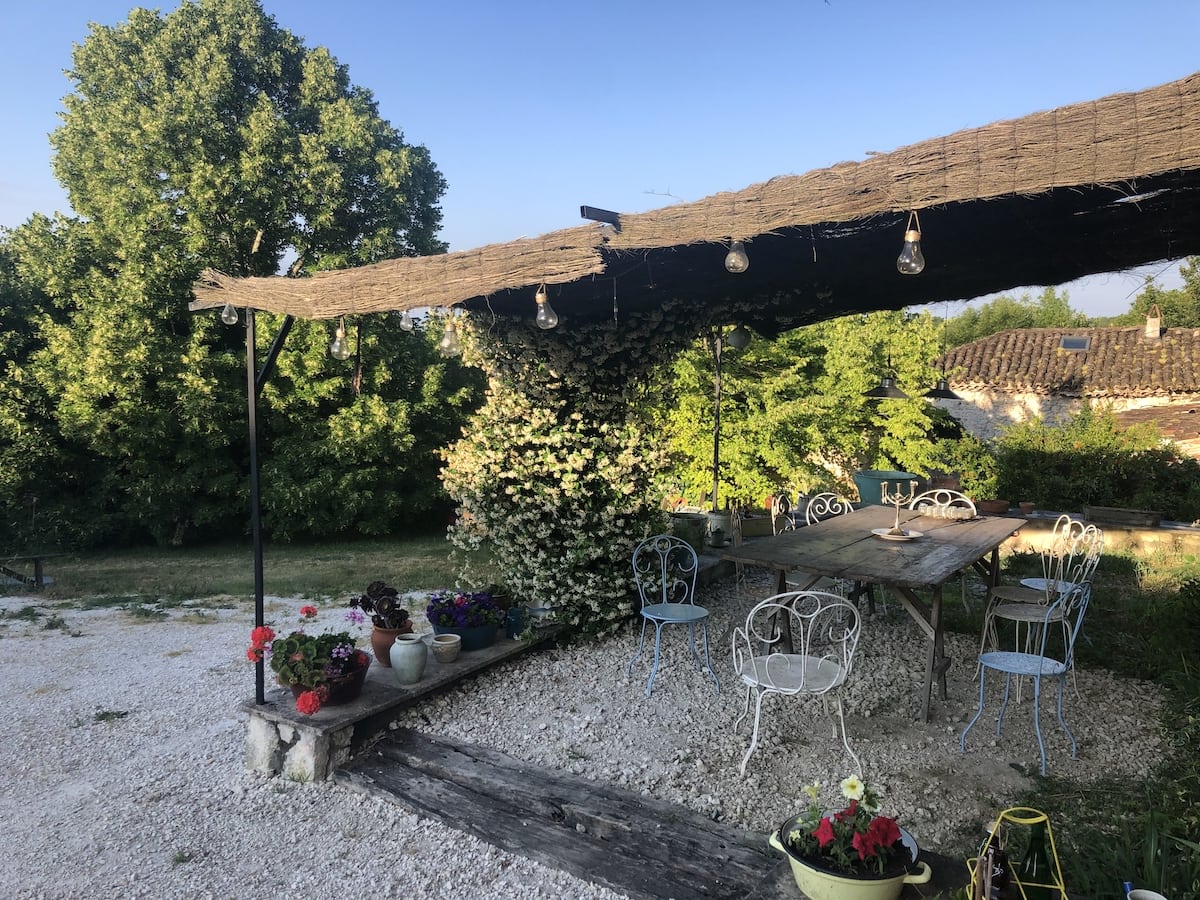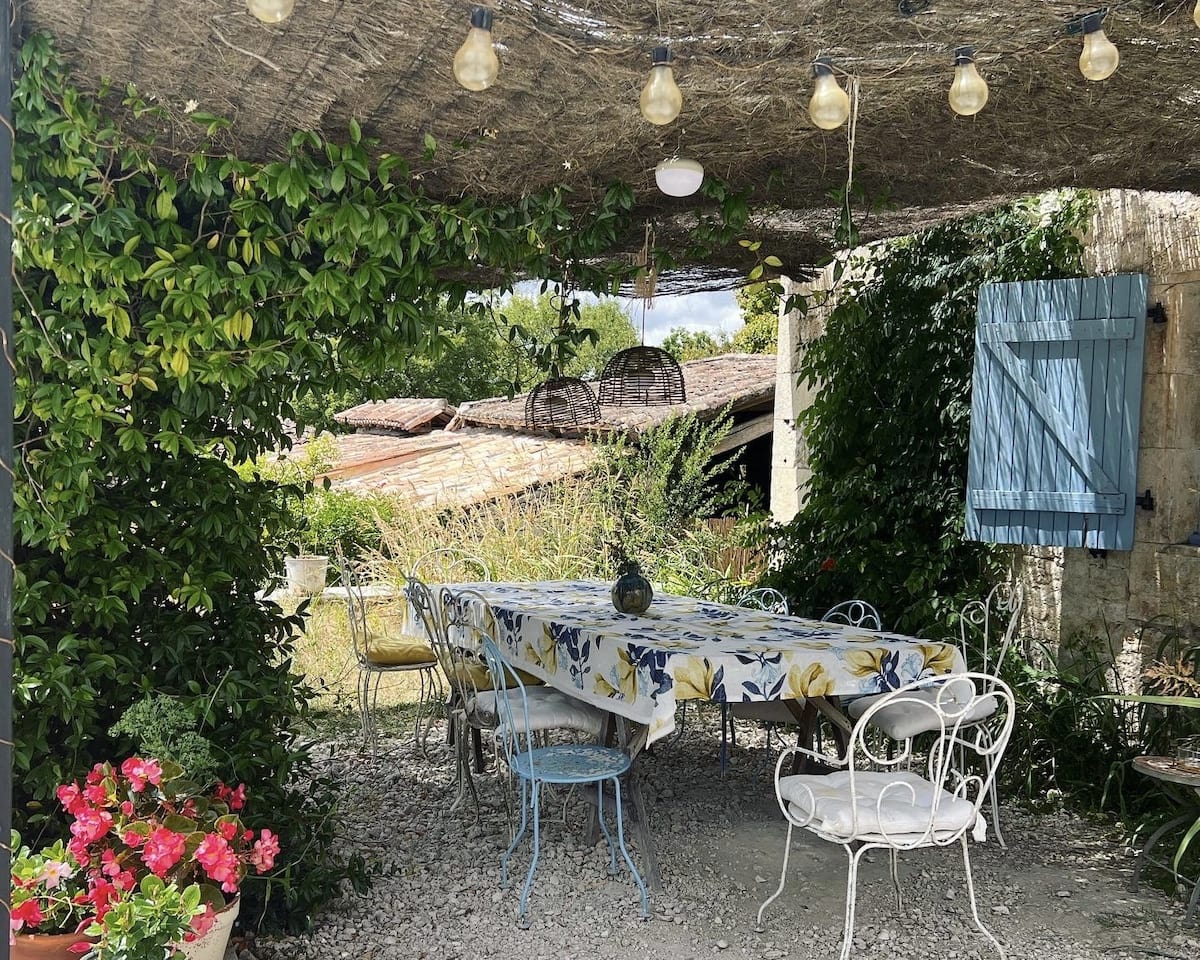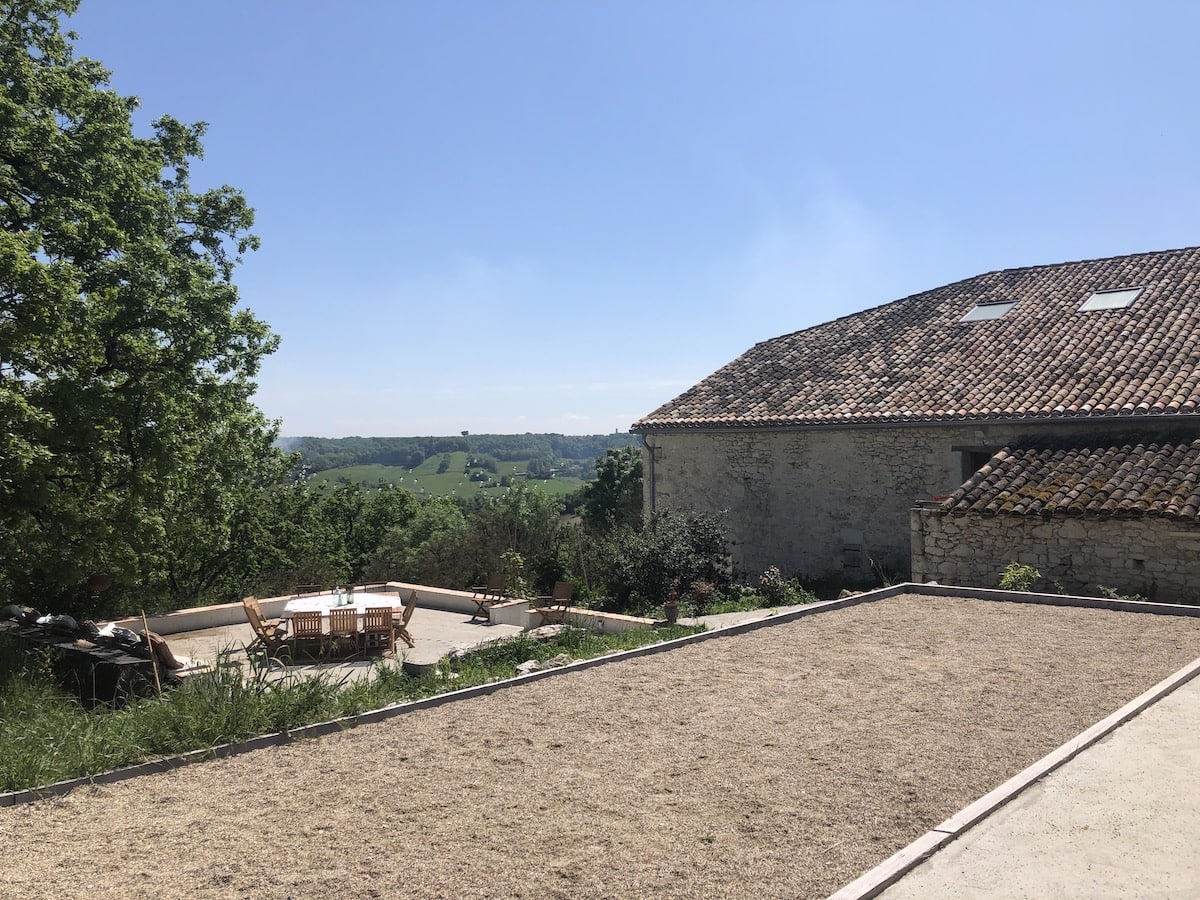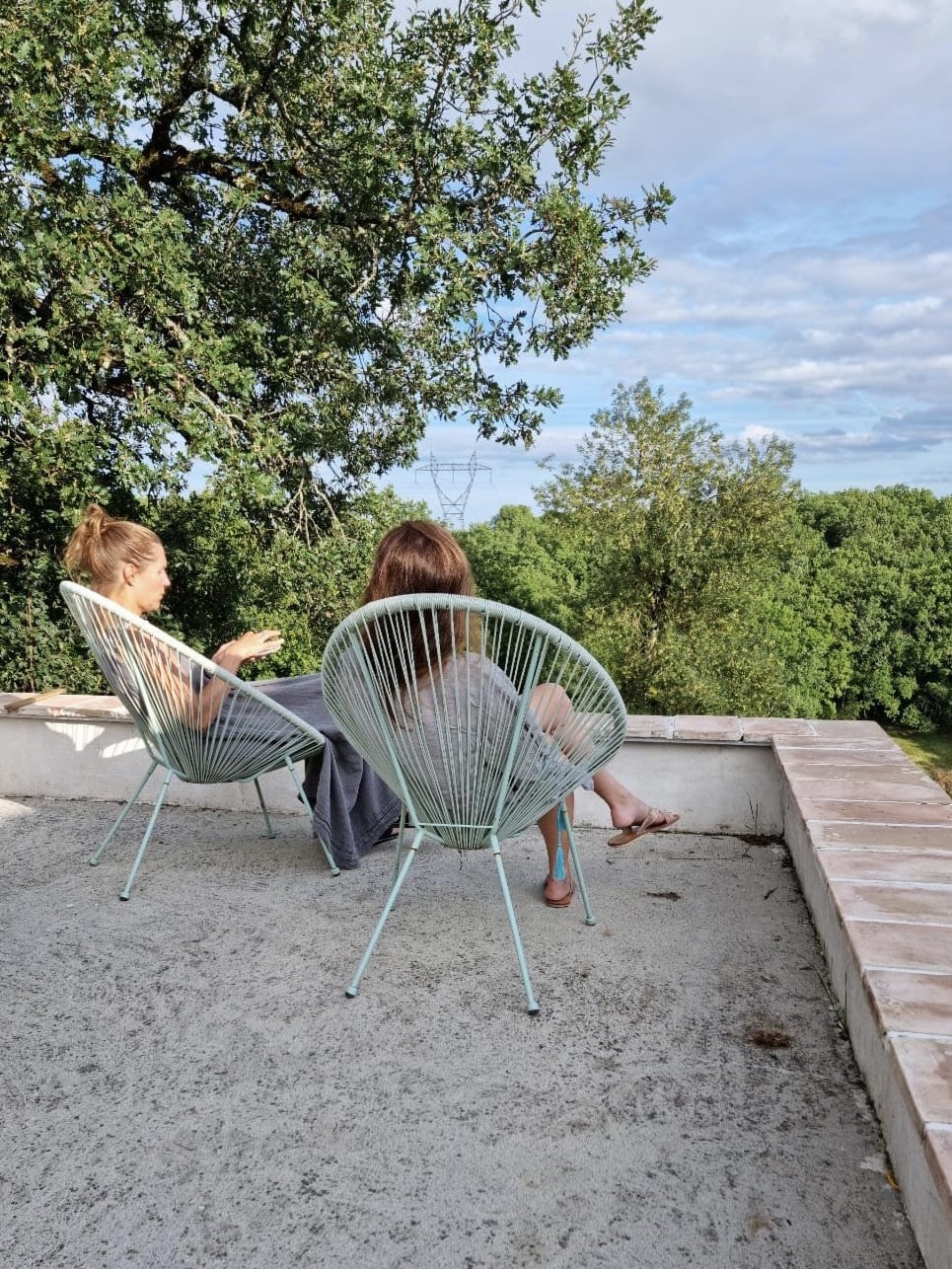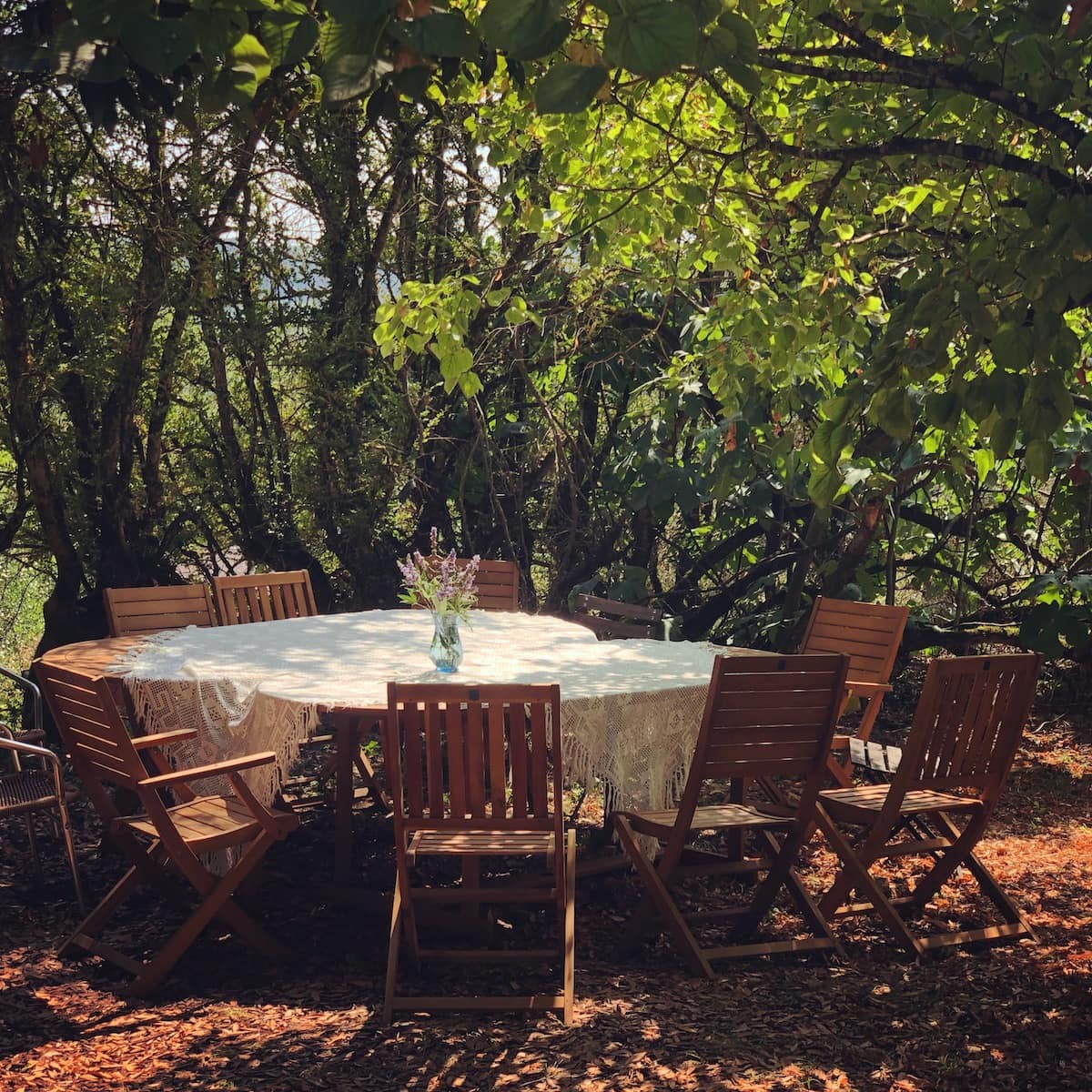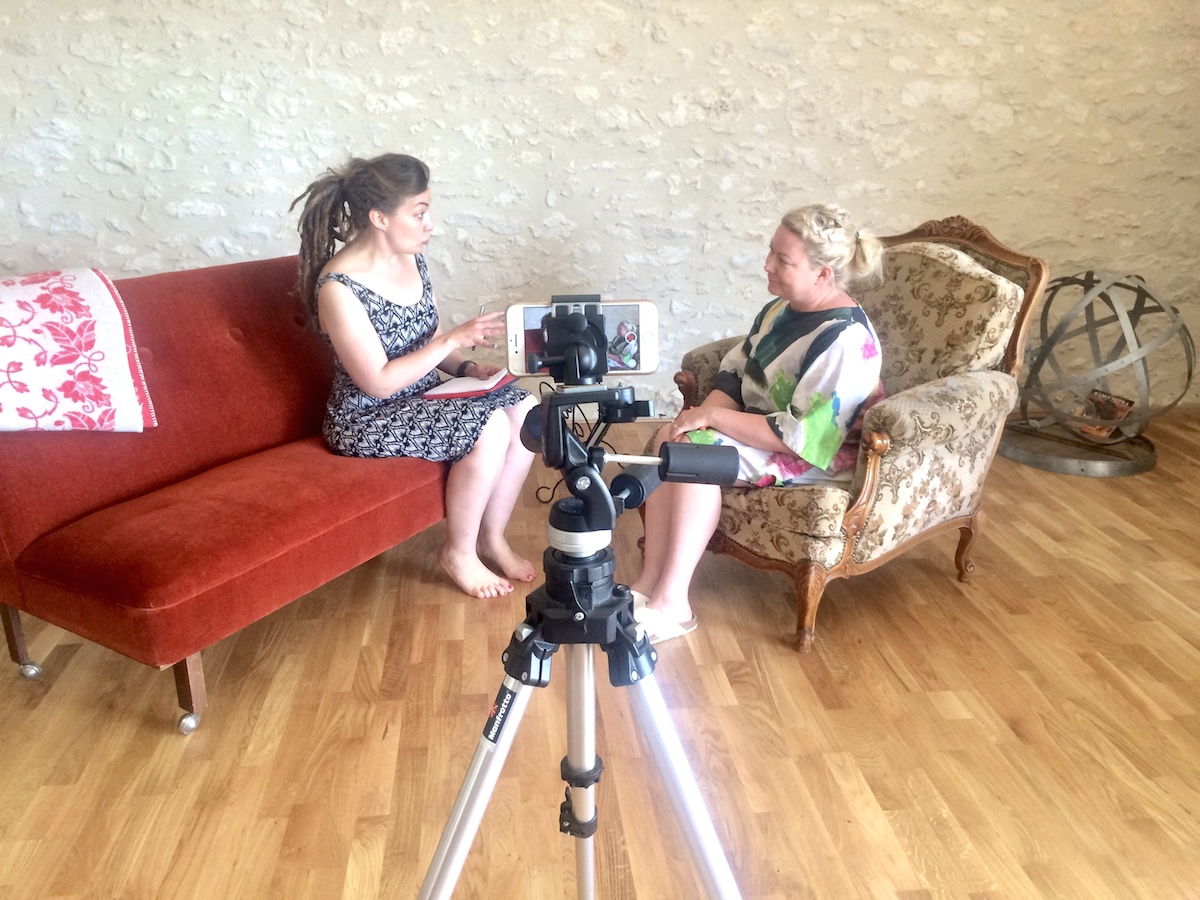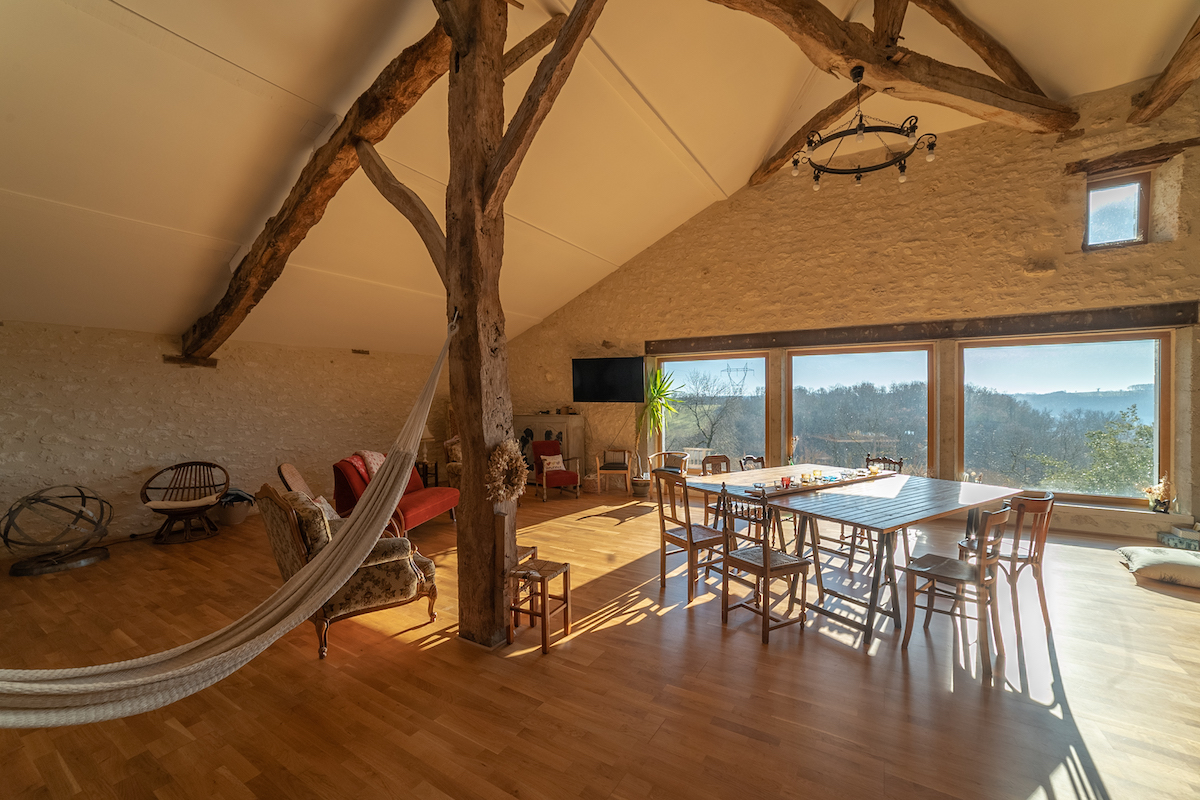 The Meeting Facilities
The Hamlet offers plentiful options to hold your meeting. Anything from a formal setting in the barn with magnificent views to an informal laid-back atmosphere by the natural pool or many of the outdoor terraces – it's for you to choose.
Despite the rustic ambiance you will have all the modern amenities for a successful meeting. And most importantly, we can assure you'll be in peace and calm, so that you will be able to concentrate on exactly what you came for.
Seated (formal meeting): 20
Seated (workshop/dinner): 30-40
Standing (cocktail/party): 57
360 m2 (3900 sq ft) of modifiable open space
Wifi
TV-Screens (57″ and 43″)
Projection screen (200x200cm)
Apple-TV + HDMI cable
Loudspeaker (Marshall, bluetooth)
Whiteboard + pens
Paper board + dry erase markers
School board + chalks
Presenter remote
Power outlets and extenders
Meeting supplies
360 m2

Meeting, Lounging & Dining areas

Platform with views

Bar for snacks
Fully equipped kitchen
Piano
Hamac, daybed, large cushions for resting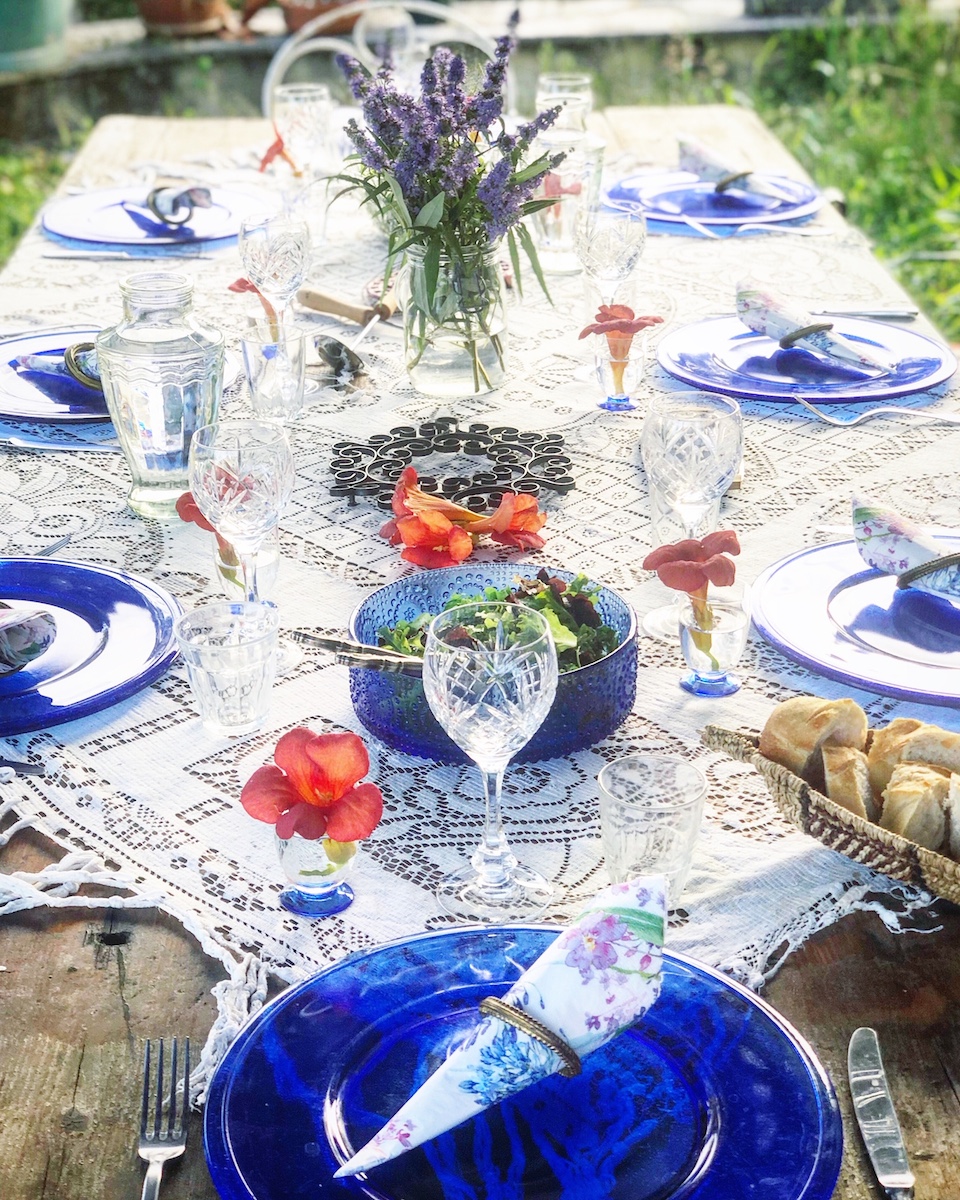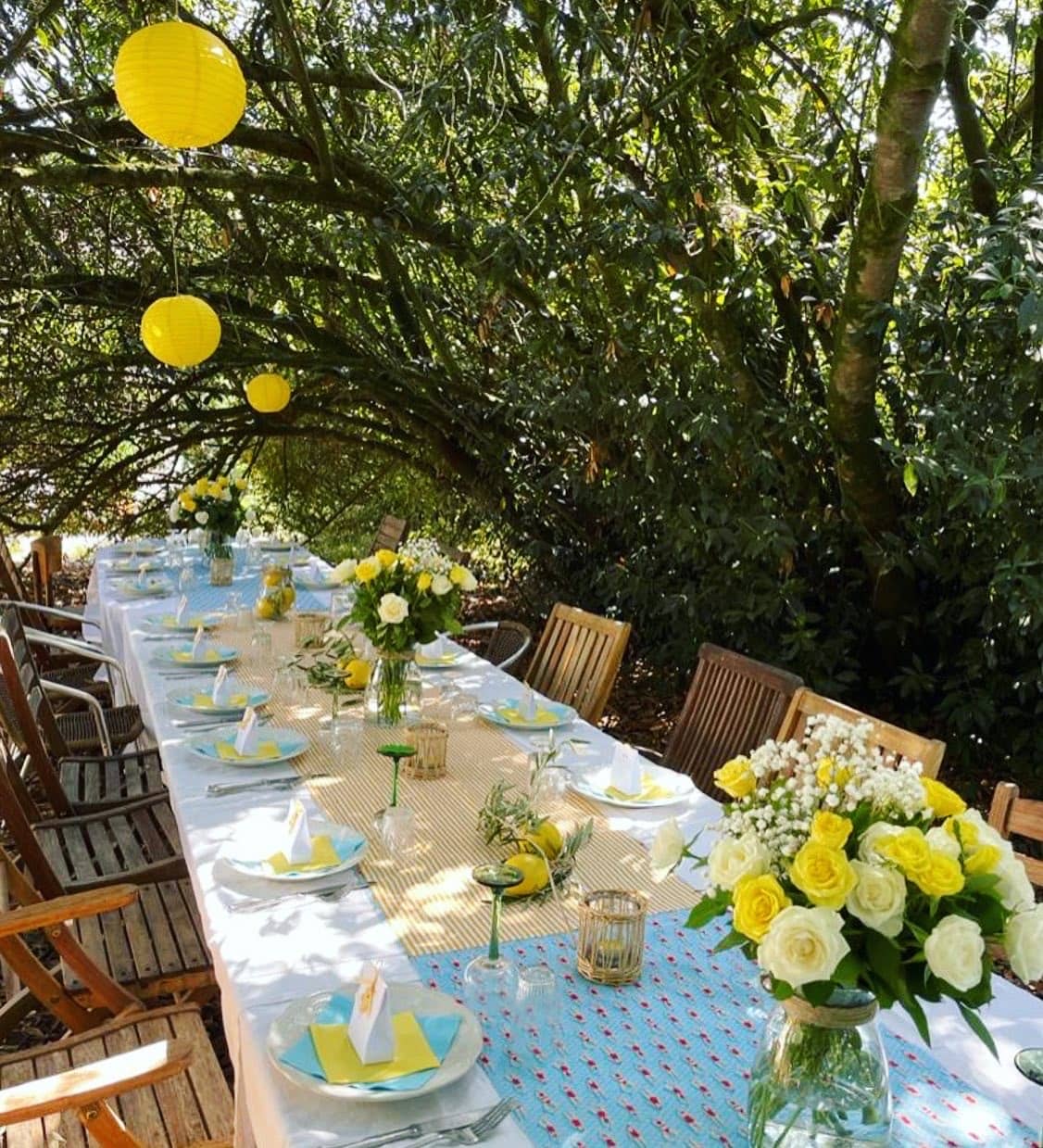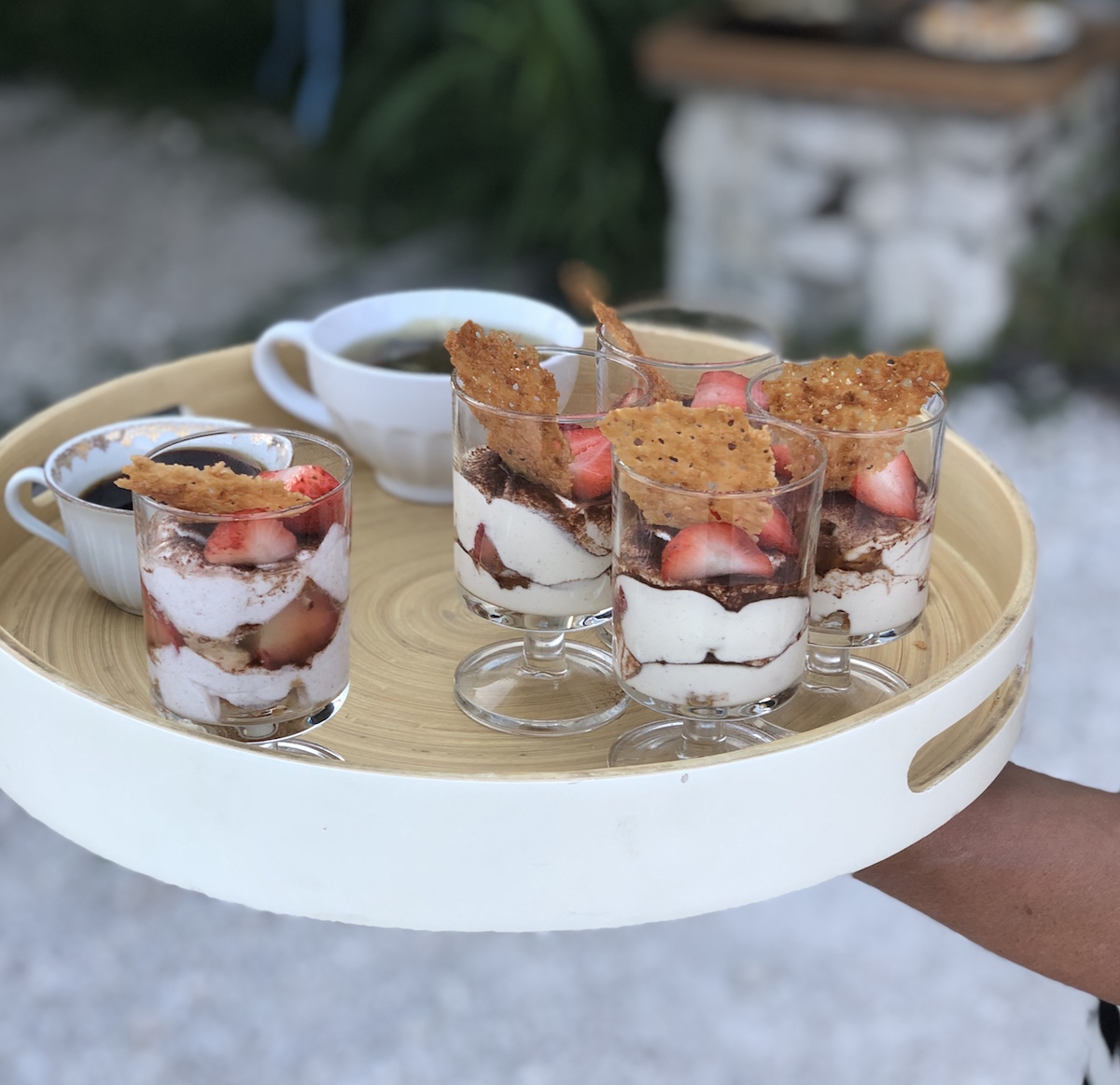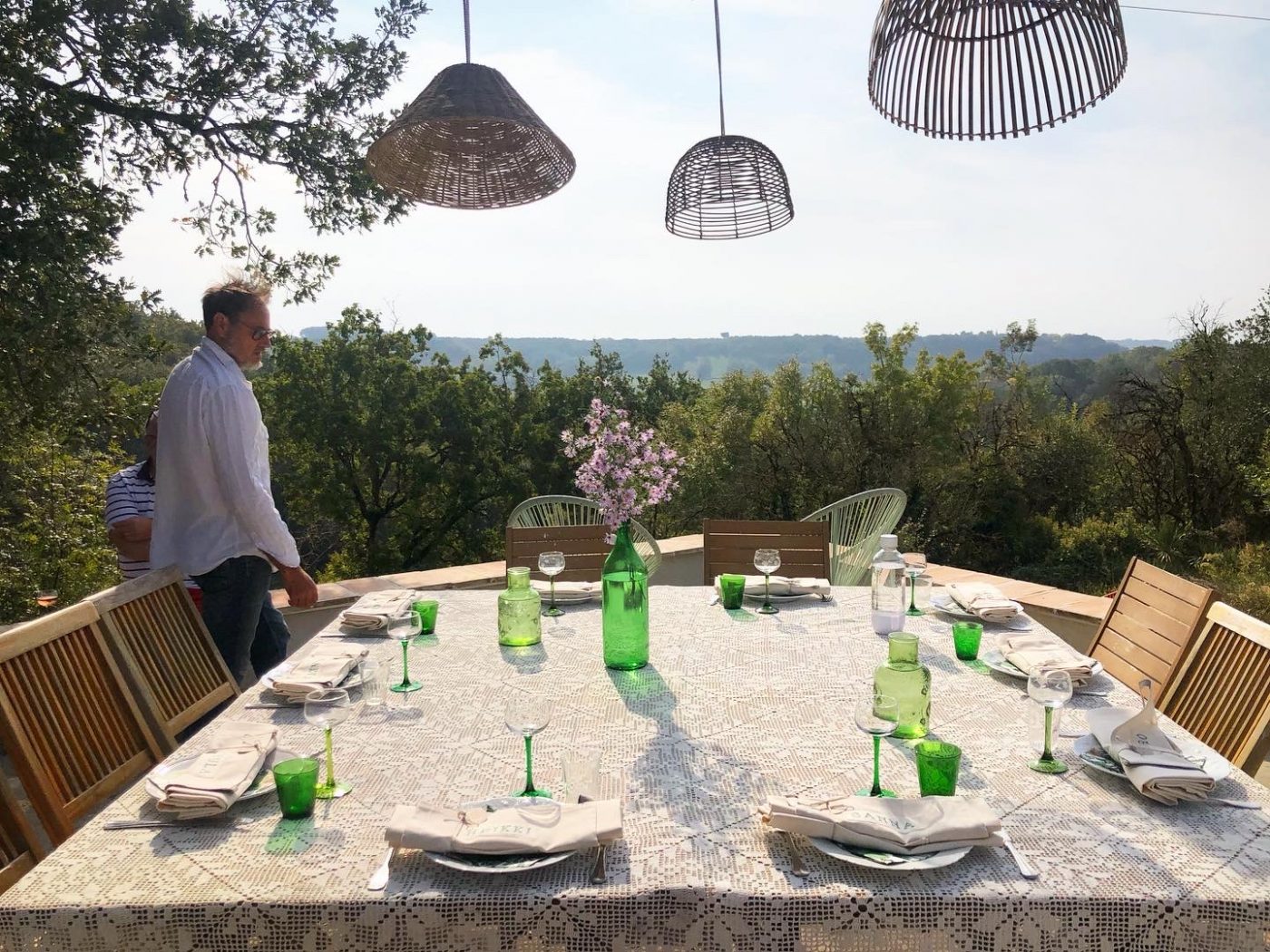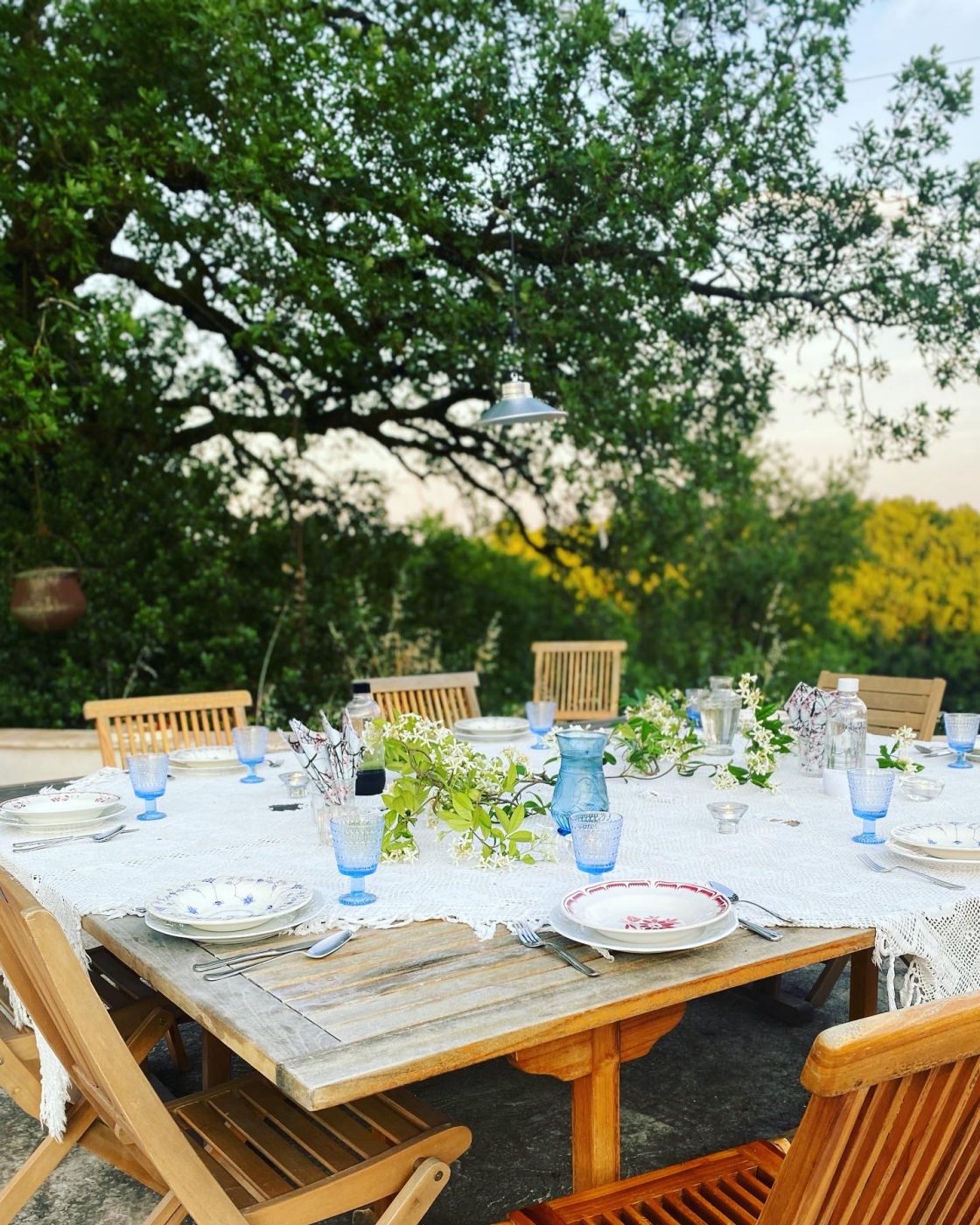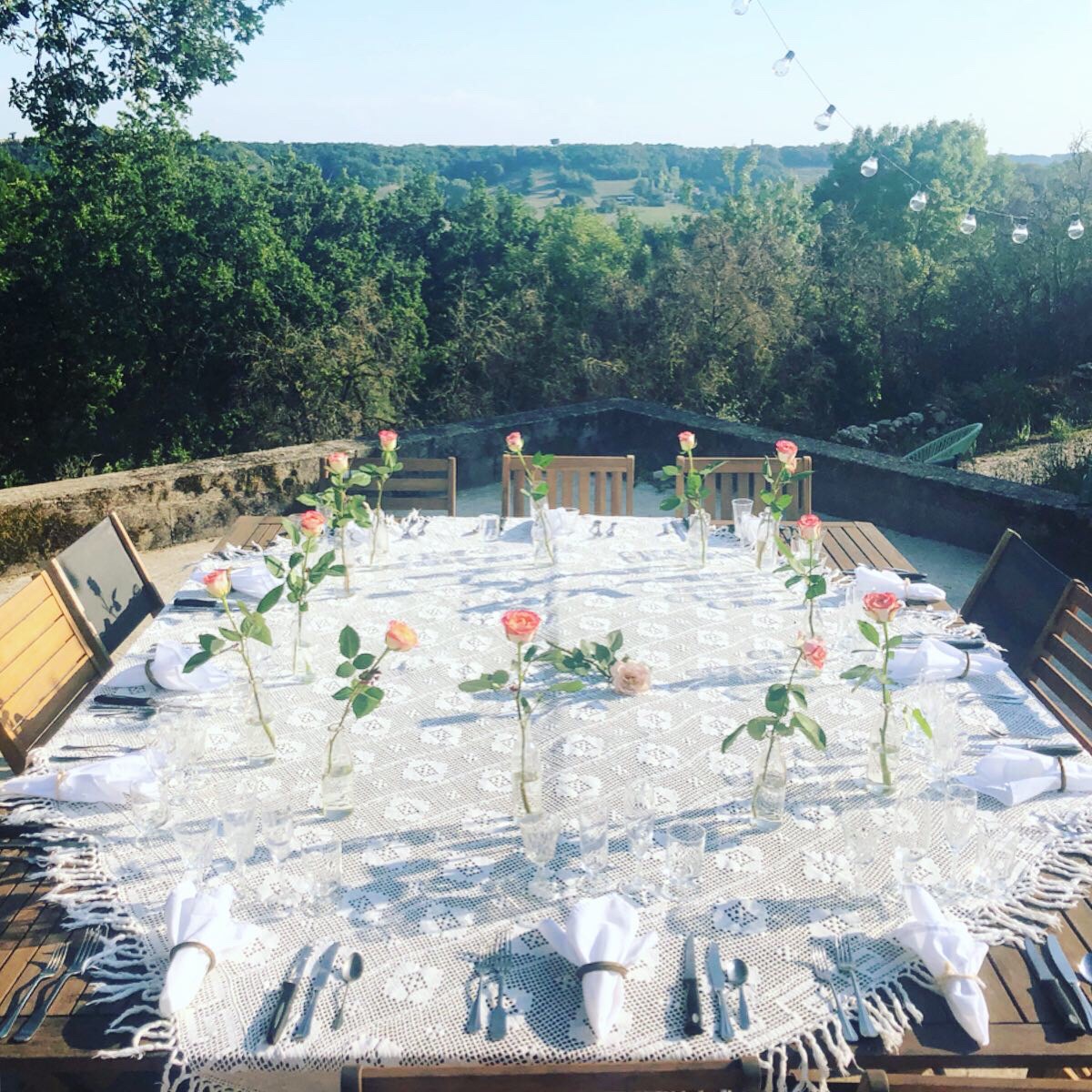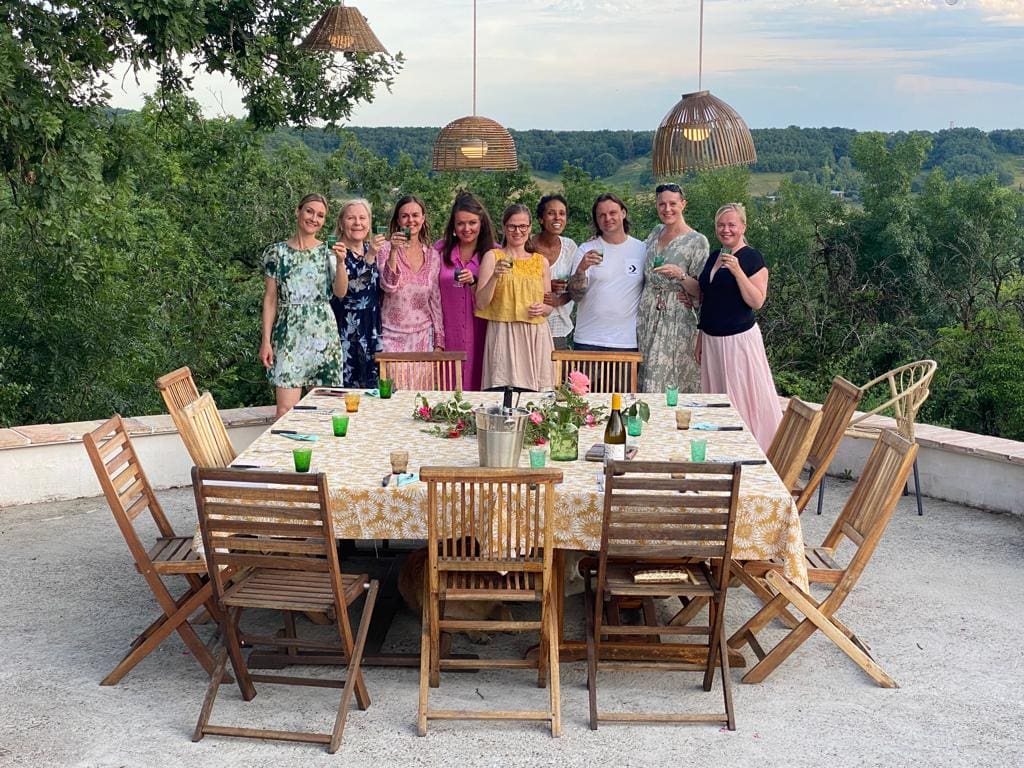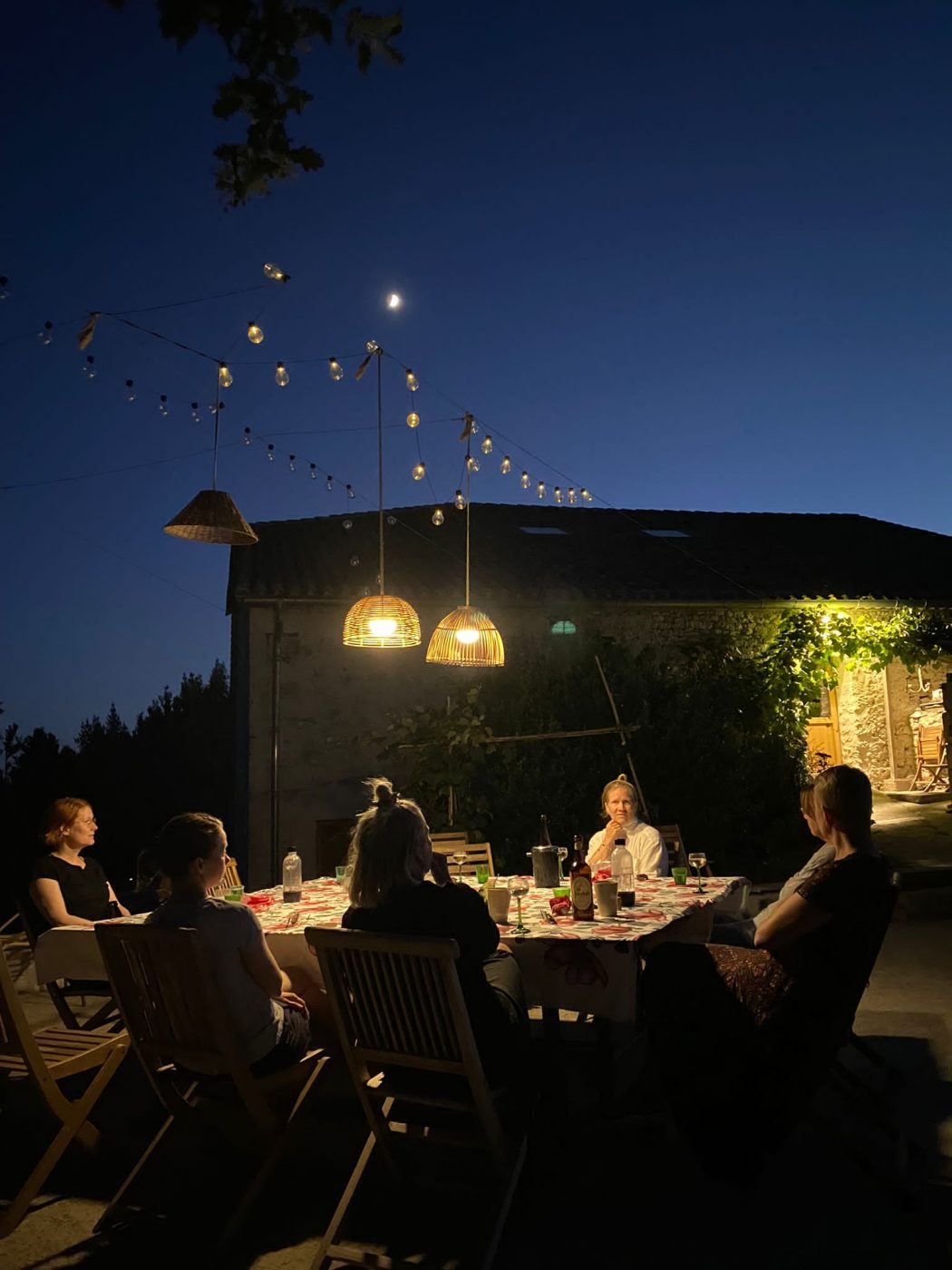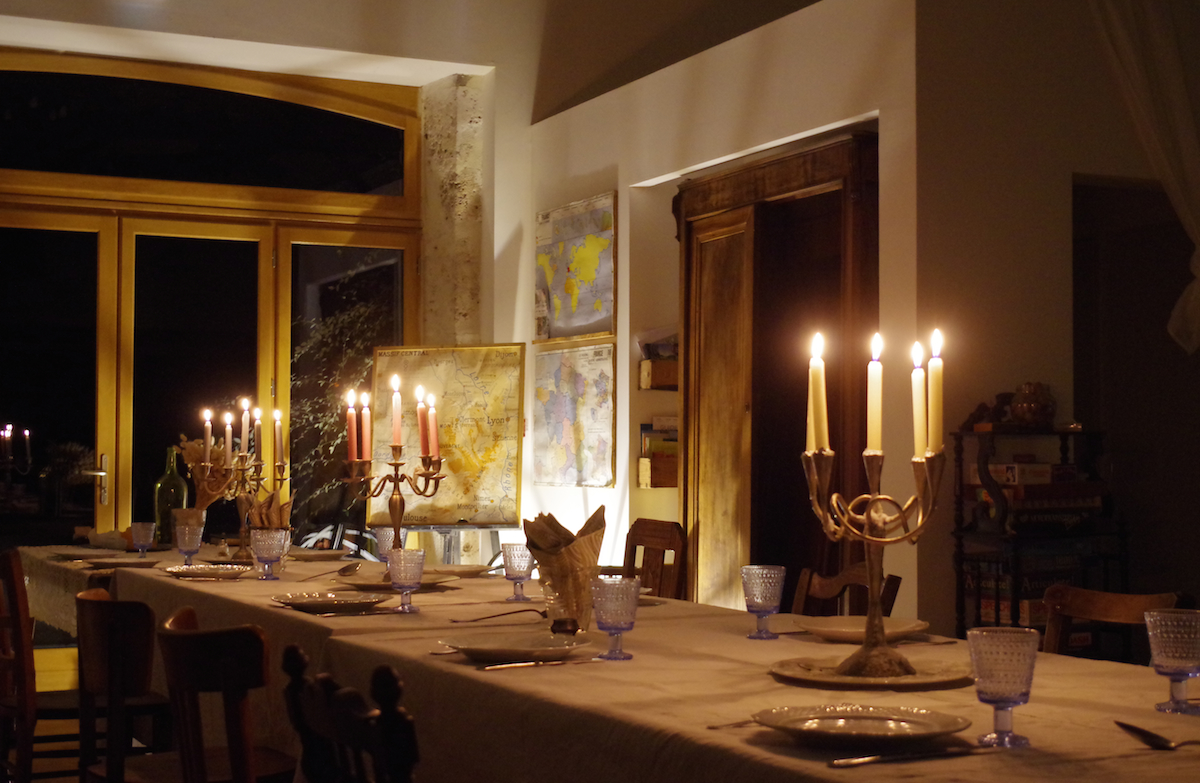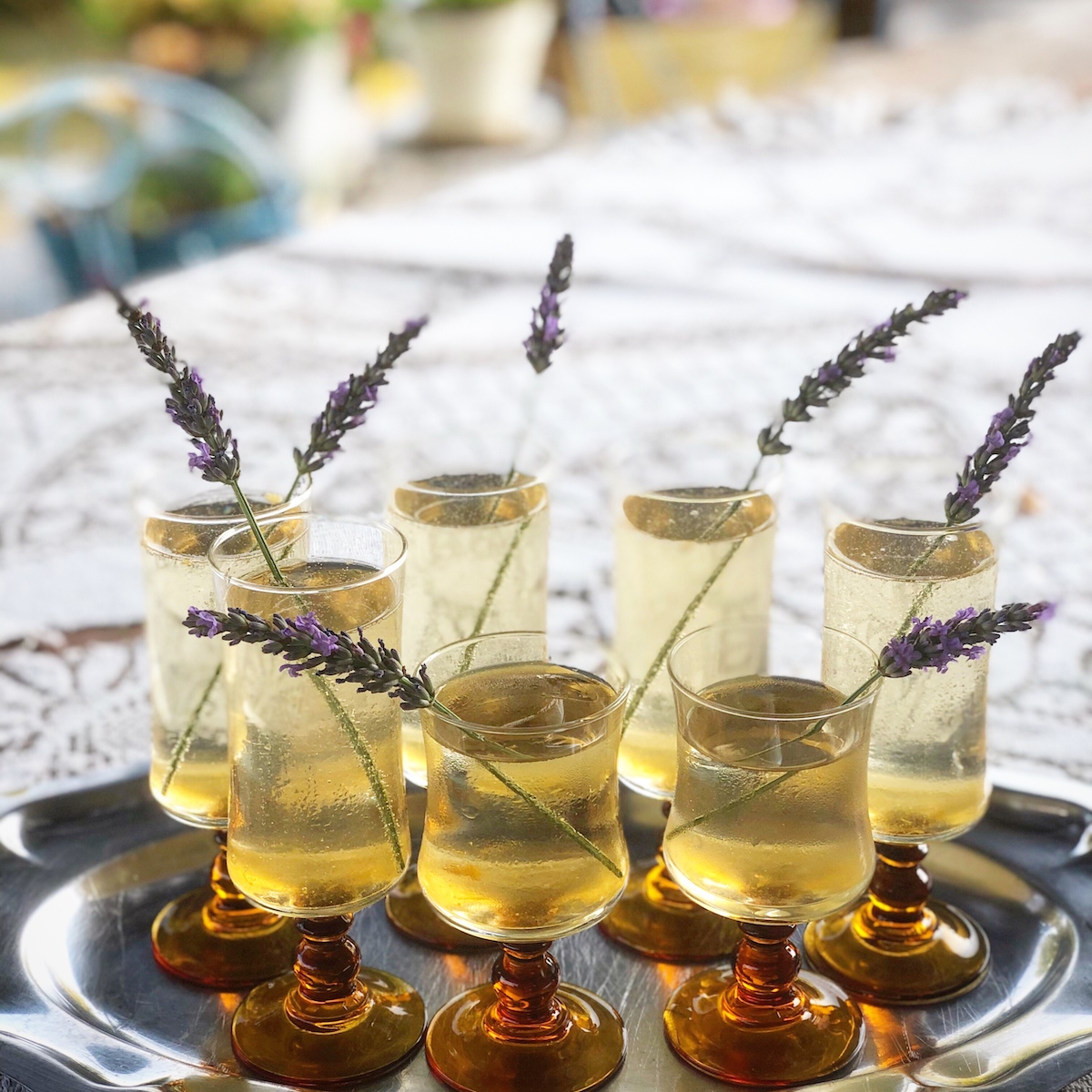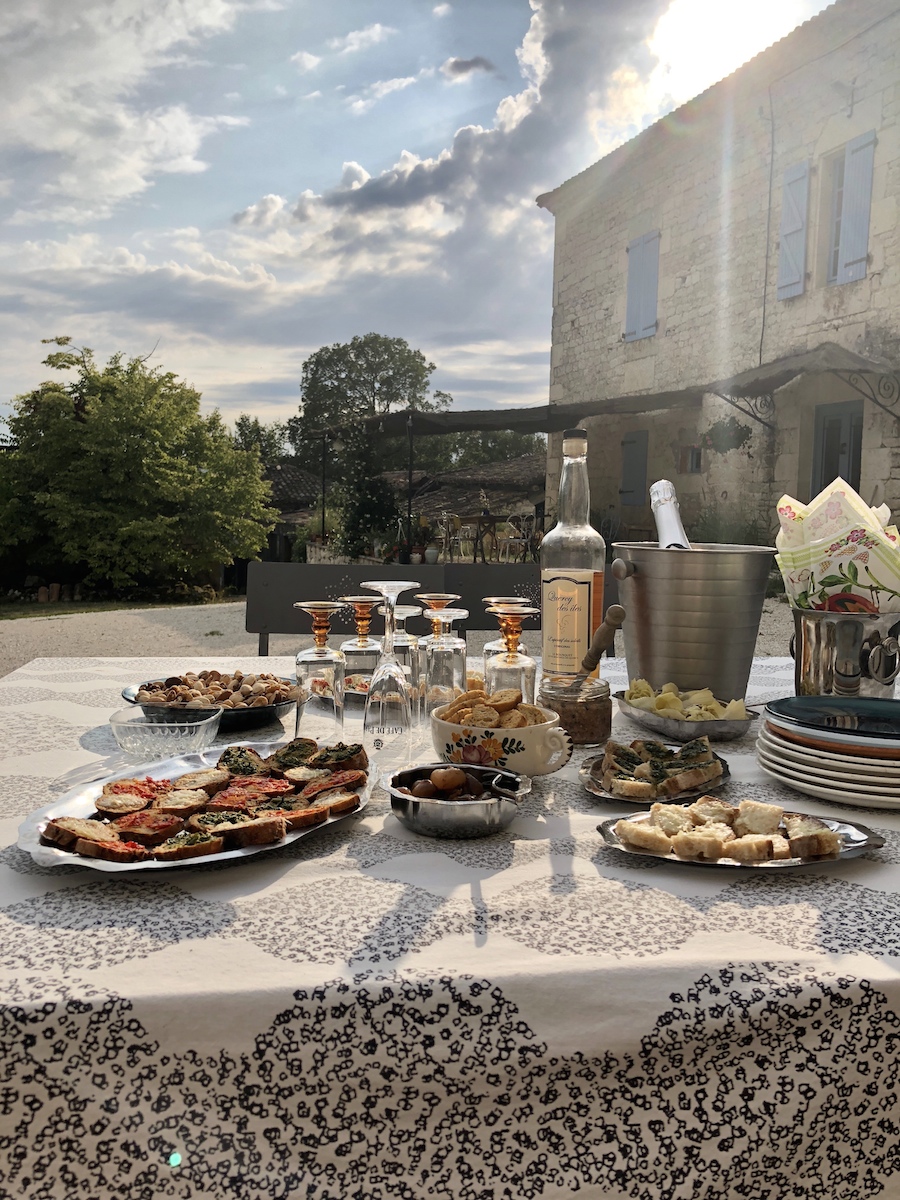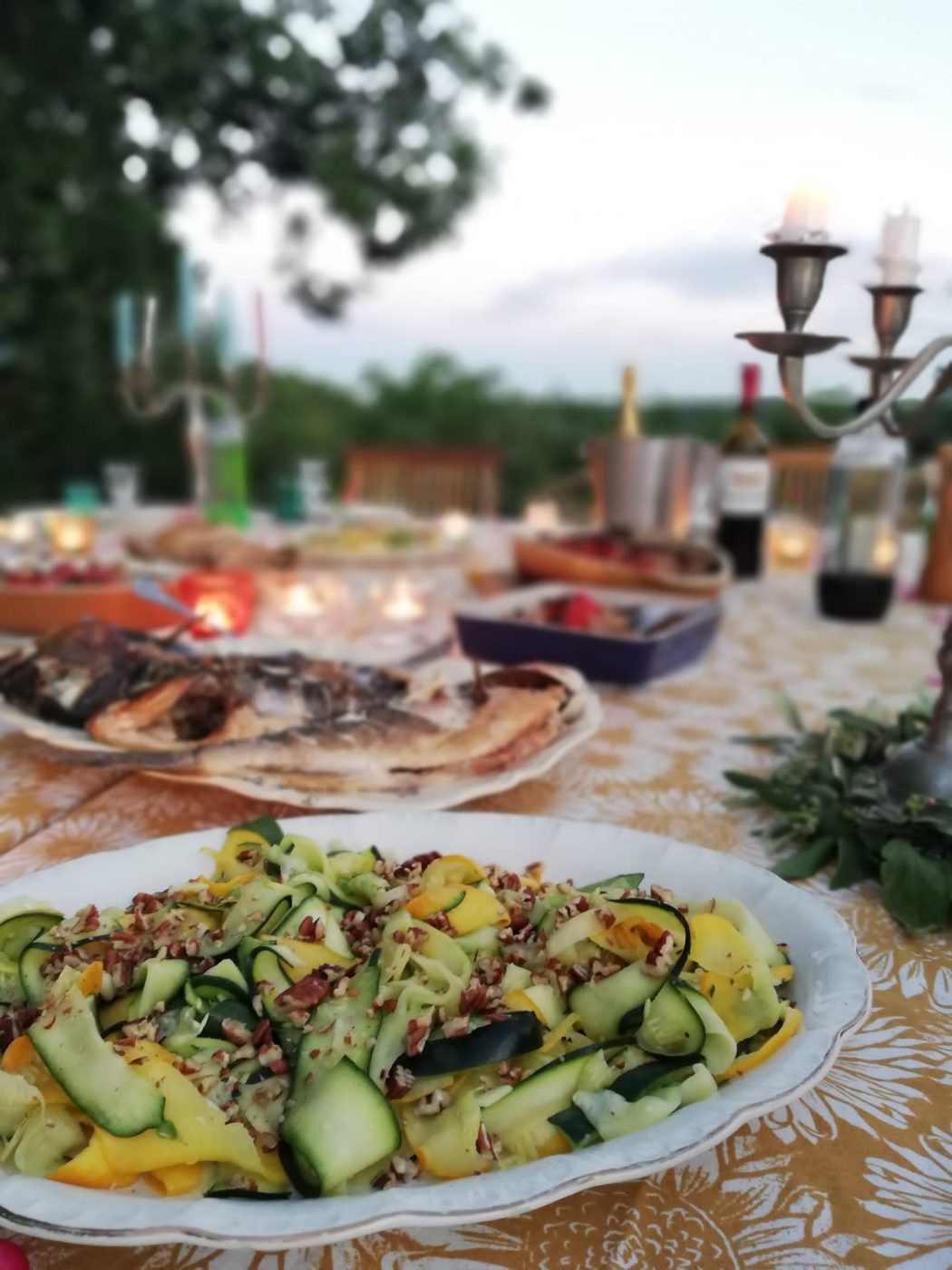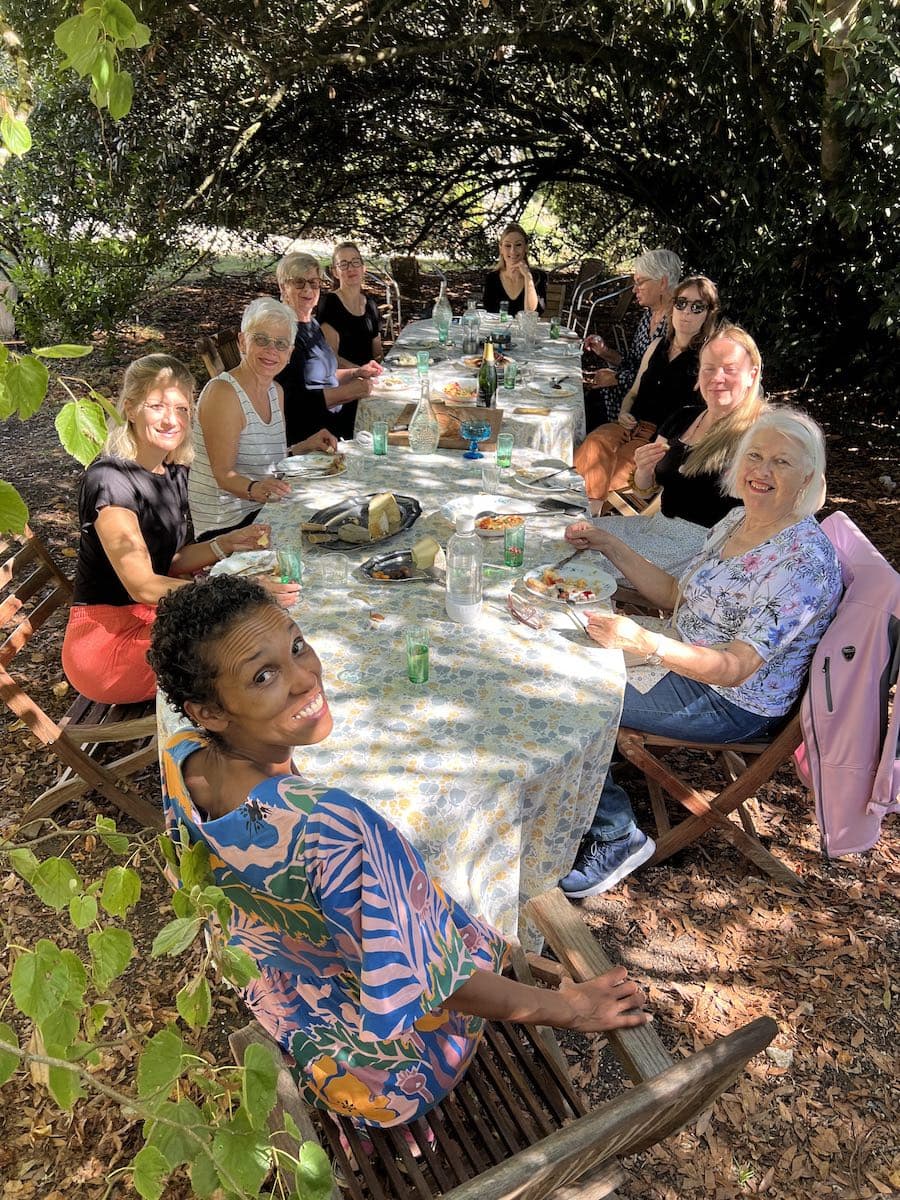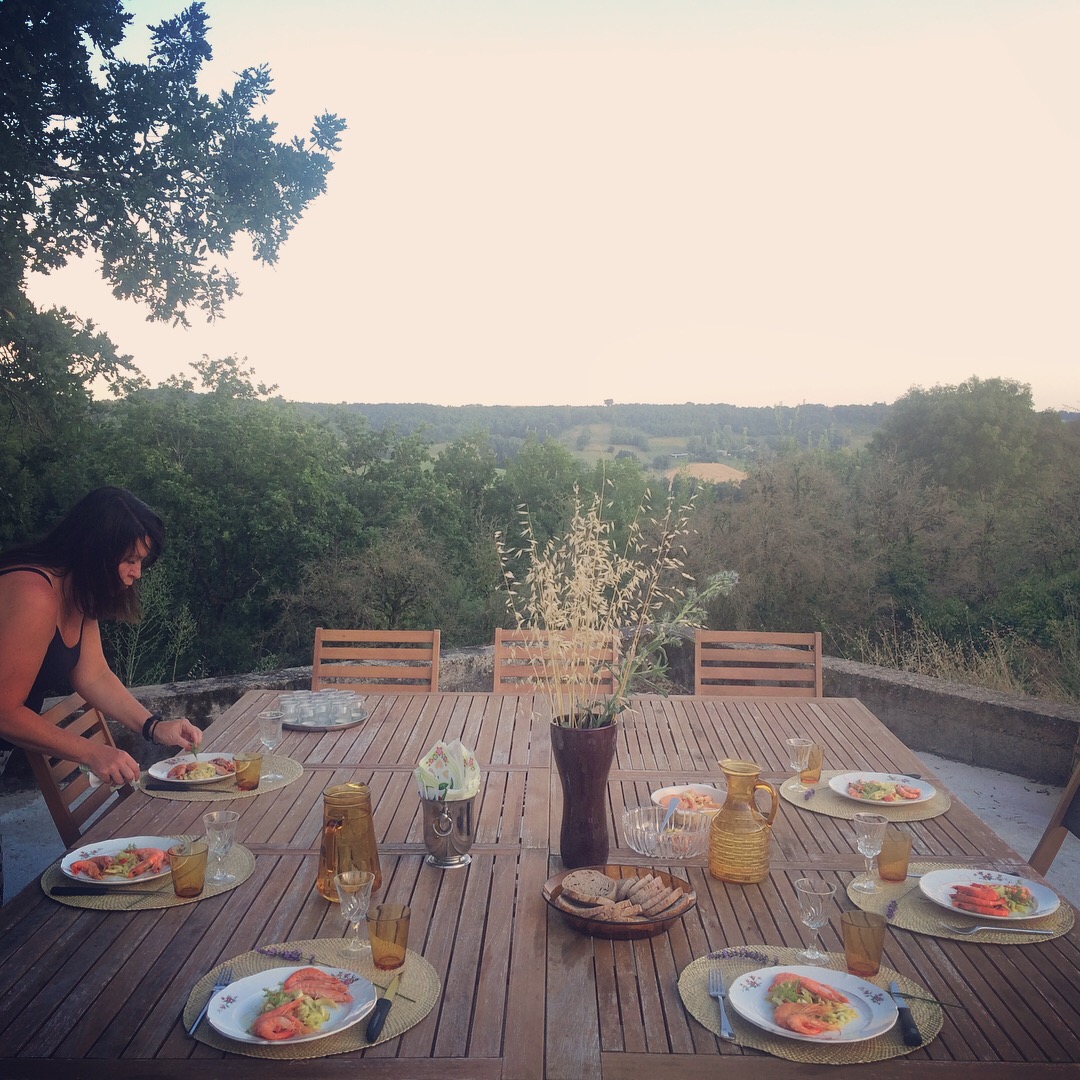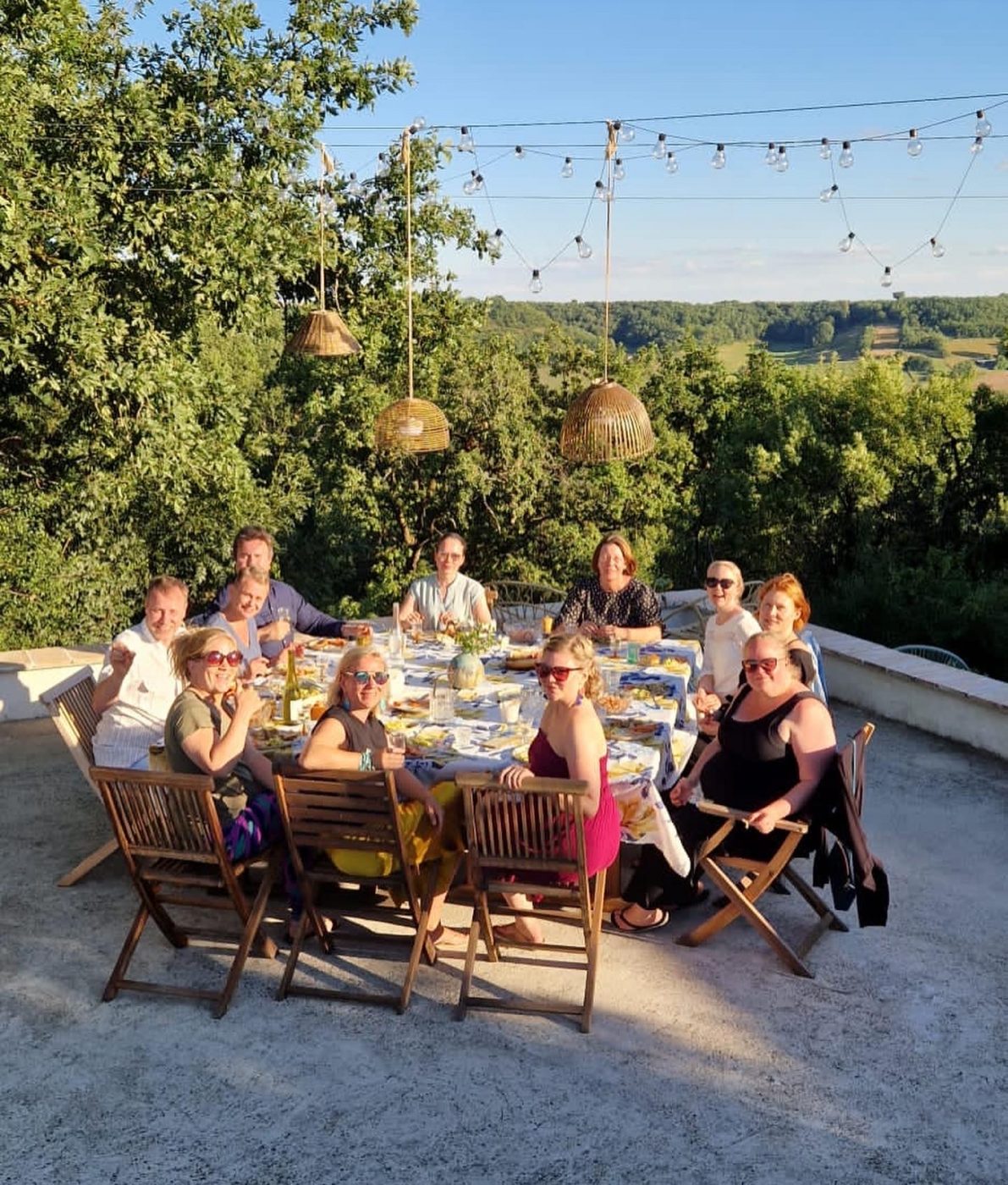 The Bespoke Services
On top of making sure your meeting is set up as perfectly as possible, we'll provide any extra services you may need. Meeting refreshments, lunch, dinner or even a party at the end of the day – you name it and we'll make it happen.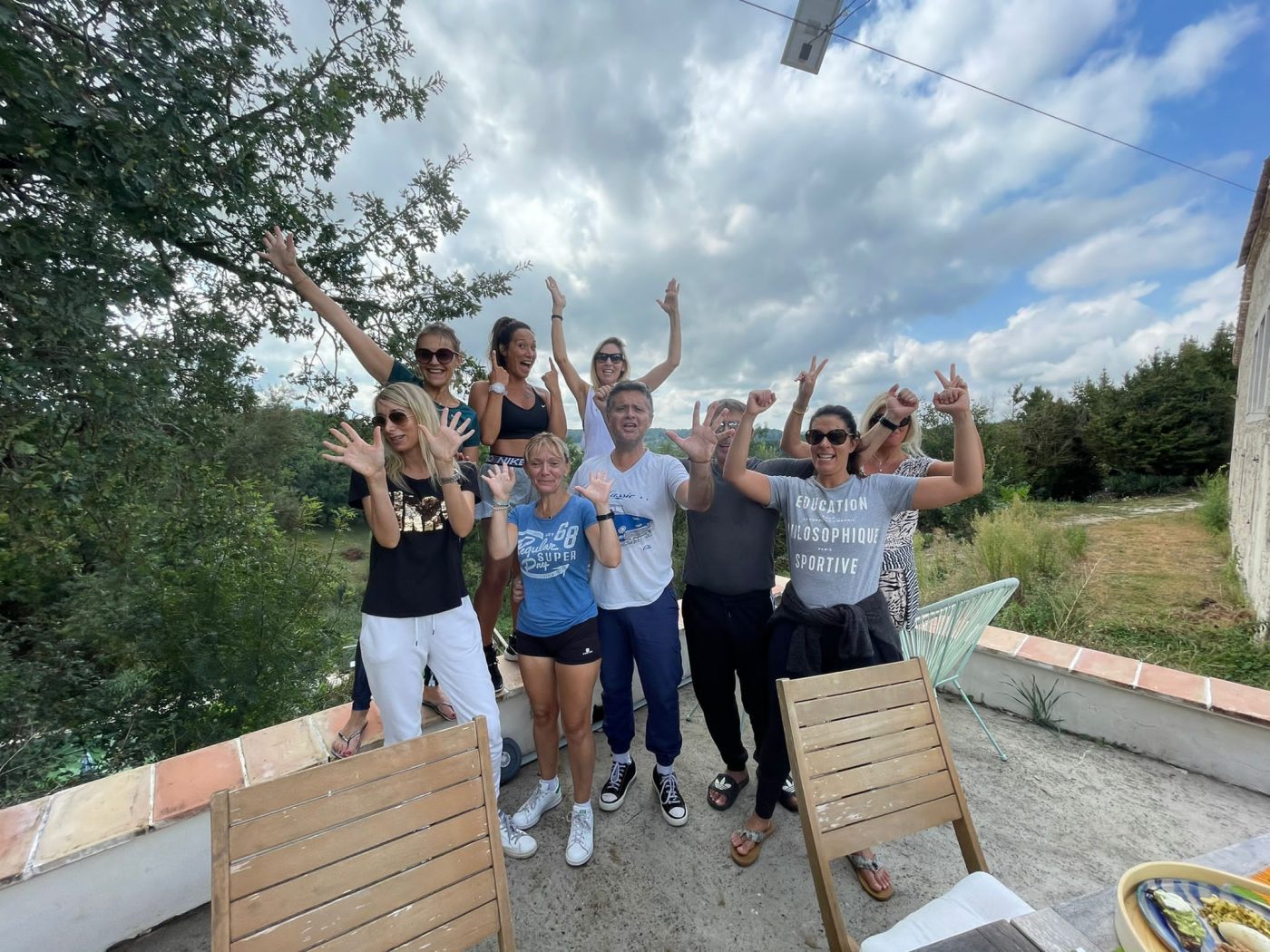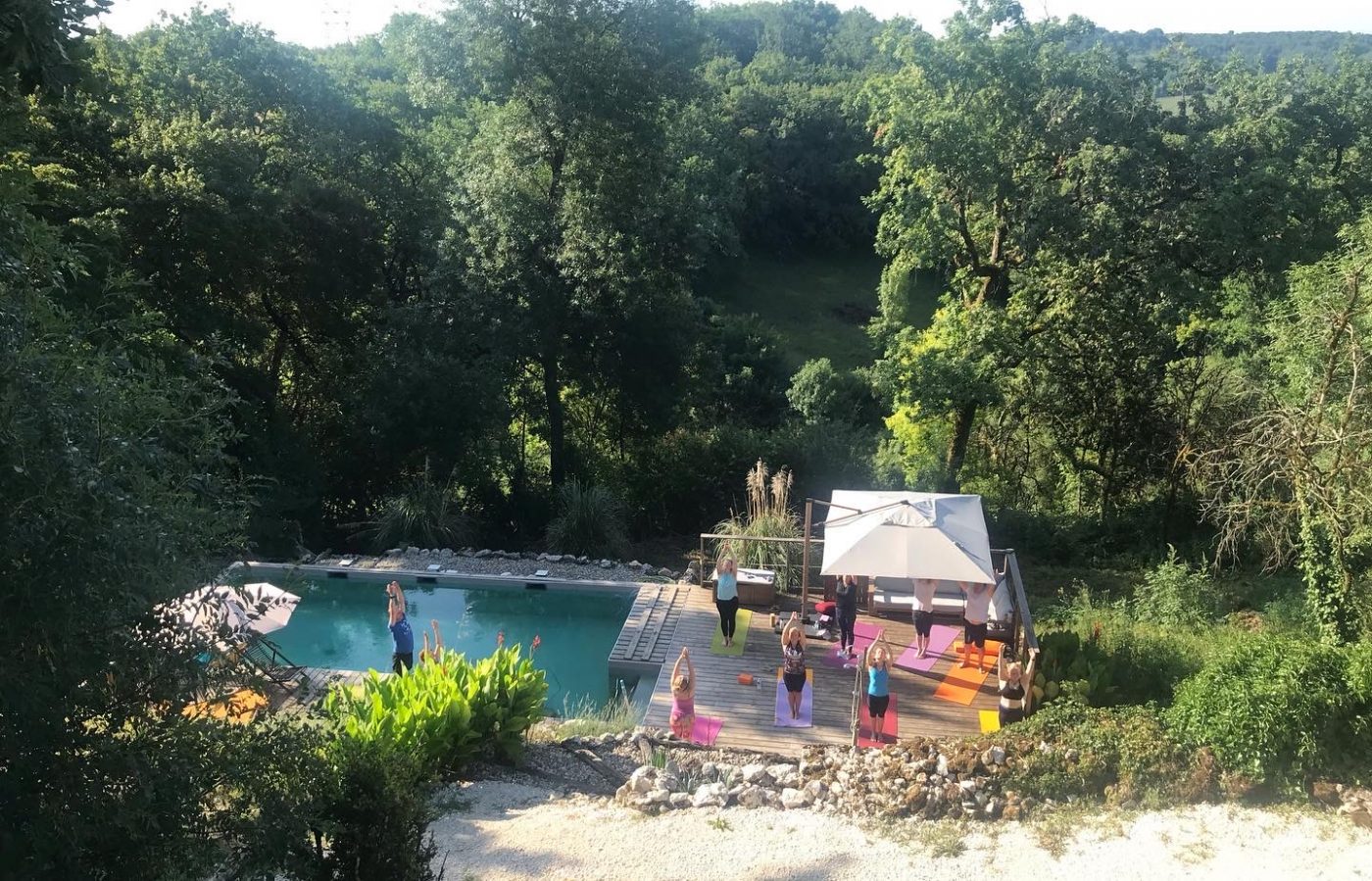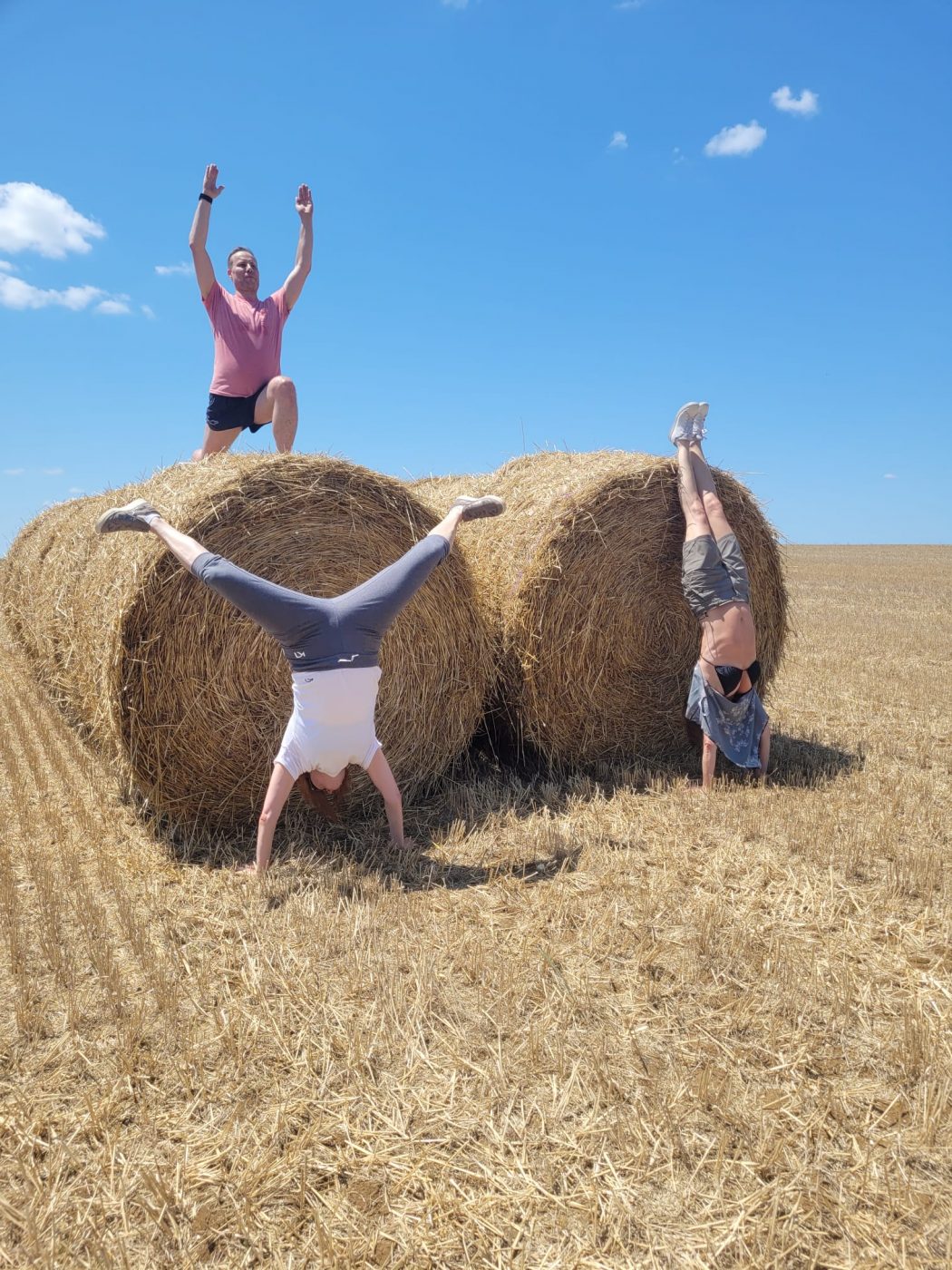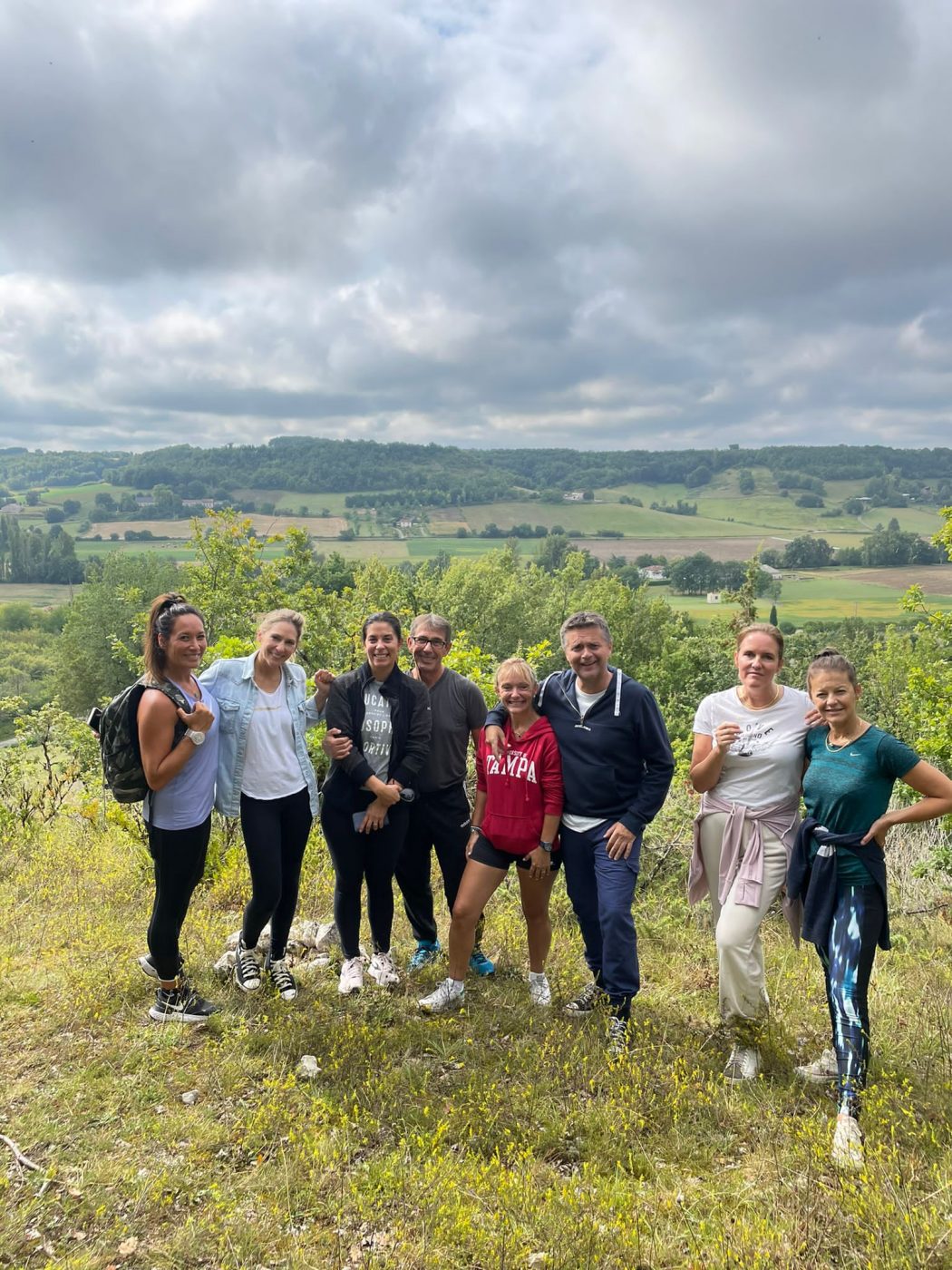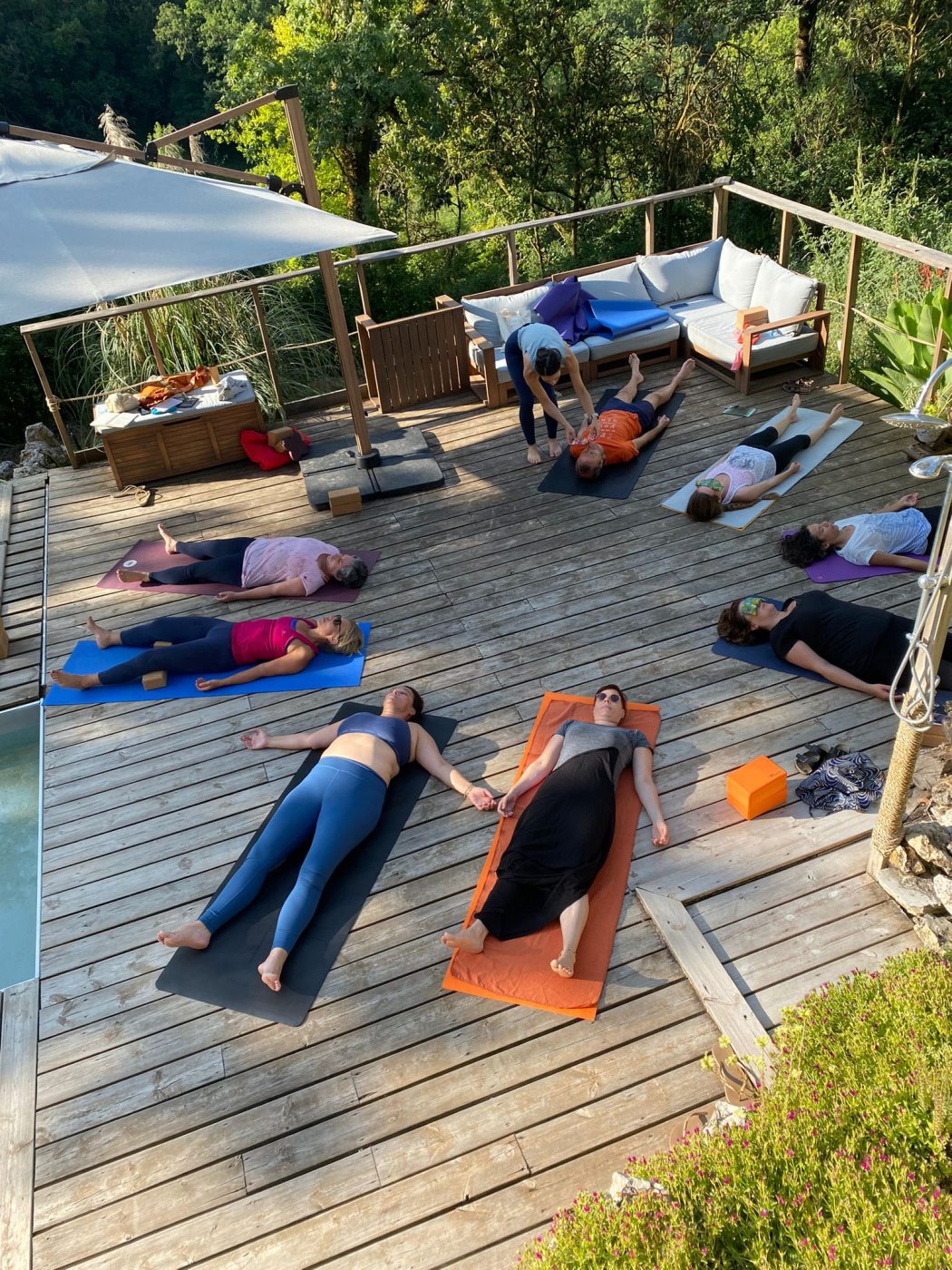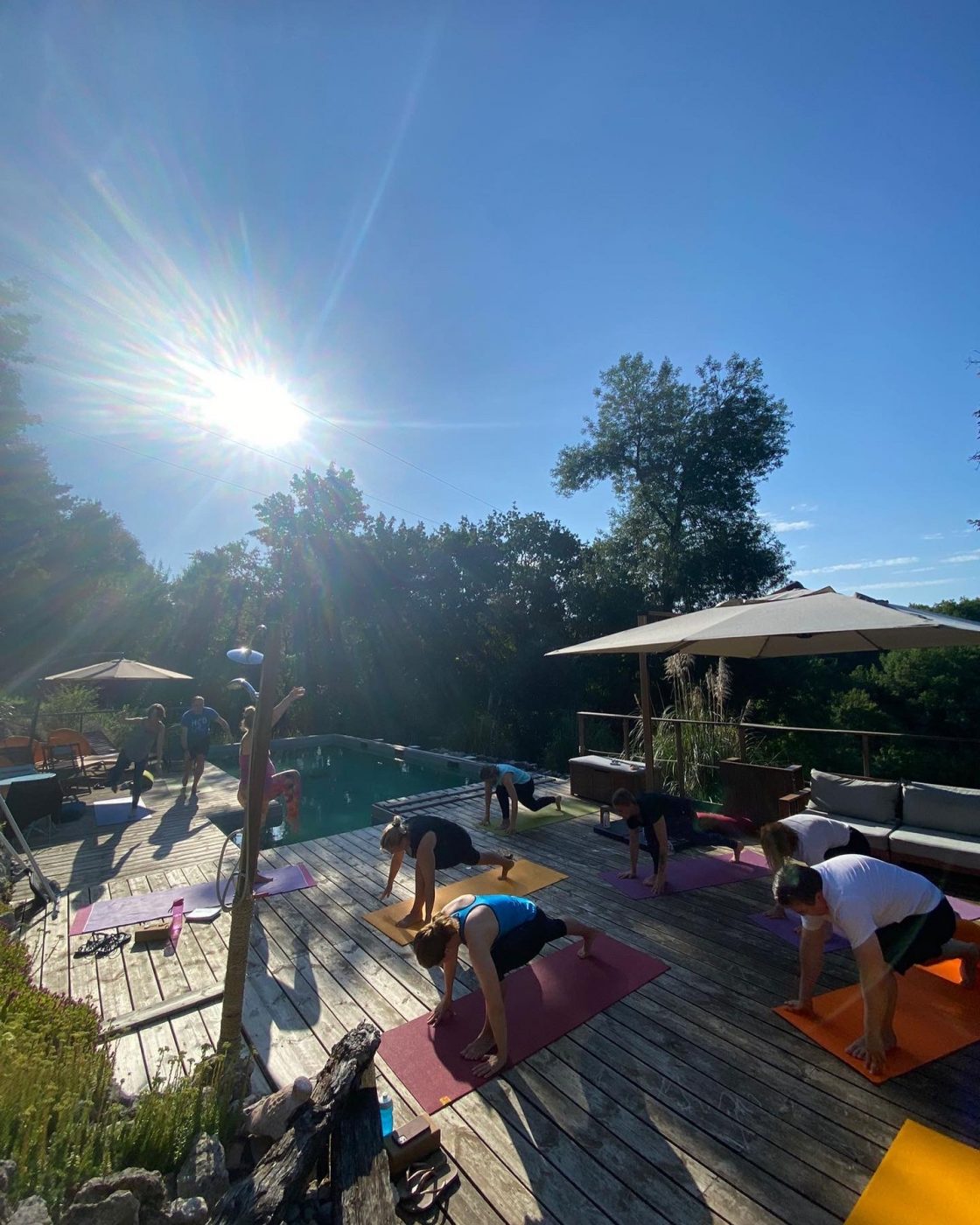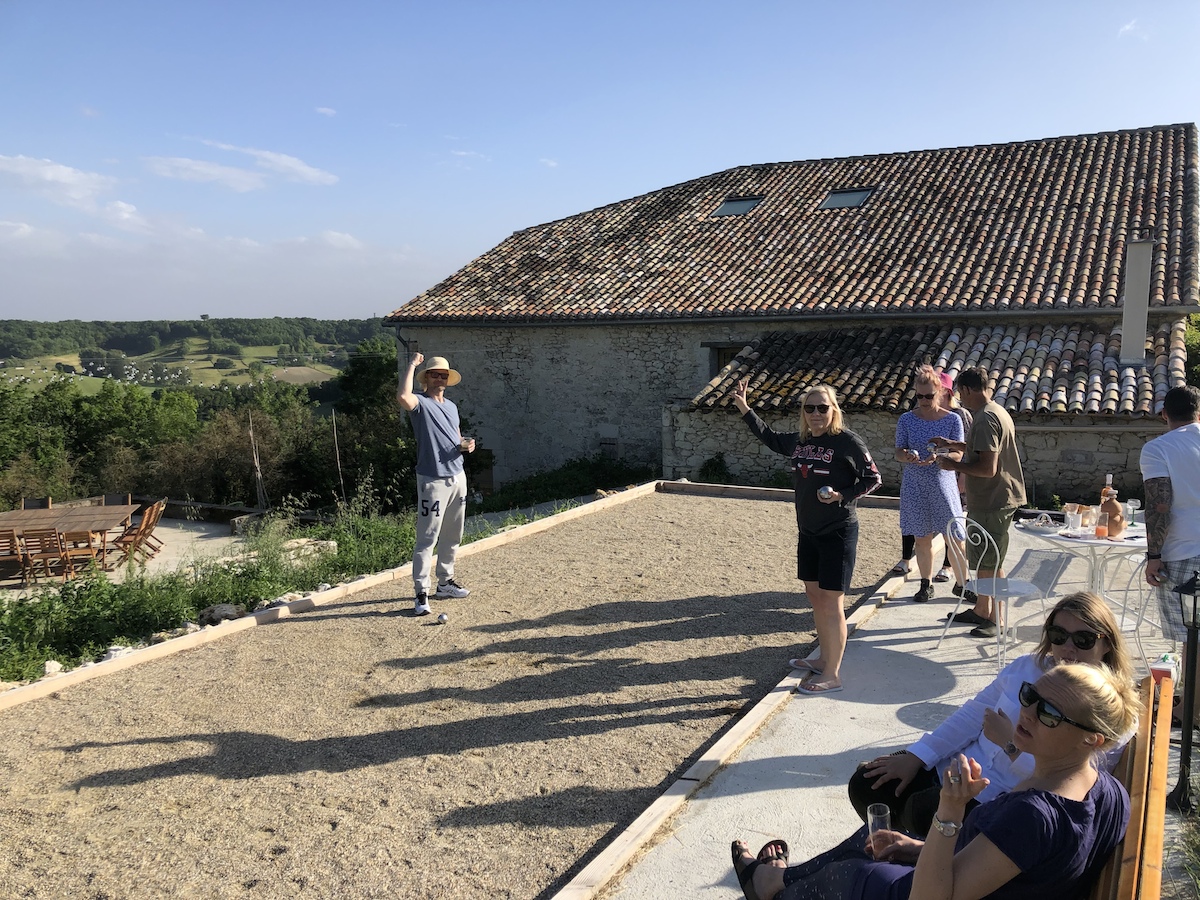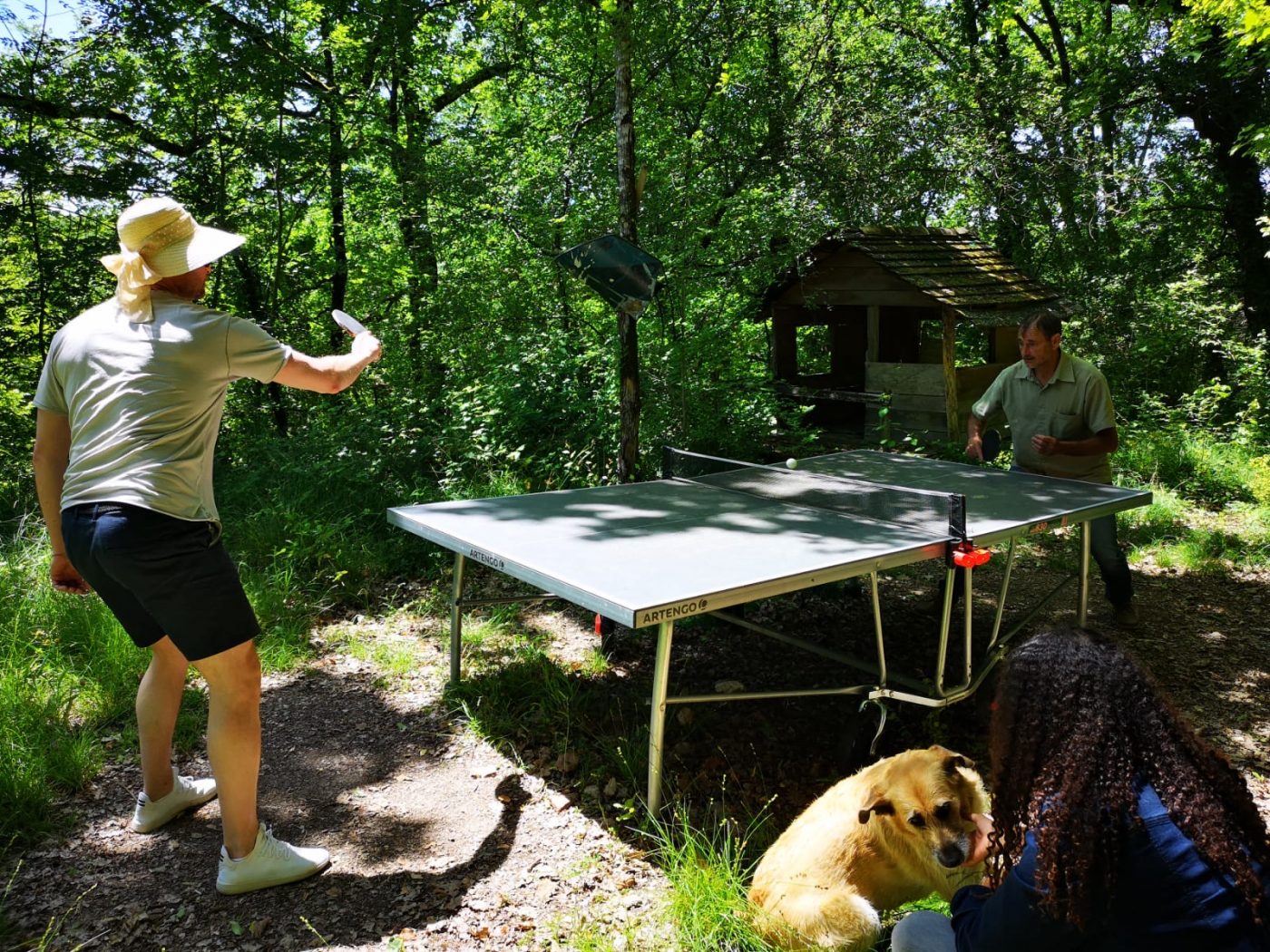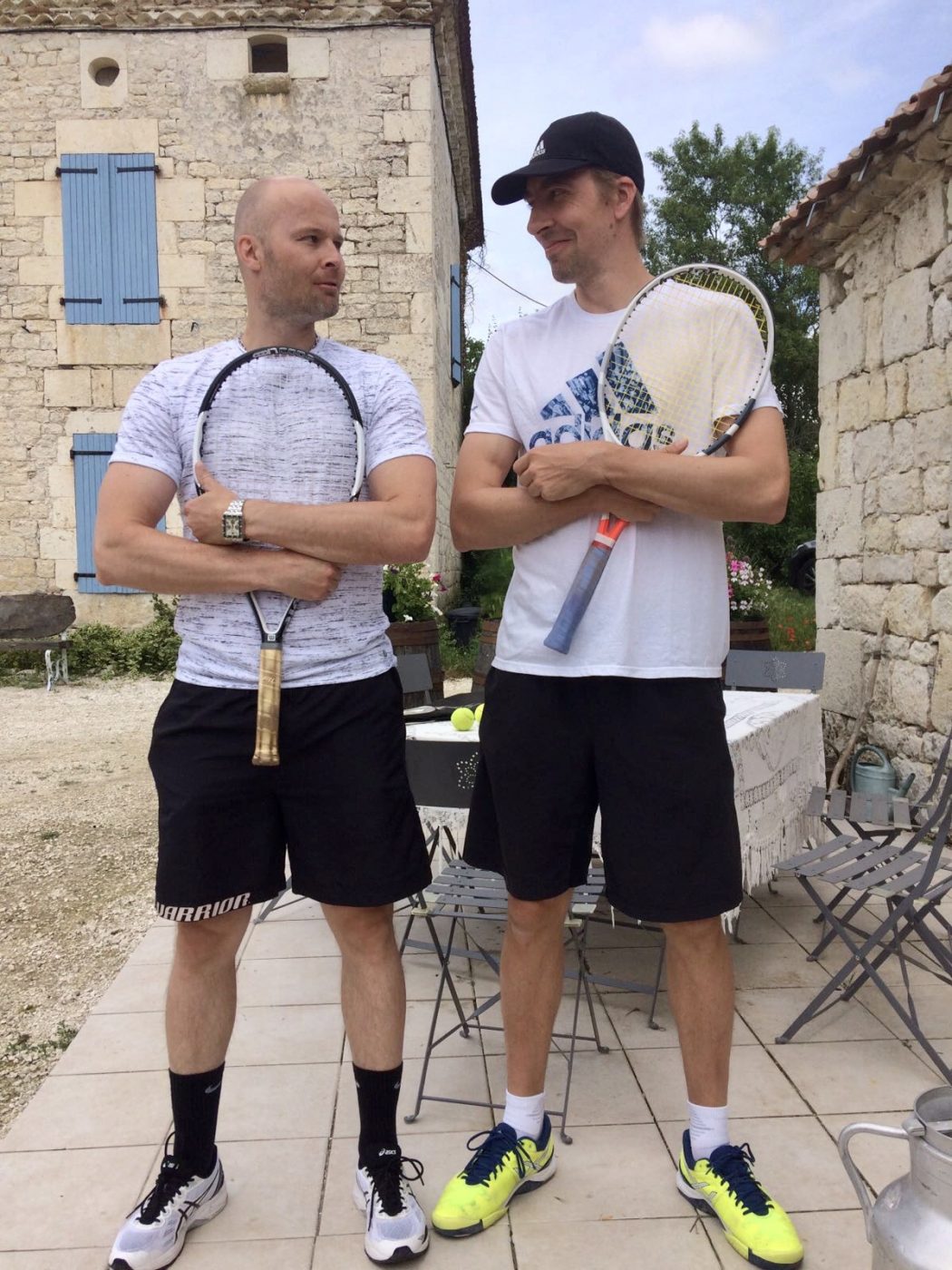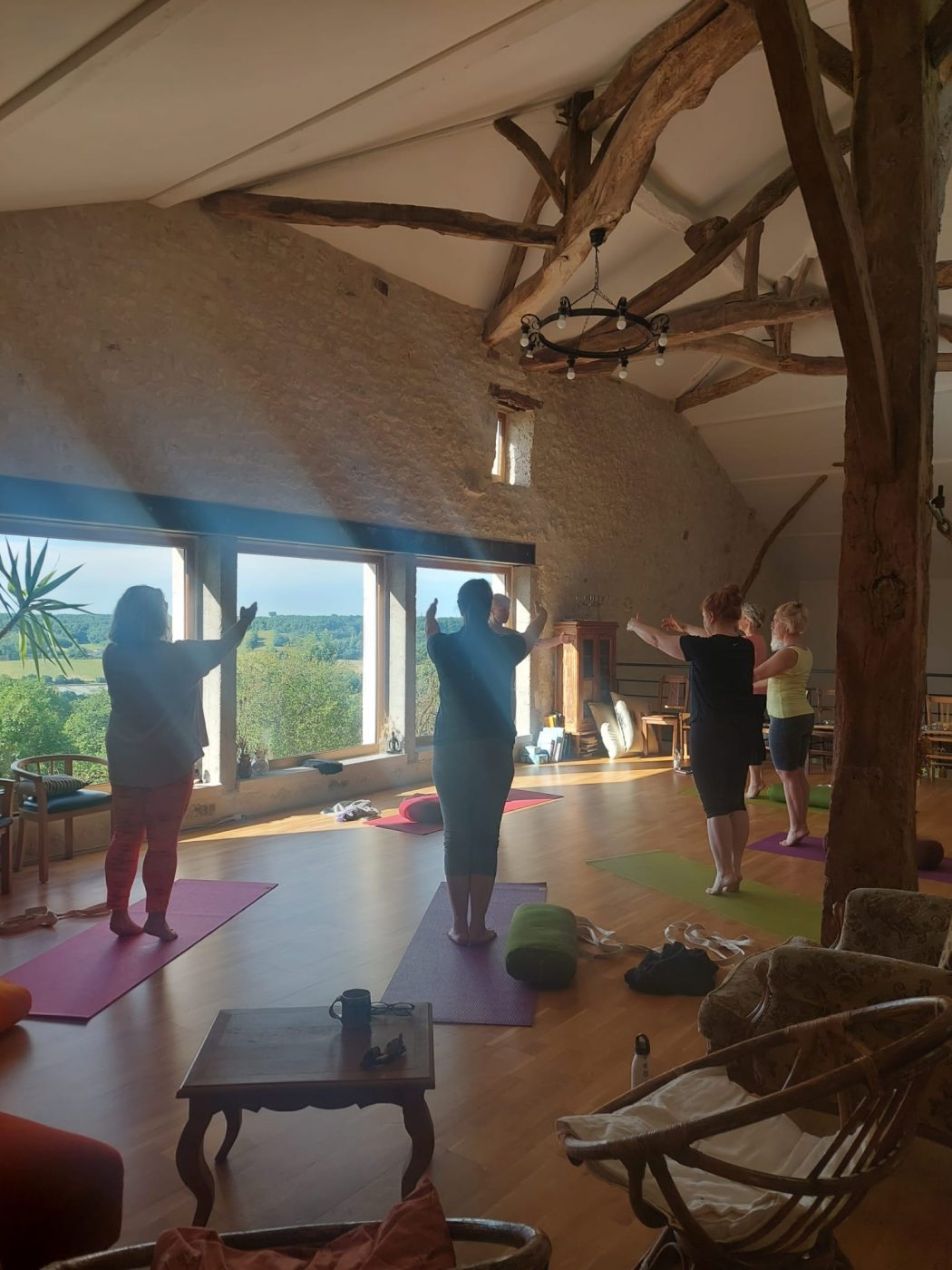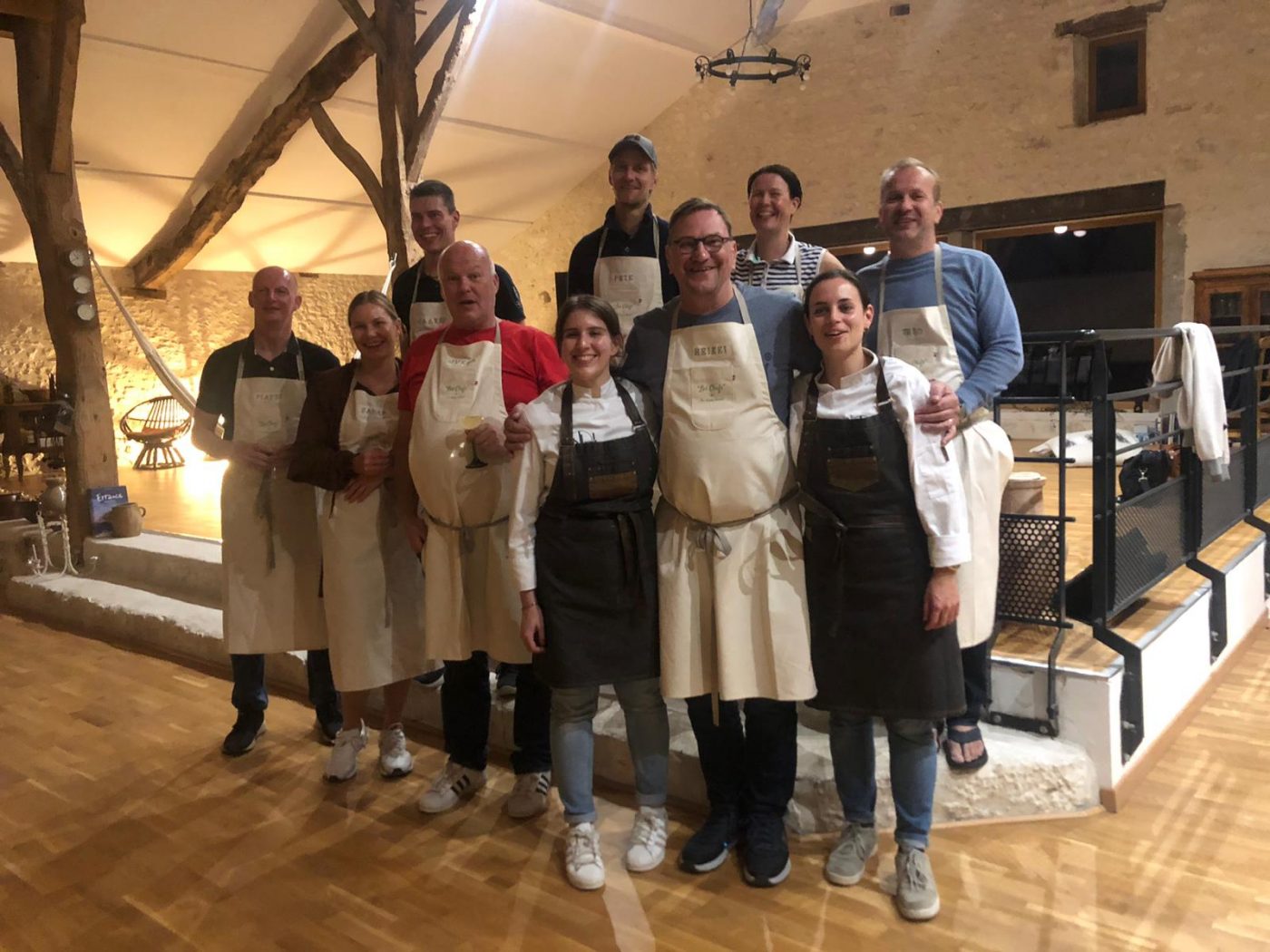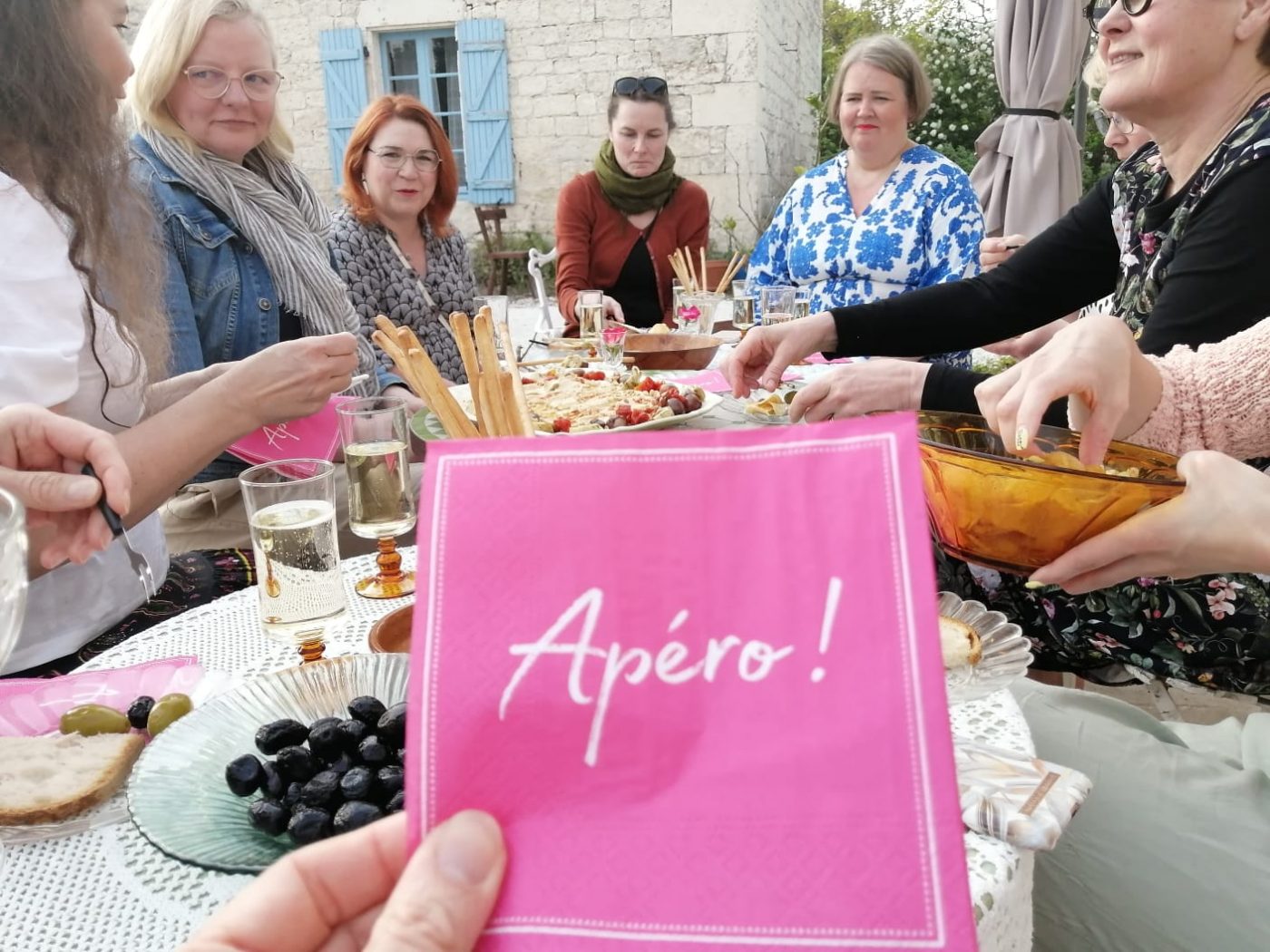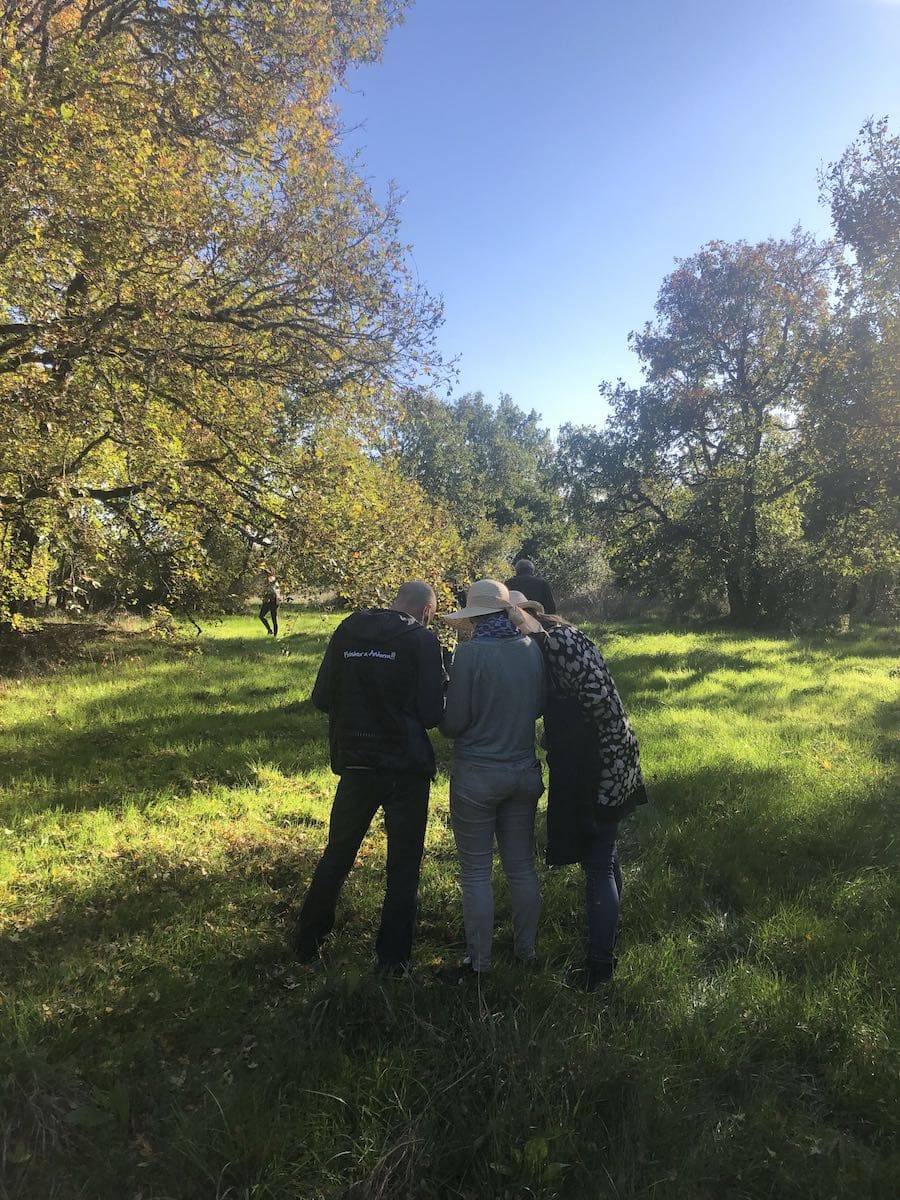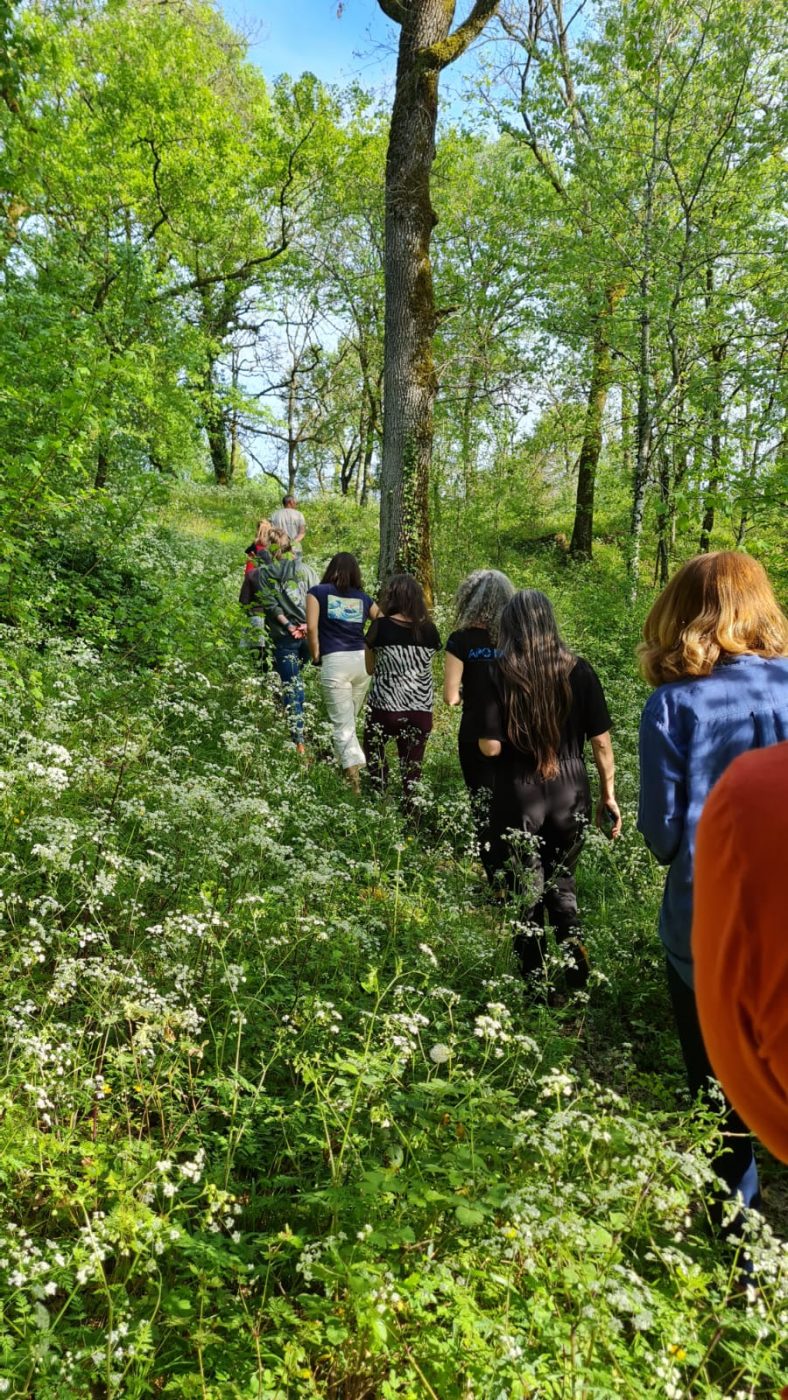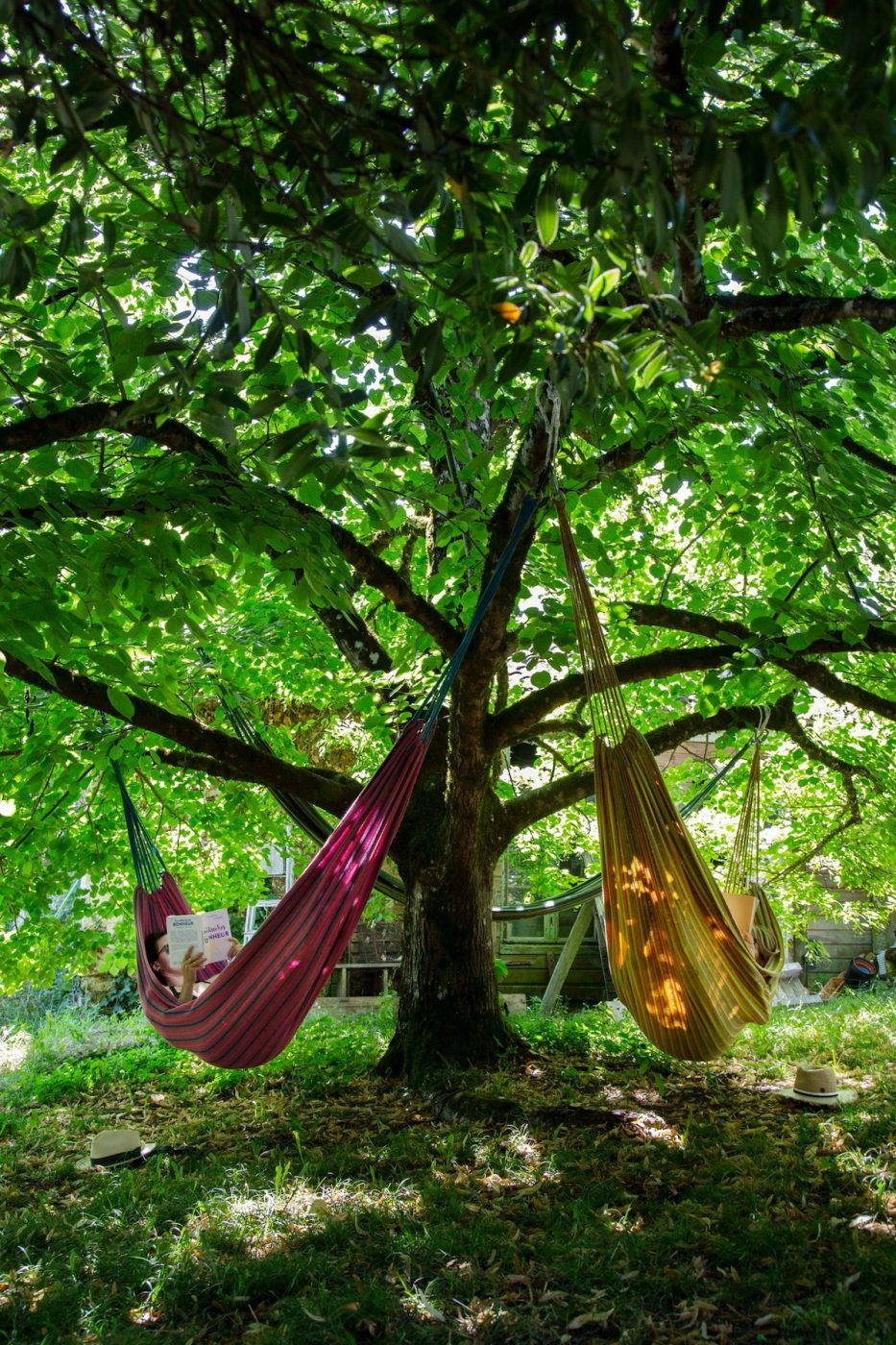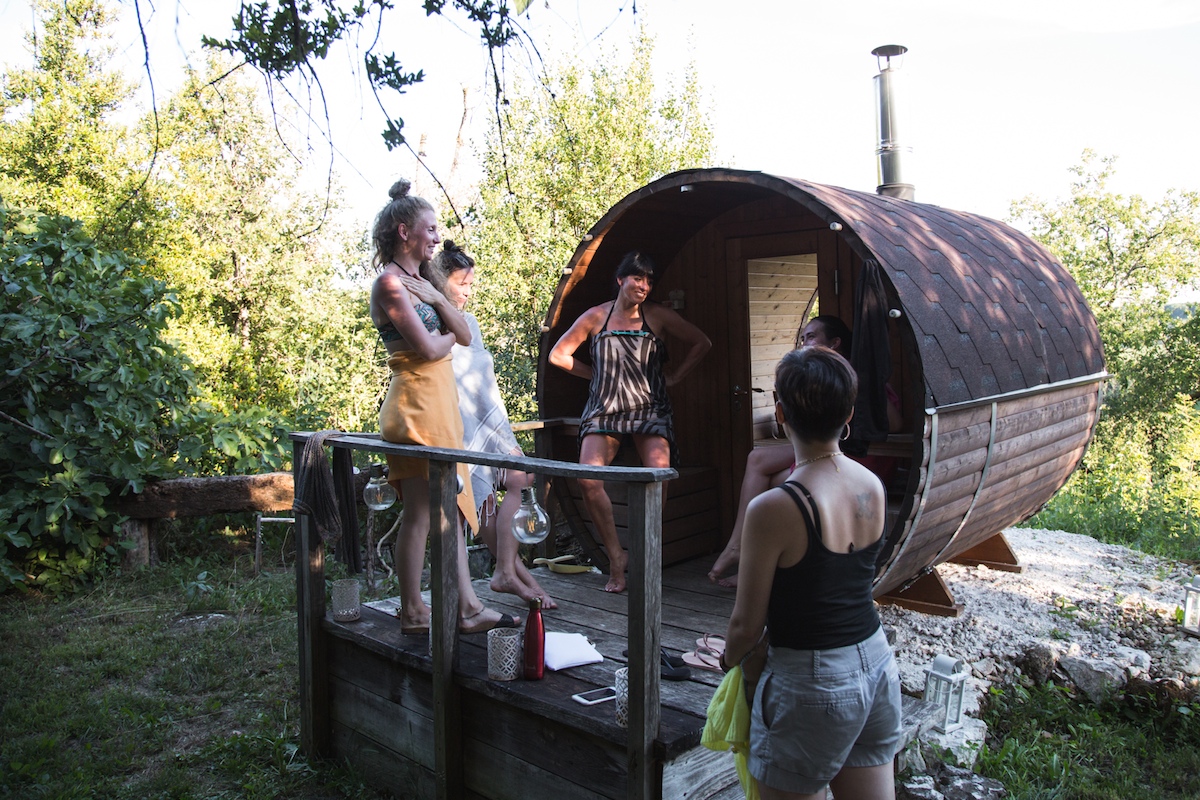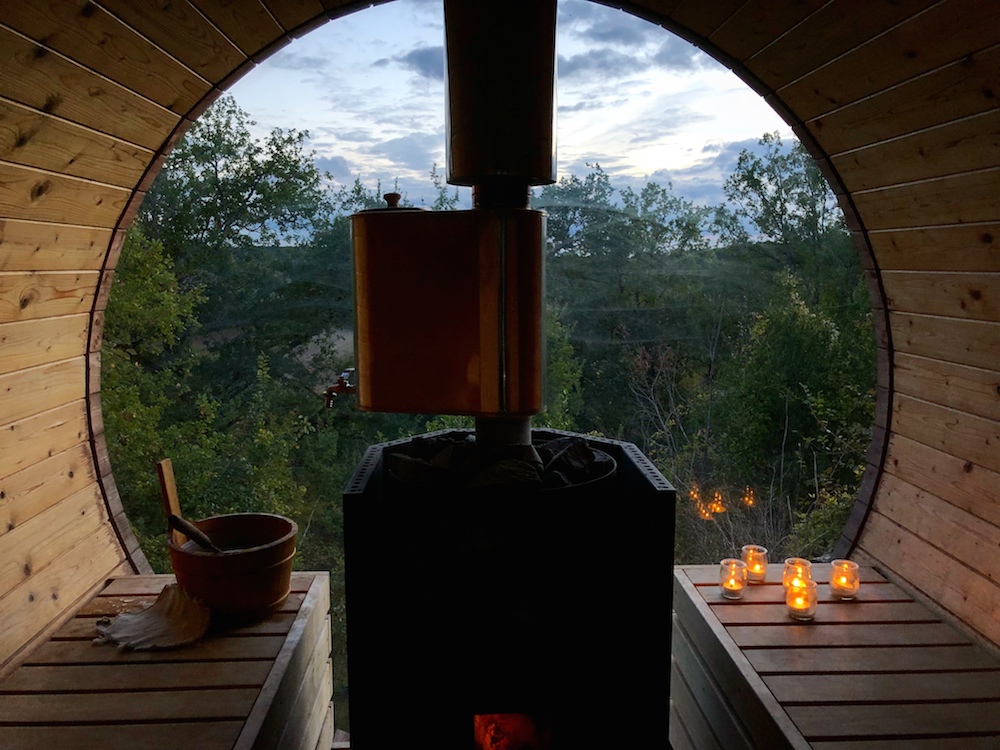 The Activities
The Hamlet is surrounded by 13 hectares (or 30 acres) of own land – woods and bamboos, prairies and a valley. A nature-lover's paradise, with never-ending trails to hike or run. Pick your favorite outdoor game or relax by the natural pool and the sauna in the end of the day.
If your busy schedules allow, you may also enjoy our "Escape Forest" Game. A perfect means to unwind and get out in the nature!
Field for petanque
Table tennis
Jumbo badminton
Volleyball
Hiking trails
Bikes
Tennis (nearby village)
Natural Pool & Sauna
Wine tasting on-site or a tour in the region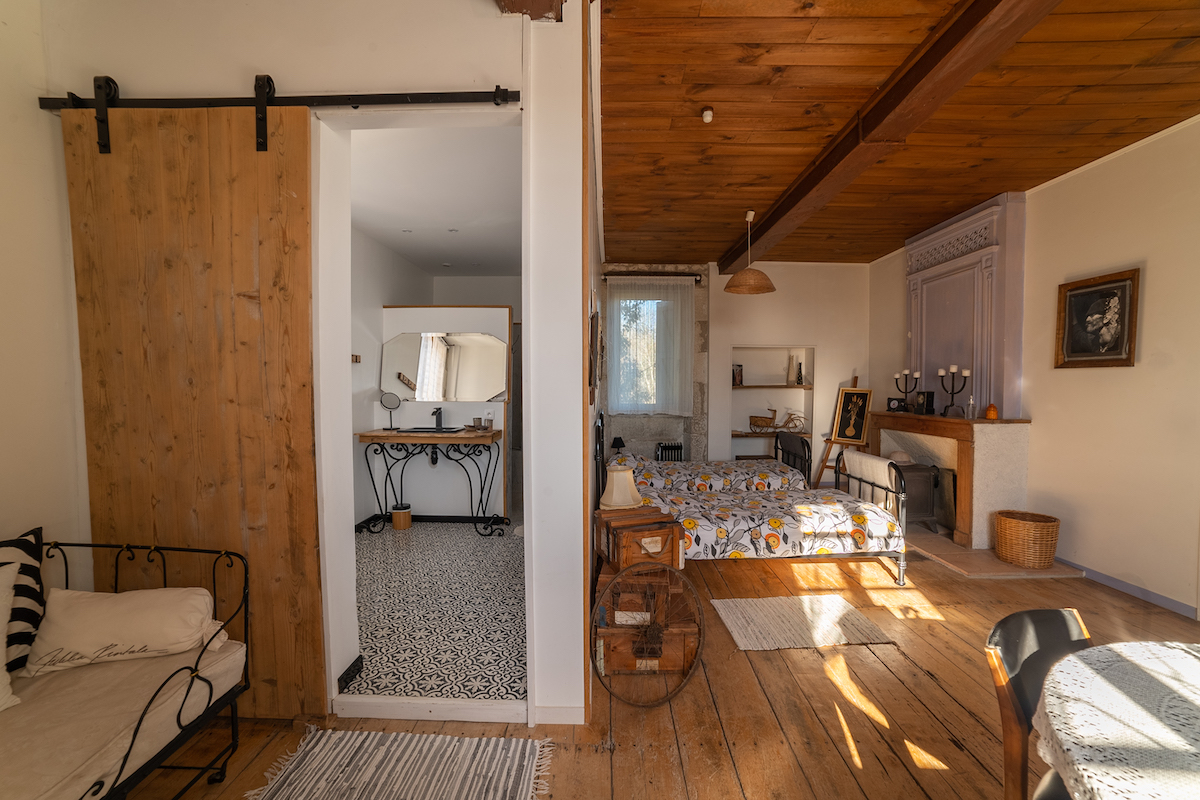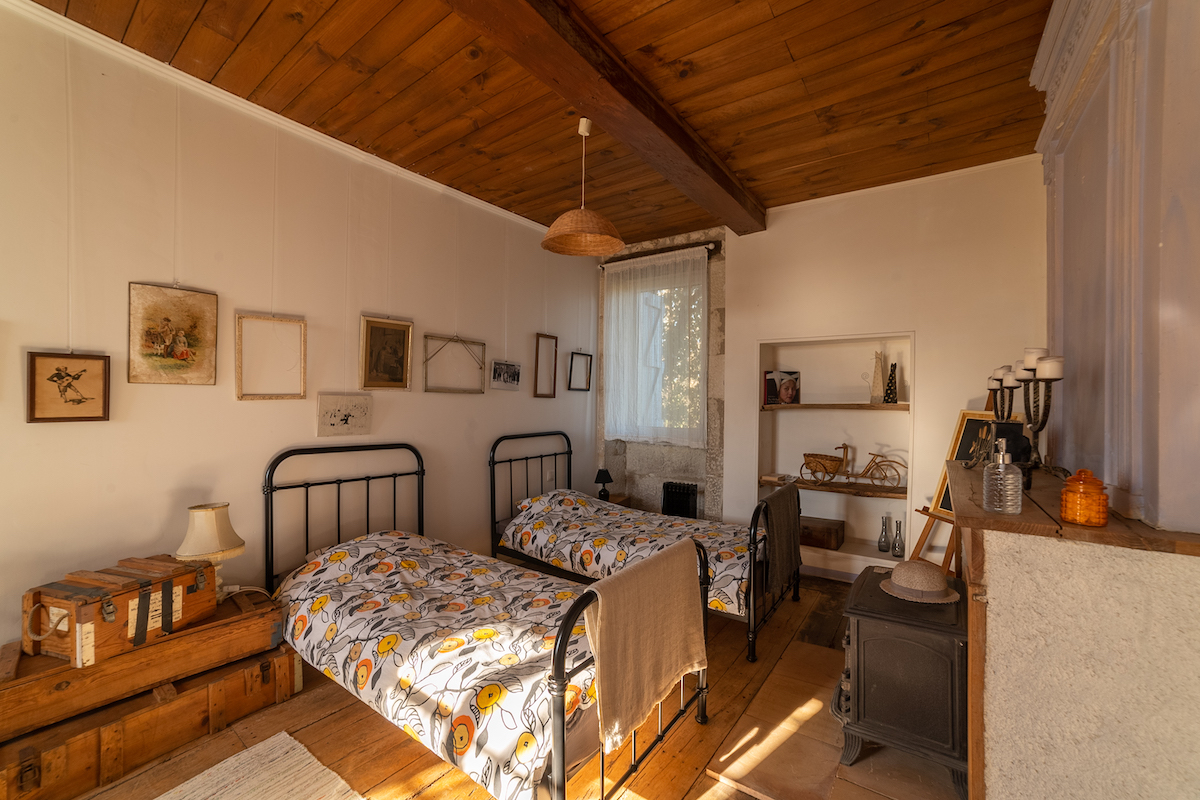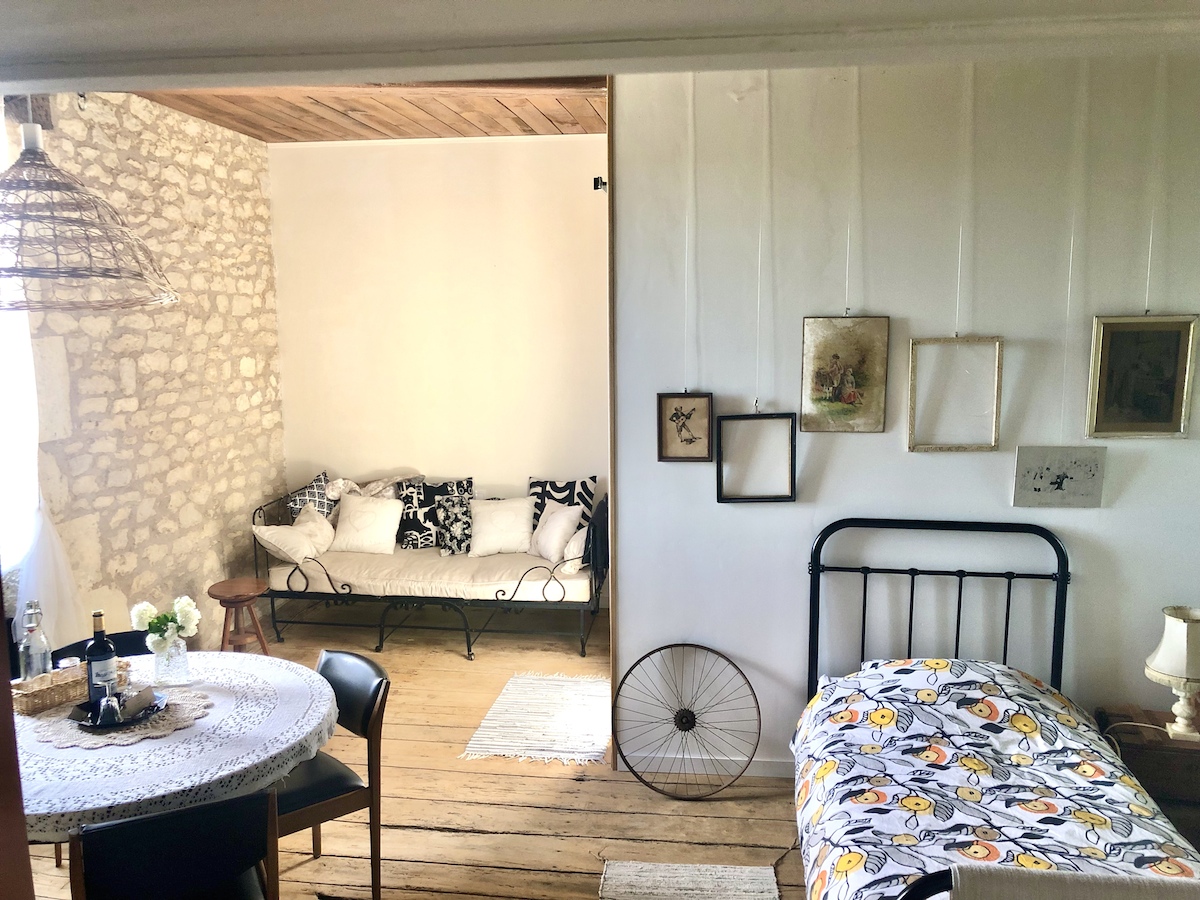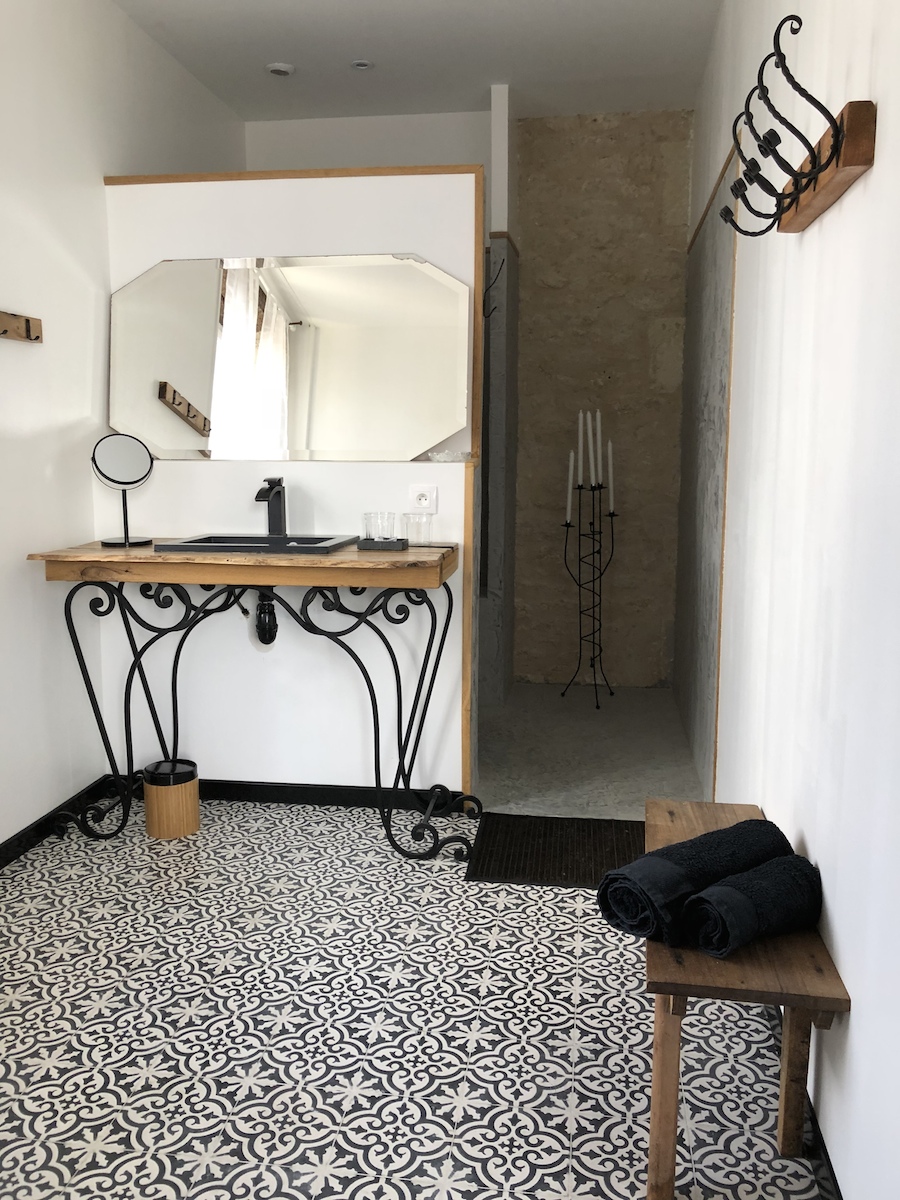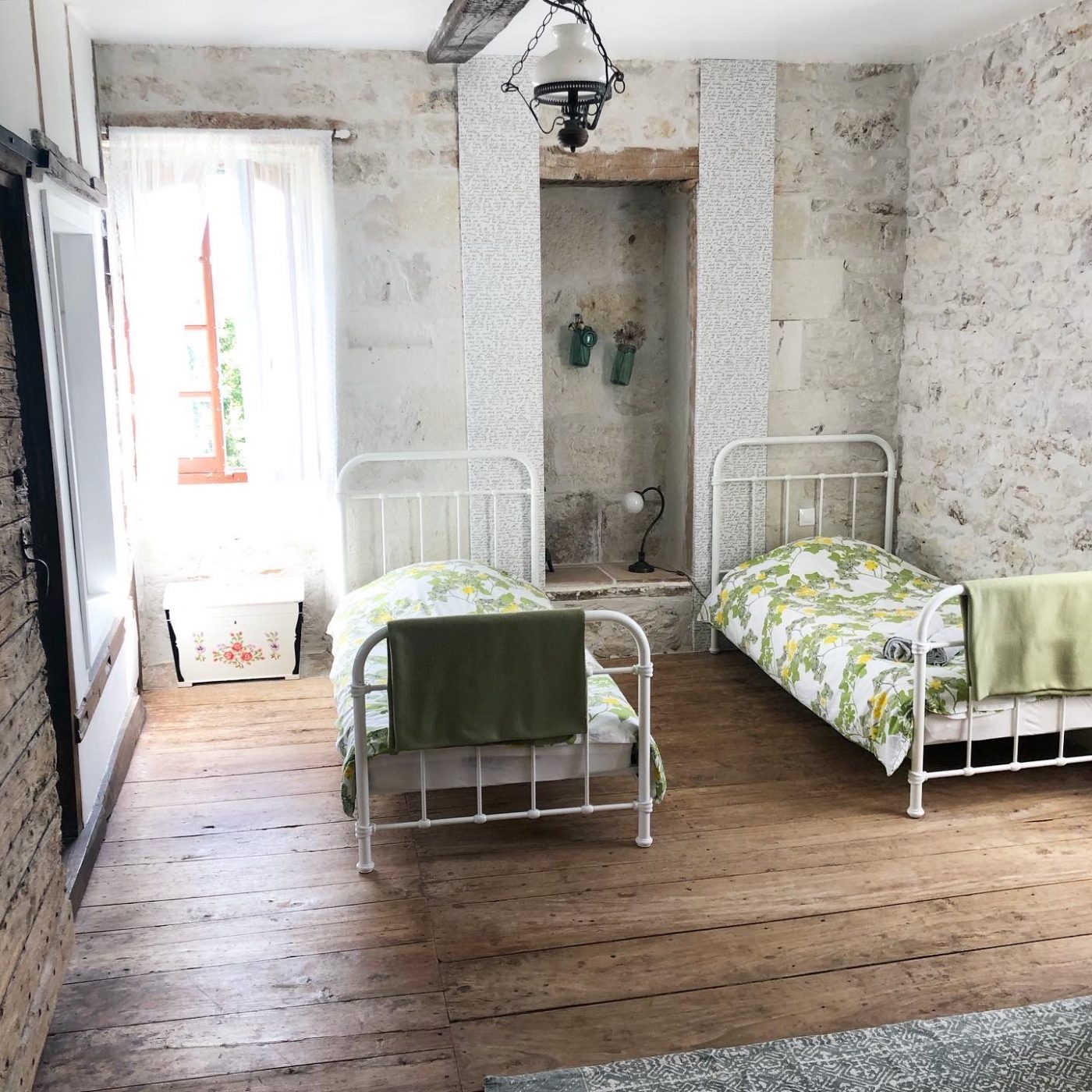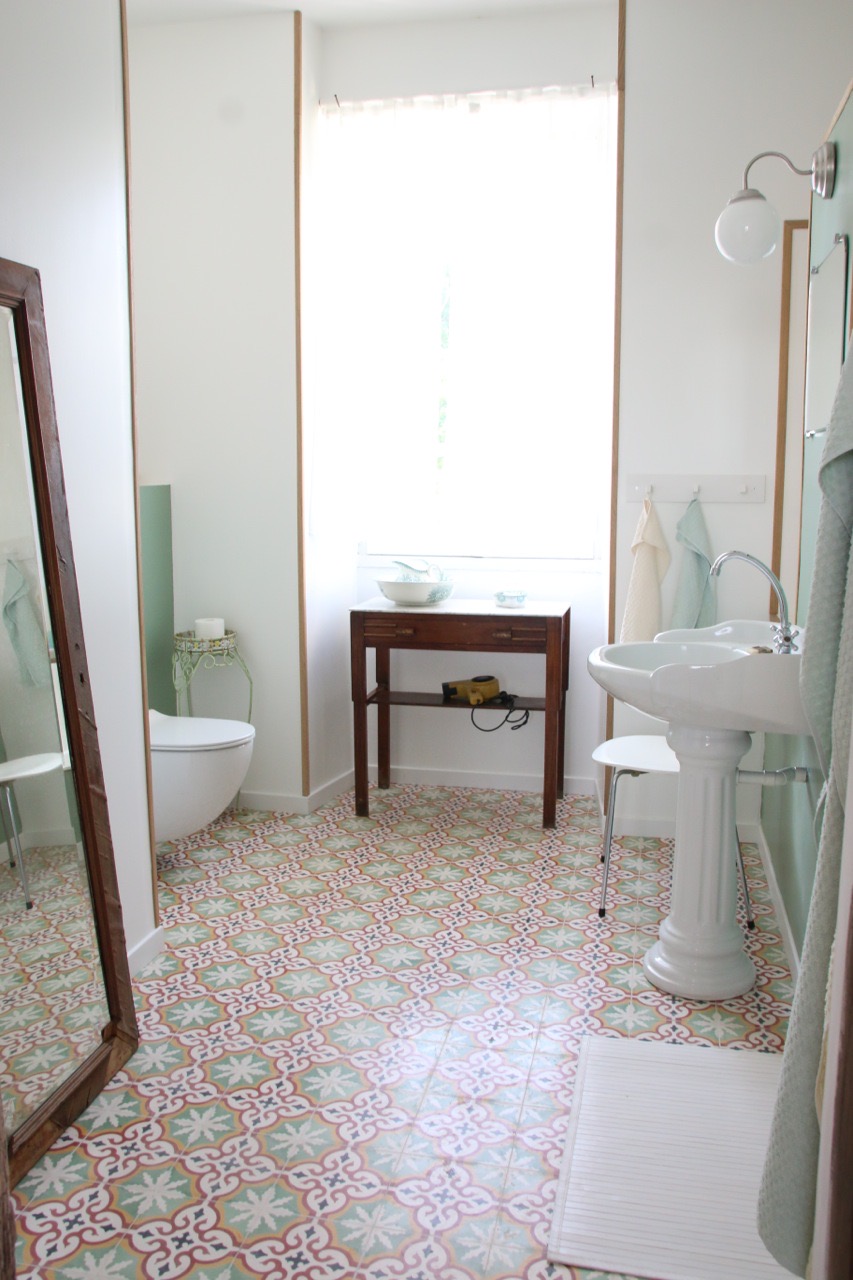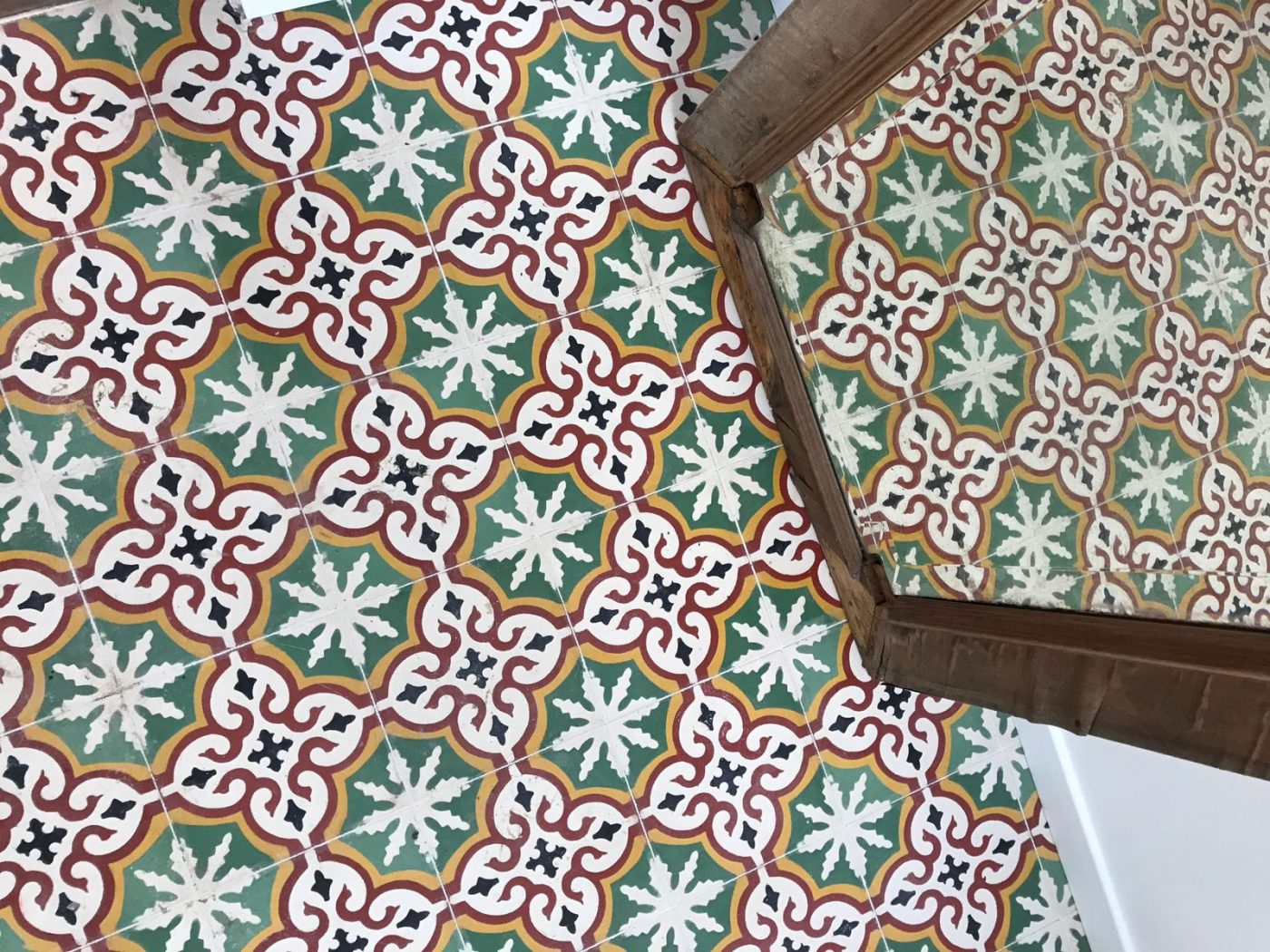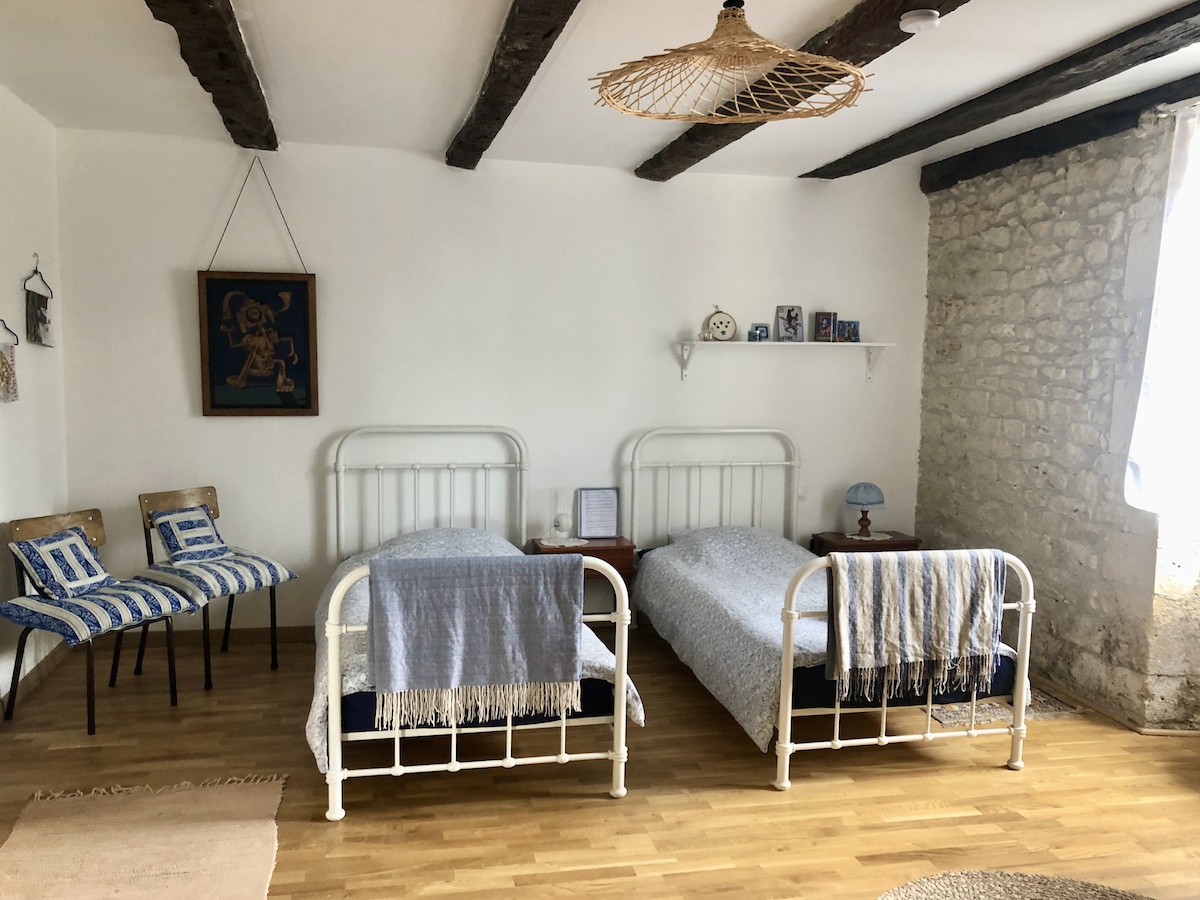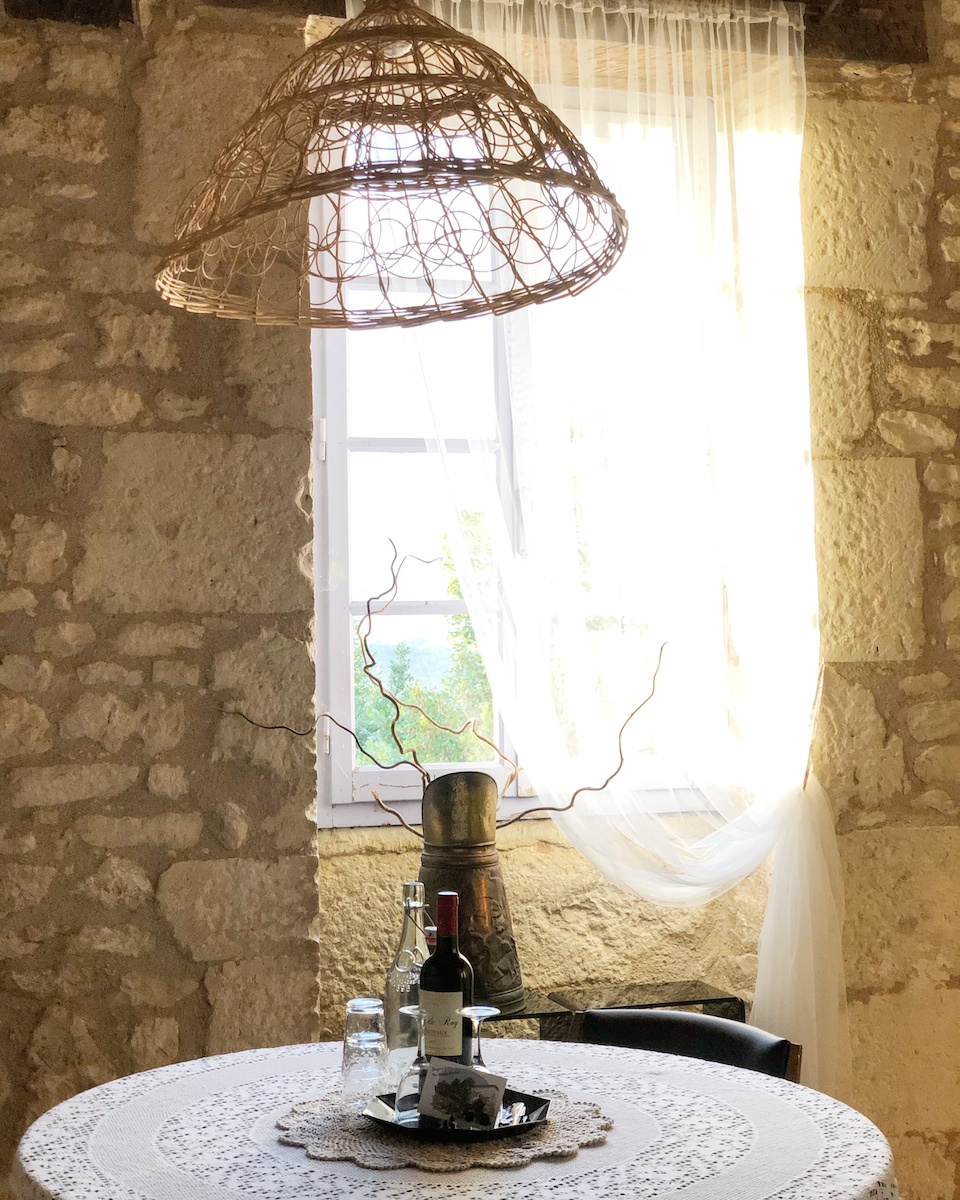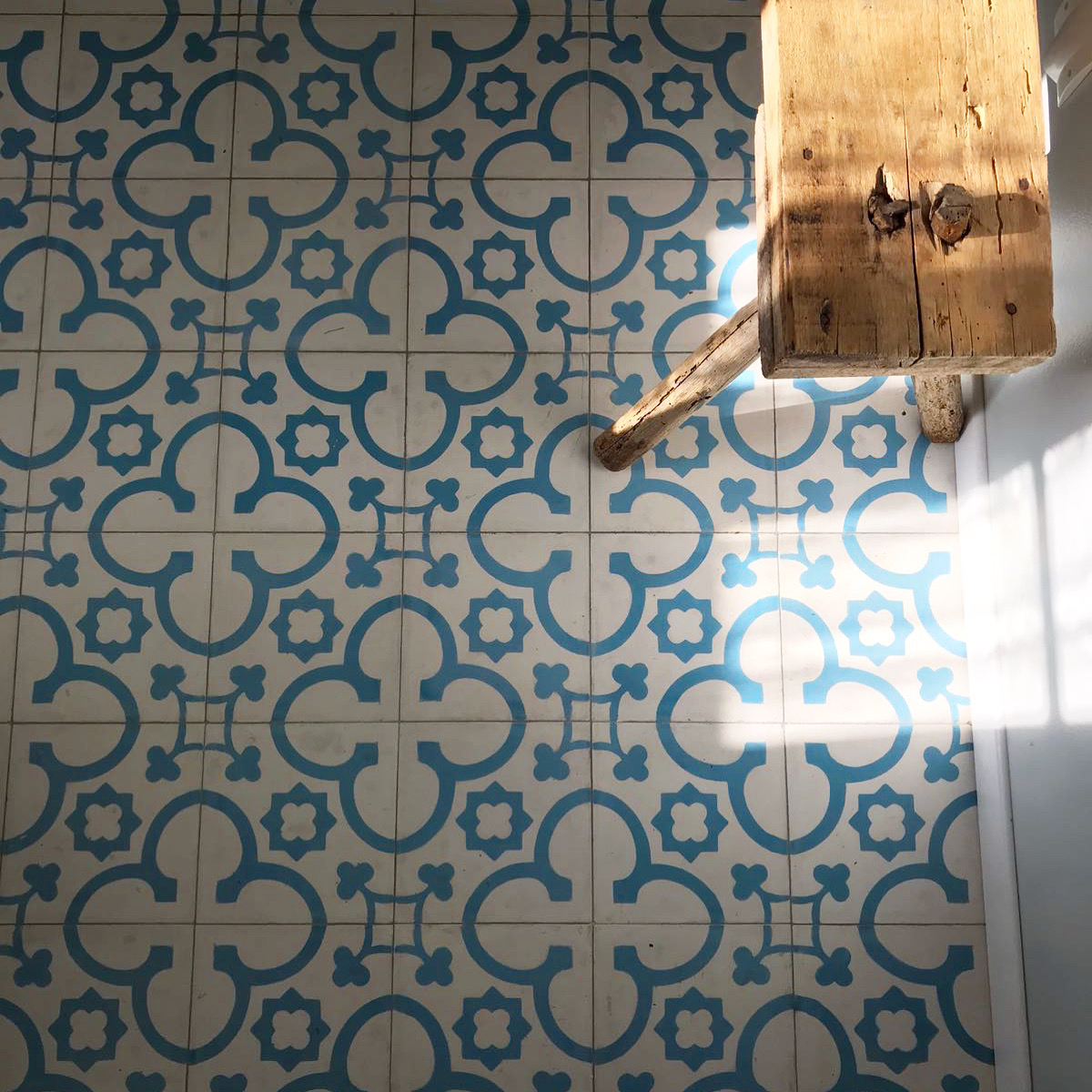 The Accommodation
Should you wish to extend your stay we have cosy accommodation to offer. All guest rooms are charmingly renovated, tons of recycled treasures yet with modern comfort in mind. Each has a choice of two single beds or a double bed. All have an ensuite bathroom with a window – and those amazing moroccan cement tile floors!
See mor in detail the Corporate Retreats page for longer business stays.
5 bedrooms (each with either 2 singles beds or 1 double bed)
Extra bed option in each room
5 ensuite bathrooms
Total capacity 15 guests
Wifi
Bed linen
Towels and extra towels
Local organic hand-made soaps
Shampoos and other hygiene products
Hair dryers
Hand sanitizer
First aid kits
Fire extinguishers
---
Any Questions? How Can We Help?
---
We'll be happy to receive your call, email, or even better, meet you face to face to plan together your next important business event in The Happy Hamlet.
Visit the contact page for more details or contact us directly by