Heaven on earth are great people, warm hearts, caring and genuine hospitality, room decoration and the cosy feeling – this is what Happy Hamlet is made from! Come for a retreat, for meditation, for touching the nature and the French cuisine and have this all with grace and style! – SNEJANA E.

M

ore lovely guest reviews >>
---
Retreat Yourself. All-inclusively.
---
Your relaxation is our primary goal. We feel very fortunate to work with wonderful and inspiring instructors from all around the world to help us with this goal. On top of that, we make our retreats so all inclusive that you may as well forget your wallet at home. Stress-free stay guaranteed!
If you stay more than a weekend, we'll be happy to offer you sightseeing visits on top of the instructed sessions. That is because we think our region is definitely worth the while. And we believe you'll agree once you've visited.
Have a look at the Holiday Rentals page for more details on the guest rooms as well as the common areas indoors and outdoors. To learn more about our eco-friendly lifestyle and sustainable choices, please read more on the Green Hamlet page.
Scroll down for the full program: retreats, dates & links for more information. Or click below to see the quick list. Please note the language (EN / FI / FR) after each retreat, indicating the language of instruction.
• Levon Vallankumous -retriitti, March 27 – April 1, 2023 (FI)
• Easter Yoga, April 3-8, 2023 (EN)
• Tilaa Unelmille (private), April 10-15, 2023
• Happy Go Lucky – Hamlet Holiday, April 24-29, 2023 (ALL & ANY LANGUAGES!)
• Qi Gong, May 5-8, 2023 (FR)
• Shakti Samsara: Week-end Féminin Sacré, May 12-14, 2023 (FR)
• Joie de vivre -retriitti, May 22-27, 2023 (FI)
• Retraite Yoga avec Dora (contact by email), June 2-4, 2023 (FR)
• Pieni Matka Omaan Hyvään Tilaan, June 12-17, 2023 (FI)
• "Le Retriitti" Teresan kanssa, June 26 – July 1, 2023 (FI)
• Kirjoitusretriitti Katja Kallion kanssa (#1), July 3-8, 2023 (FI)
• Yoga & Wine & Goodness Retreat, July 10-15, 2023 (EN/FI)
• Come Home to Yourself – Yoga Retreat, August 28 – September 2, 2023 (EN/FI)
• Barre & Pilates -retriitti, September 4-9, 2023 (FI)
• Kirjoitusretriitti Katja Kallion kanssa (#2), September 11-16, 2023 (FI)
• Suloisesti Jouten -retriitti, September 18-23, 2003 (FI)
• Matkatoimisto Mailux: Hyvinvointiretriitti, September 25-30, 2023 (FI)
• Hyvinvointiretriitti (private), October 2-7, 2023
• Yoga Retreat (private), October 16-21, 2023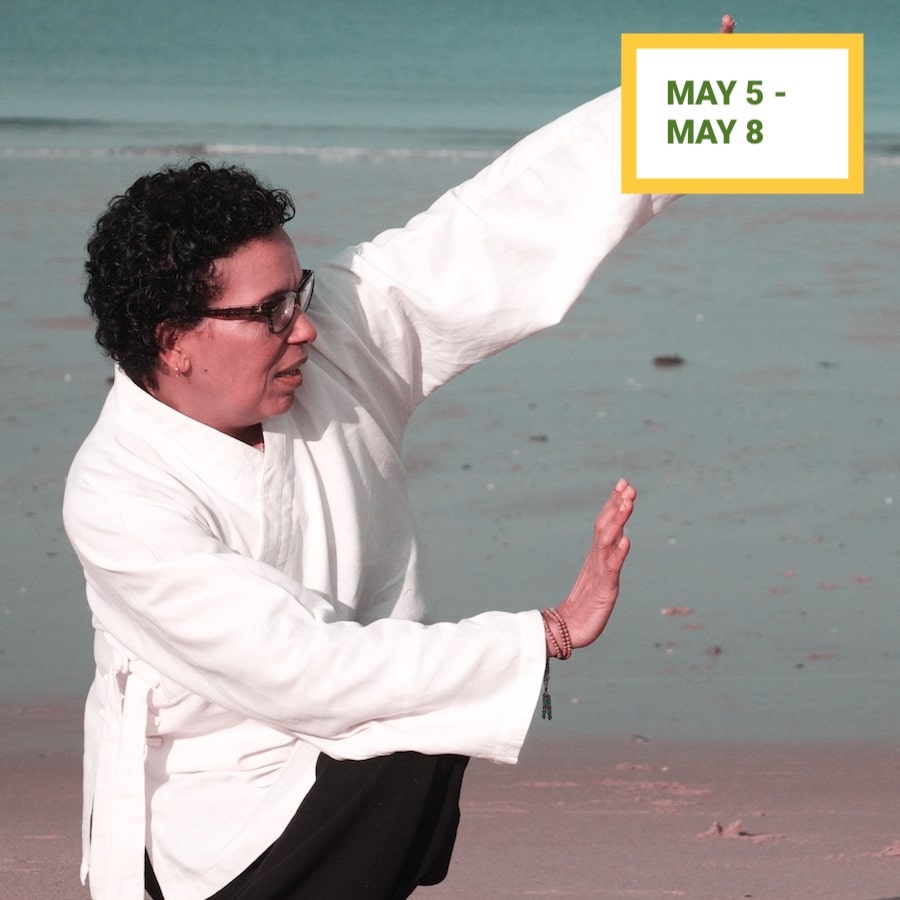 Au moment où la nature s'épanouit, que les premières fleurs arrivent, nous vous invitons à vous ressourcer et vous préparer à l'été à The Happy Hamlet avec une retraite de Qi Gong. Le charme du Quercy blanc et les infrastructures de Happy Hamlet vont accompagner vos lents mouvements dans l'espace pur de notre nature. Enseignement, détente et long diner vont rythmer ces quelques jours de Qi Gong.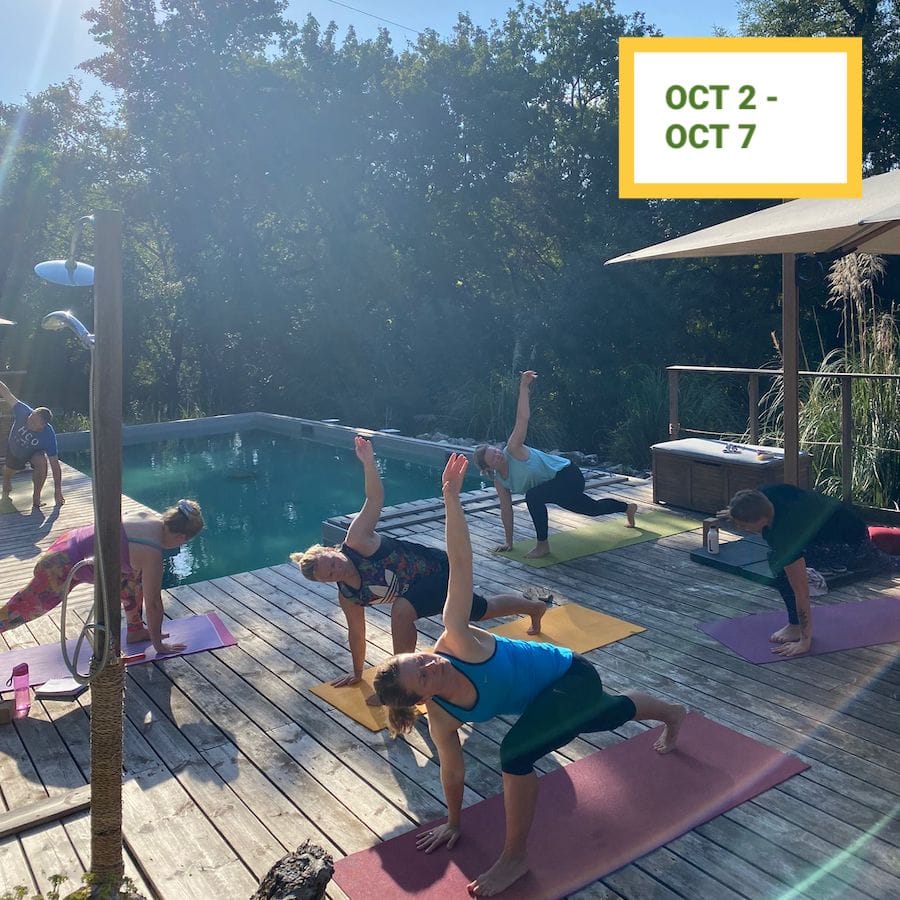 HYVINVOINTIRETRIITTI
(Private Retreat)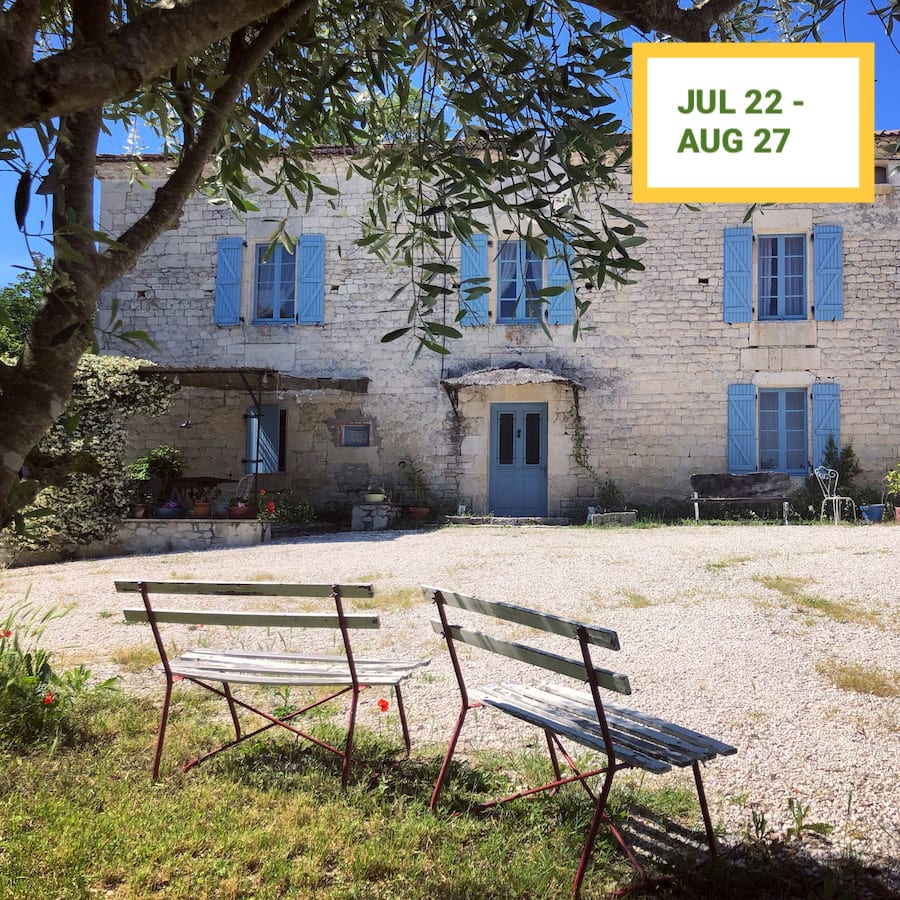 ---
Want to Organise a Retreat in the Hamlet?
---
We're always excited to make new contacts and friends. Please have a look at our dedicated page for instructors looking for a special venue for their next retreat. Should you have any questions or if you'd like to reserve your dates, please click on any of the contact options below – looking forward to hearing from you and to working together one sunny day!
---
Any Questions? How can we help?
---
We'll be happy to receive your call, email, or even better, meet you face to face to plan together your dream stay in The Happy Hamlet.
Visit our contact page or get in touch directly by