This is one of the most beautiful, happiest, most welcoming places I've ever been. Suska and Nico provide cozy rooms, amazing food, hikes, day trips to vineyards and brocante all in a gorgeous region of France. They are kind, funny and helpful. We had a fantastic week and I'm sad it's at an end. Do anything you have to to get here! – KATHRYN M.

More lovely guest reviews >>
---
When the Office is Not Enough.
---
The busy and hectic day to day routines may block us from creativity and focus. We cannot think of a better way to bring back the balance in the team or a project than take it out from the dusty city and allow yourself to be embraced by the nature, the peace and the calm.
Whatever it is that you would like to concentrate on, our promise is that you will not need to worry about the rest. Combine the work with play, good food, good sleep and fun program – you'll be sure to leave with more accomplished than you imagined.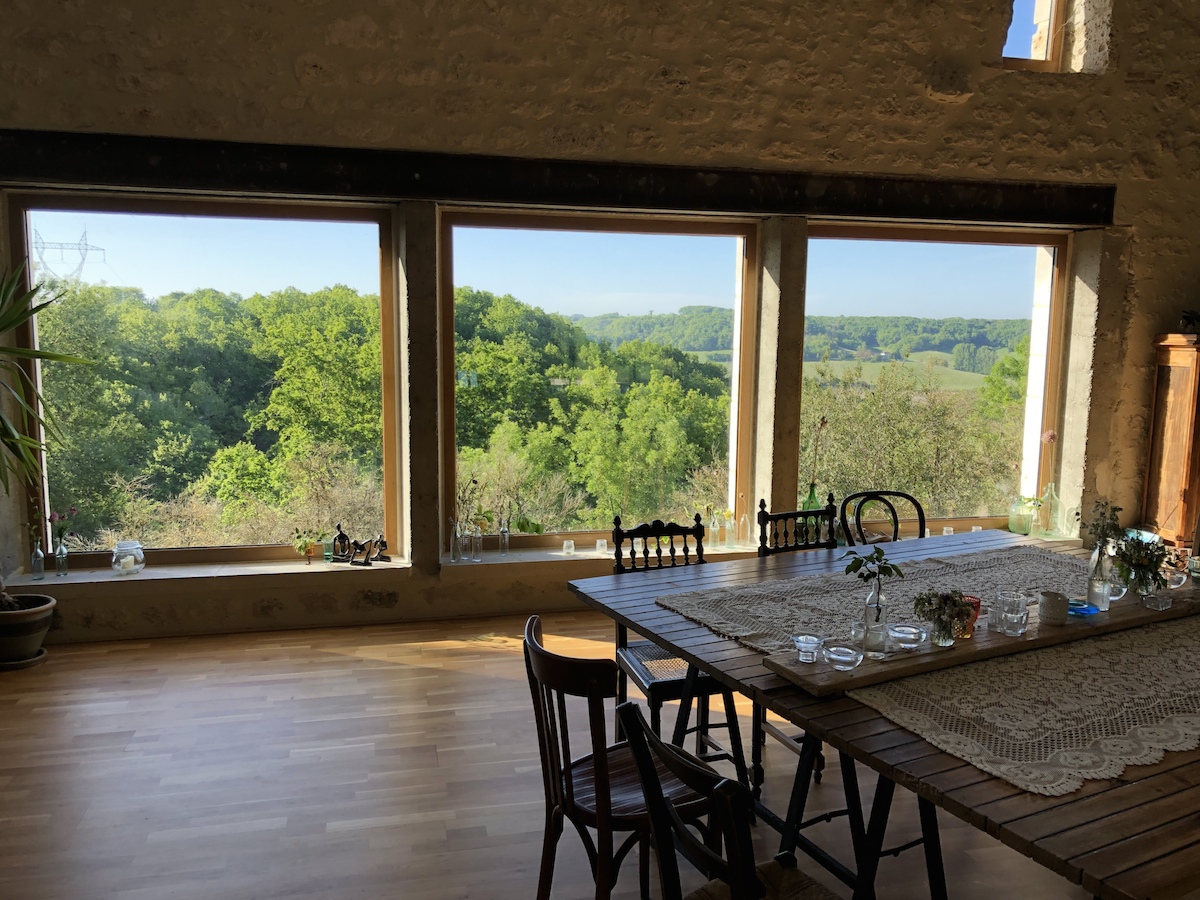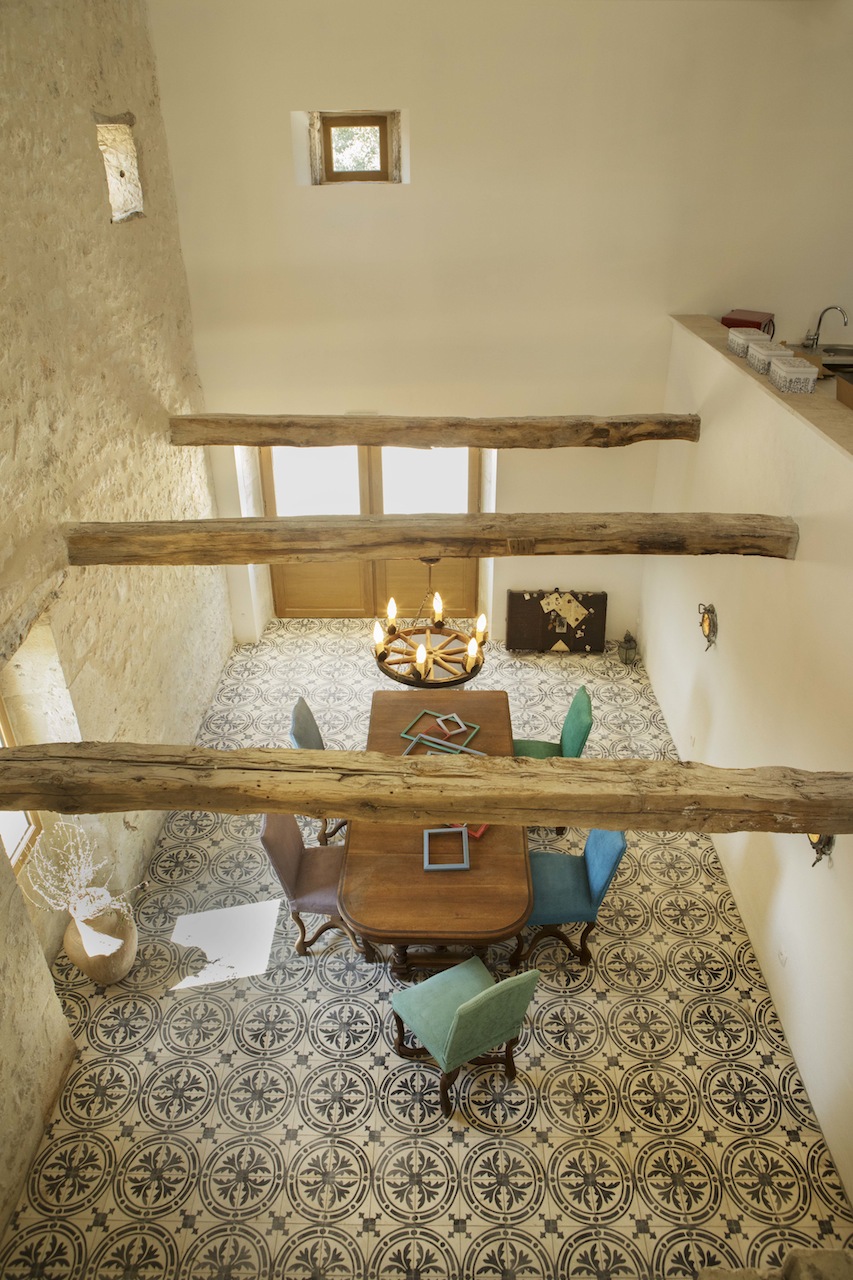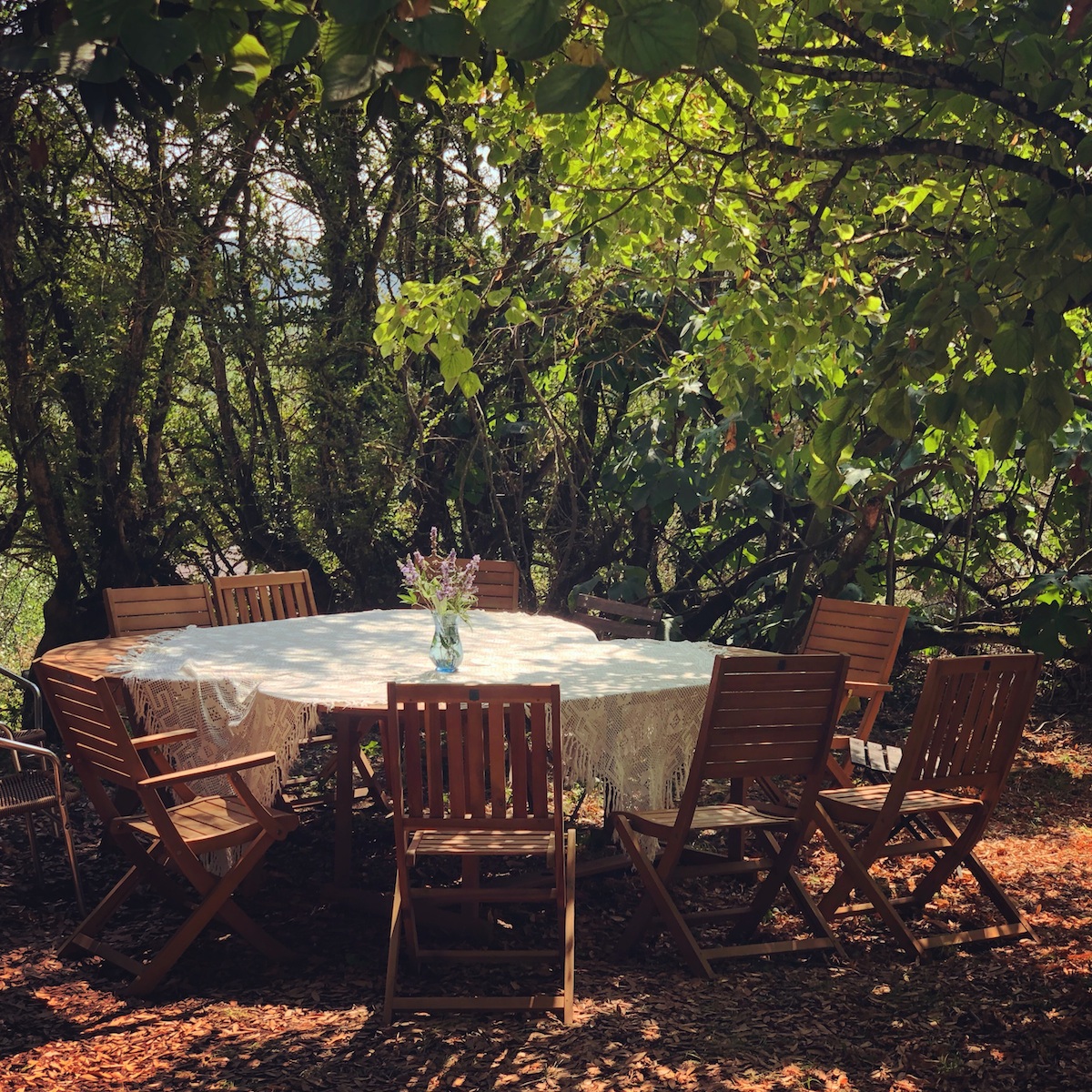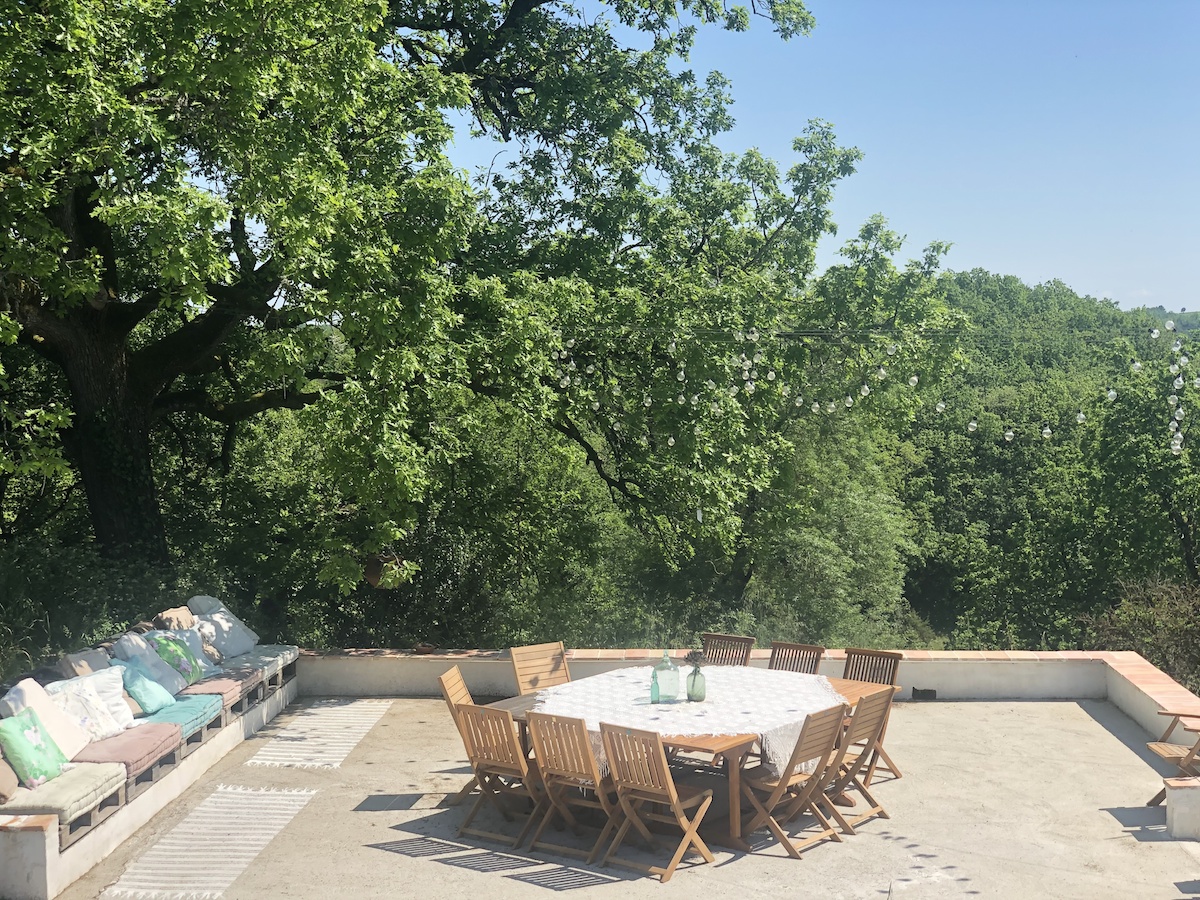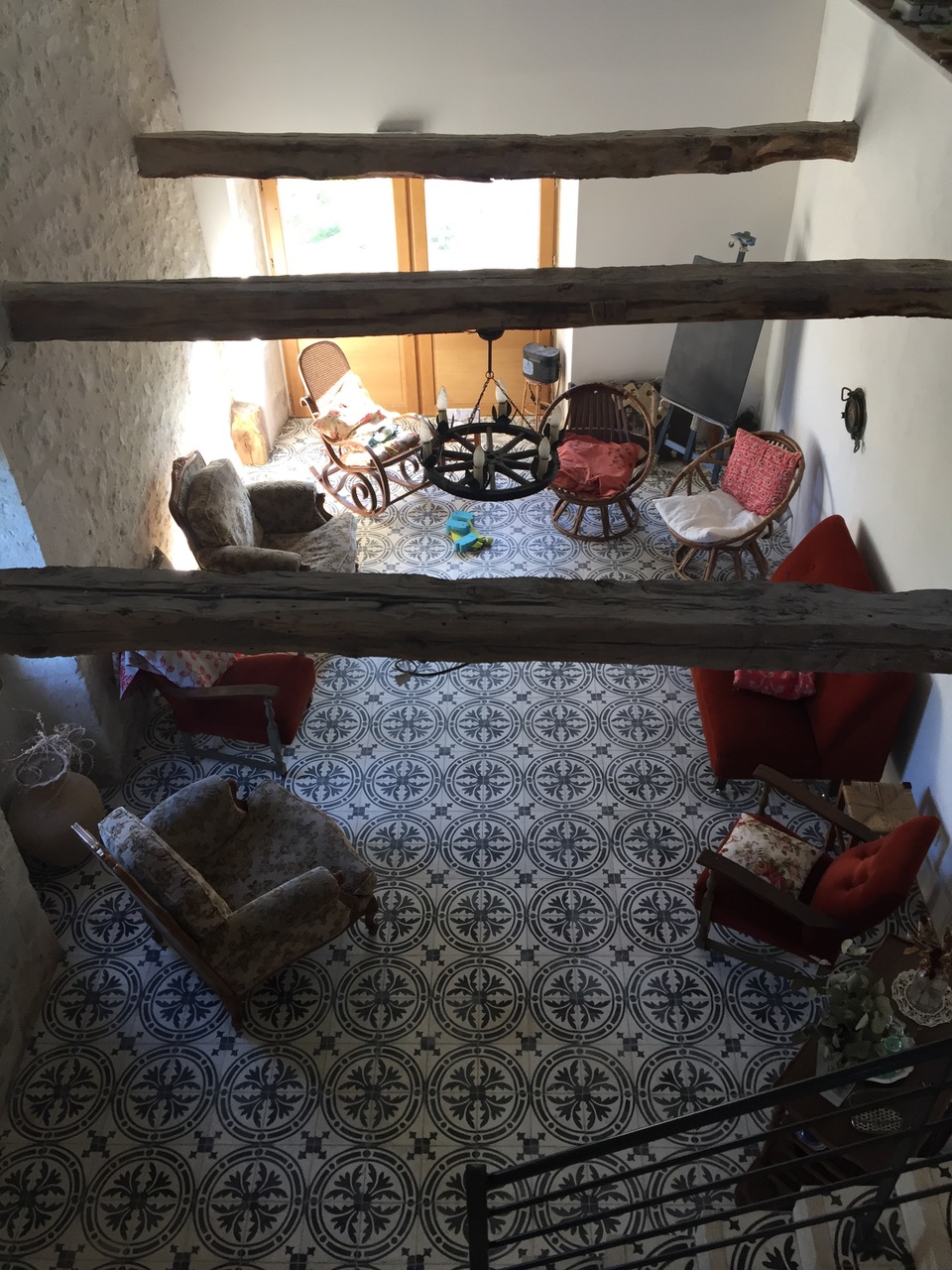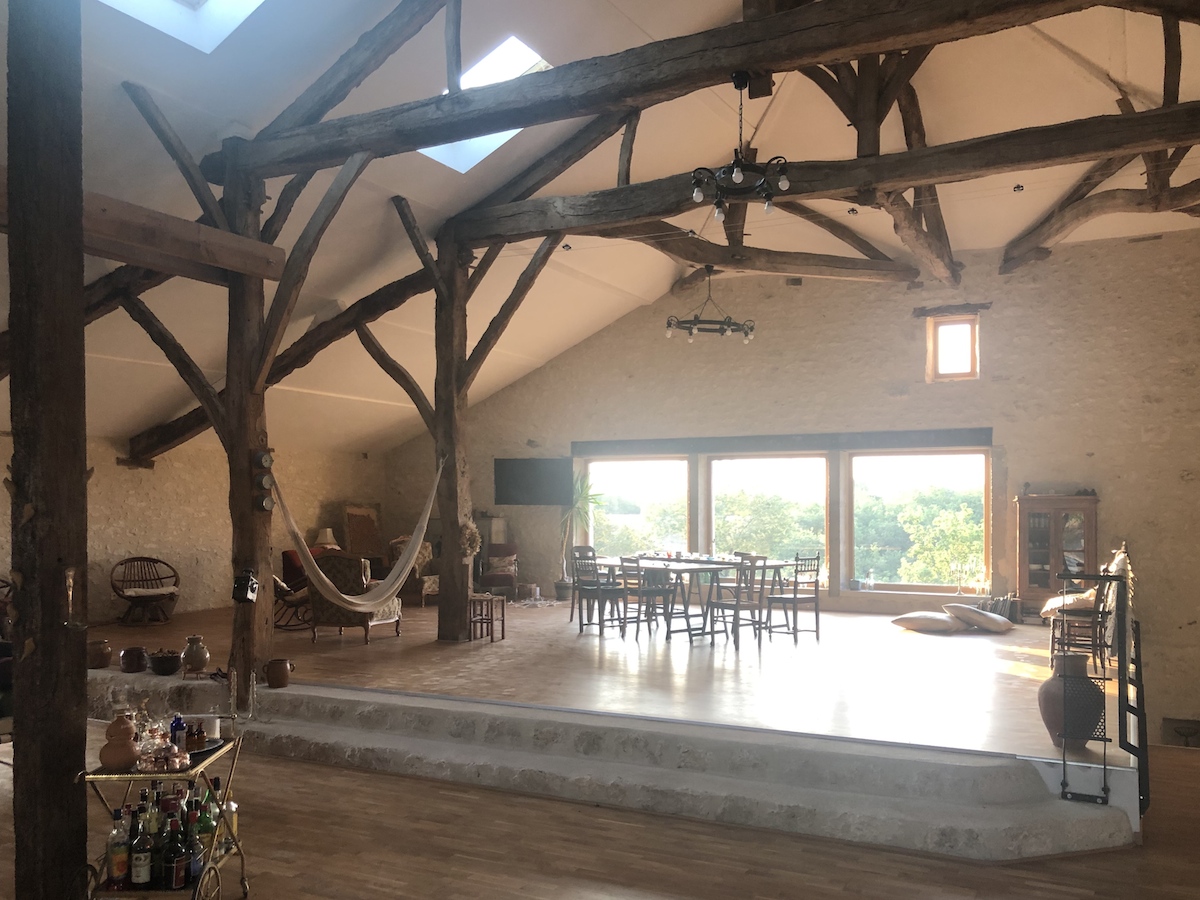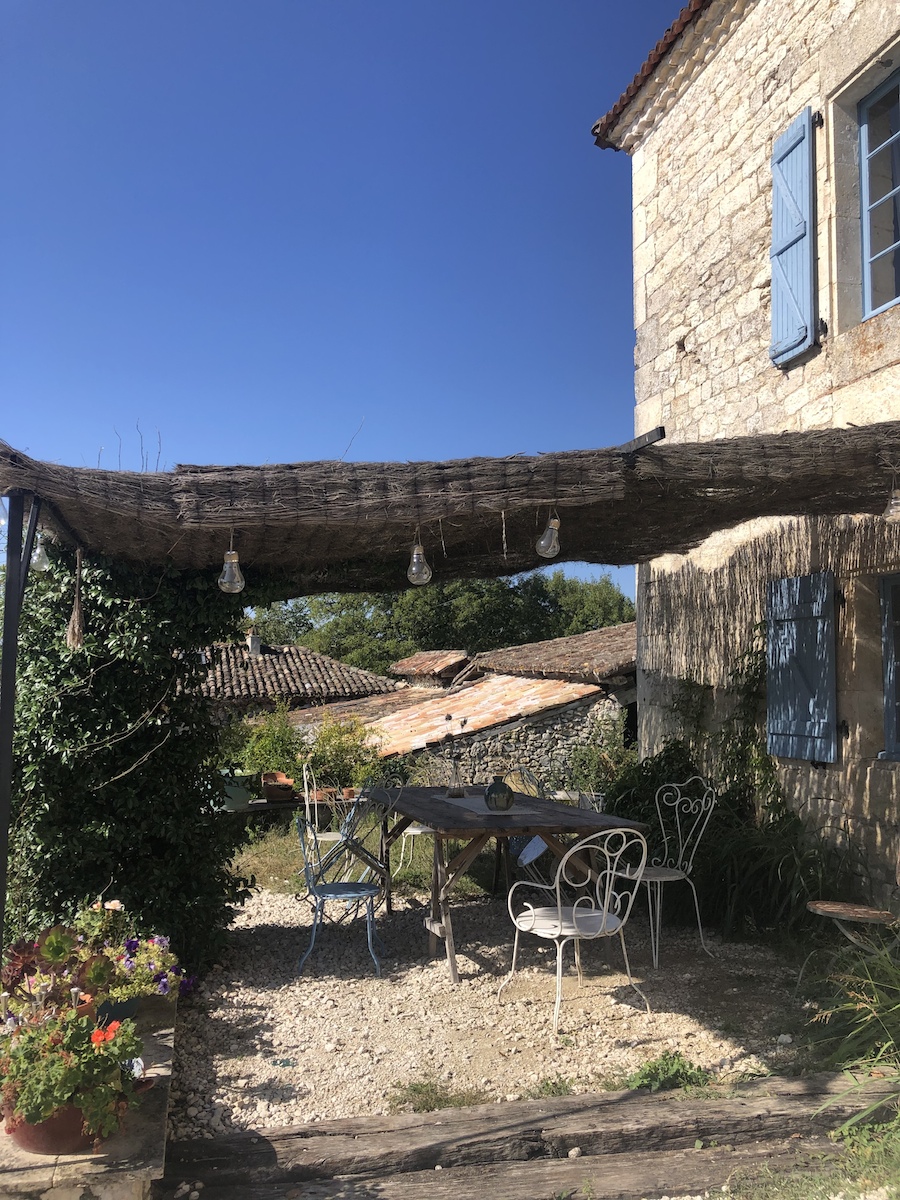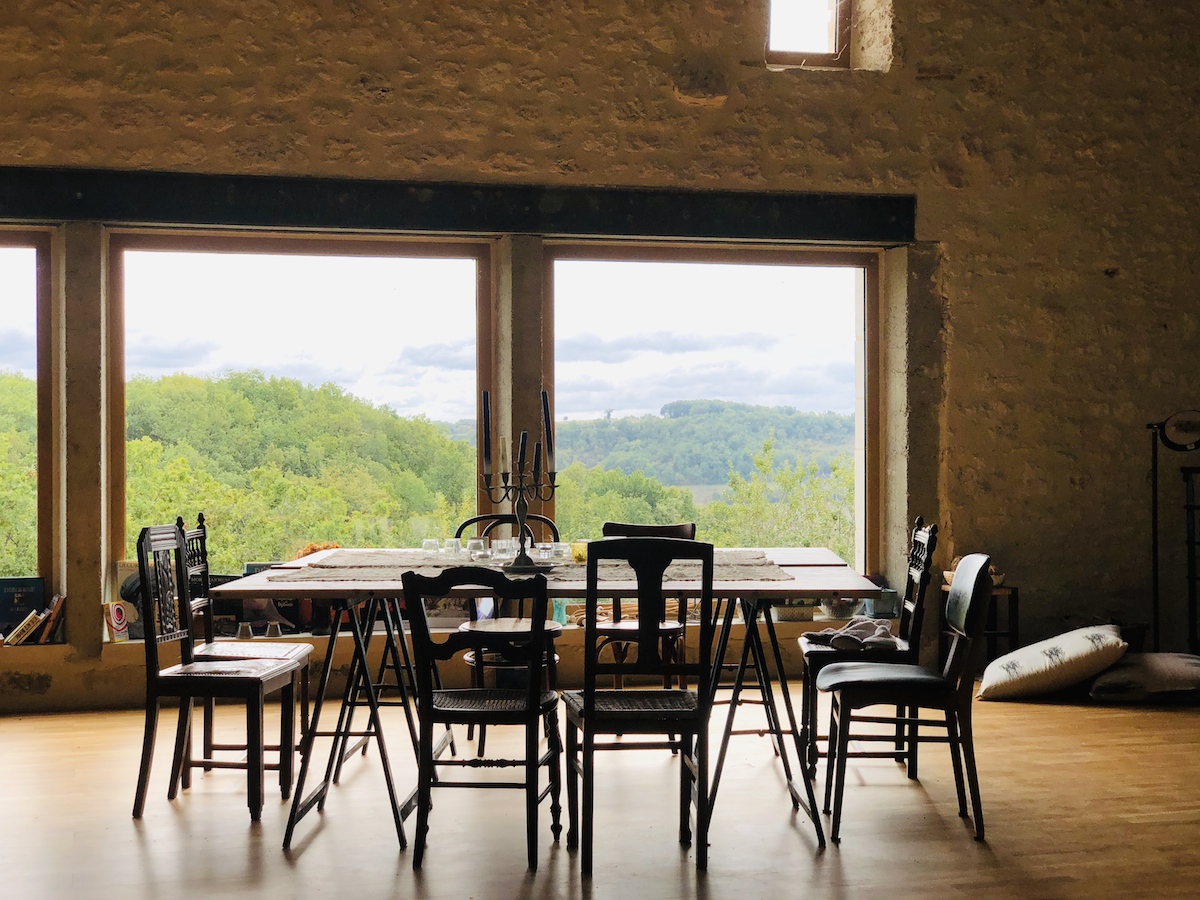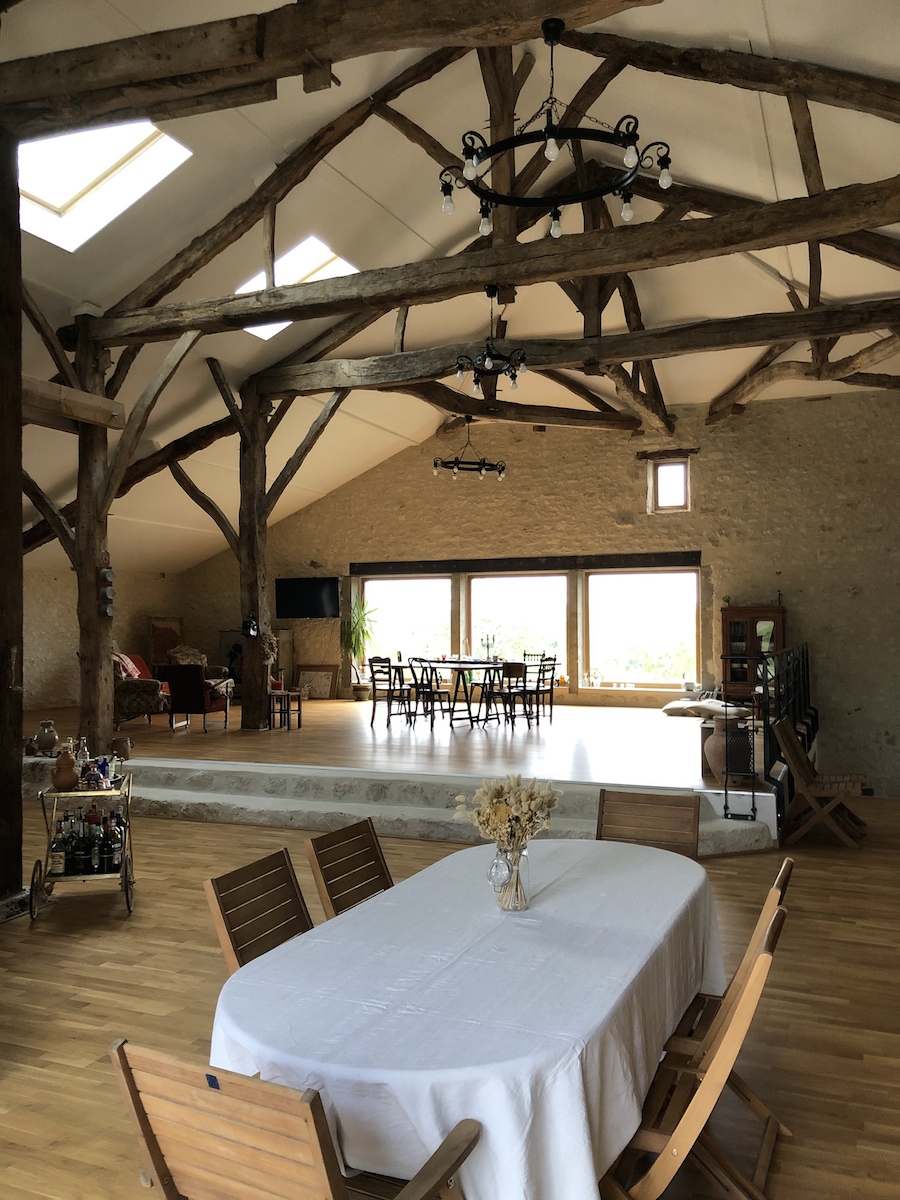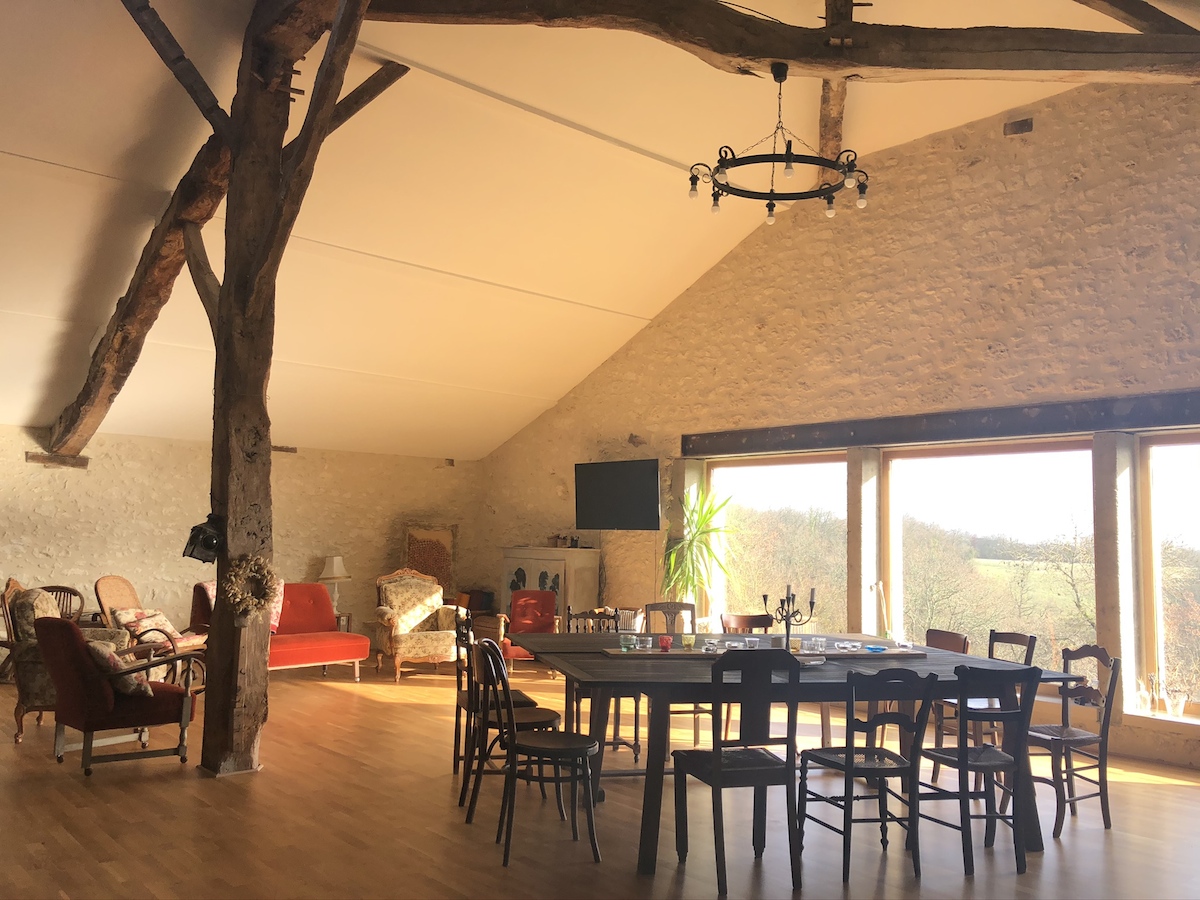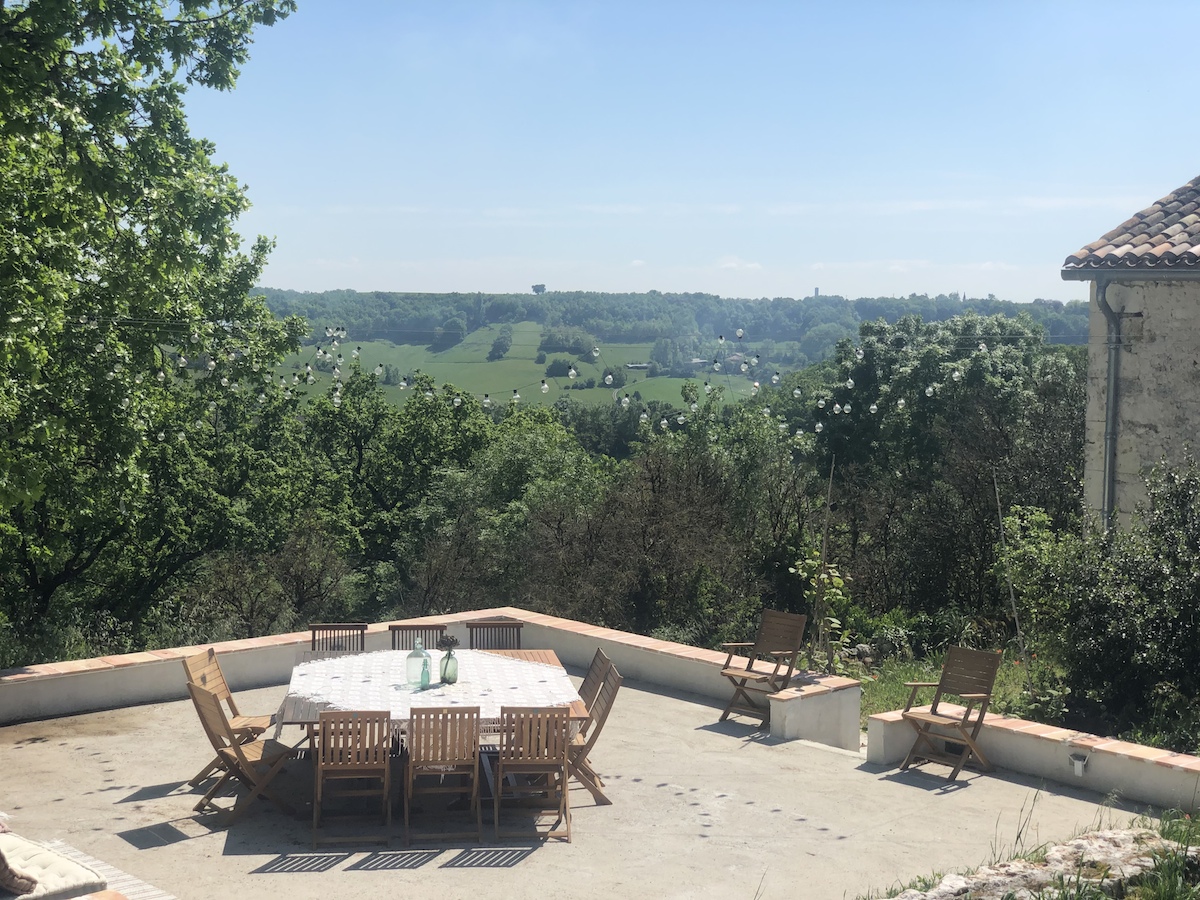 Work
You have several options to chose from for your meetings, brainstorming, presentations and other group gatherings. Indoors in the barn, outdoors on one of the many terraces or by the pool, depending on the way you like to work the most.
Indoors (Barn): Capacity up to 40 people (seated)
Outdoors (several terraces): 10-30 people (seated)
For presentations, launch events, cocktails and parties: maximum capacity according to security norms 57 people (standing)
Indoors (Barn): 360 m2 (3900 sq ft)
Wifi
Audio, video, Apple-TV
57 " Screen
Meeting supplies
Platform with views
Fully equipped kitchen
Dining area
Restroom
Piano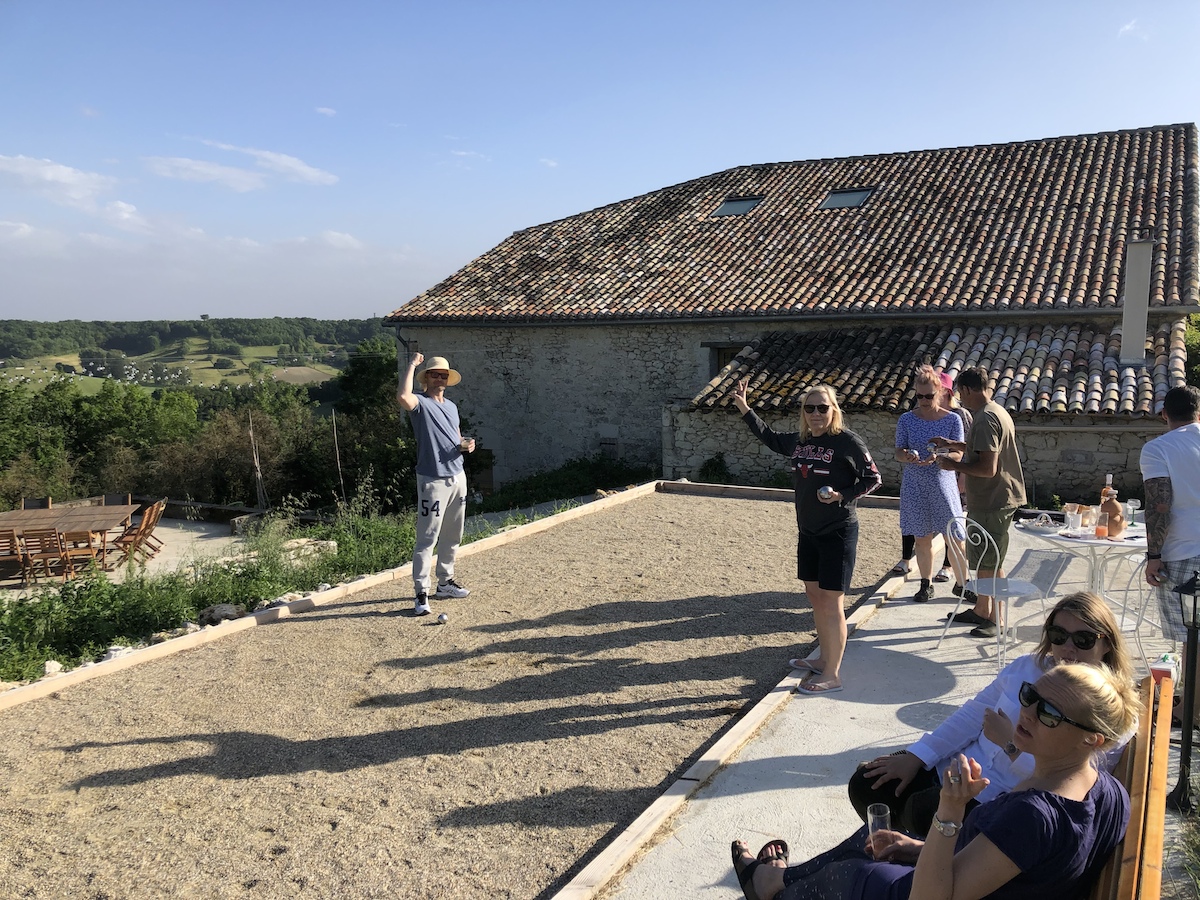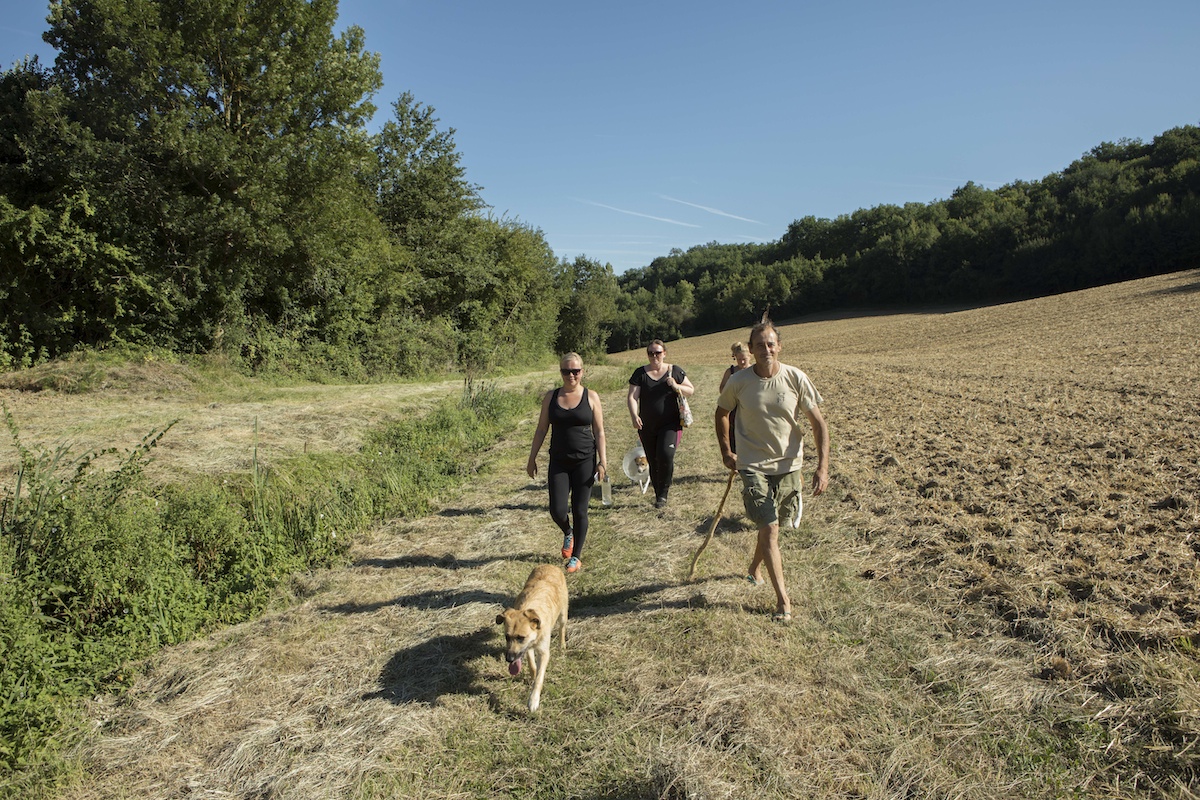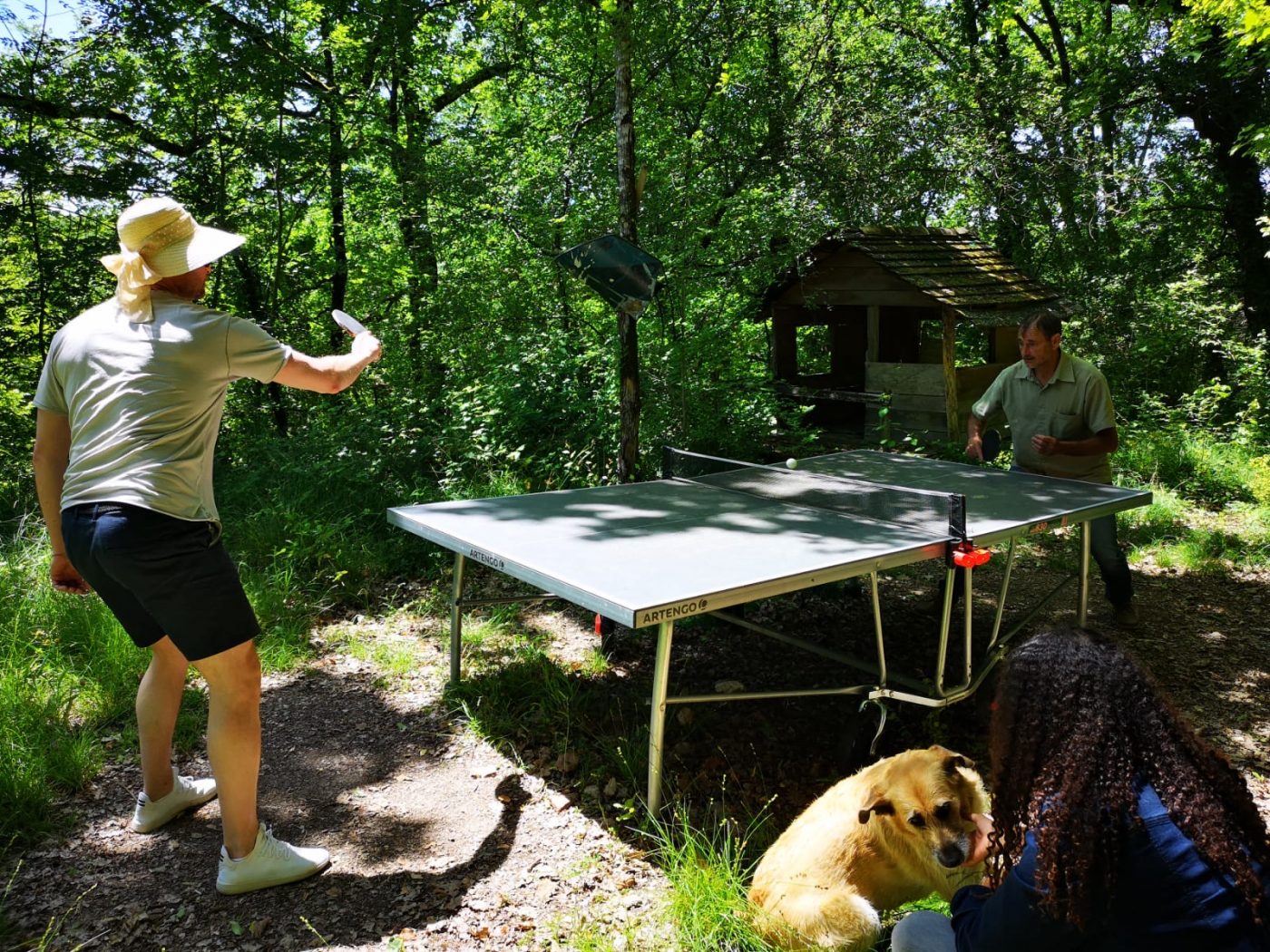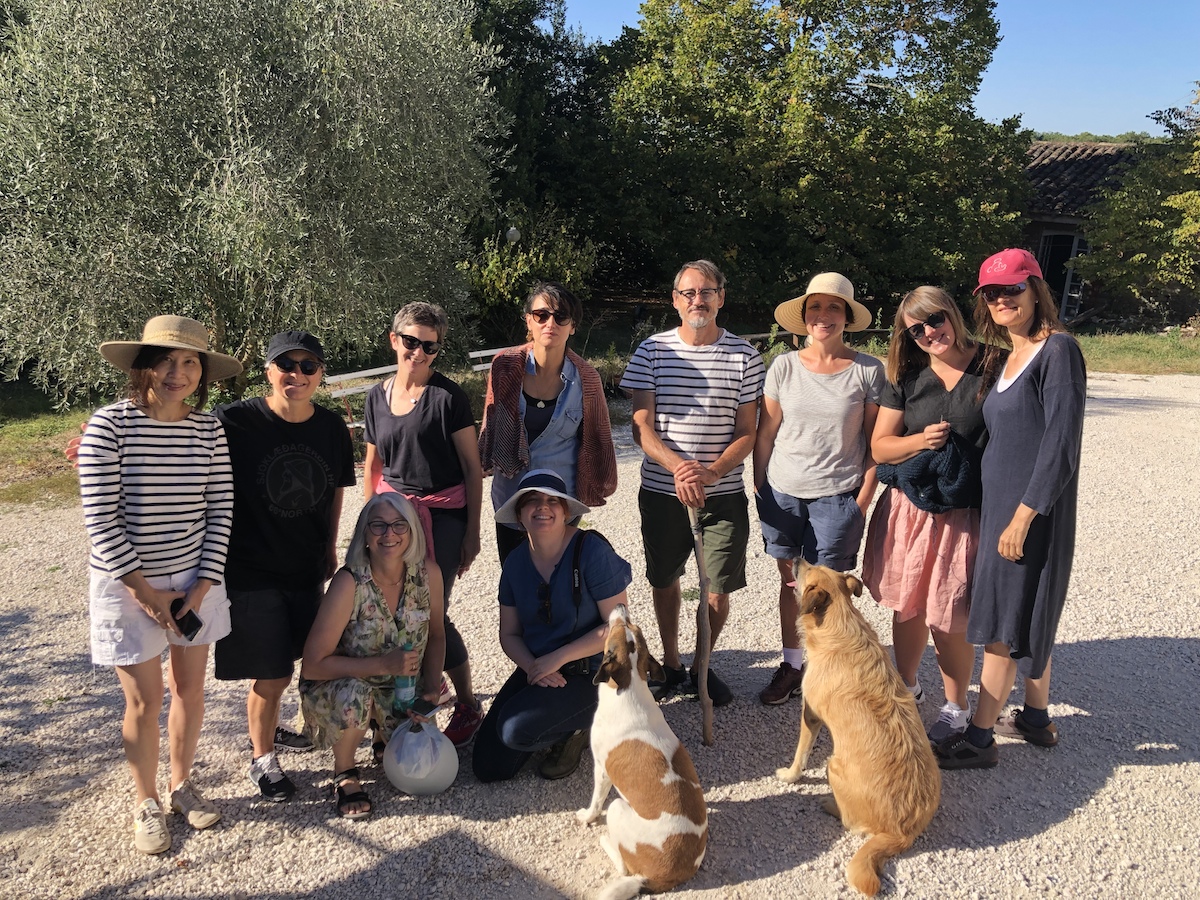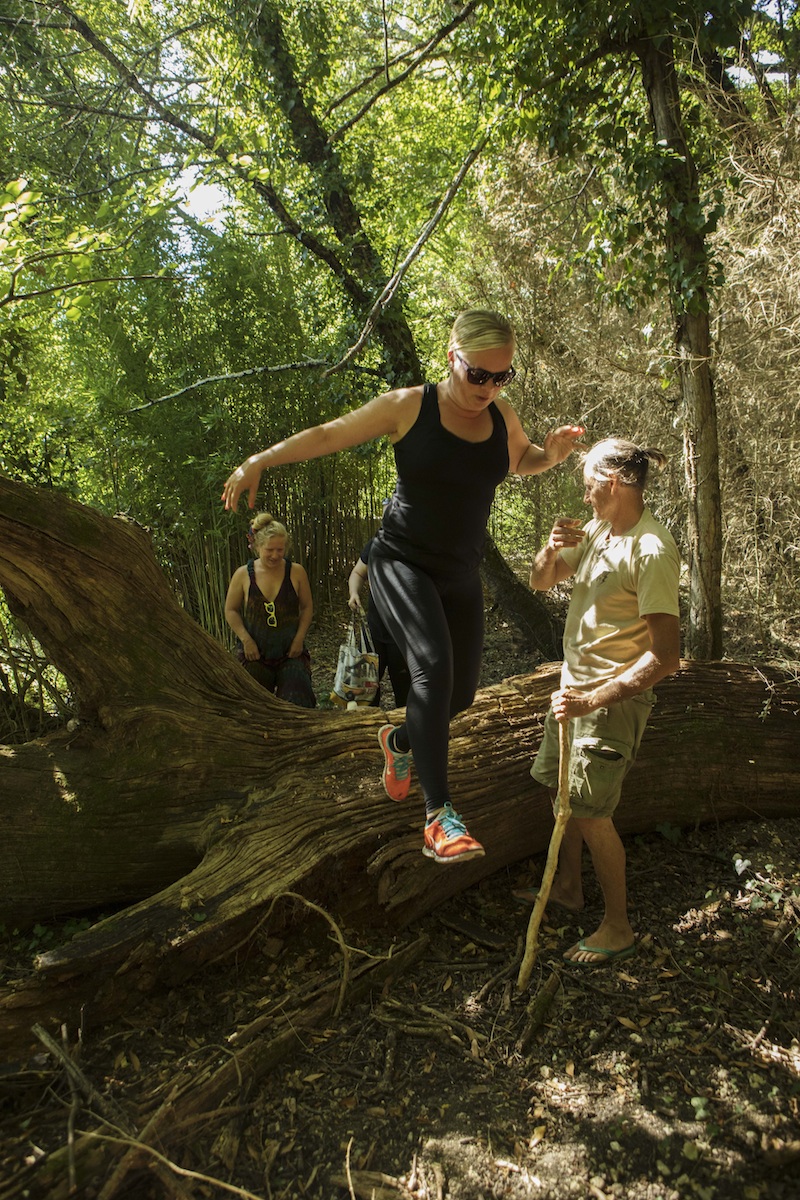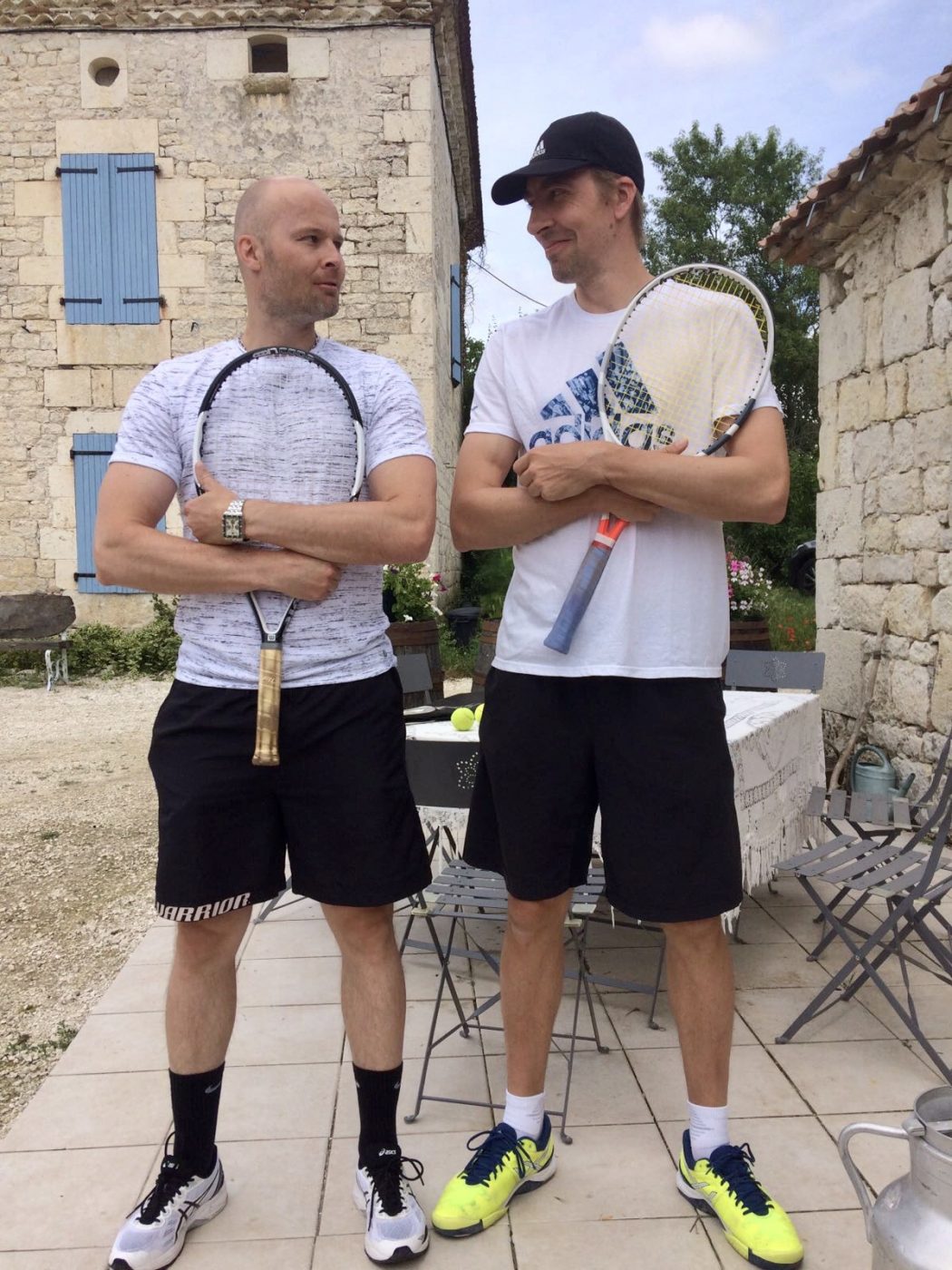 Play
When the work of the day has been accomplished it is time for some well-deserved play. There are various options to get active outdoors in order to unwind – sport games or hiking trails, even "Escape Forest Game" for the most adventurous. Fresh air and greenery will surely help relax both the body and mind.
Hiking and jogging trails
Bikes
Petanque
Table tennis
Jumbo badminton
Swimming & Sauna (see section "Relax")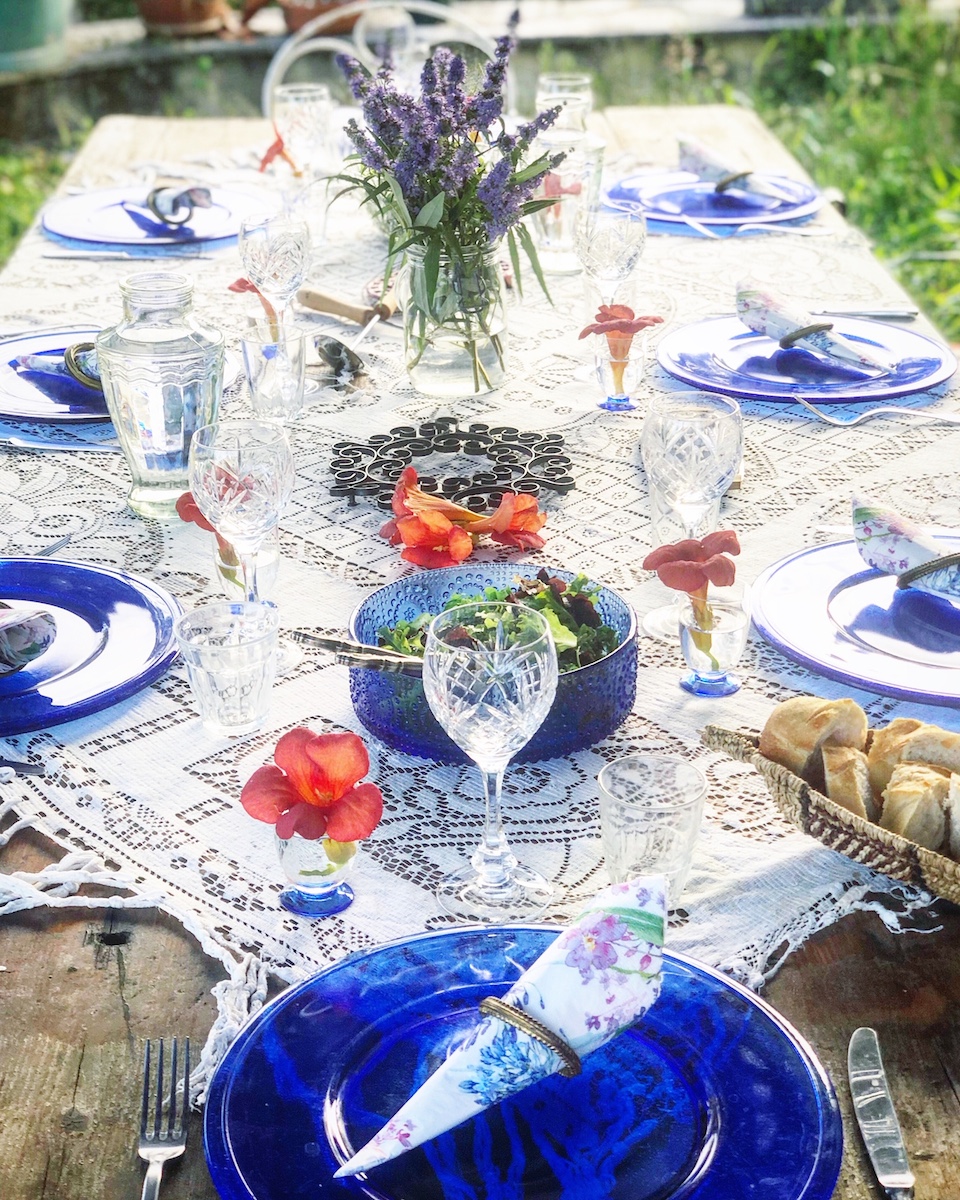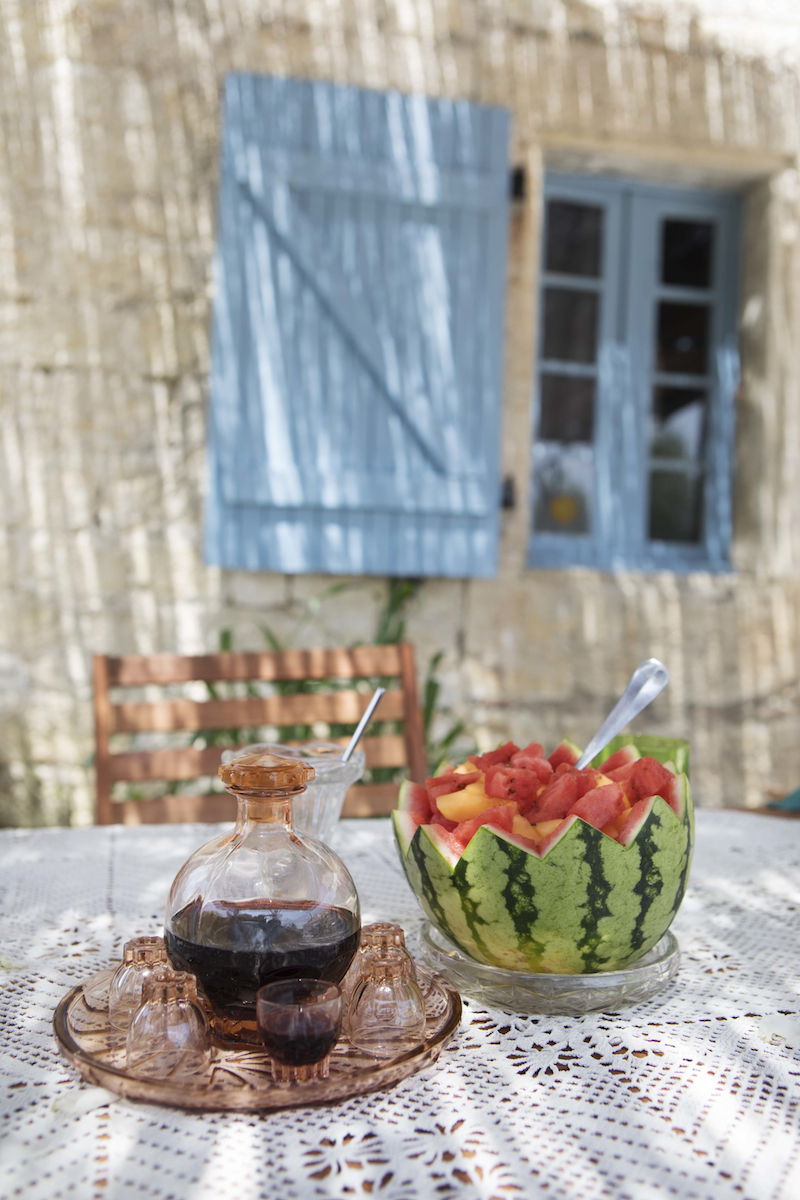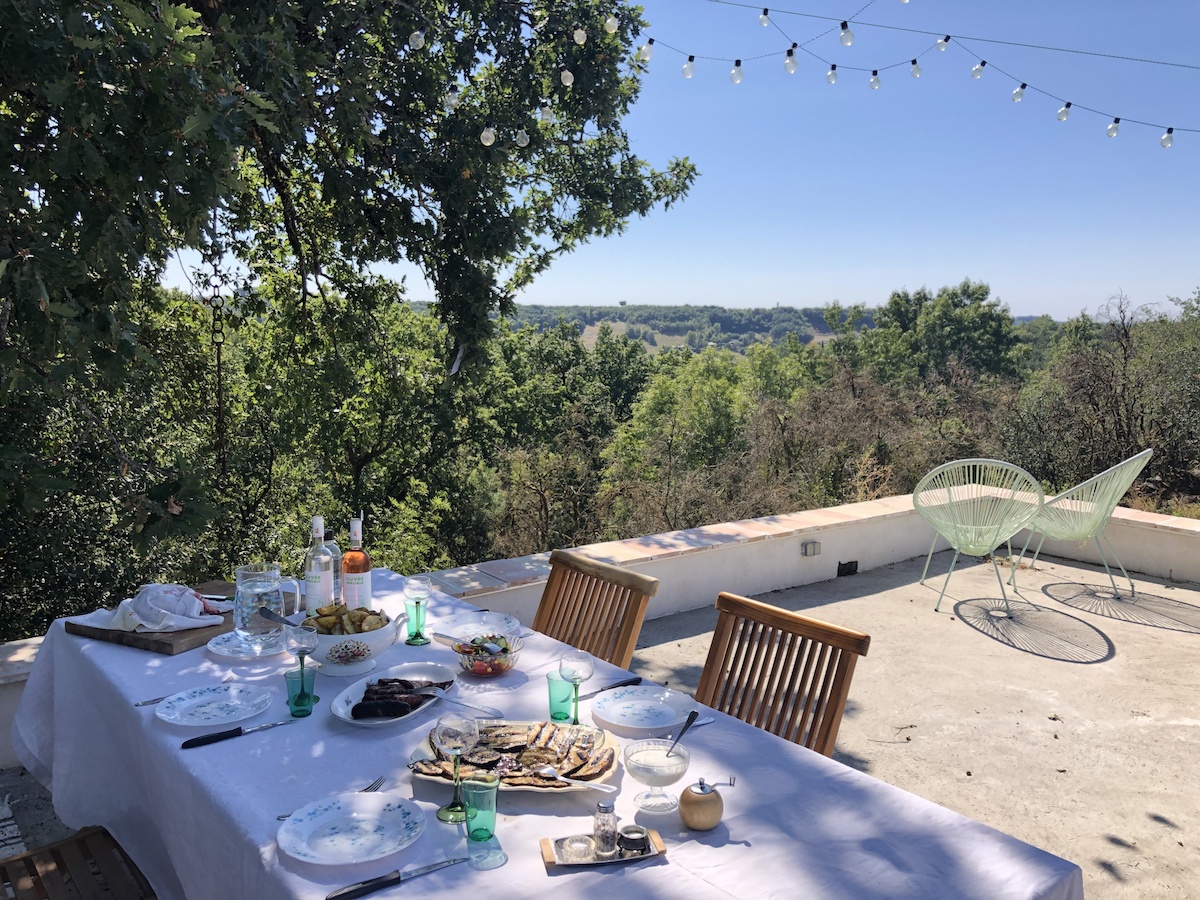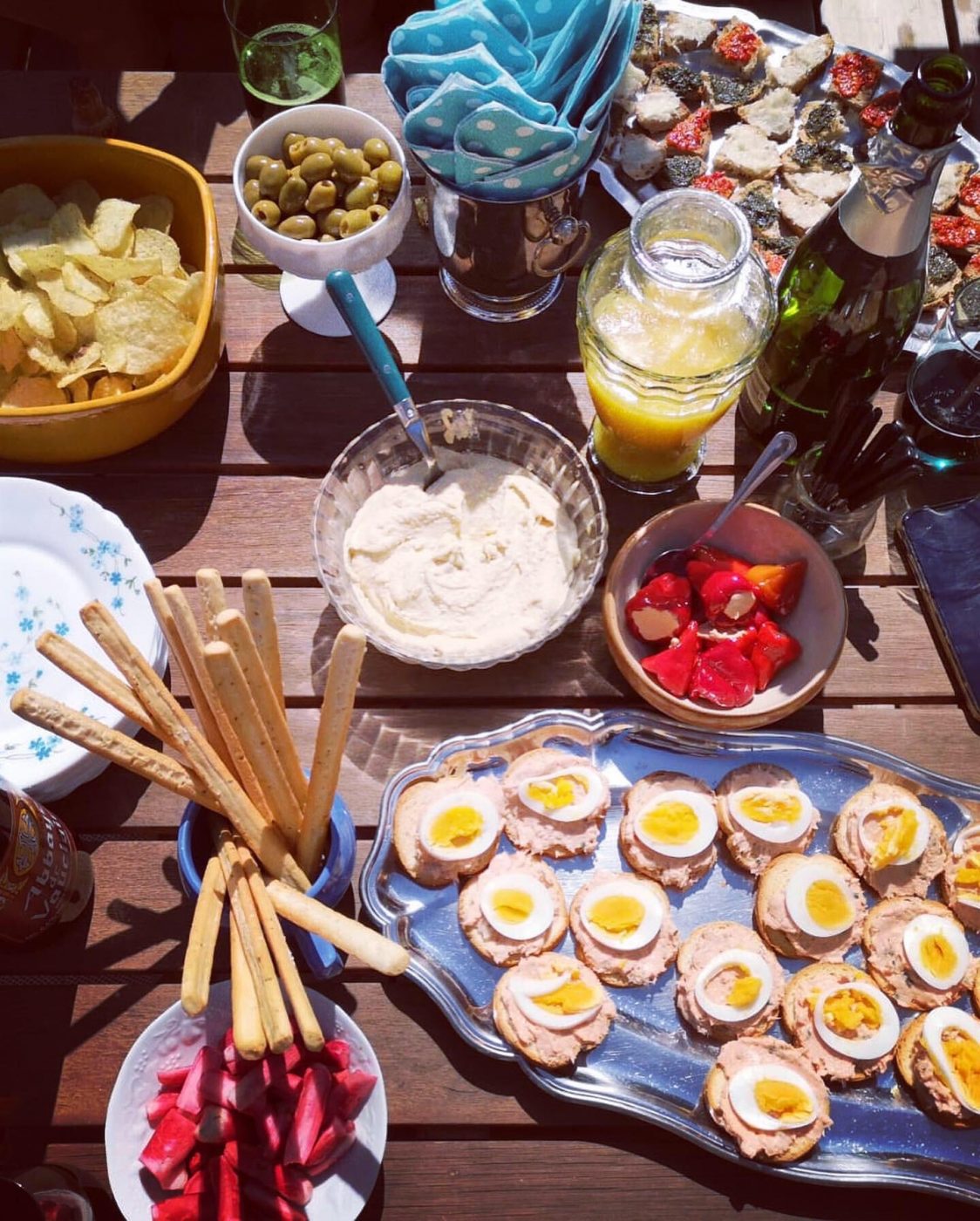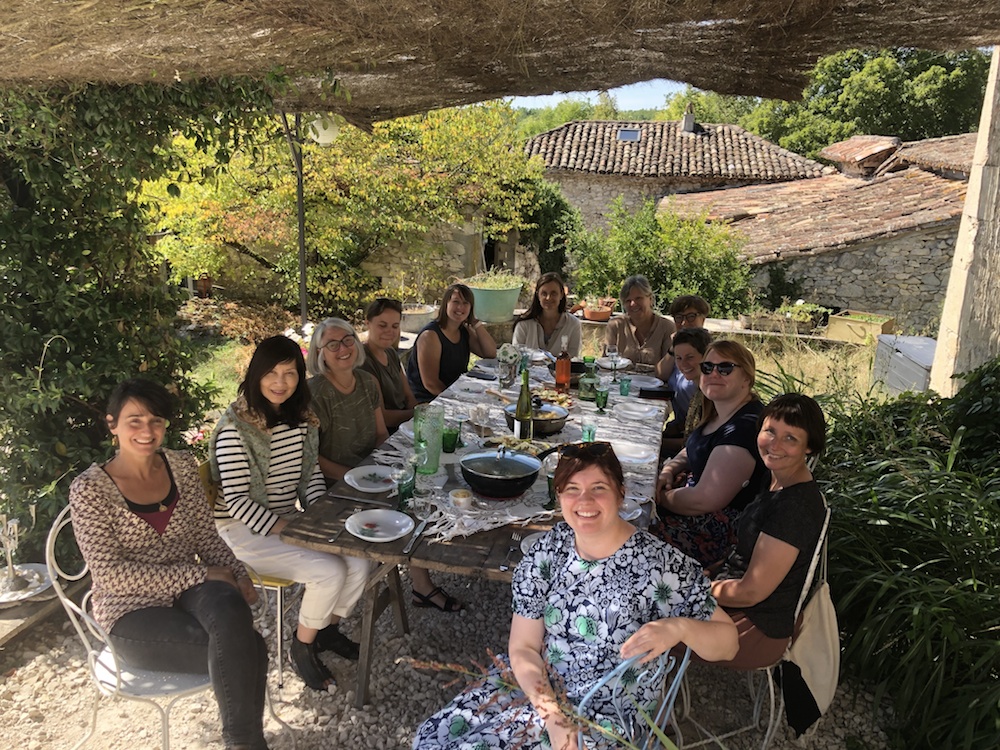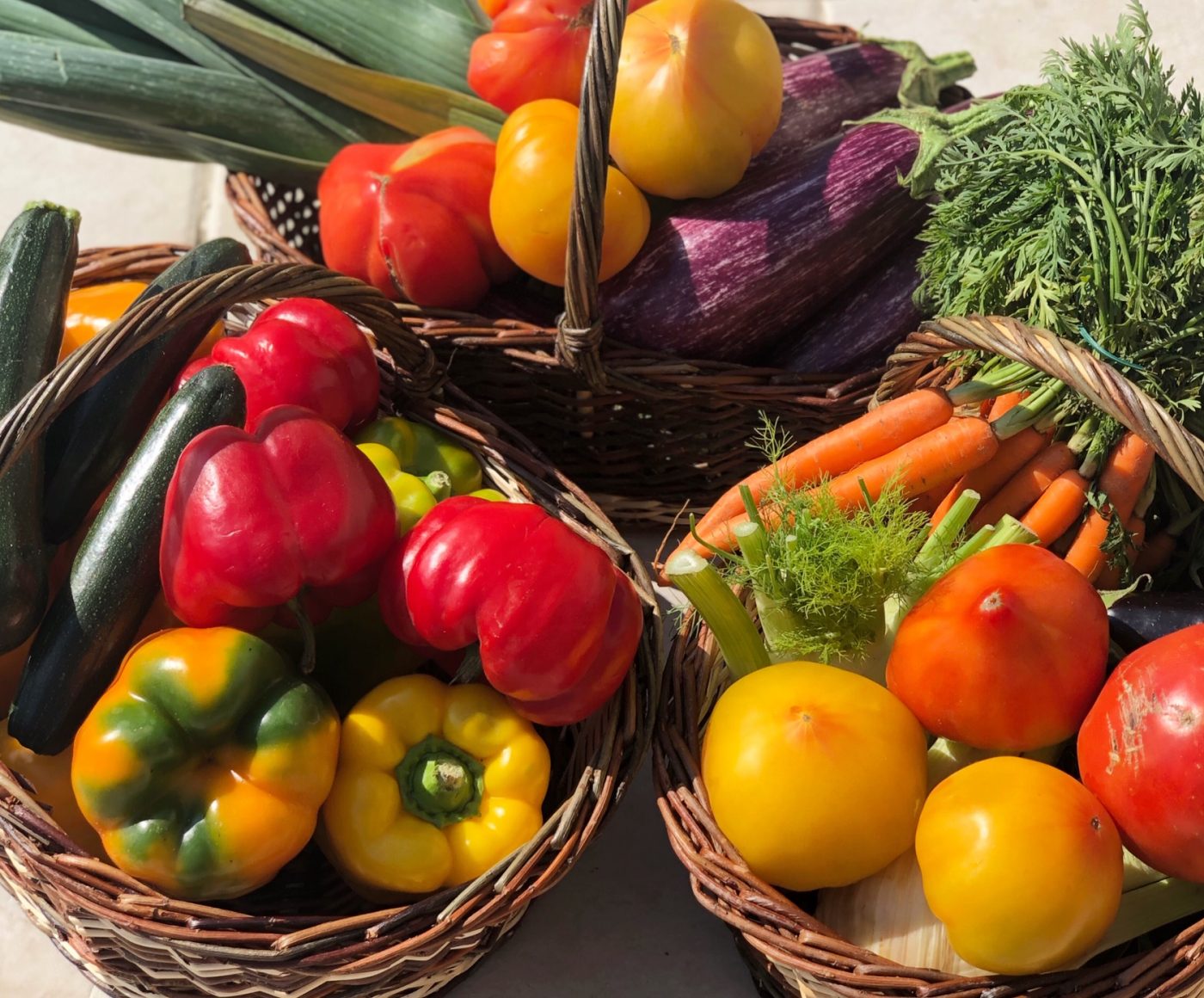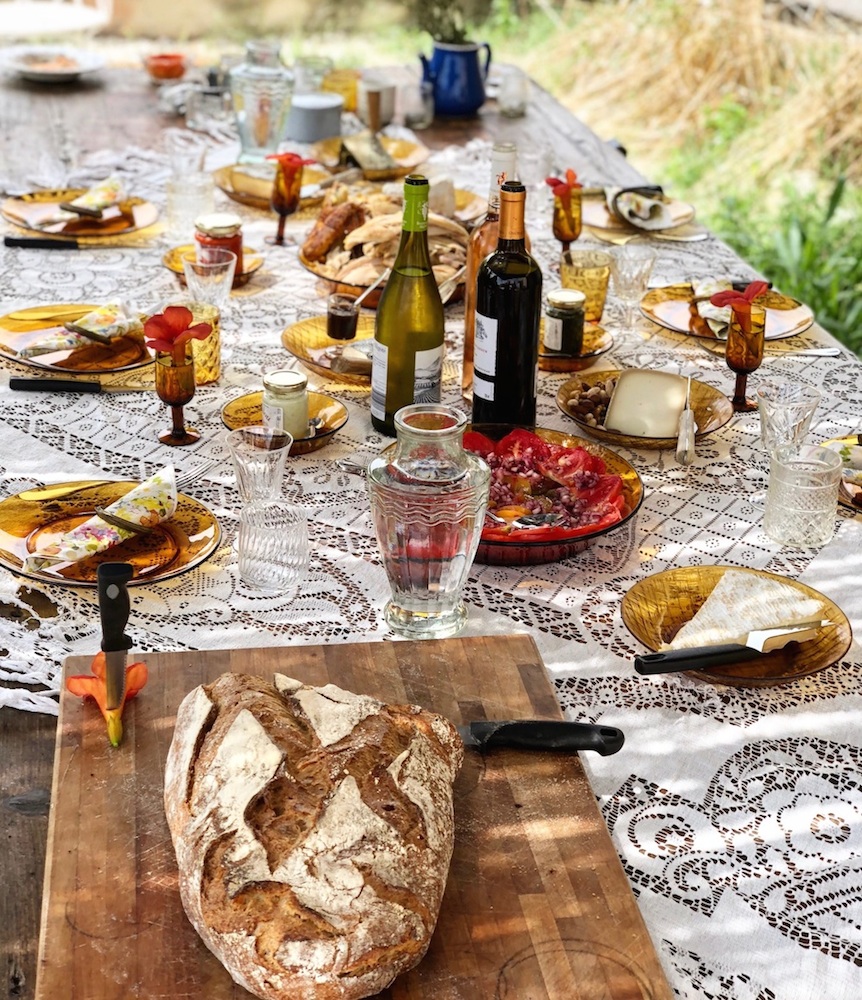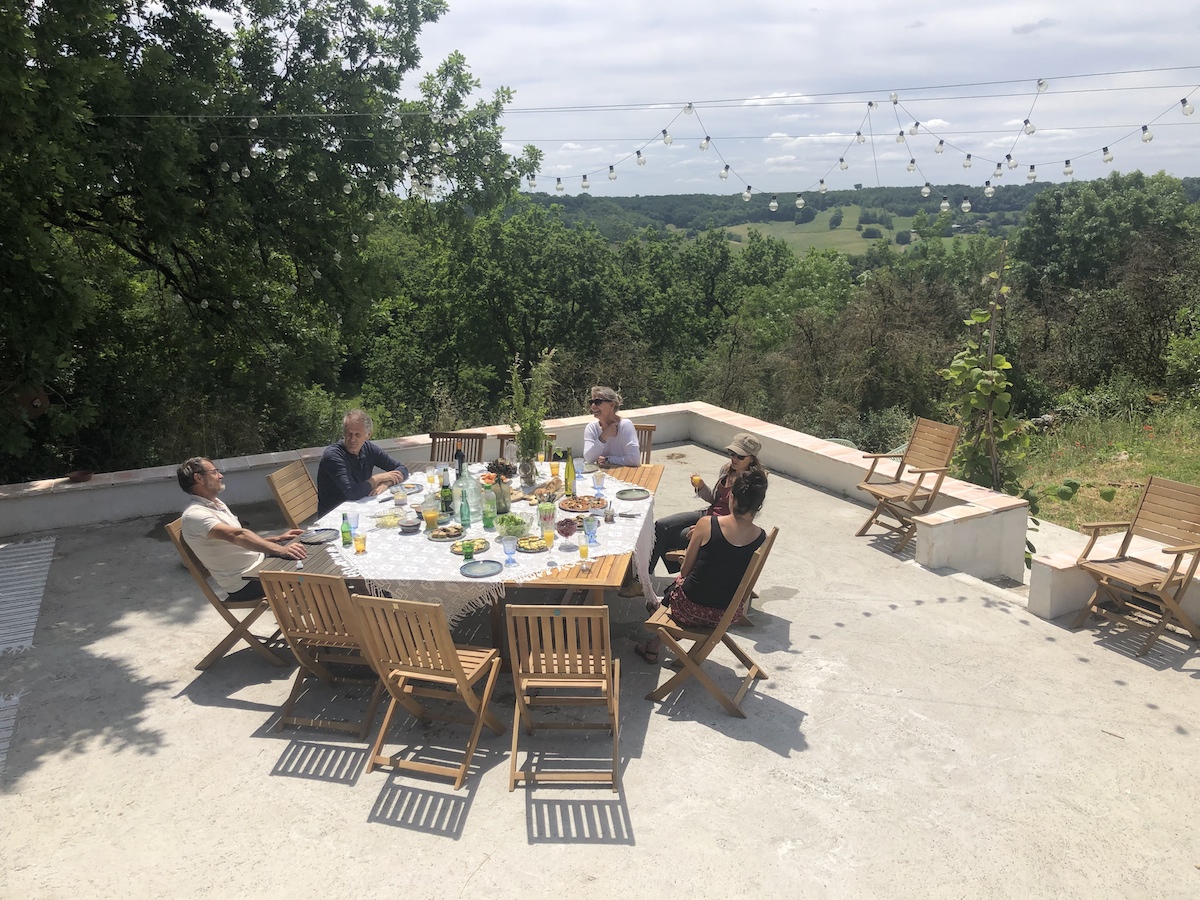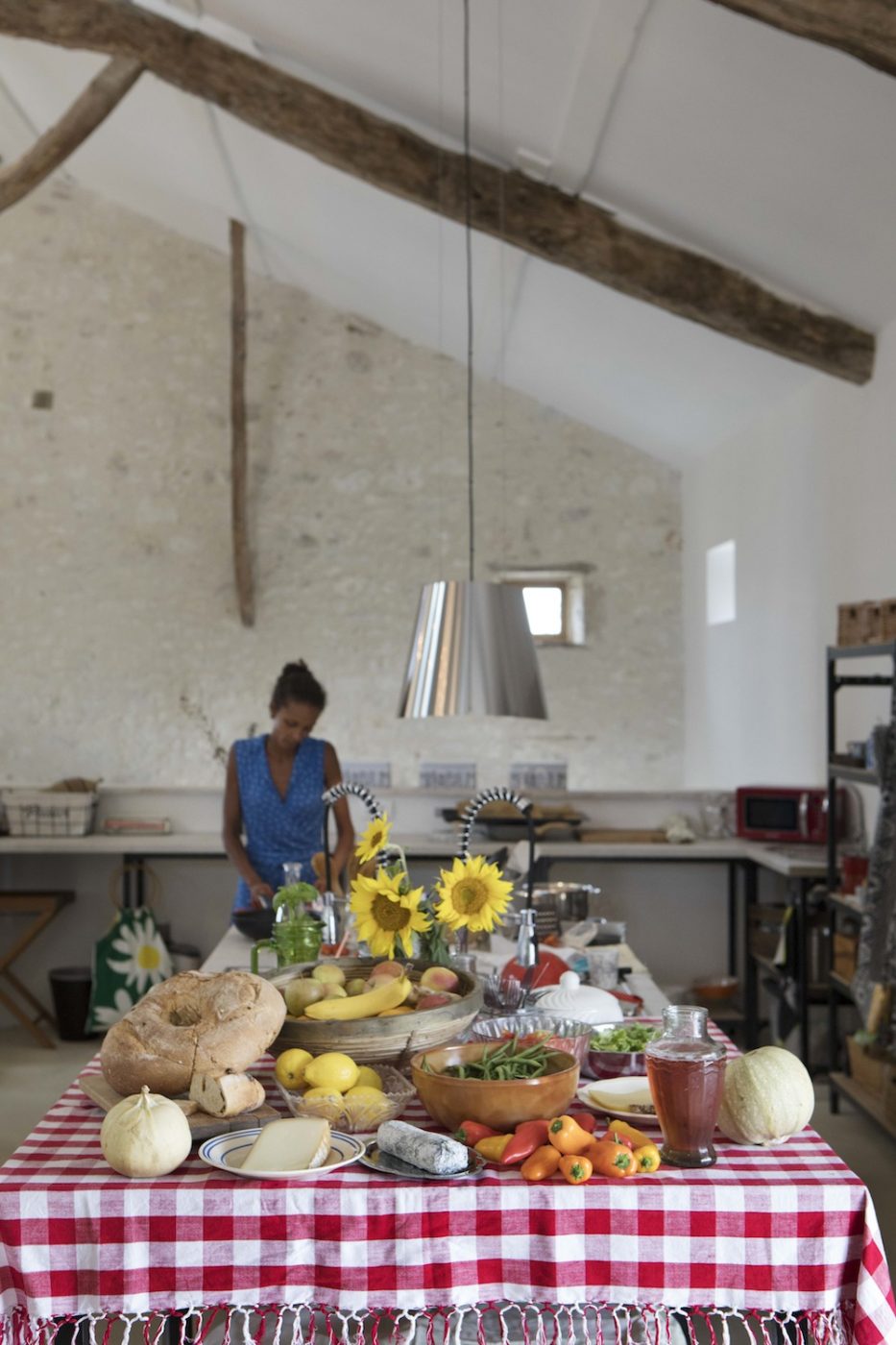 Eat
We're happy to make a promise that our meals are prepared with the freshest and very local ingredients.
Nothing as sweet tasting as a fresh fig from the tree! And we've got loads of them in the end of the summer. From the first harvest in the spring (usually artichokes pop up first) to the last picking and pickling in the fall (pomegranates and olives), we're happy to have something fresh to offer throughout the whole main season.
On top of our own "jardin", we are privileged to be surrounded by extremely diverse agriculture. The majority of our groceries come from the farmers' market or directly from the neighboring farmers.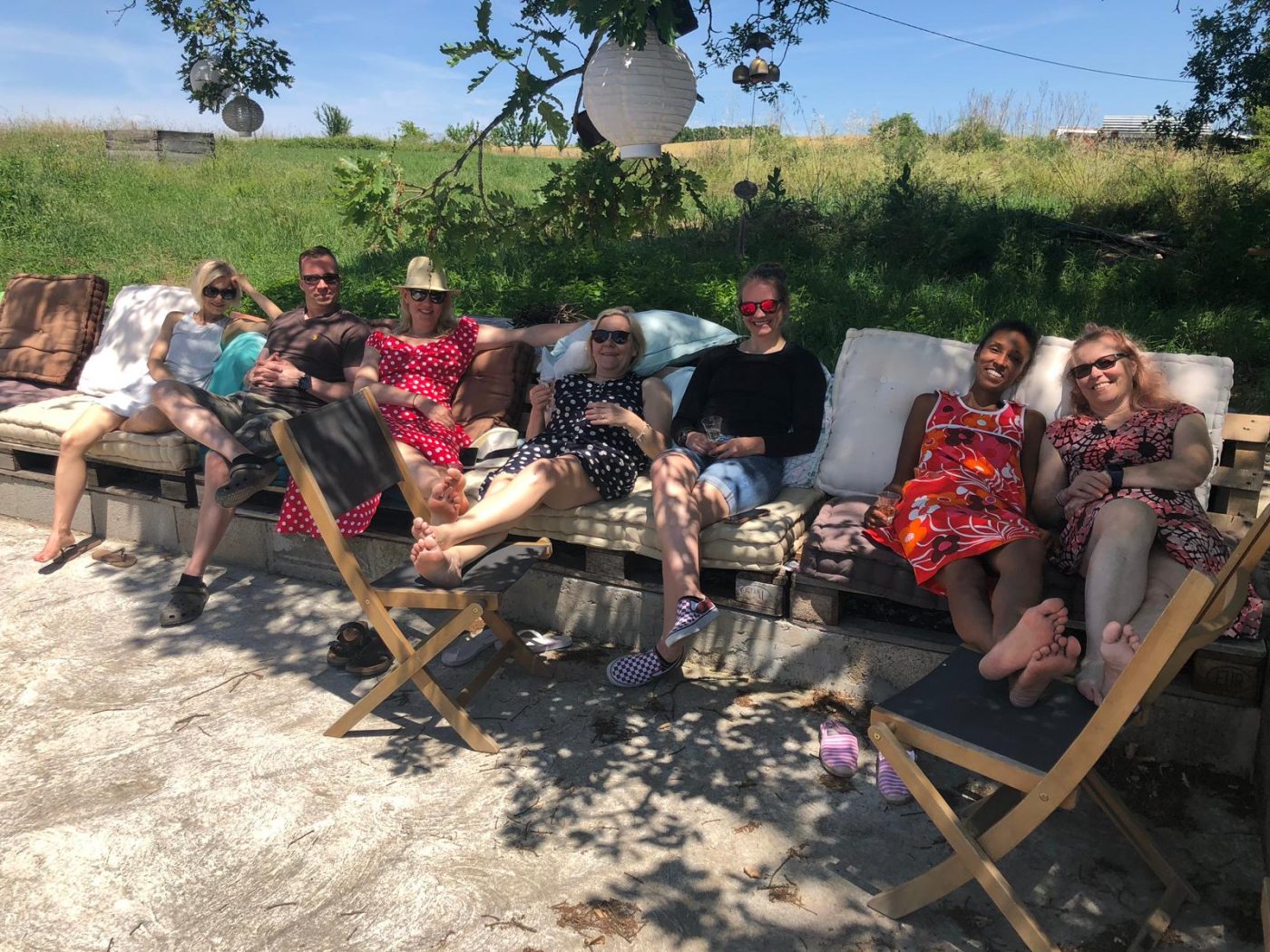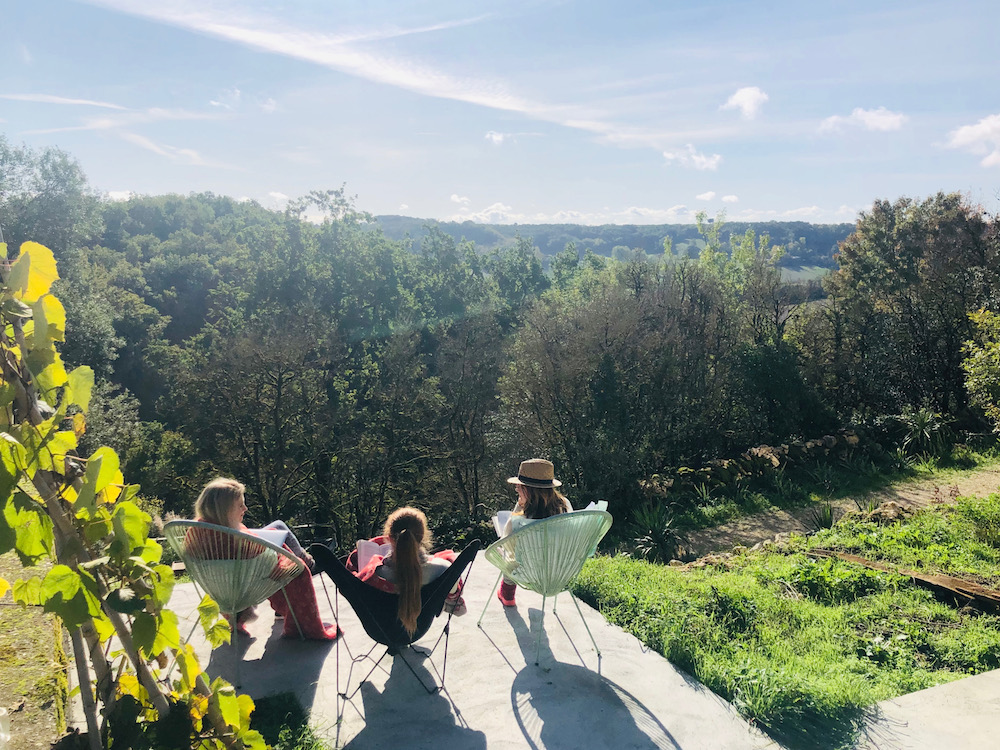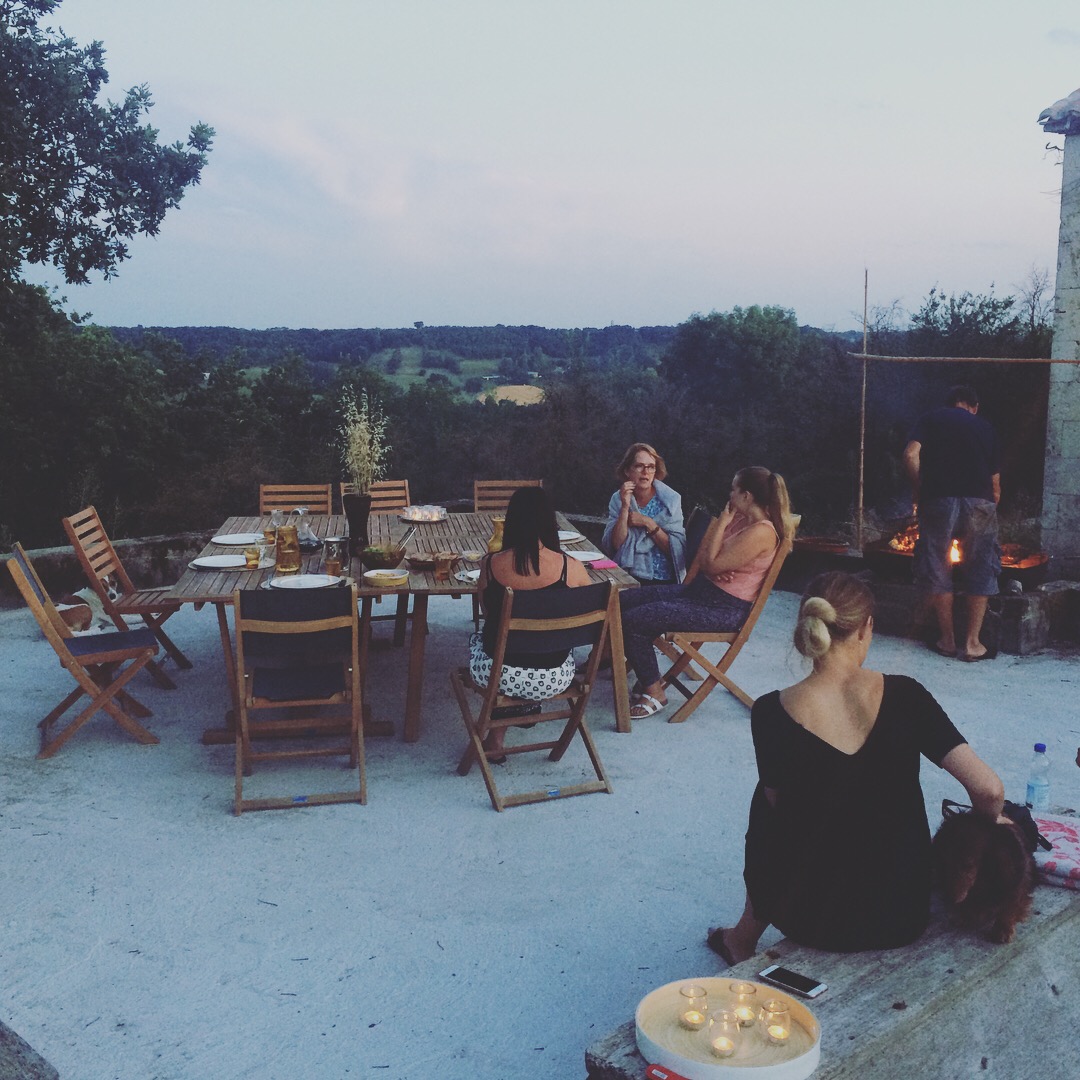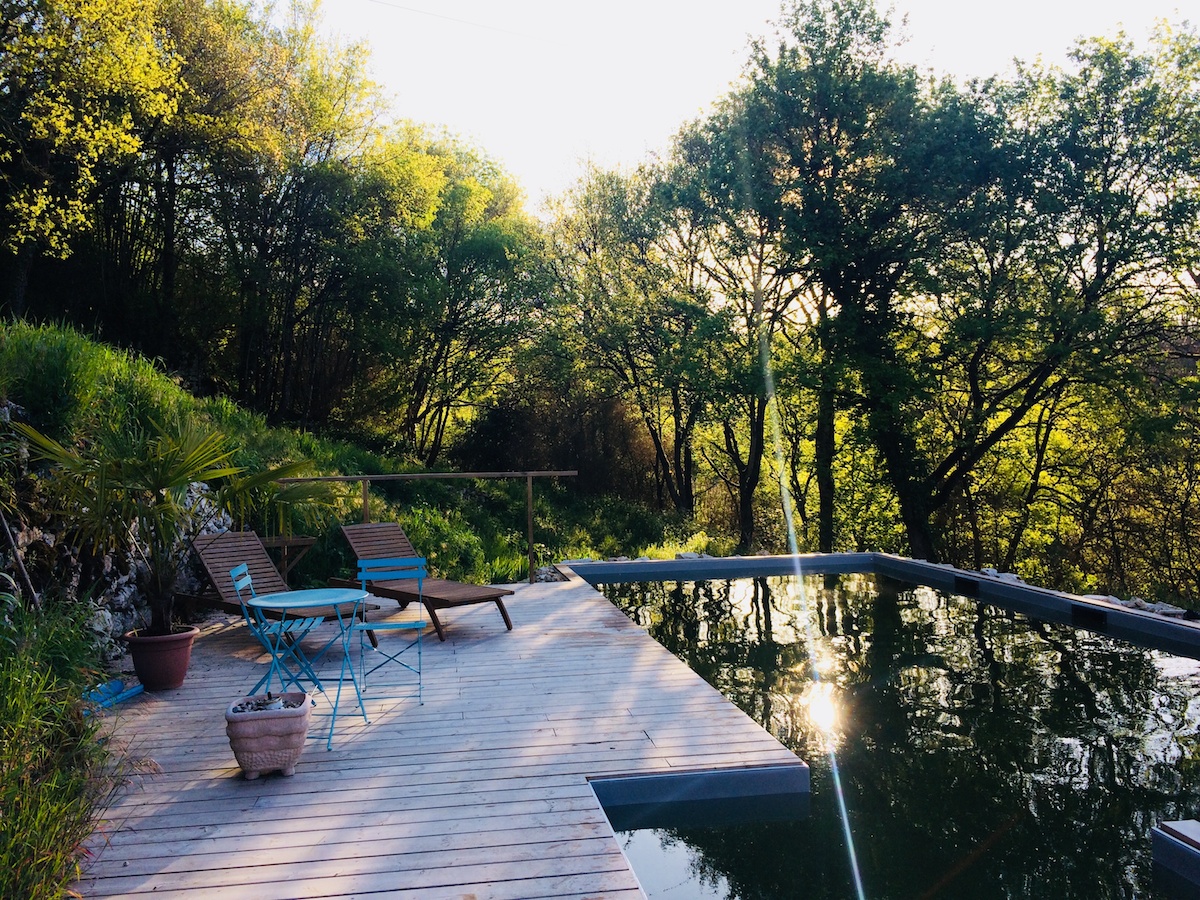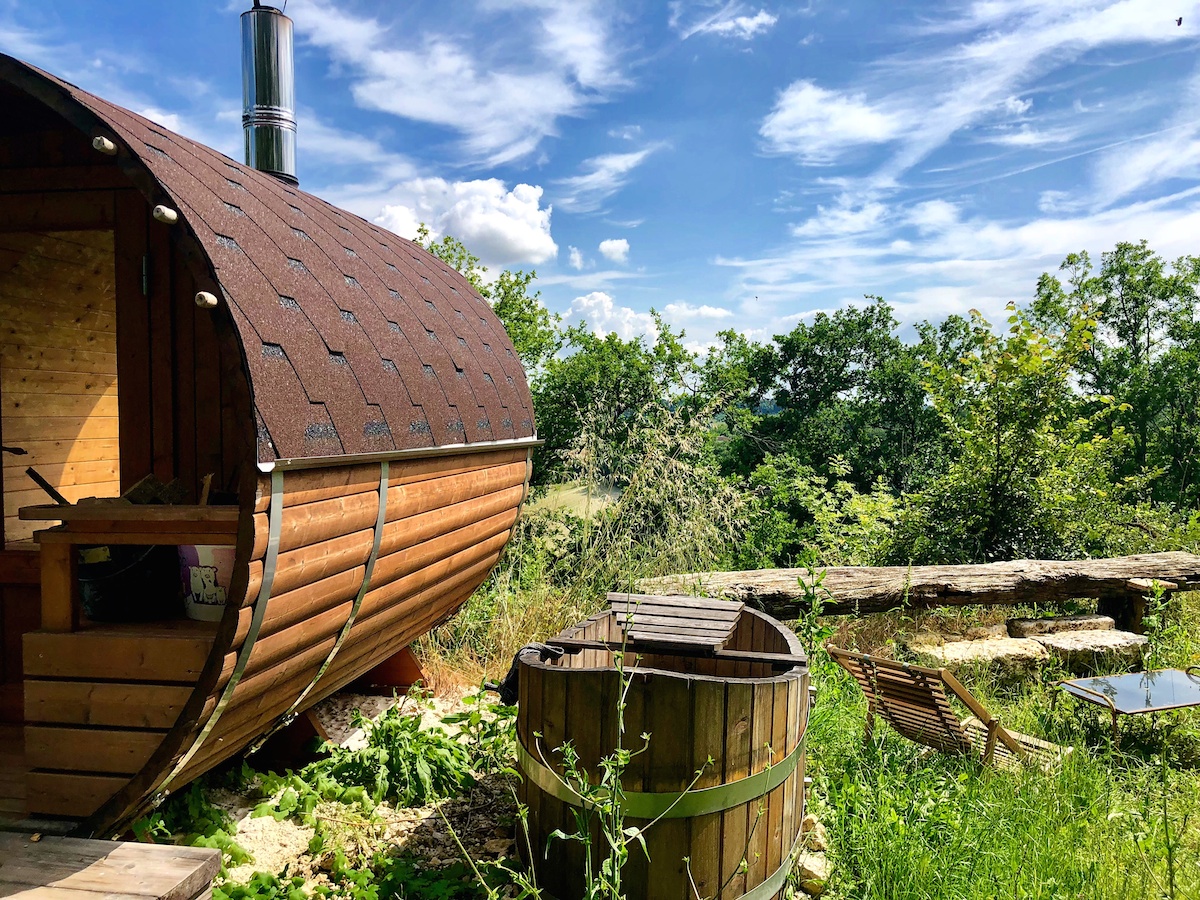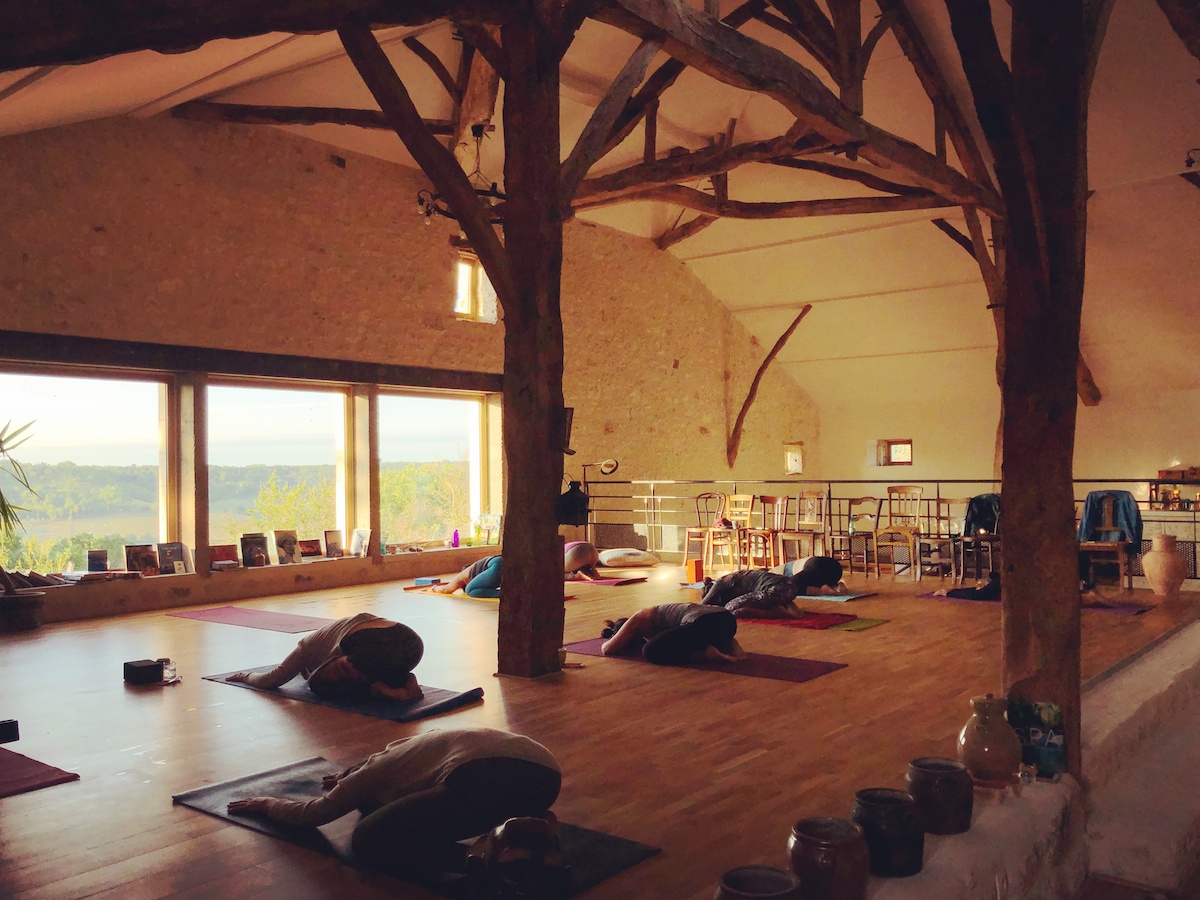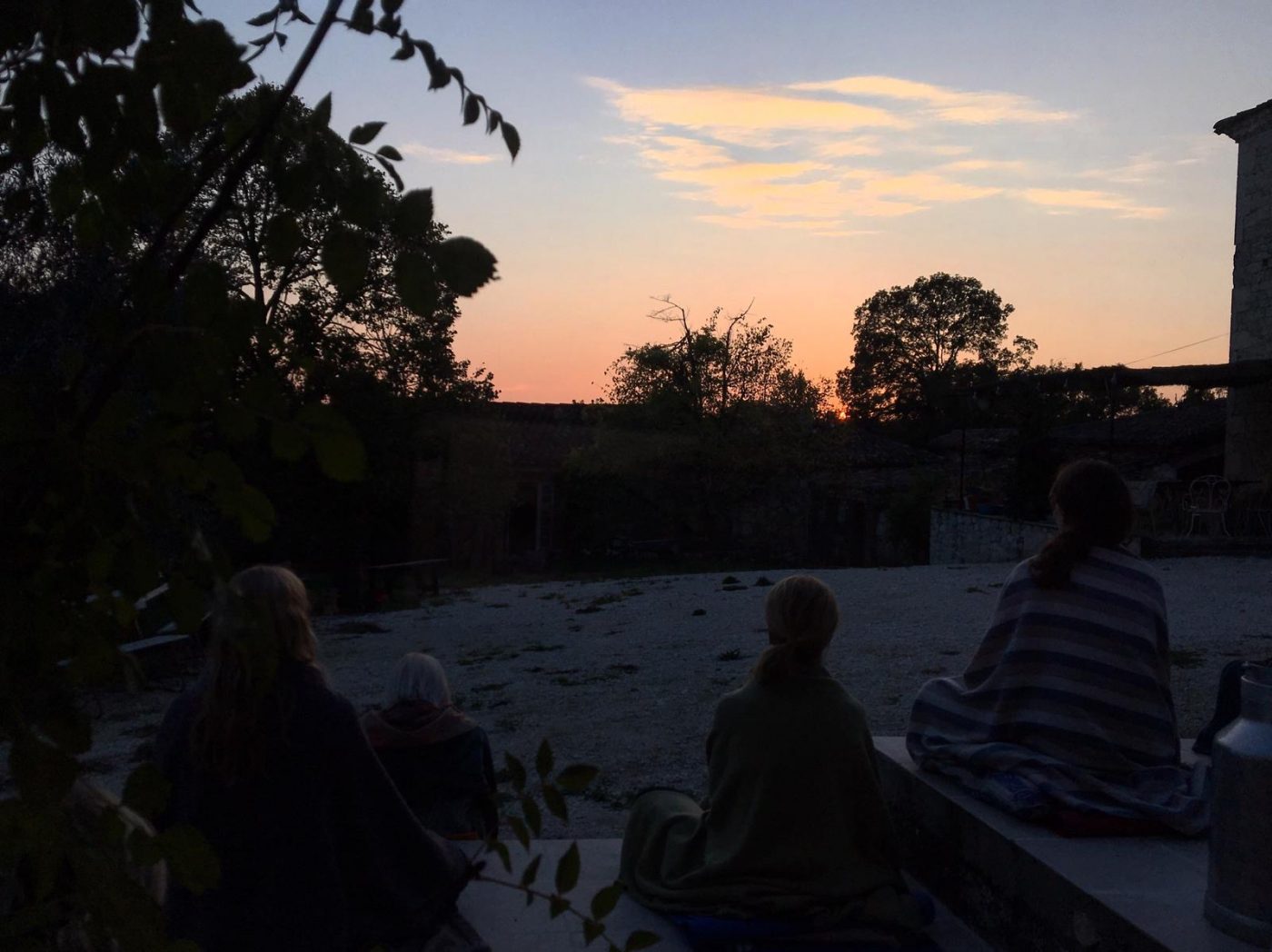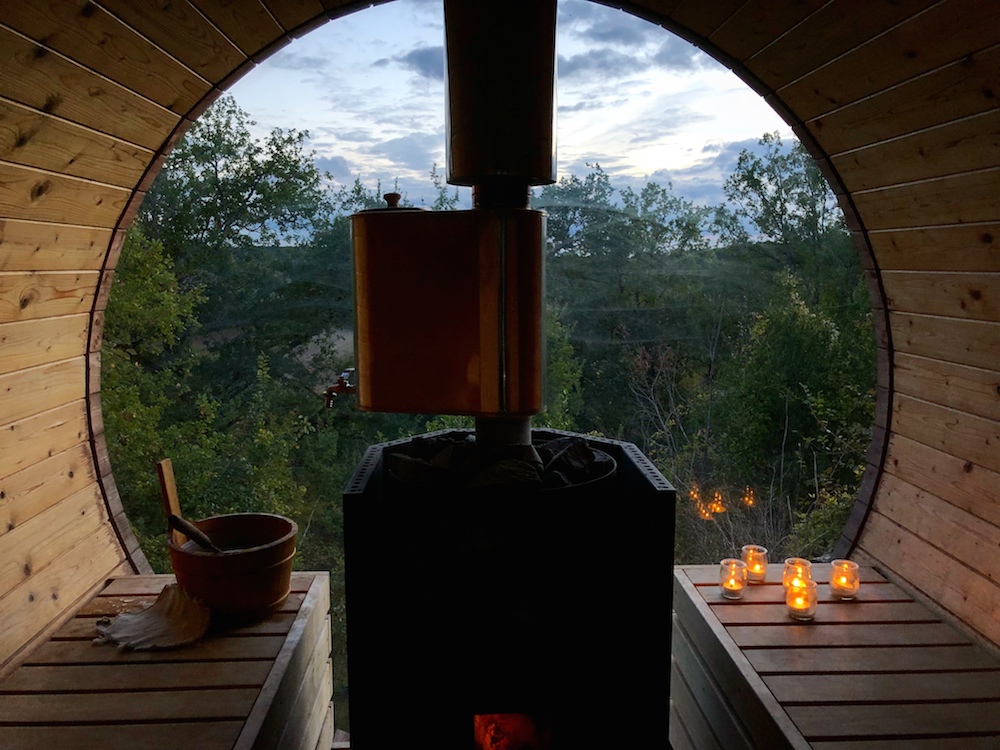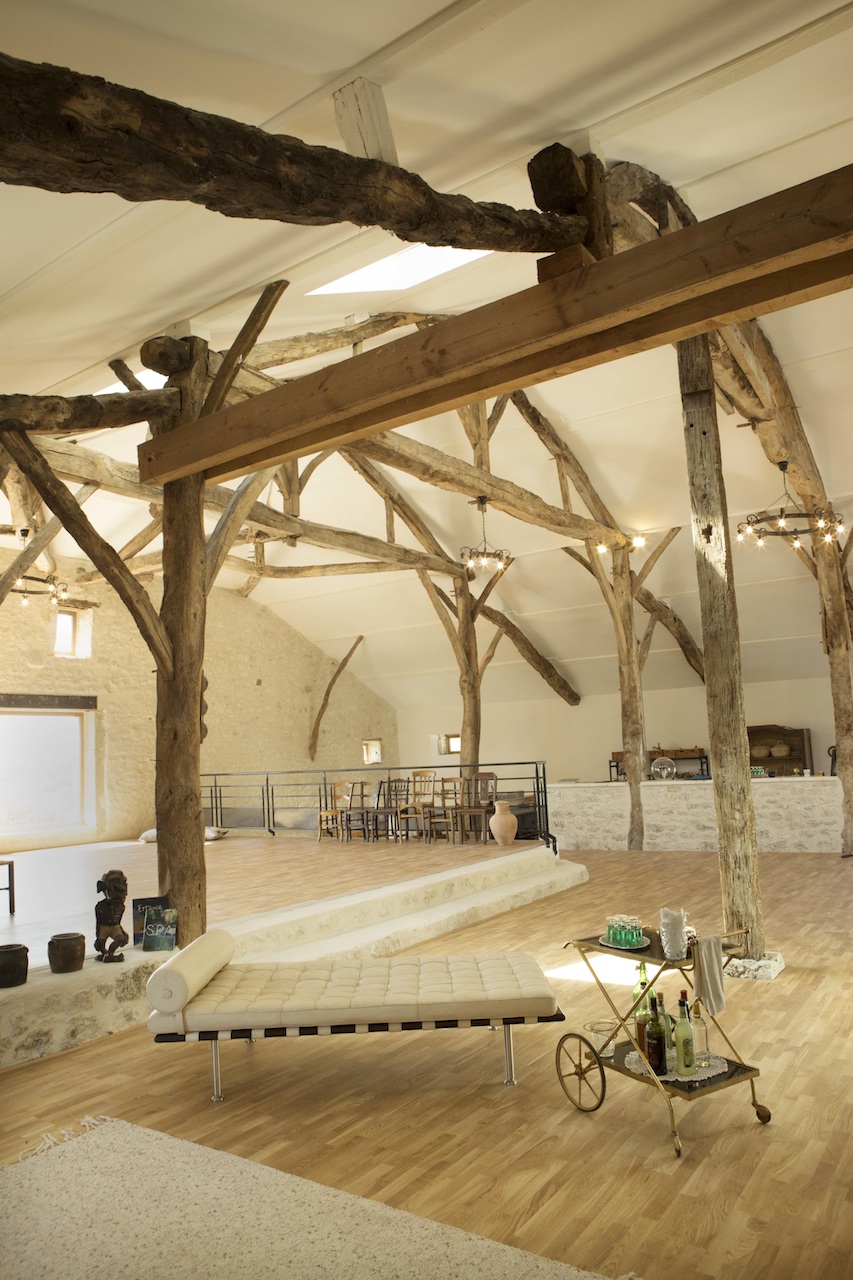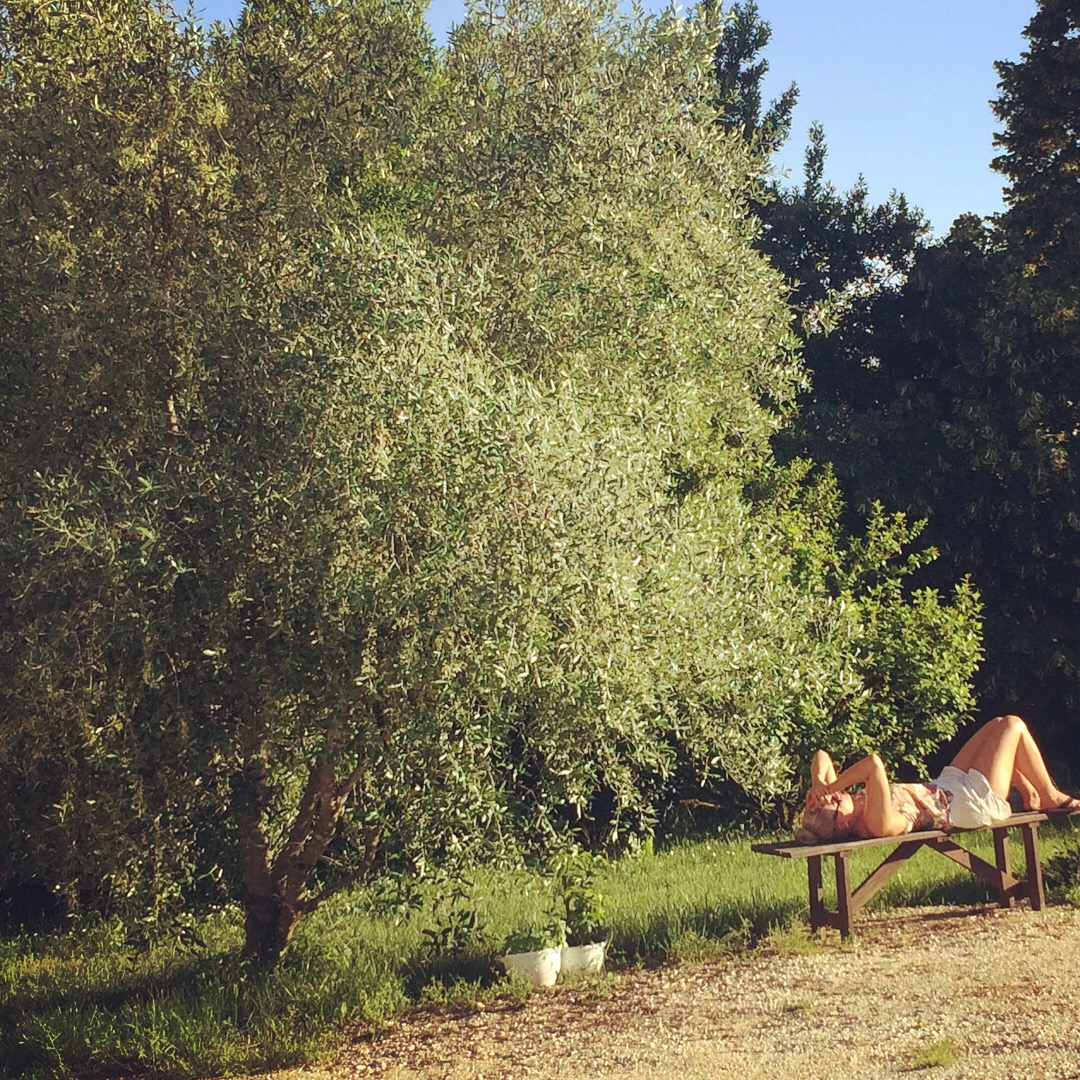 Relax
The Hamlet is surrounded by 13 hectares (or 30 acres) of own land: woods and bamboos, prairies and a valley. A nature-lover's paradise, with never-ending trails to hike or run. Immerse yourself in the silence of the woods – be aware, it may be interrupted by the birds singing or frogs croaking or the spring water running through the little bamboo forest. Dip into the natural pool and then – relax in the sauna with amazing views.
Several terraces for apéros, dining, chatting, relaxing
BBQ
Hammocks
Natural Pool
Sauna in a Barrel
Massage (upon request)
Yoga / Pilates / Meditation
Size: 11m x 4m ( sq ft x  sq ft)
Depth: 140 cm ( ft)
No chemicals
6 filtration systems
Note: as it is a natural pool the surface may be slippery for children
Terrace around 70 m2 (750 sq ft)
Electrical outlets
Shower
Capacity 2-4 people at a time
Heated with wood (on demand but happy to heat it up anytime for you!)
Magnificent views to the green nature or starry sky at night
Furnished outdoor area on the side
Shower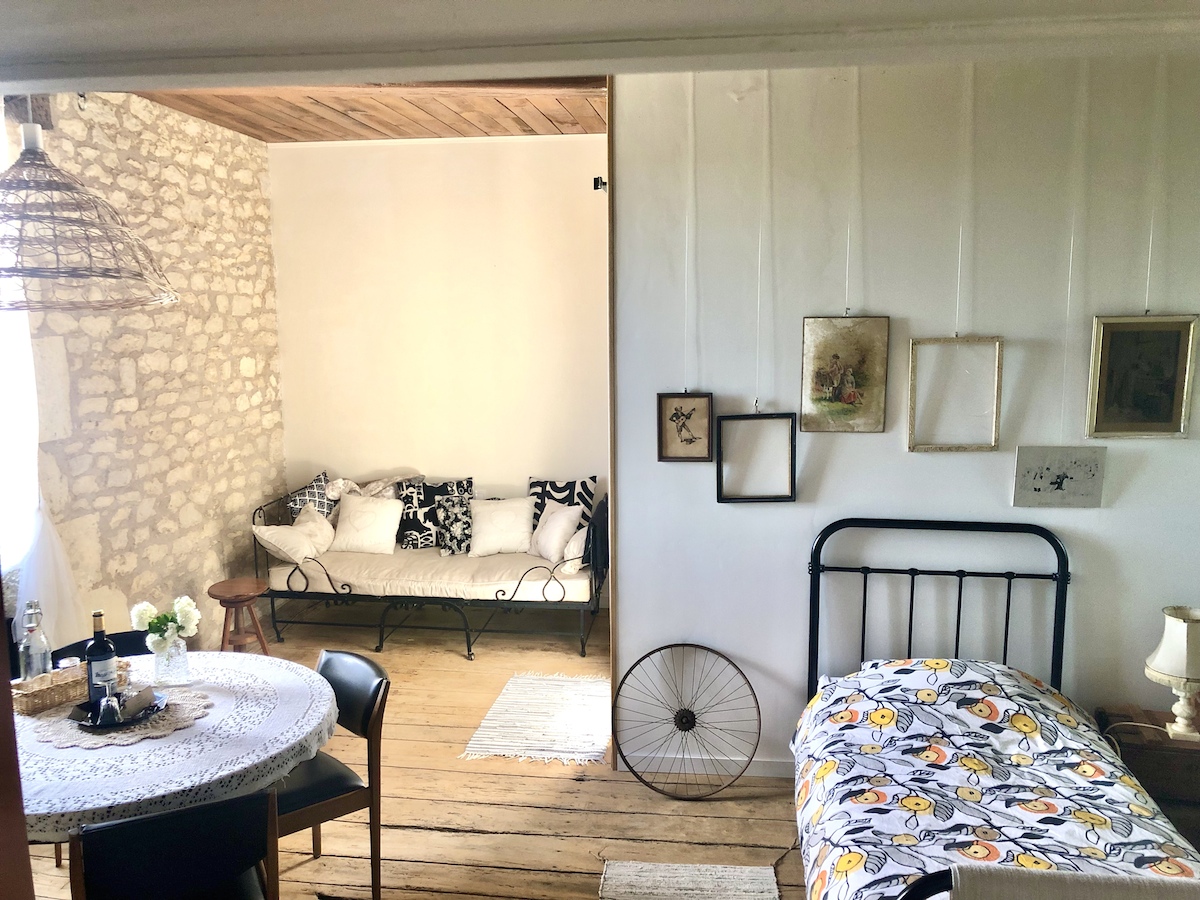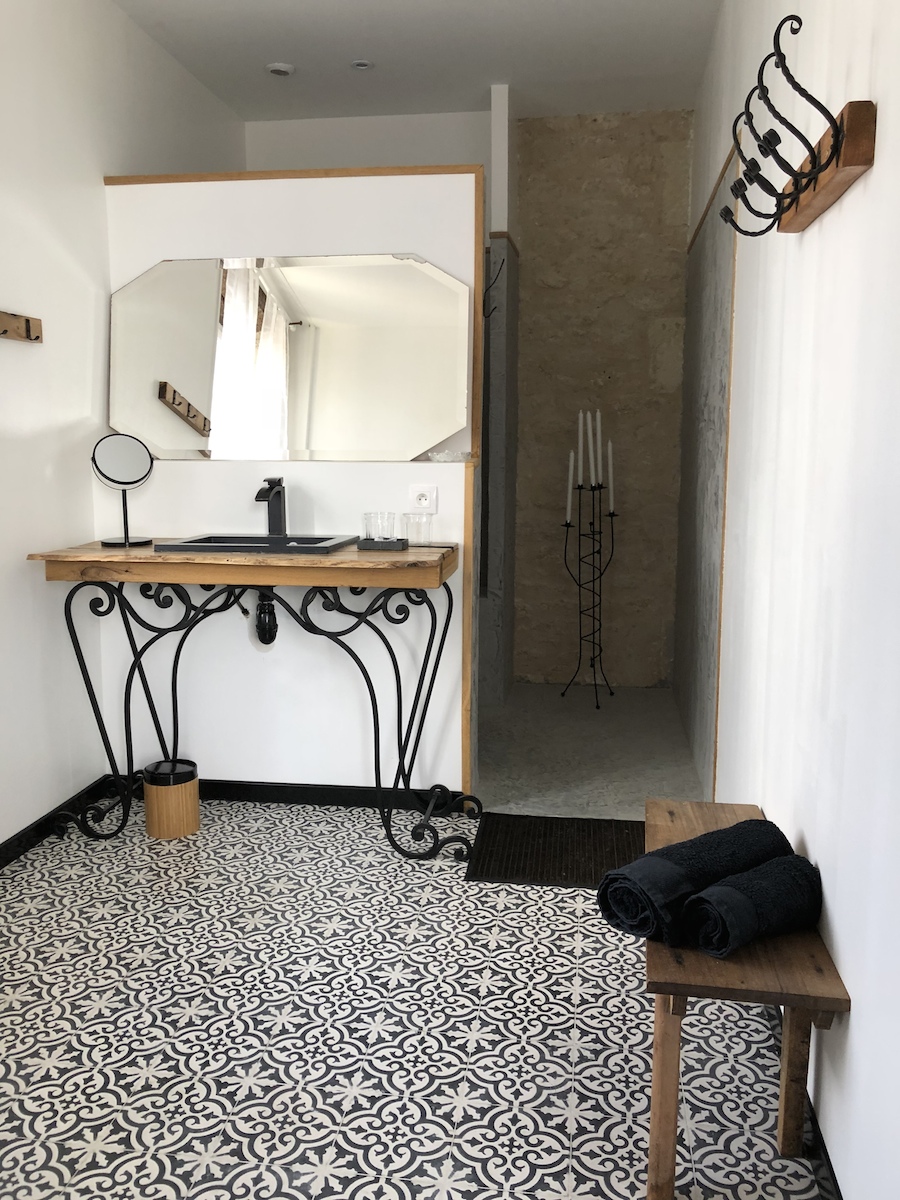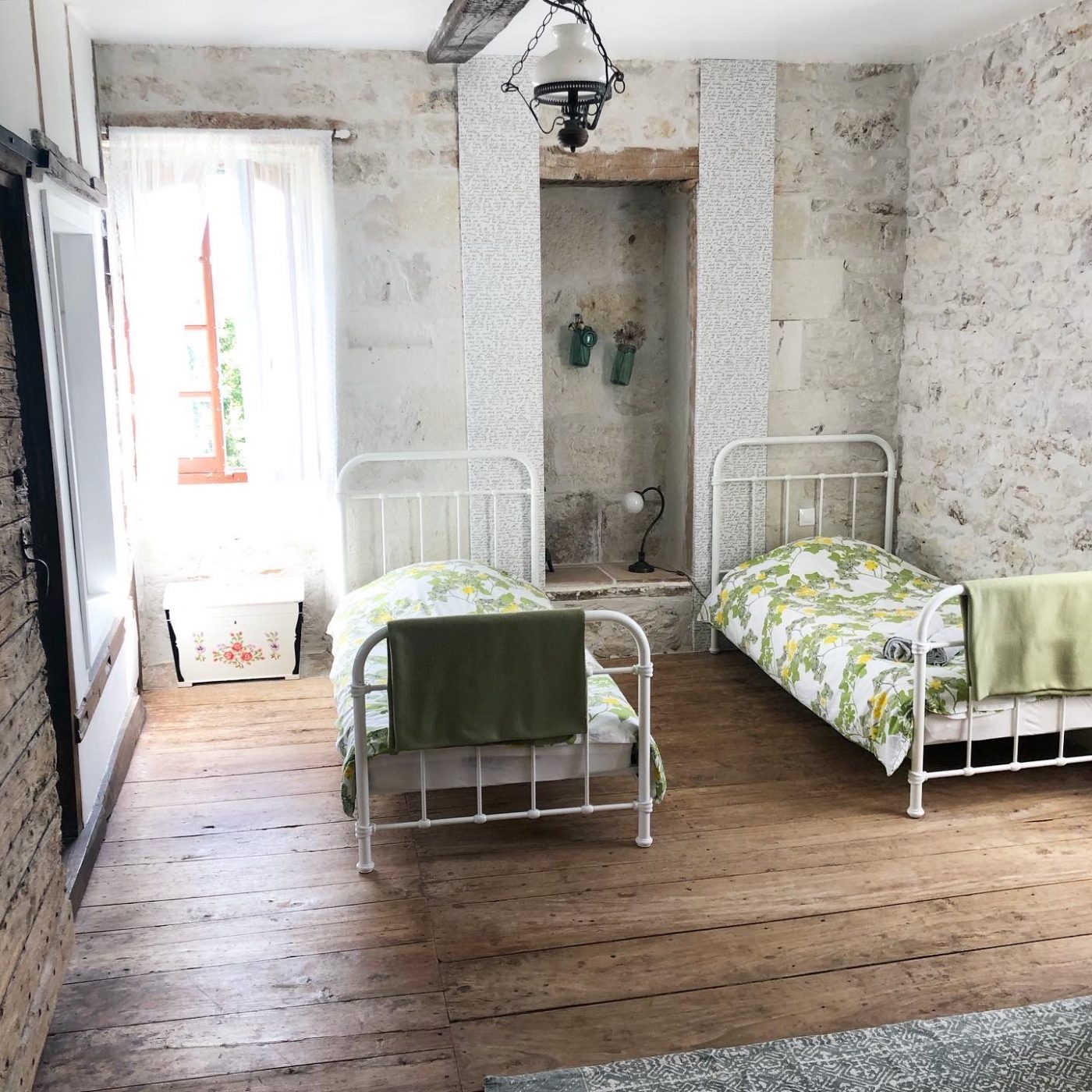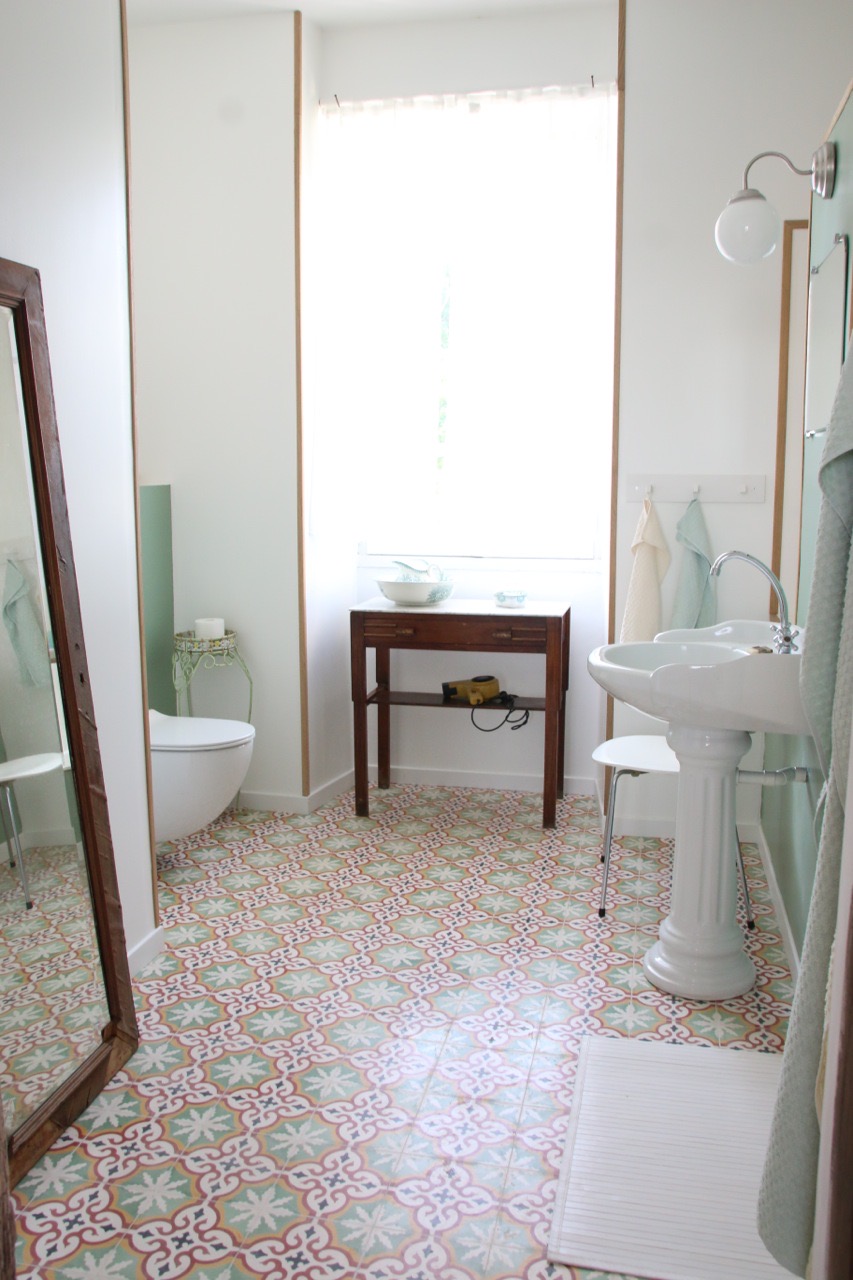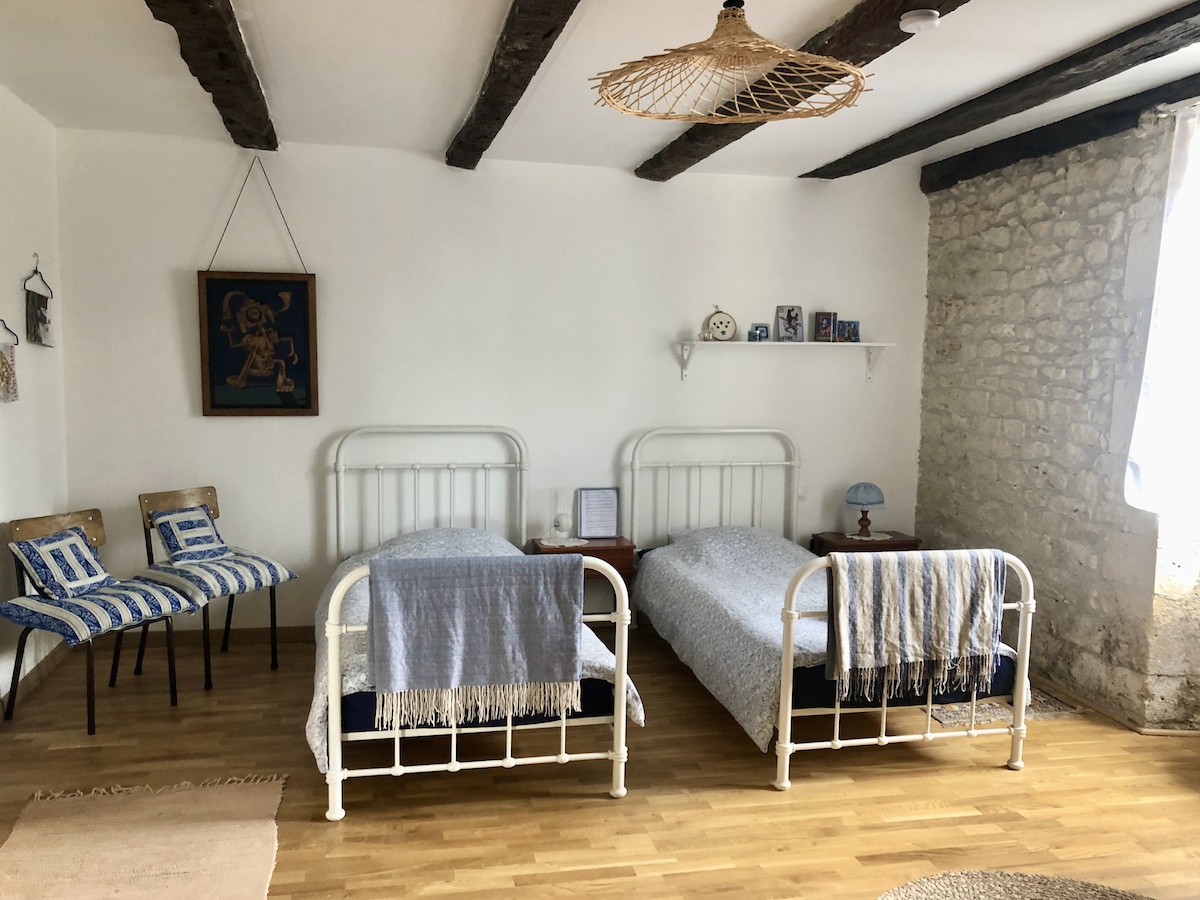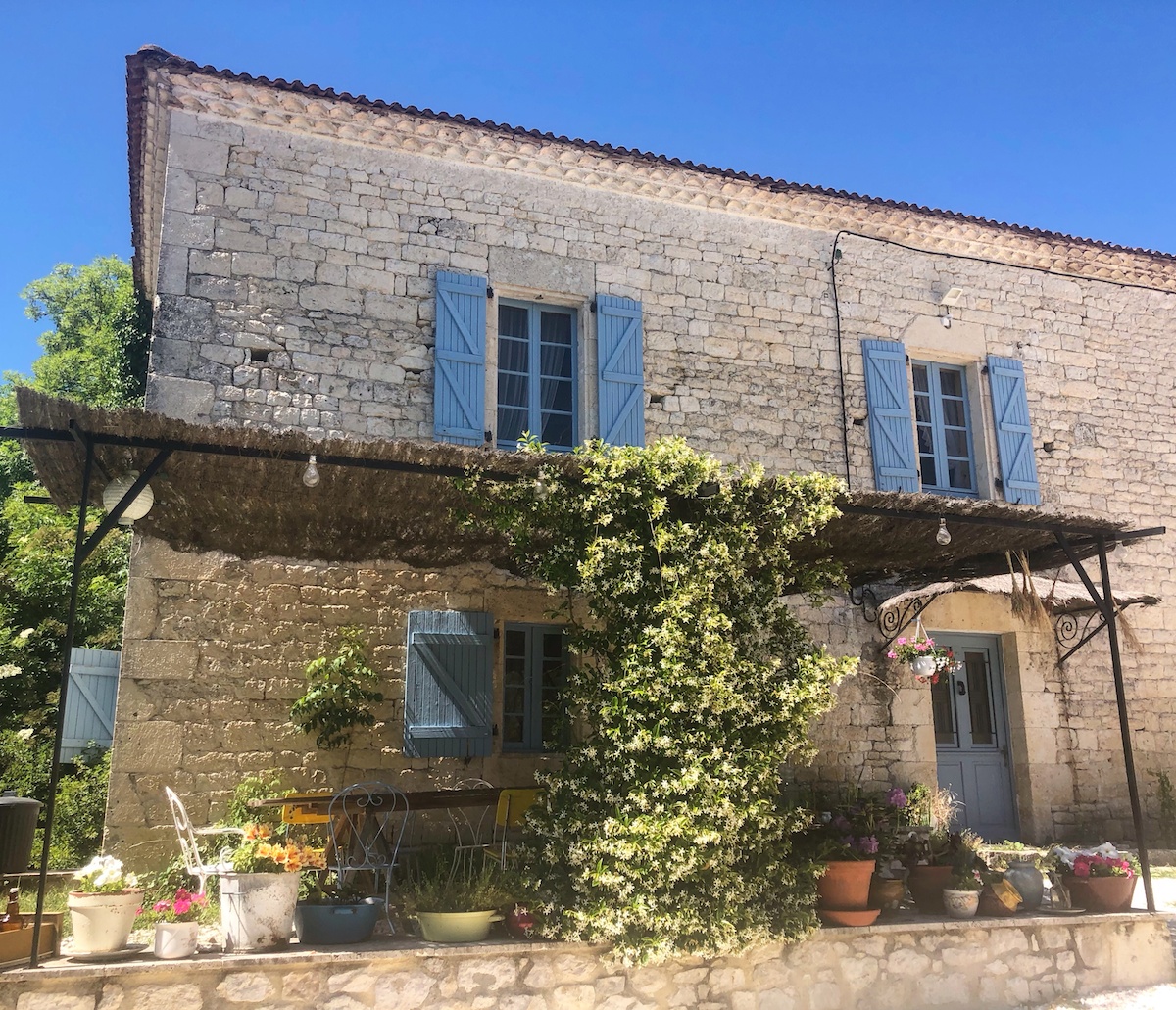 Stay
All guest rooms are charmingly renovated, tons of recycled treasures yet with modern comfort in mind. Each has a choice of two single beds or one double bed, some of them have an extra bed option. All have an ensuite bathroom with a window – and those amazing moroccan cement tile floors!
5 bedrooms (your choice of twin or double + option for extra bed)
5 ensuite bathrooms
15 beds in total
Wifi
Total surface 200 m2 (2200 sq ft)
Bed linen
Towels and extra towels
Local organic hand-made soaps
Shampoos and other hygiene products
Hair dryers
Hand sanitizer
First aid kits
Fire extinguishers on each floor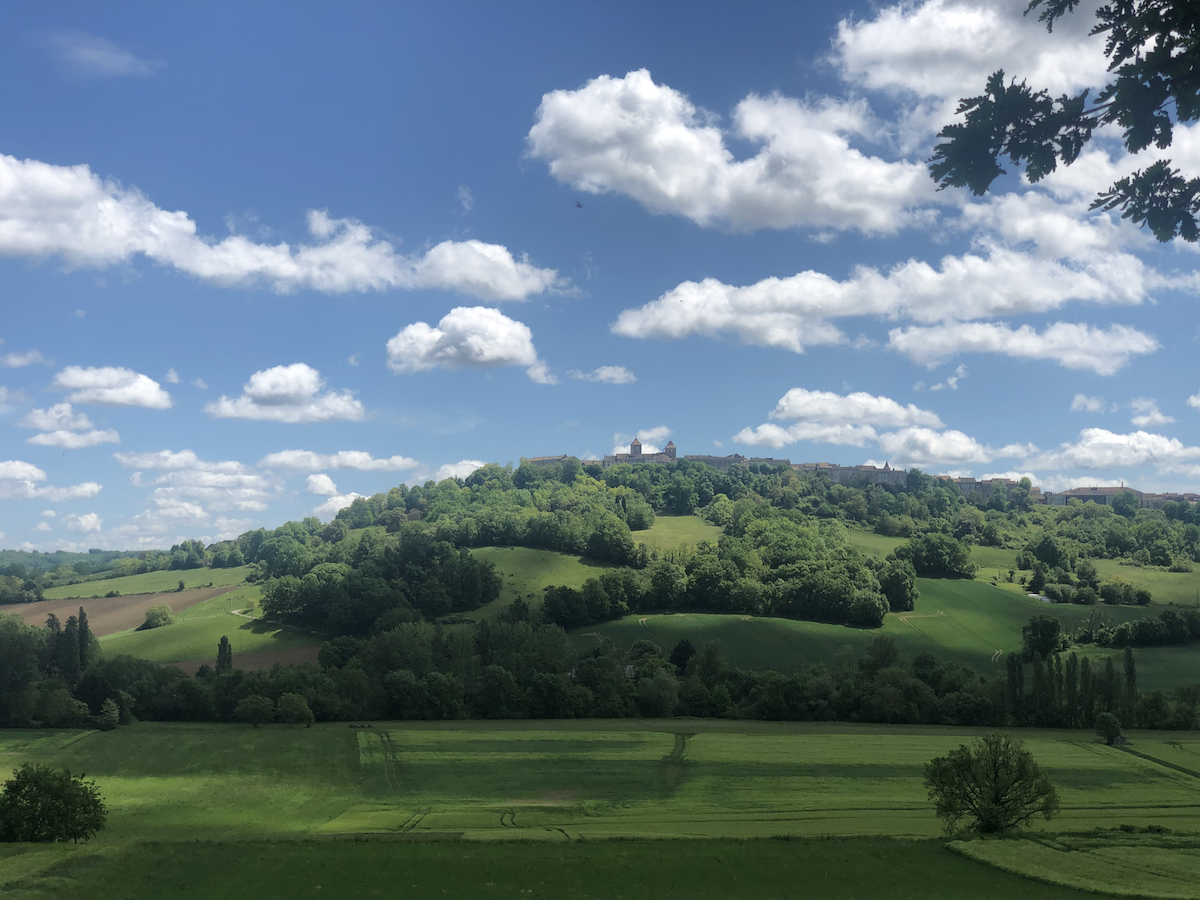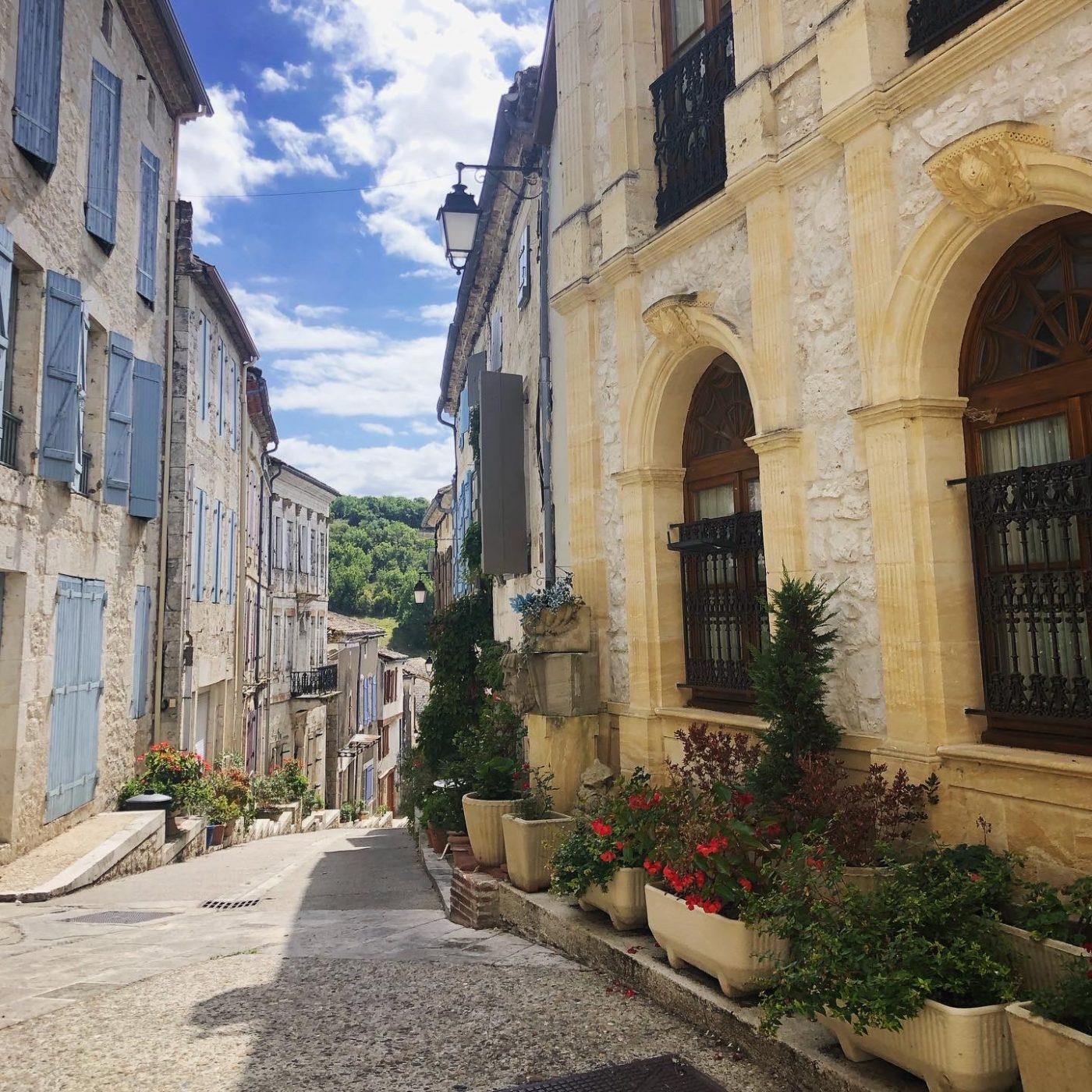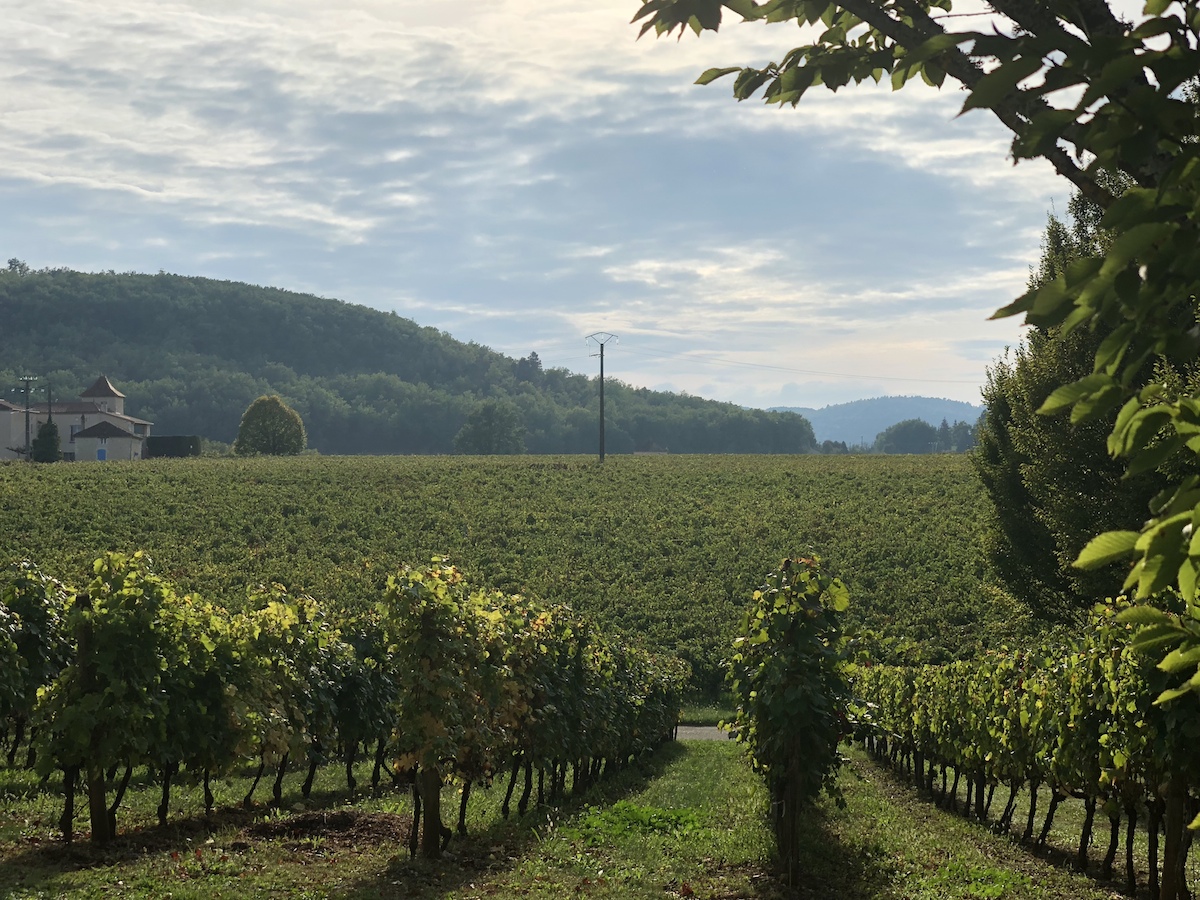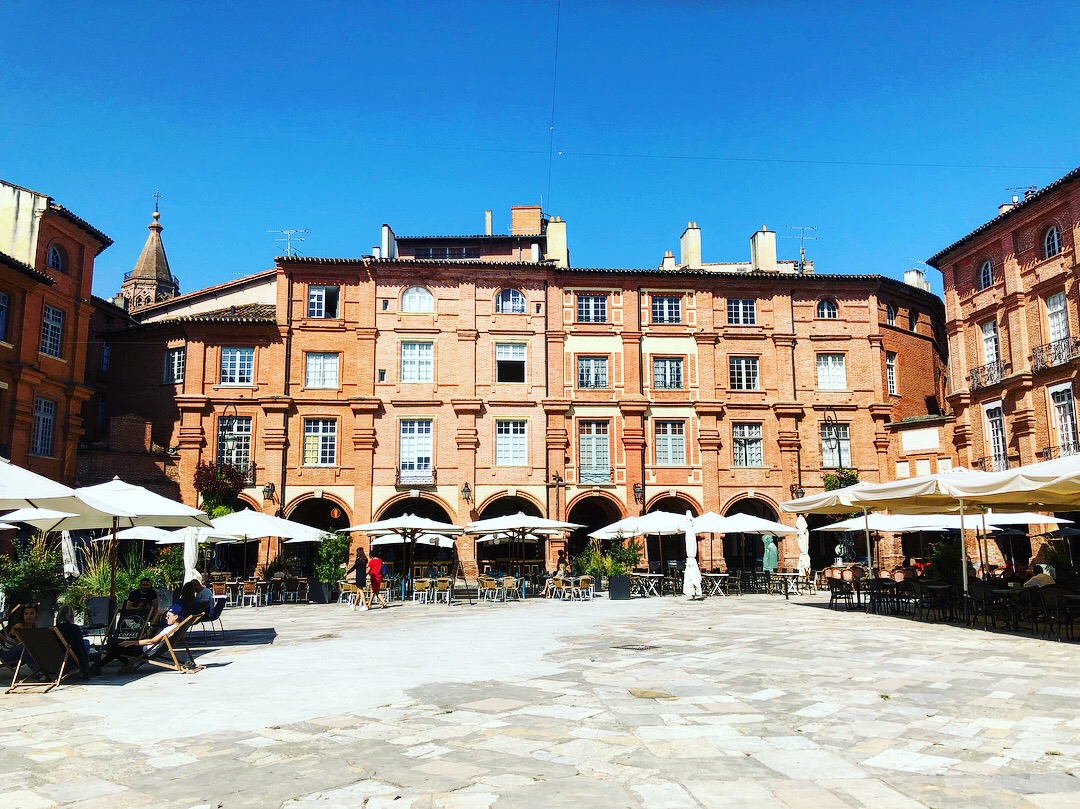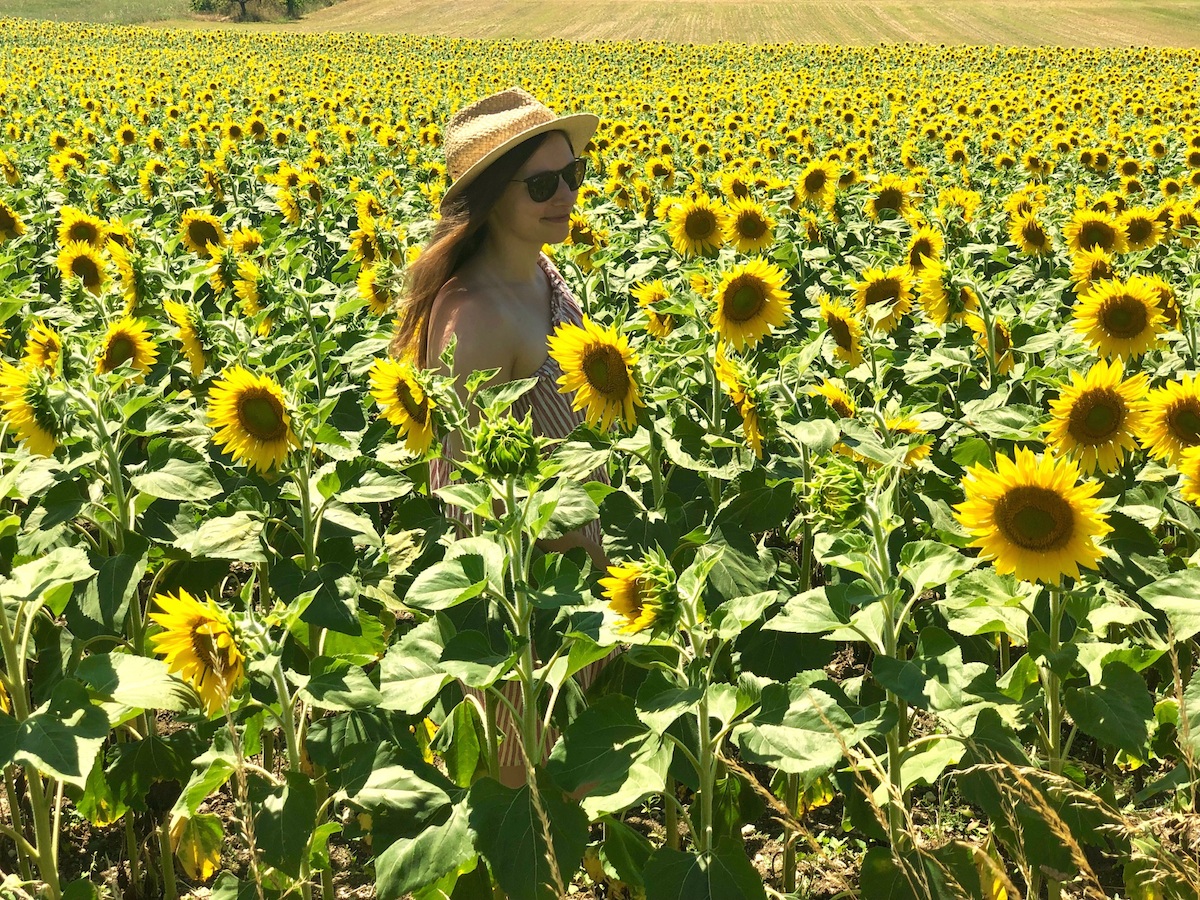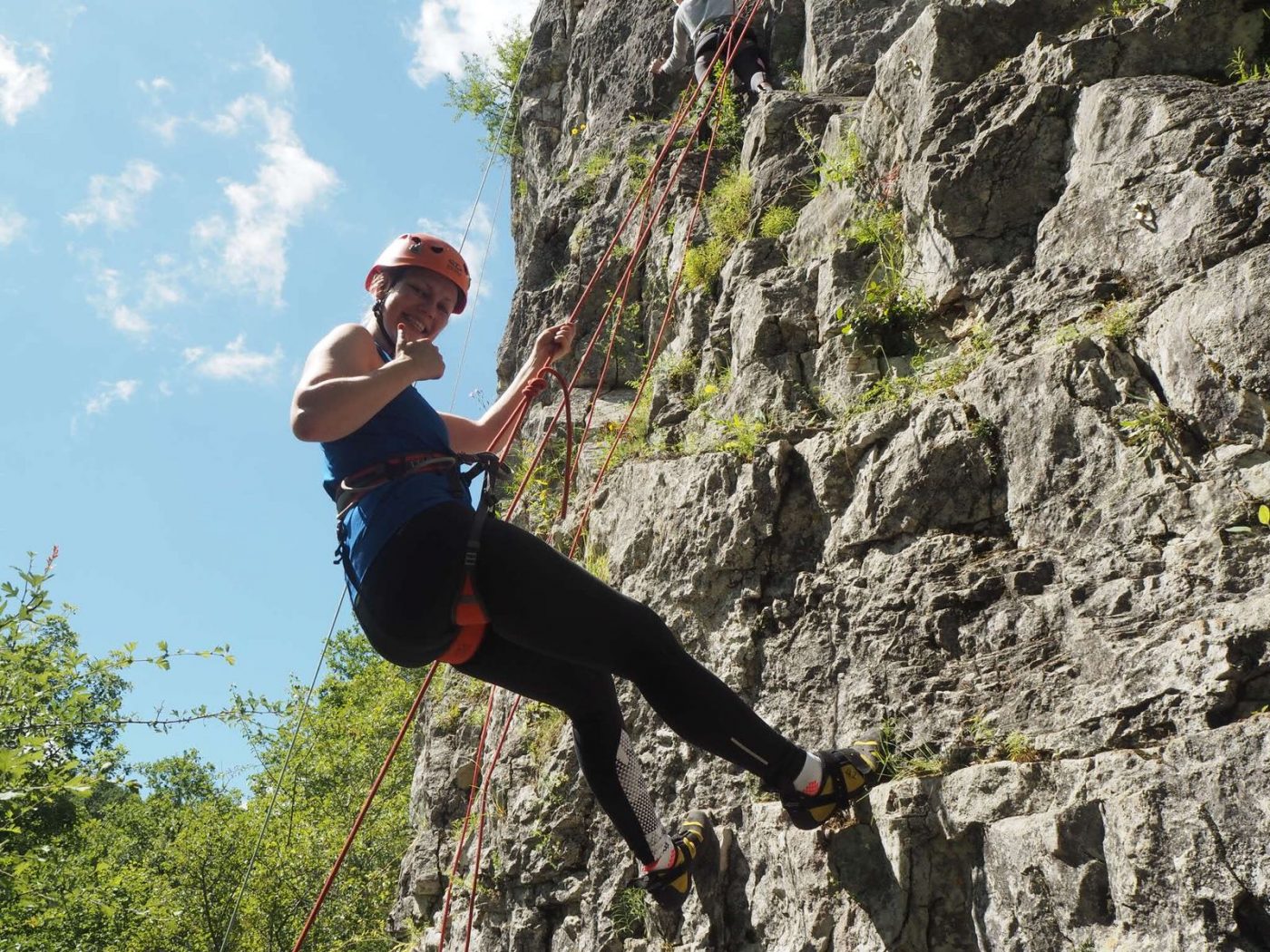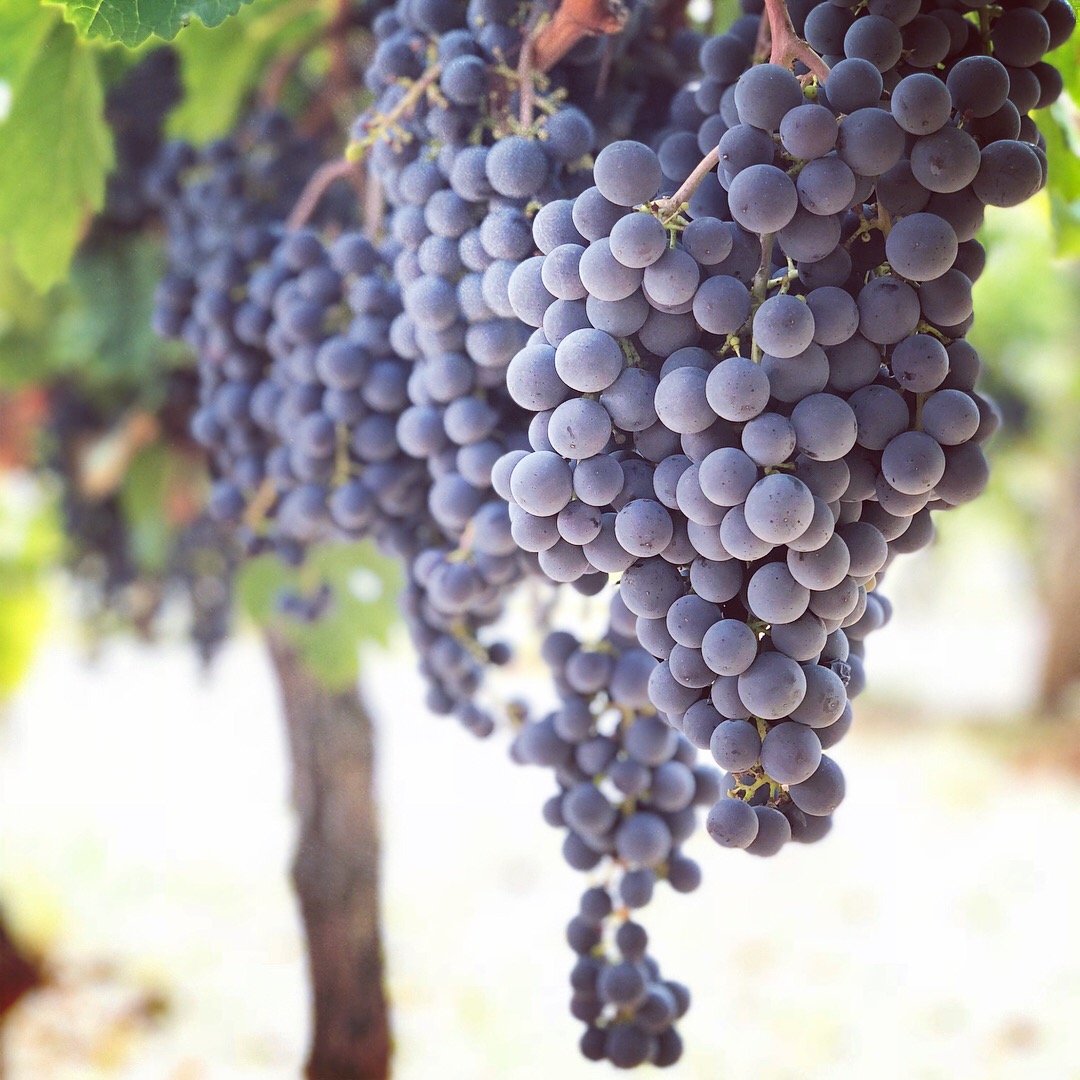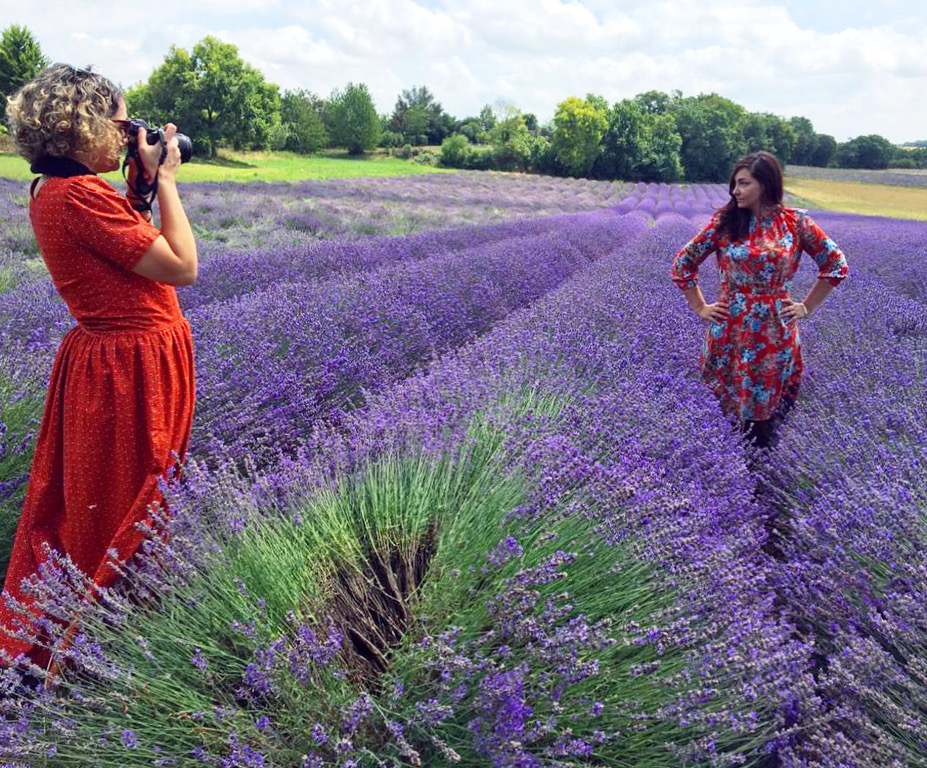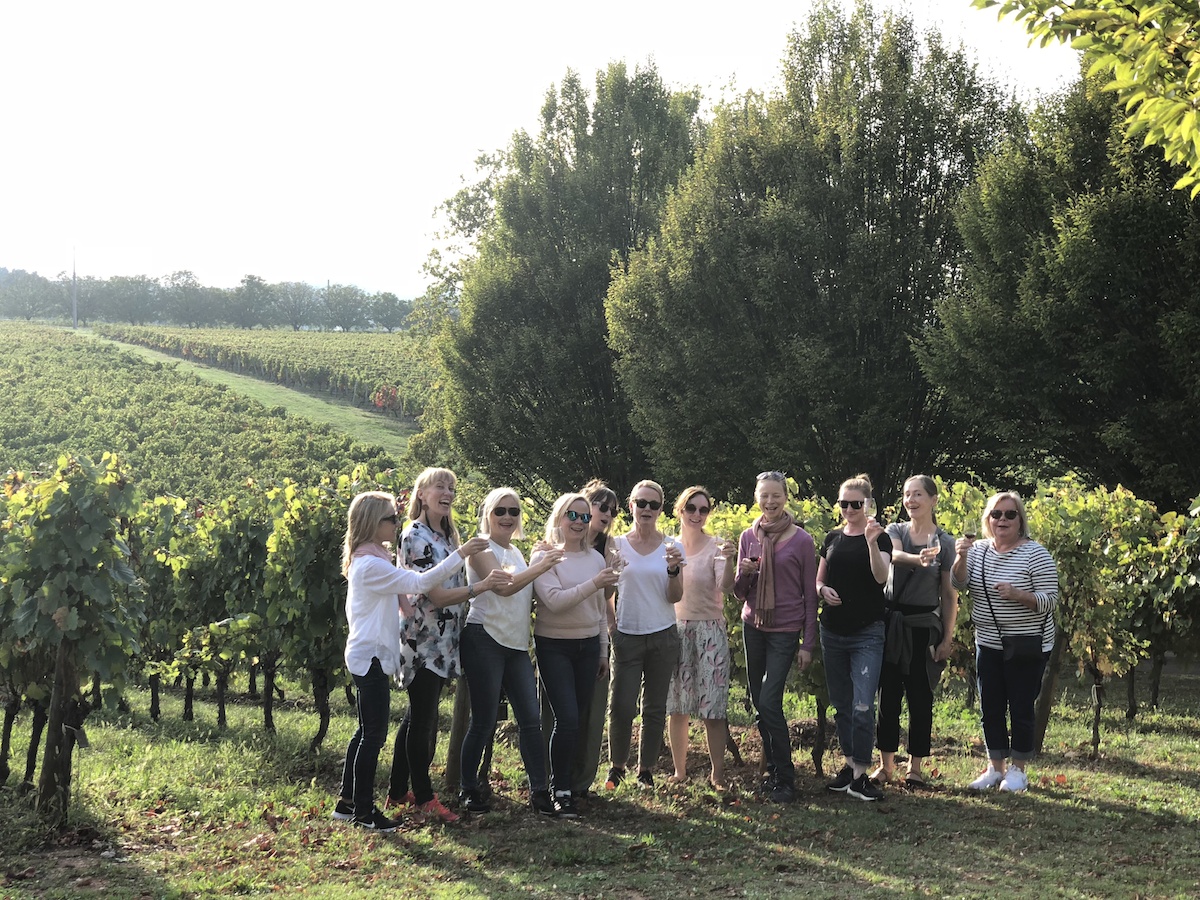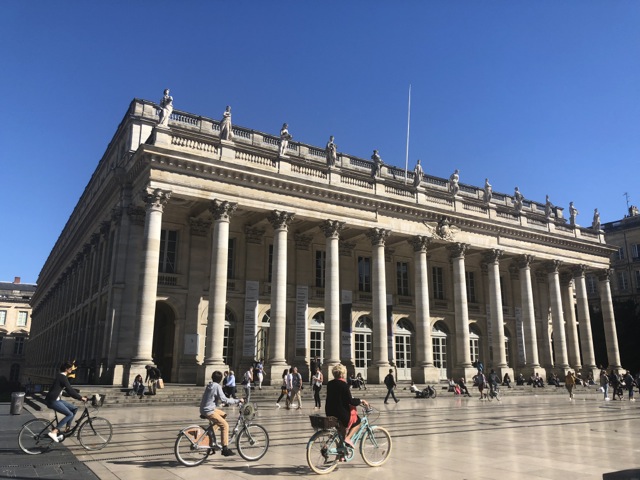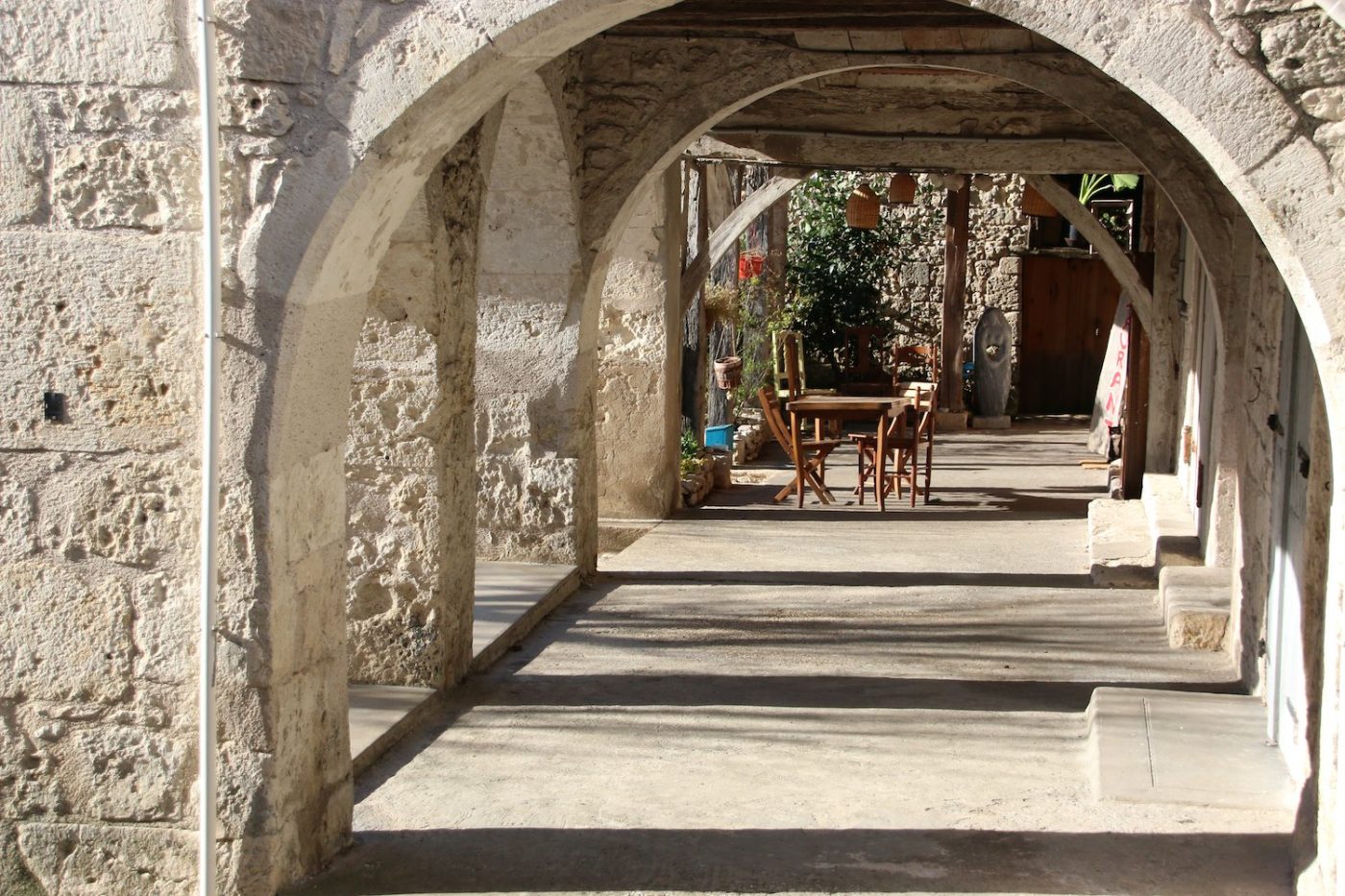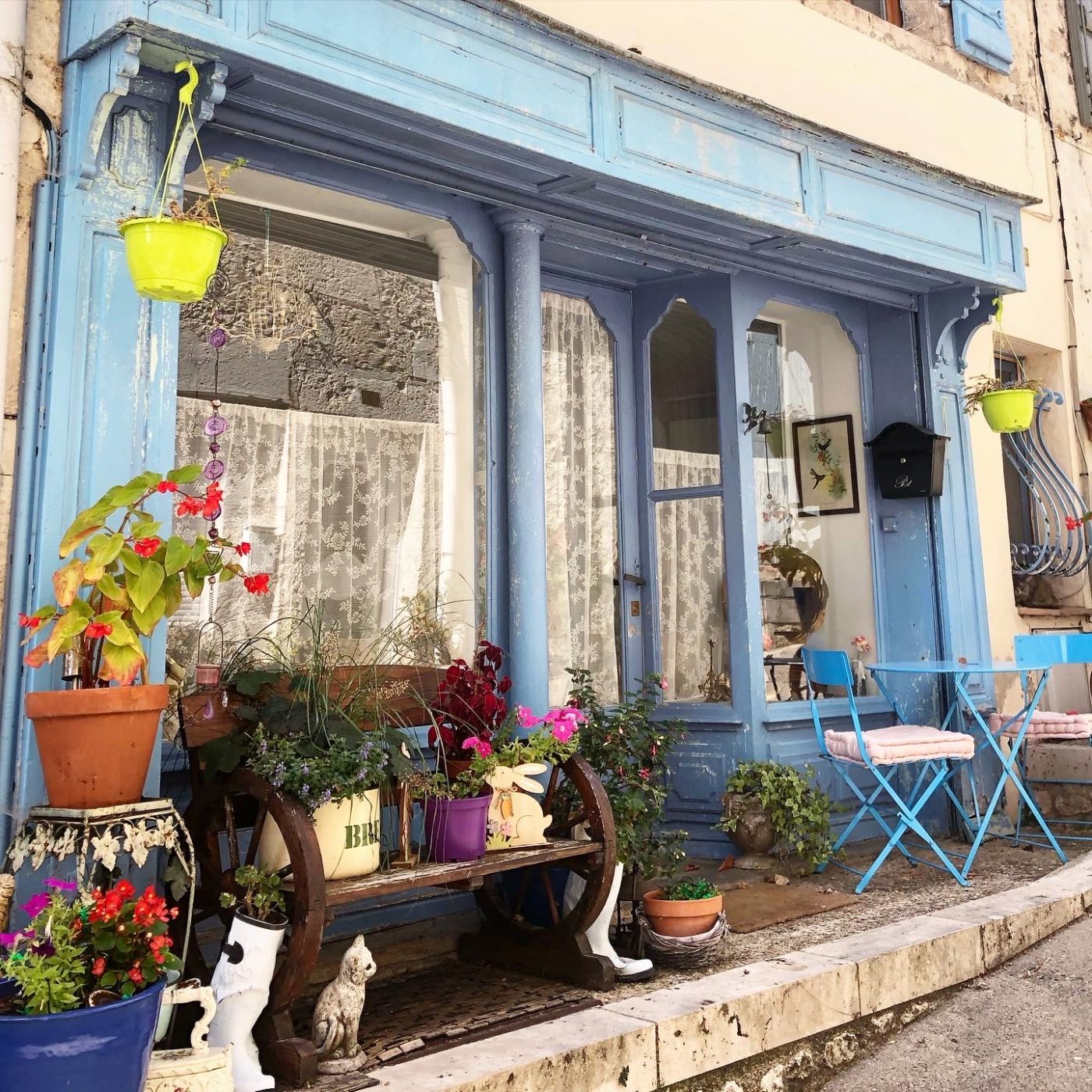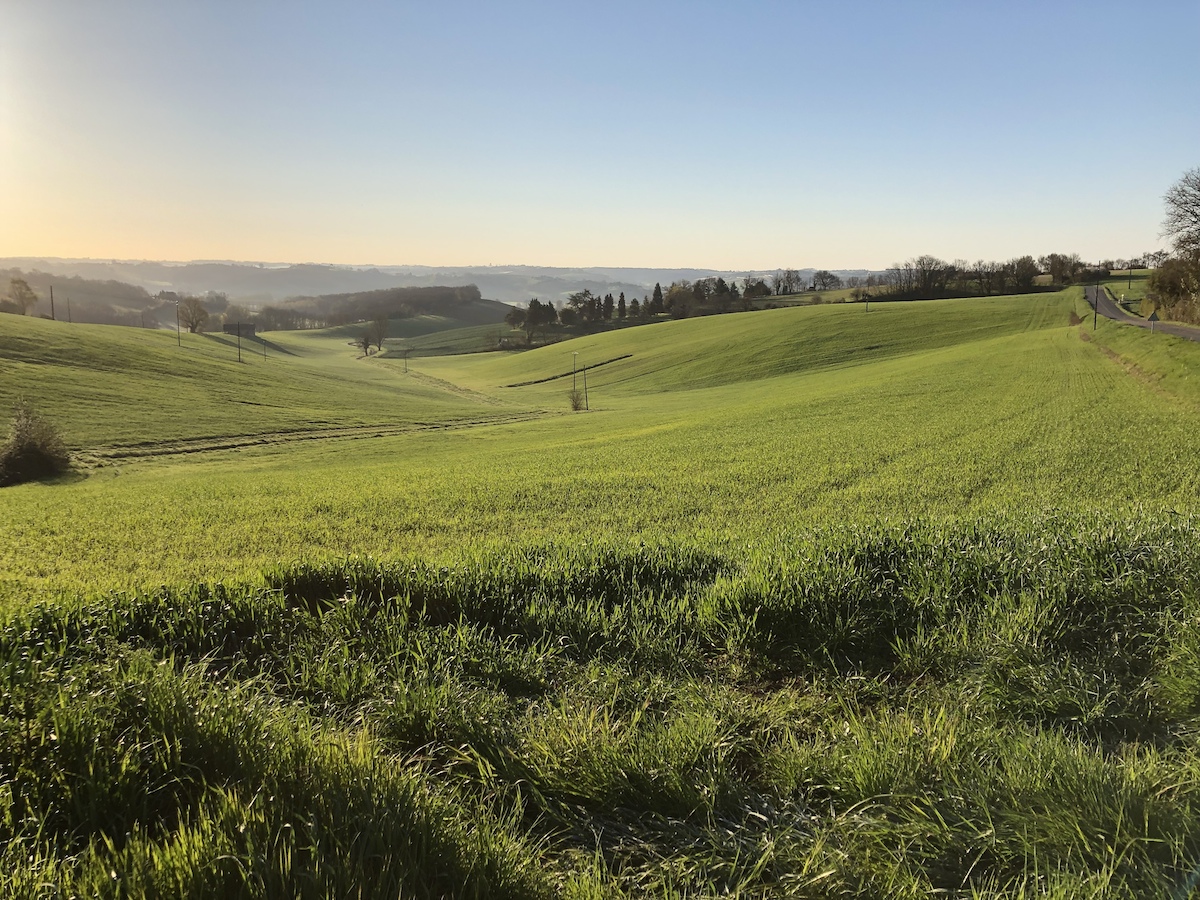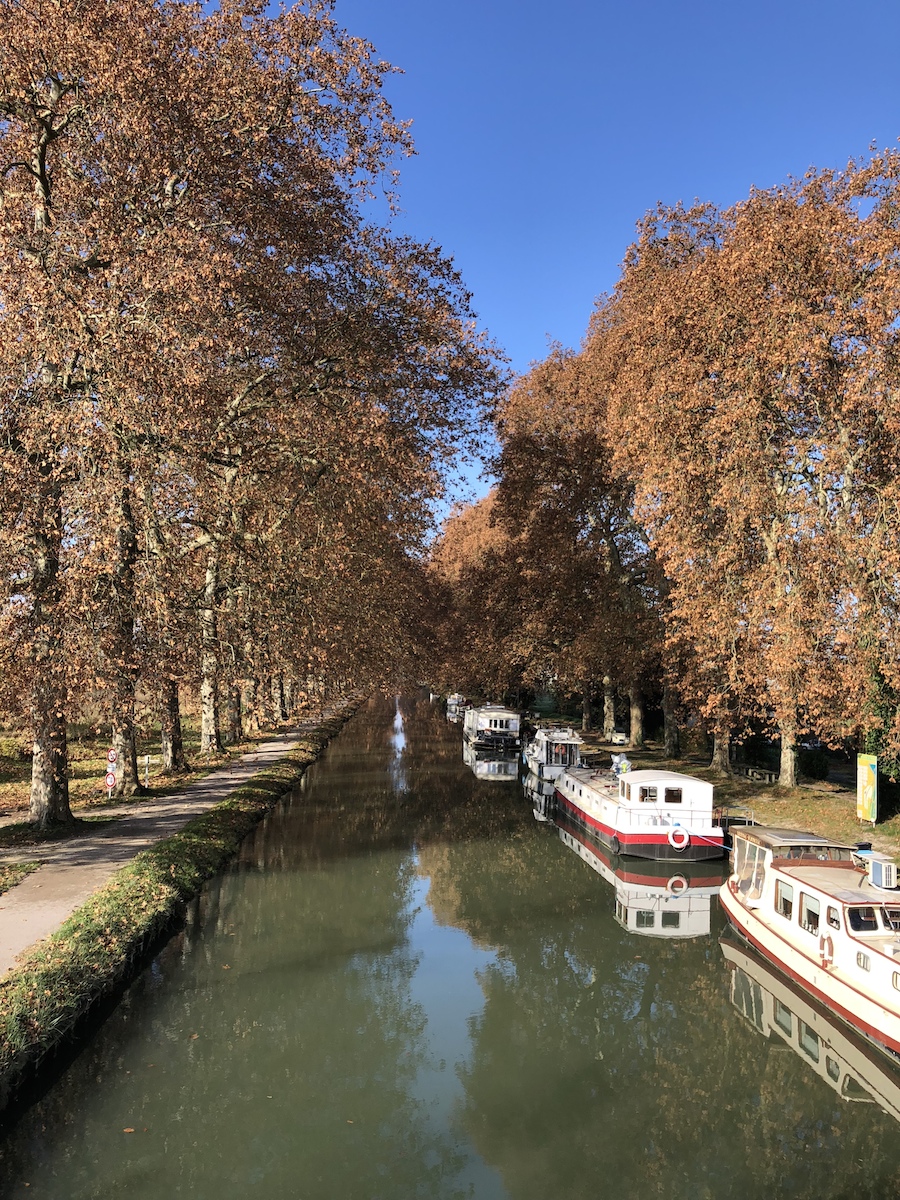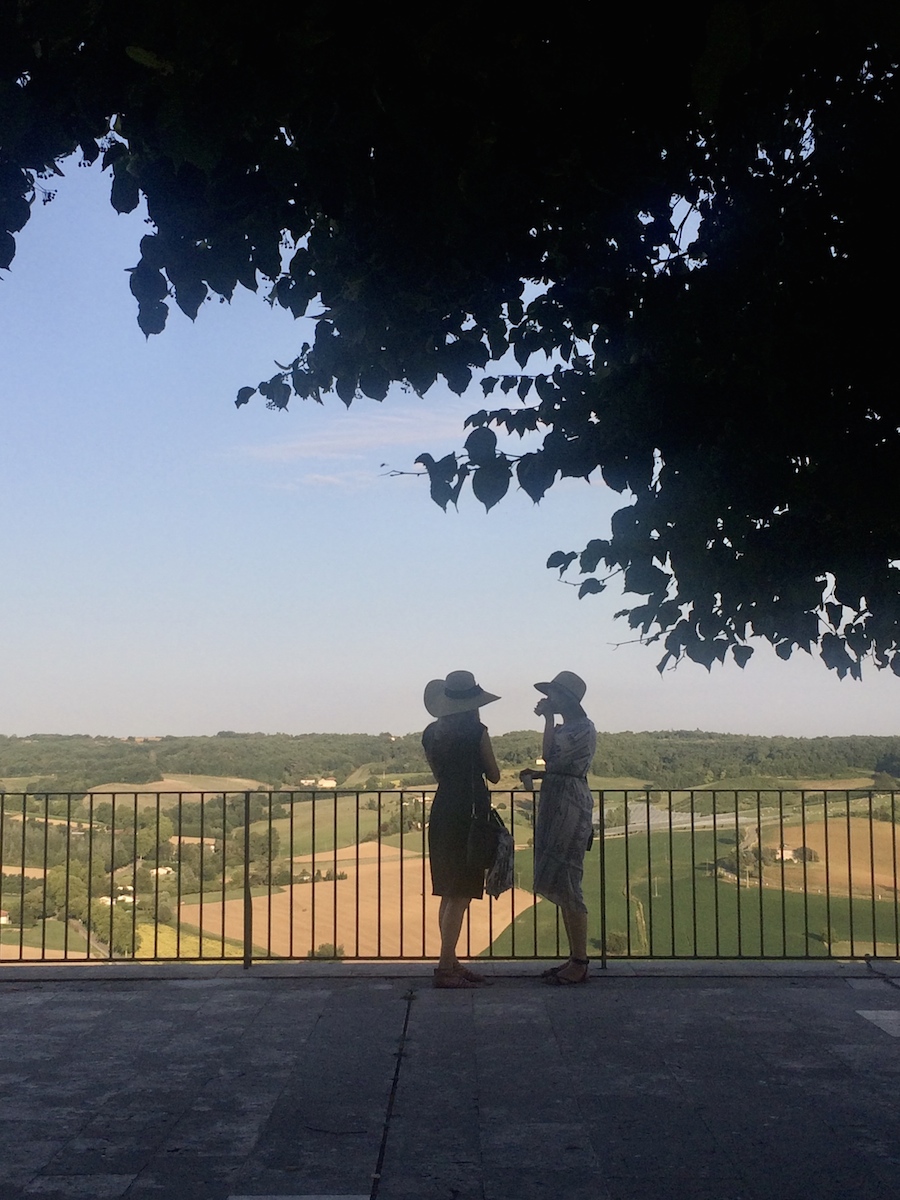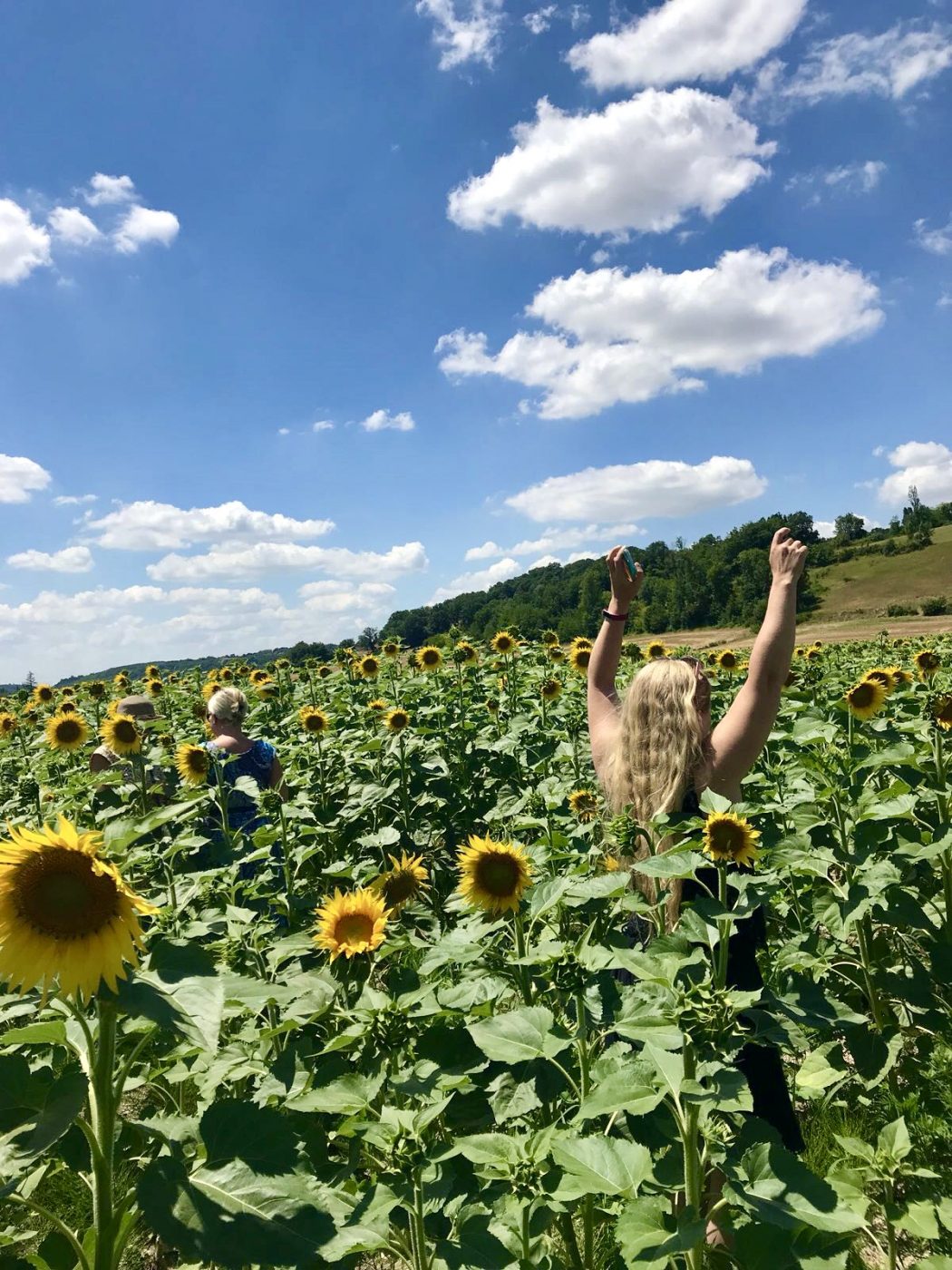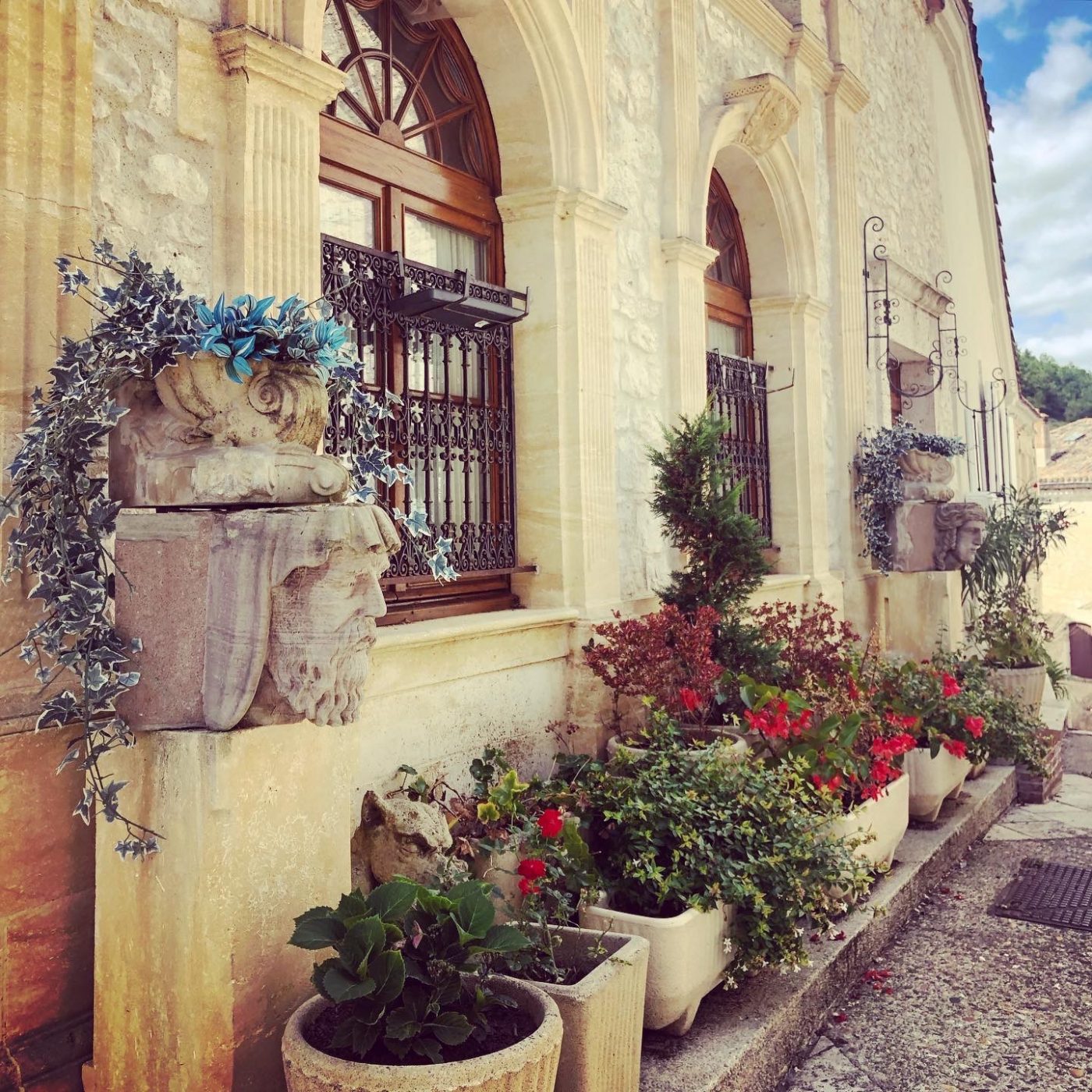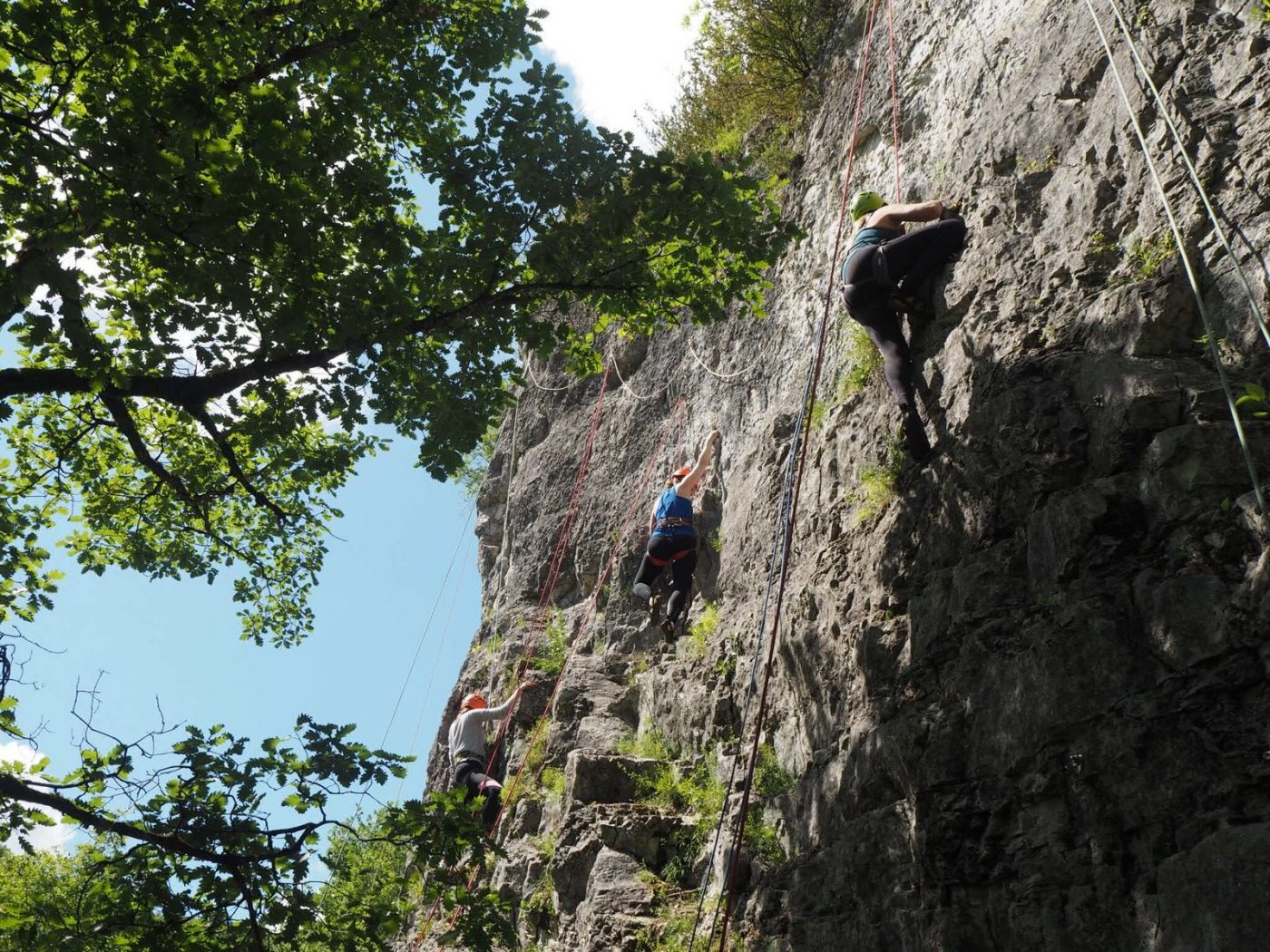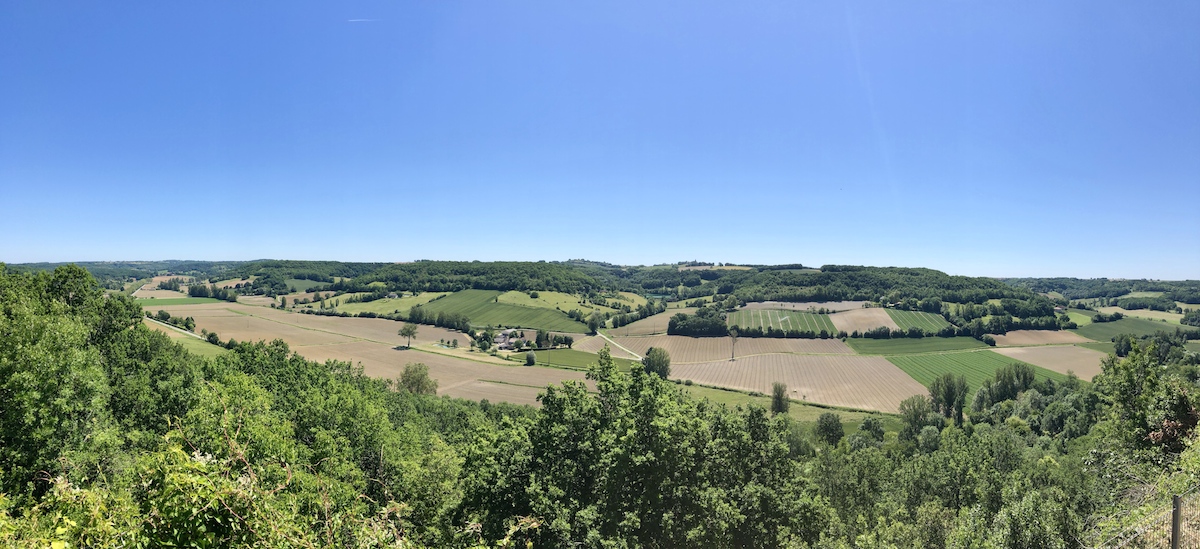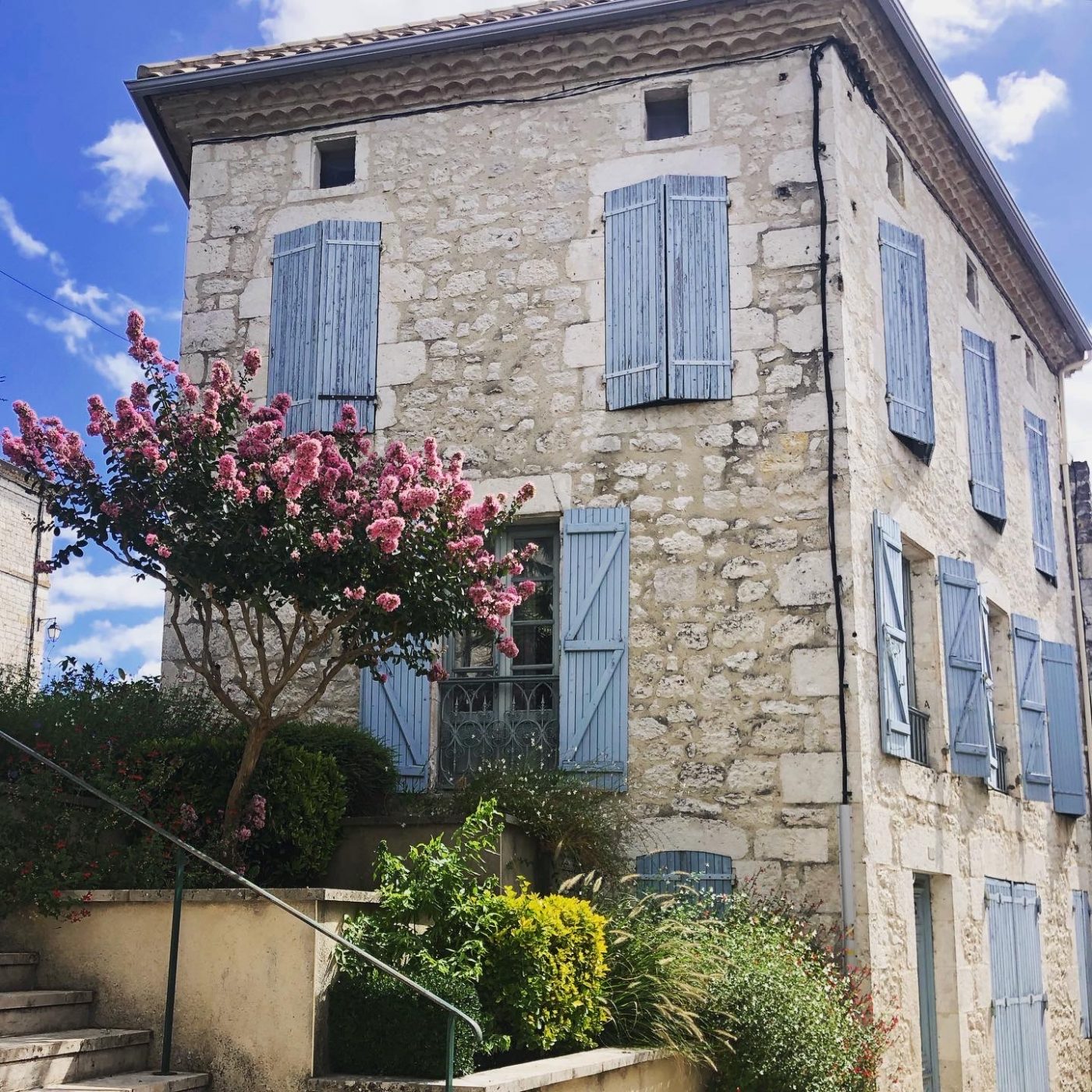 Explore
The southwest region is a popular holiday destination for a reason. Its stunning landscape with rolling hills, and the authentic ambiance with the "Joie de vivre" (French for Joy of life) are second to none. The vast number of sights vary from medieval villages and their farmers' markets to big cities full of culture and action. An abundance of outdoors activities in the still rather untouched nature are a treat for anyone who enjoys clean and fresh air. The hundreds of vineyards are a must visit for many, not only for souvenir shopping but especially for the tastings with the winemakers and their fascinating stories.
---
Any Questions? How Can We Help?
---
We'll be happy to receive your call, email, or even better, meet you face to face to plan together your next important business event in The Happy Hamlet.
Visit the contact page for more details or contact us directly by