The most gorgeous, warm-hearted, charming, delightful, inspiring and mesmerizing location and retreat you could imagine. Thanks, Suska and Nico, and others. You're amazing! I'm already booking my next trip! — SAANA R.

More lovely guest reviews >>
---
Come Home to Yourself
---
** 2 SPOTS LEFT! **
We invite you to take a break and to do so only for yourself. We're taking our yoga to the beautiful and peaceful French countryside. You'll have a chance to immerse yourself in your well-being while enjoying the best treats of southwestern France: Charm of a centuries old farm-hamlet, long dinners and the famous French "joie de vivre", farmers' market and blooming lavender farms, splendid nature and tranquil ambiance. This is exactly the place where you can just be. Yourself. And at home.
Please note that our cancellation policy reflects the current global situation. This means that you will get 100% of the fee refunded if you can't attend due to Coronavirus related travel restrictions (updated after your reservation) in France or your home country.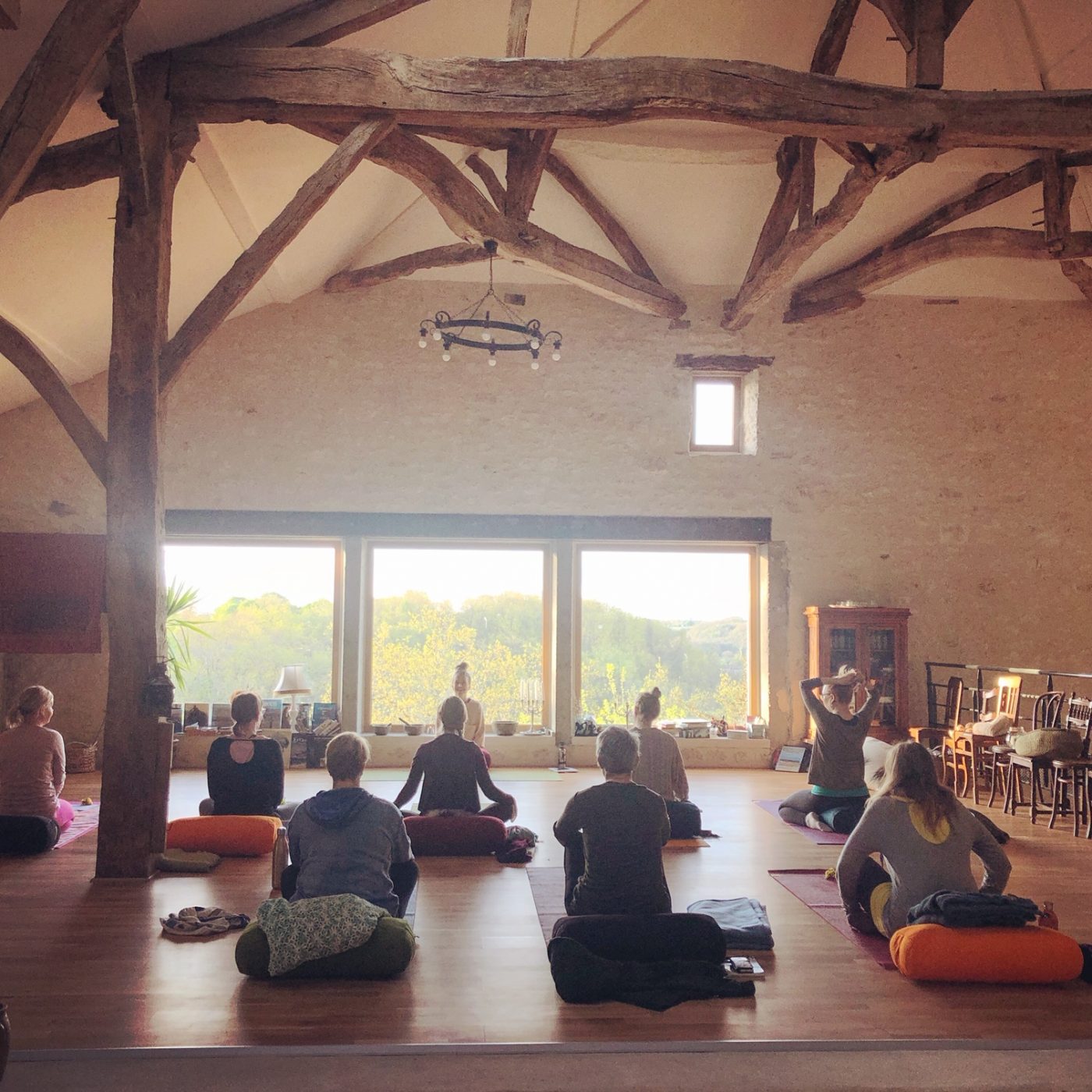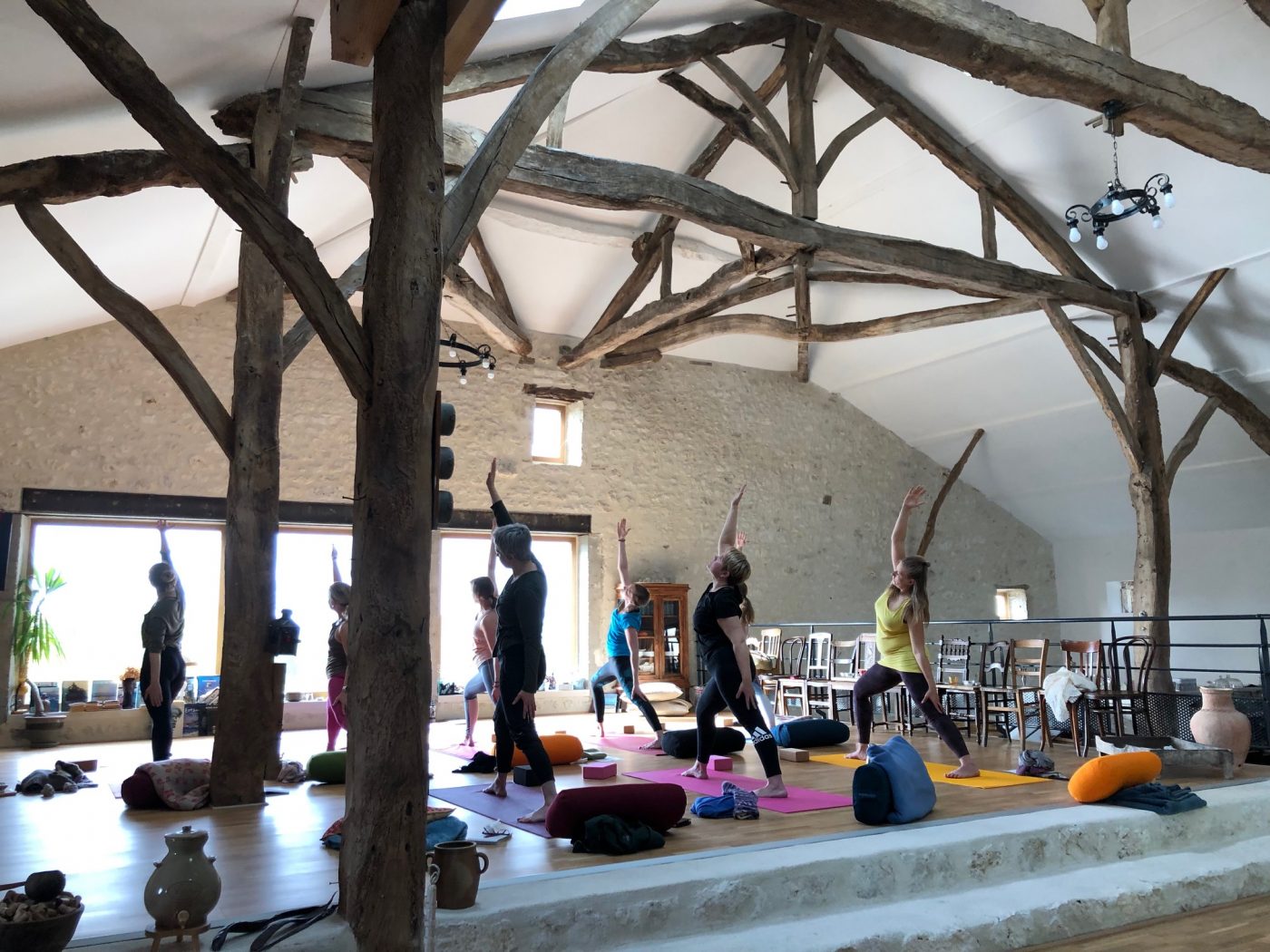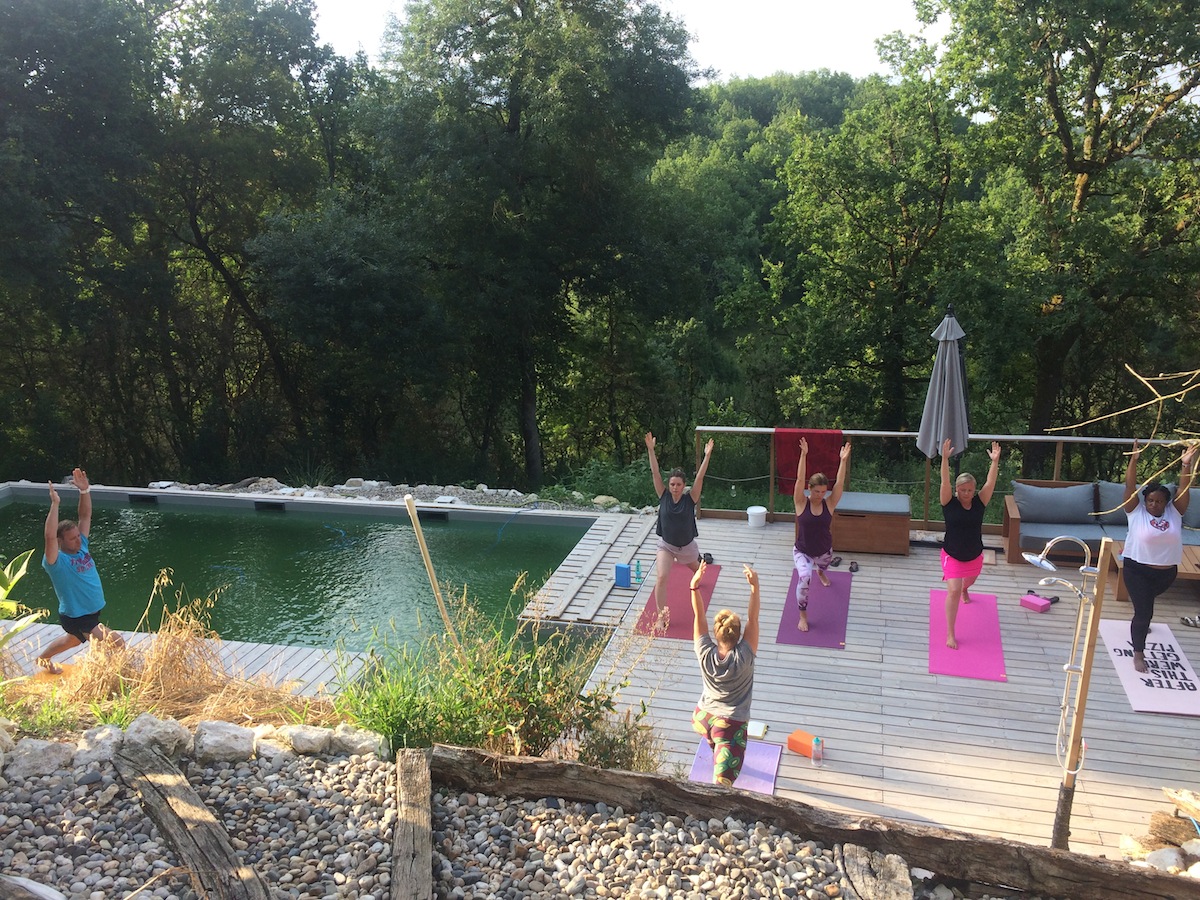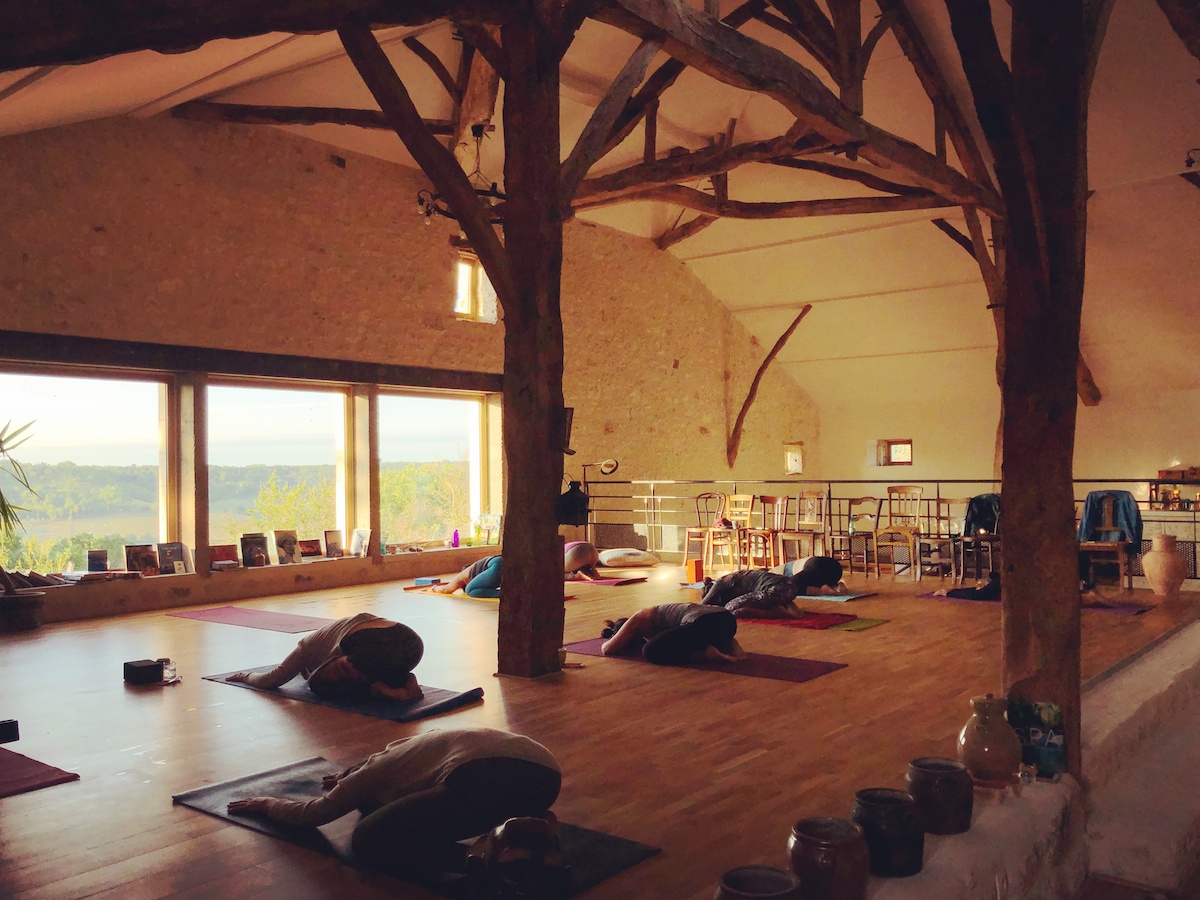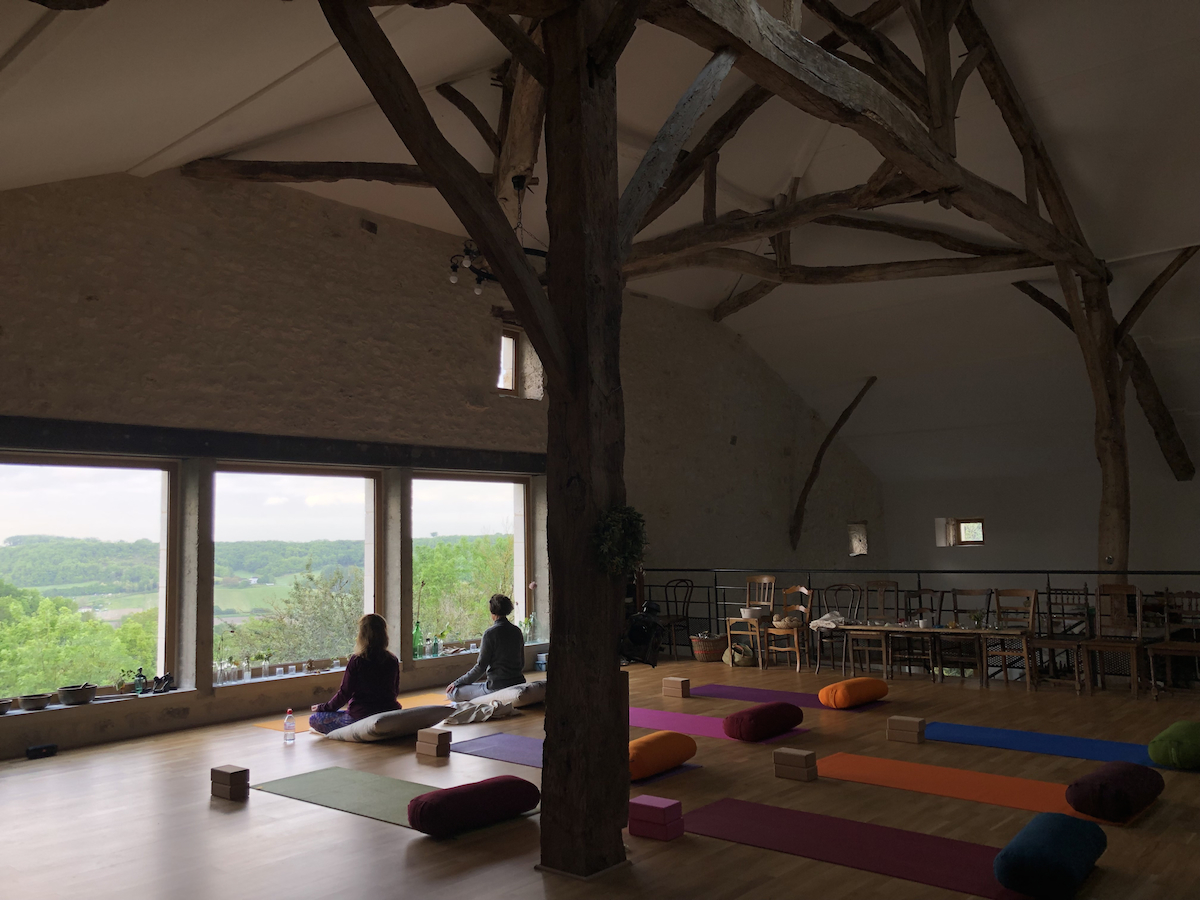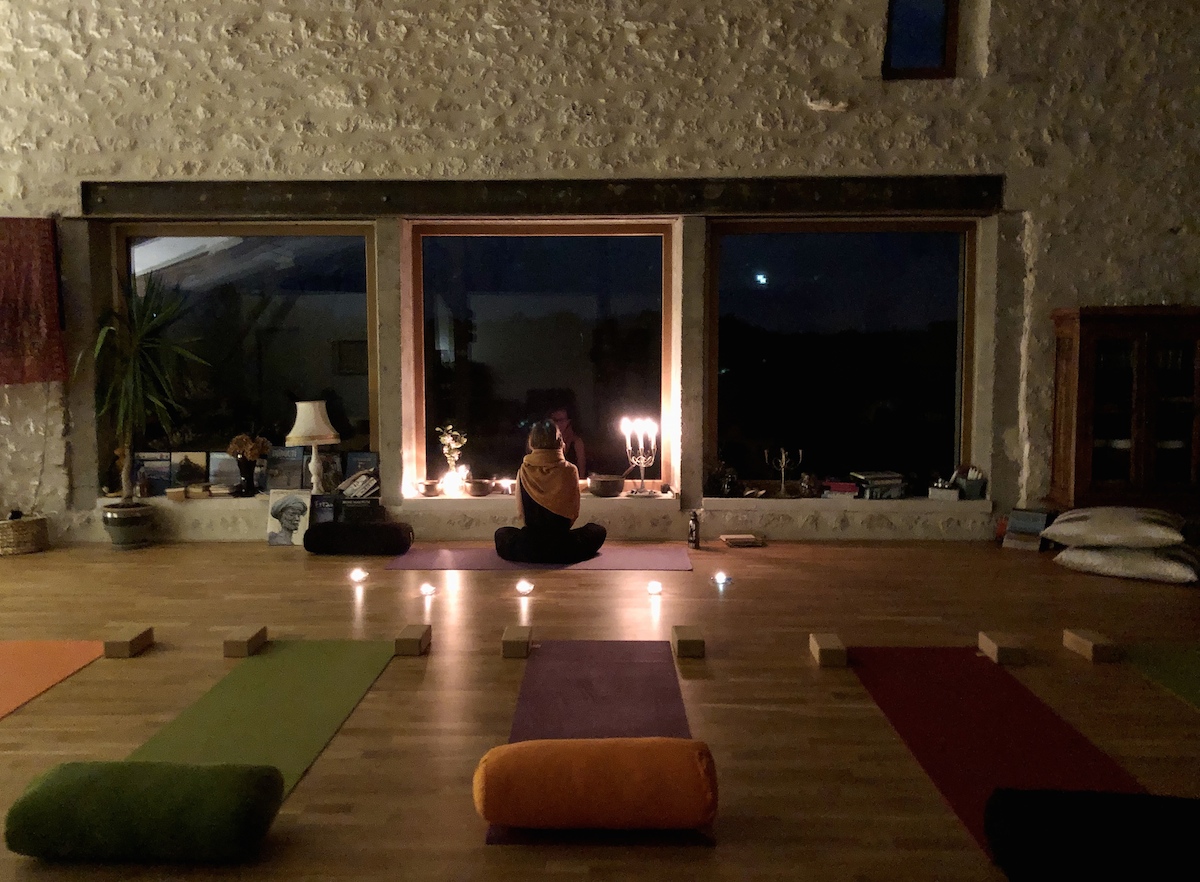 The Yoga Practice
The morning classes are focusing on the Sun energy in opening and strengthening our bodies and minds. We will start our day with short journaling, meditation and a pranayama (breathing practice) before we set ourselves to the asana practice. Our morning practice is an energizing Hatha Vinyasa class to wake up the body and clear the mind to set ourselves into a beautiful day.
Continue reading
The usual evening practice is a Yin yoga practice. Yin Yoga is an embodied style of yoga that is based on 5 elements of Chinese medicine and meridian lines of the body. In Yin Yoga practice we will stay in restful positions for a longer period of time, usually a few minutes in each posture to reach the deep fascia of the body. It is a very meditative practice with a beautiful opportunity to meet whatever is arising from the stillness within, to get to know ourselves better, while giving the body the nurturing and opening it needs.
On a couple of special evenings our practice will be the magical Yoga Pranala from Bali. It is a calming, gentle yoga practice that combines hand mudras from balinese healers traditions into an intuitive and soft flow of yoga. It is truly a beautiful way to get to know your own life force, prana and enhance the connection onto your body's own wisdom and your deepest self.
In the beginning of the retreat, we will have an opening circle, focusing on a little bit on the philosophy and theory of yoga according to the needs of the group and also on the question why we do yoga. This is by no means a strict lecture, but more a warm, interactive sharing circle where everyone is free to ask questions and share their hearts.
Close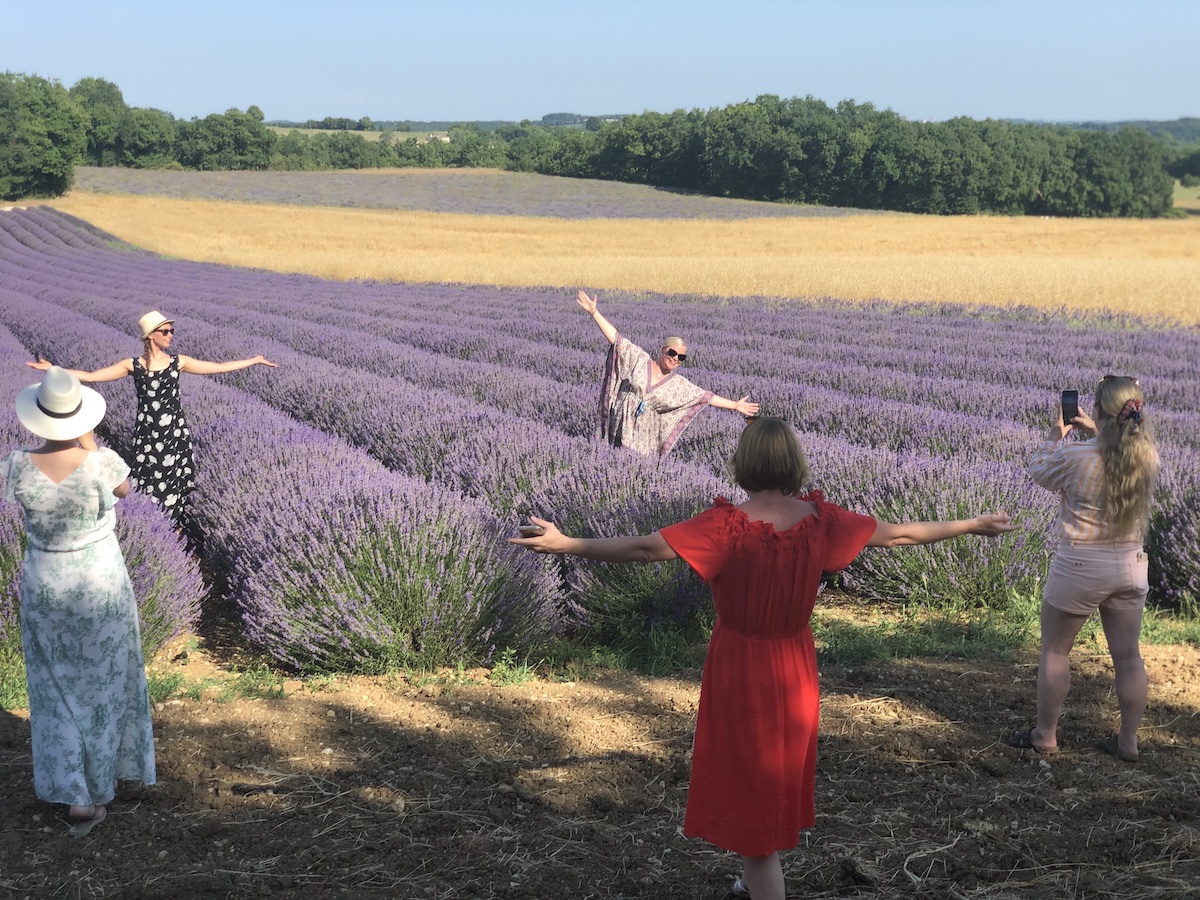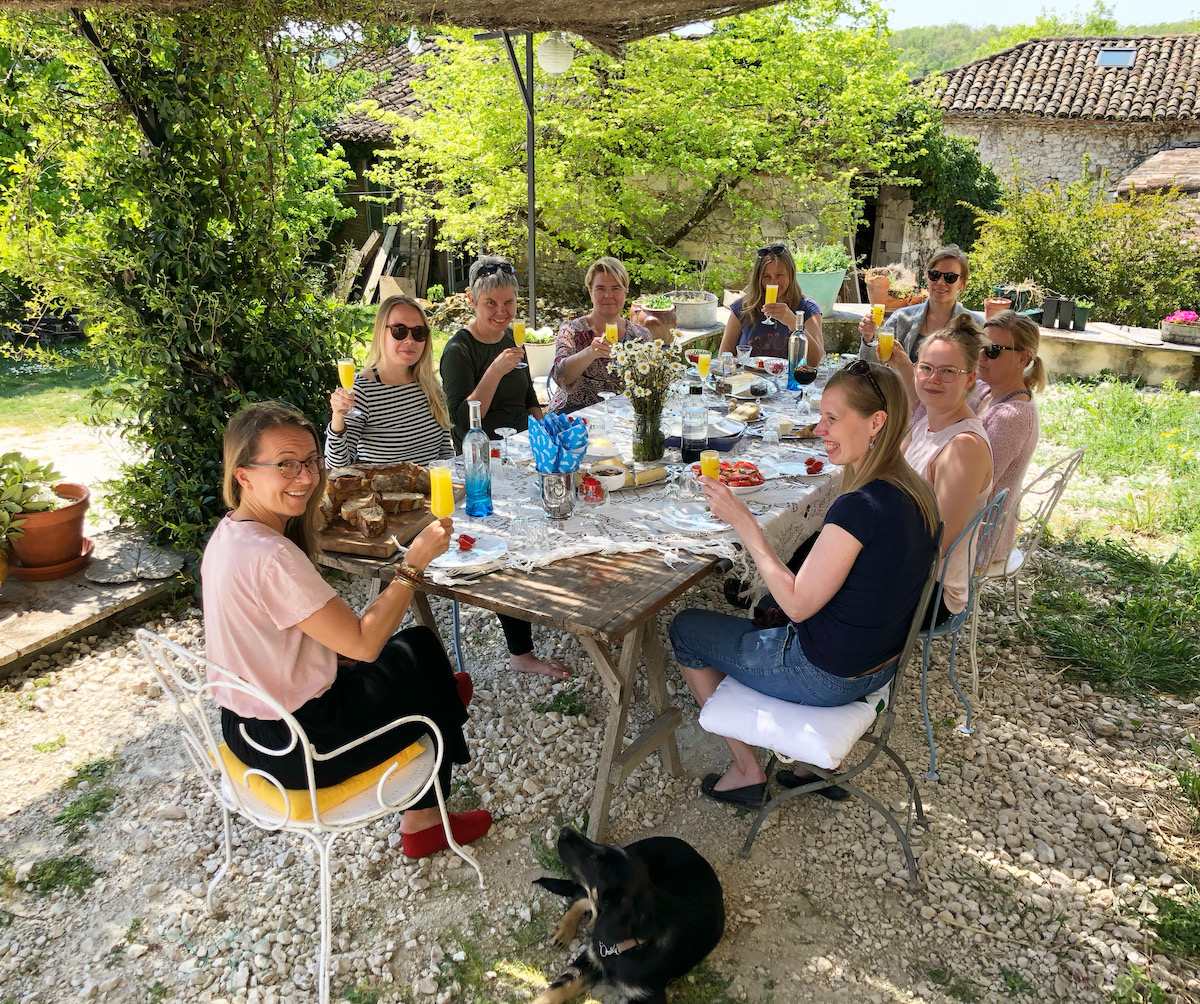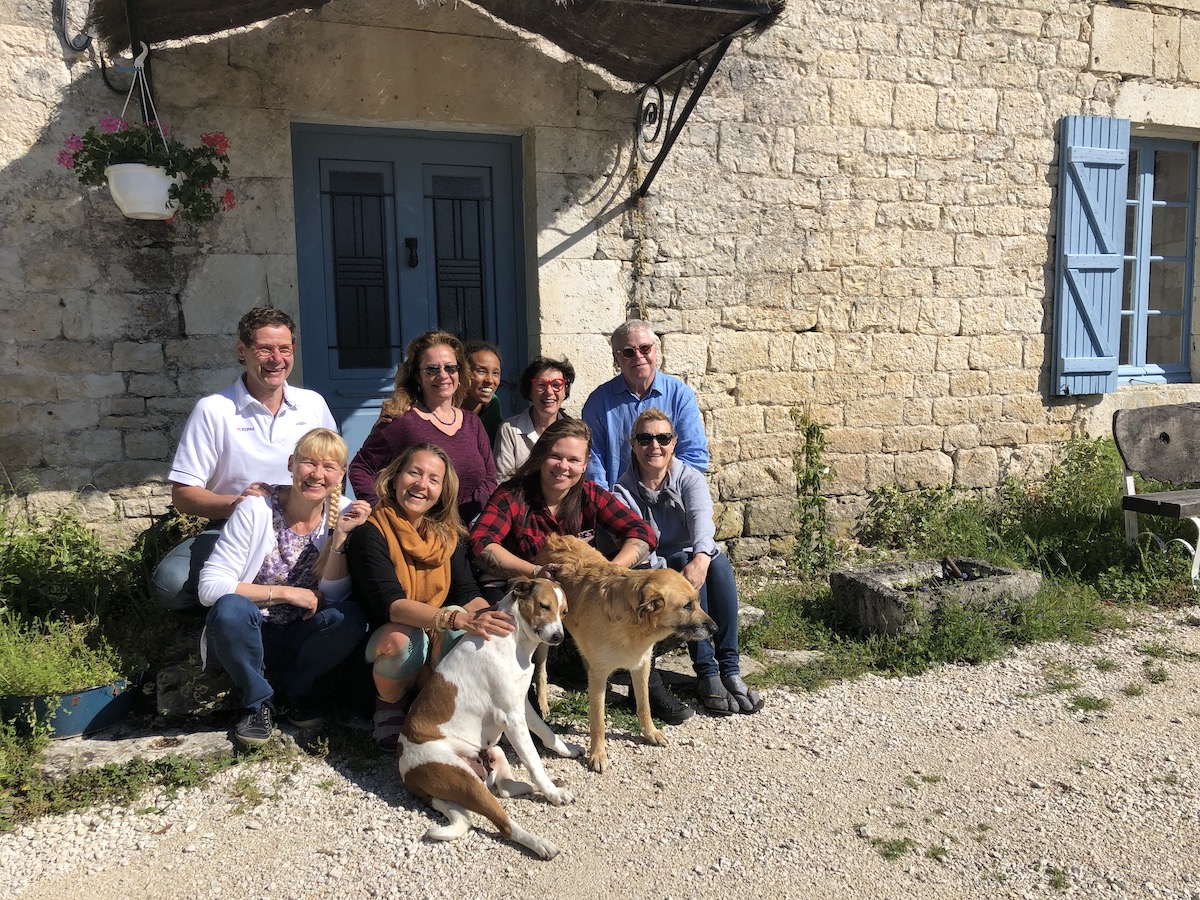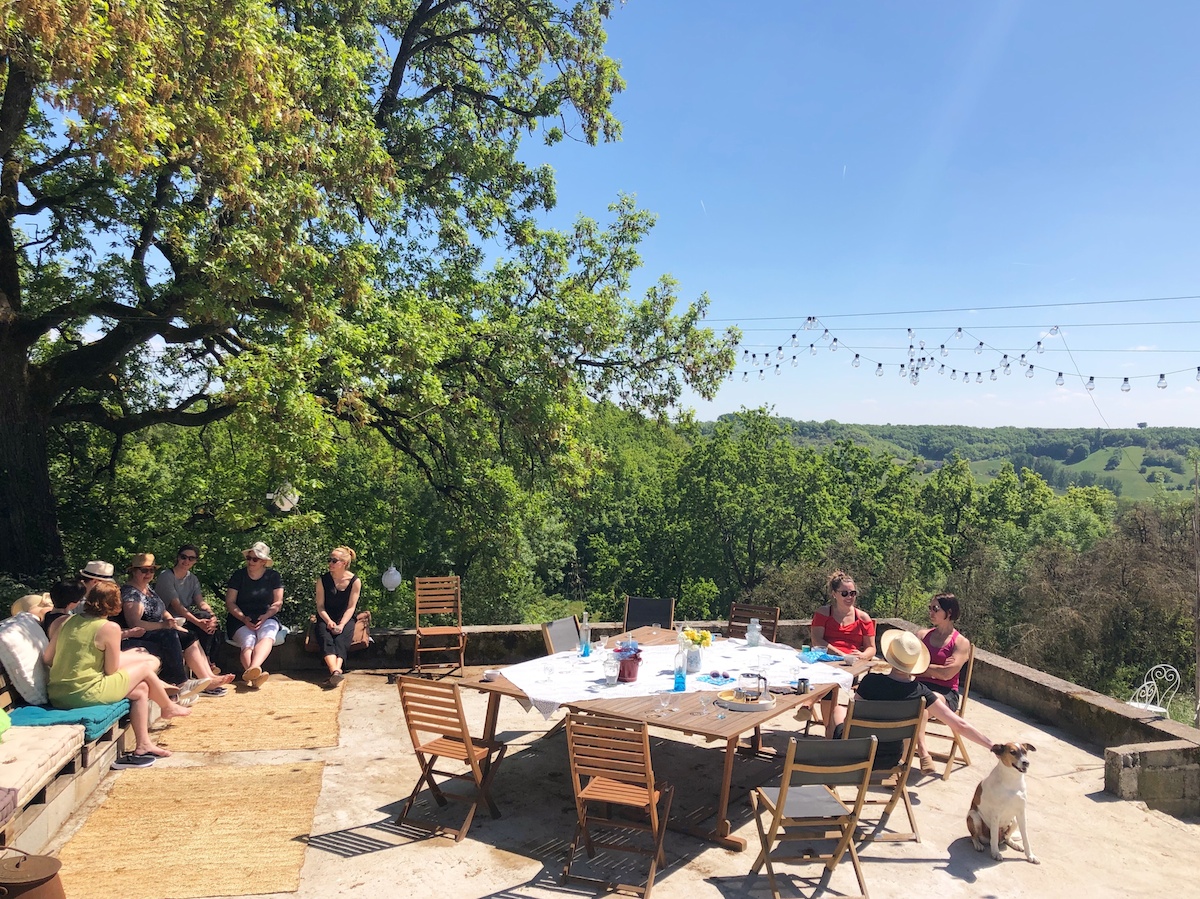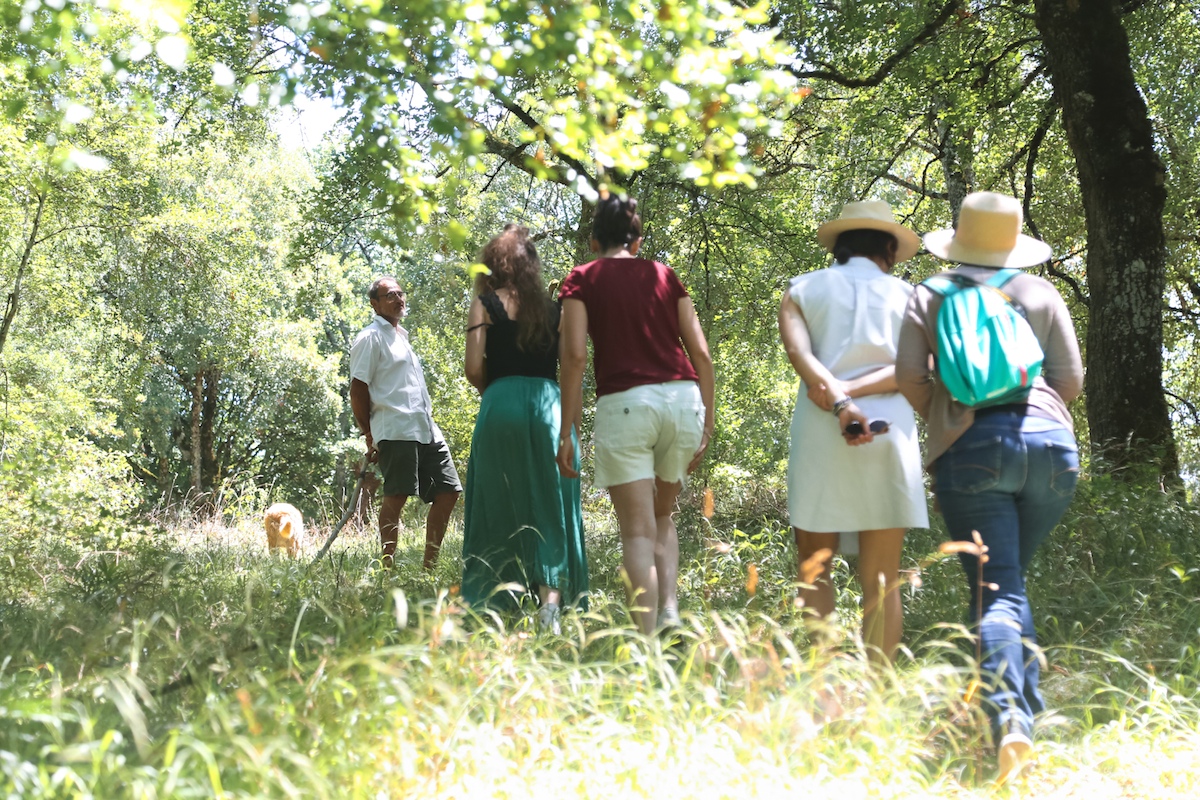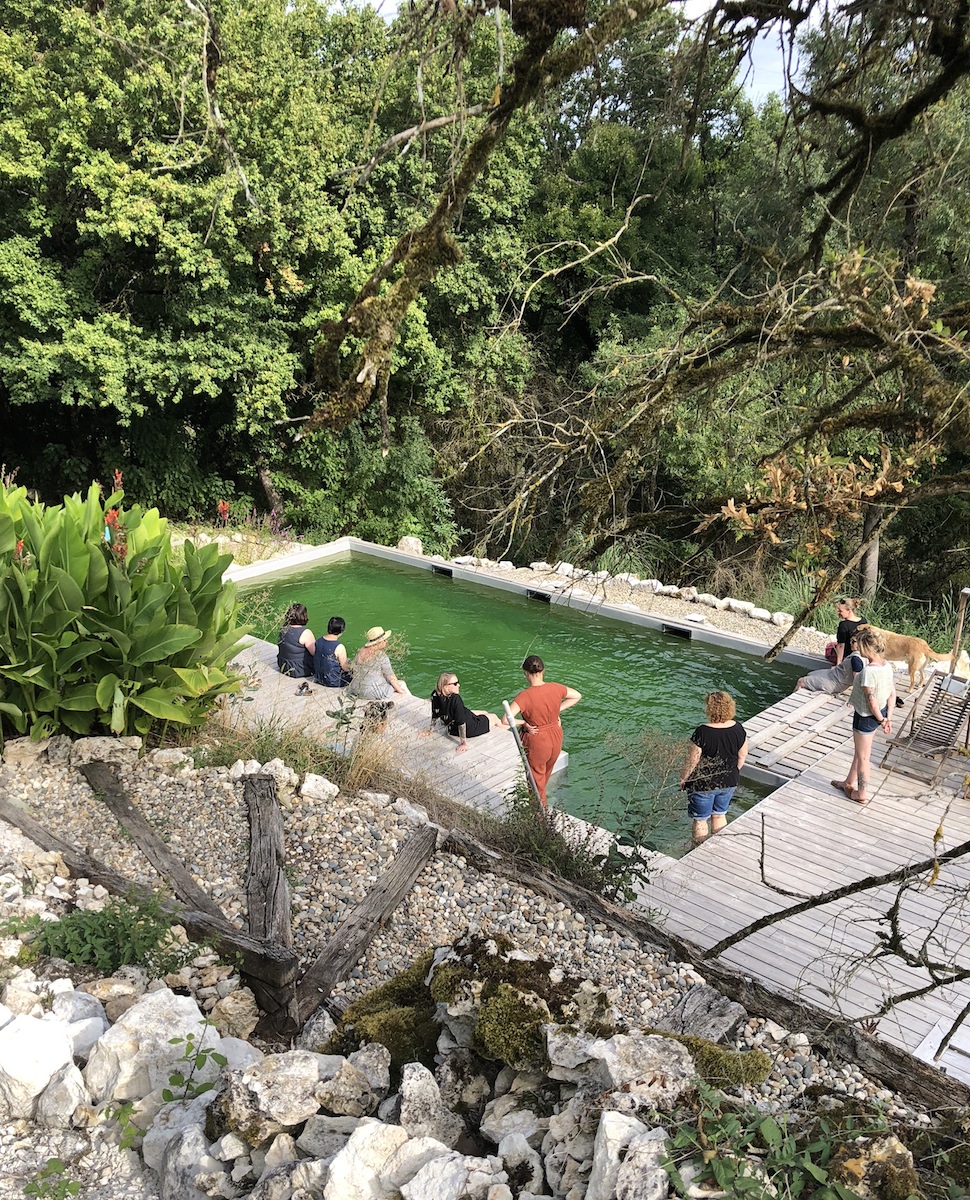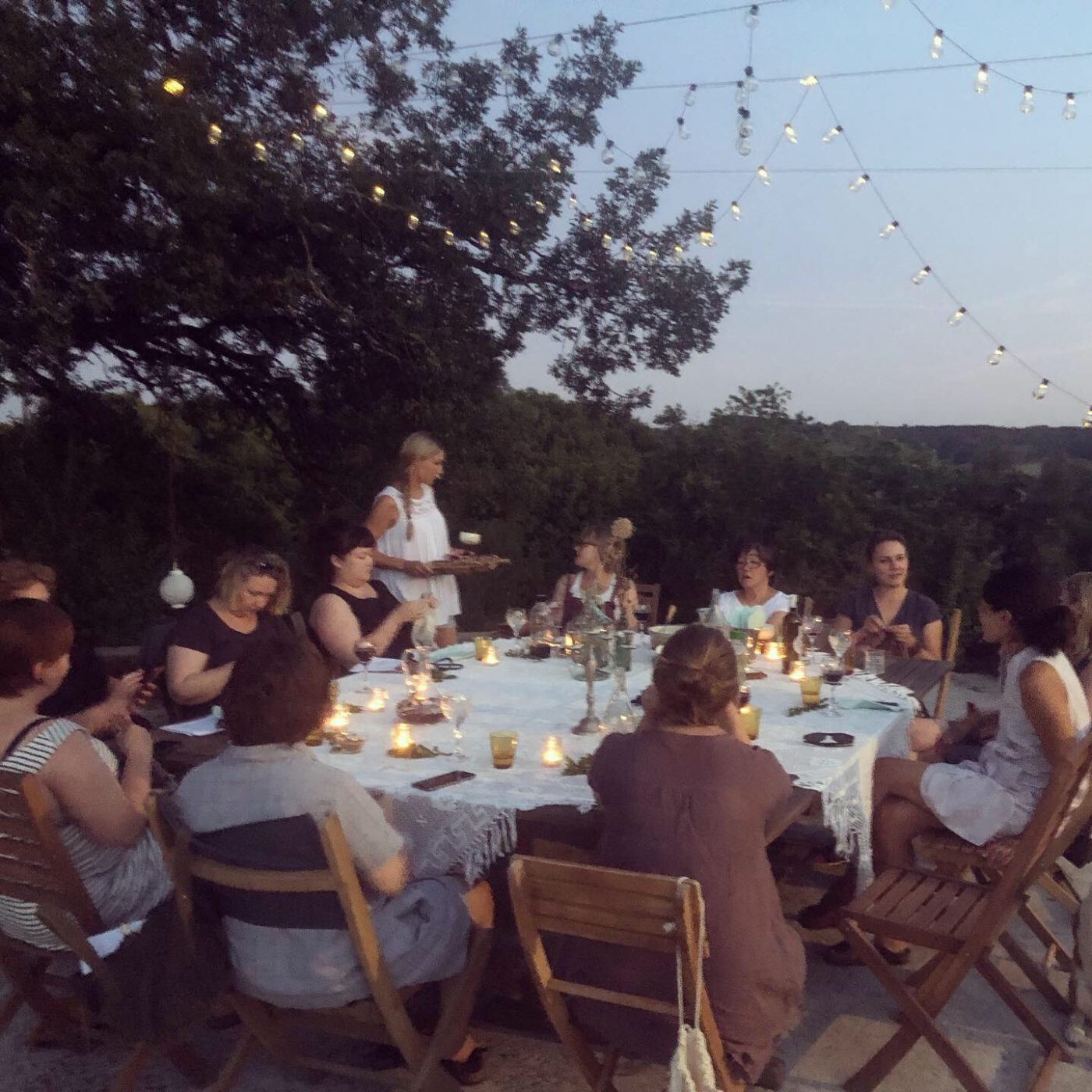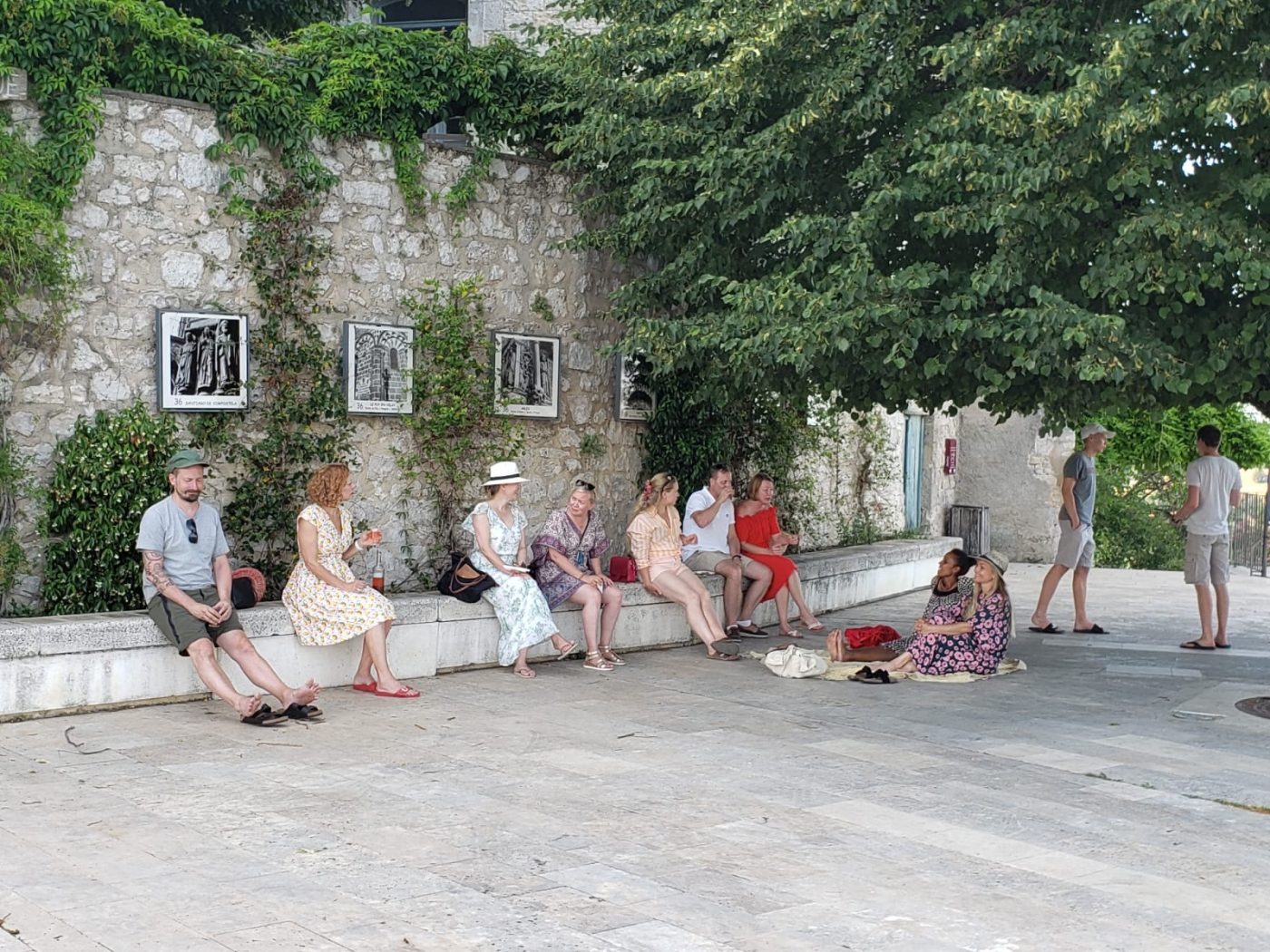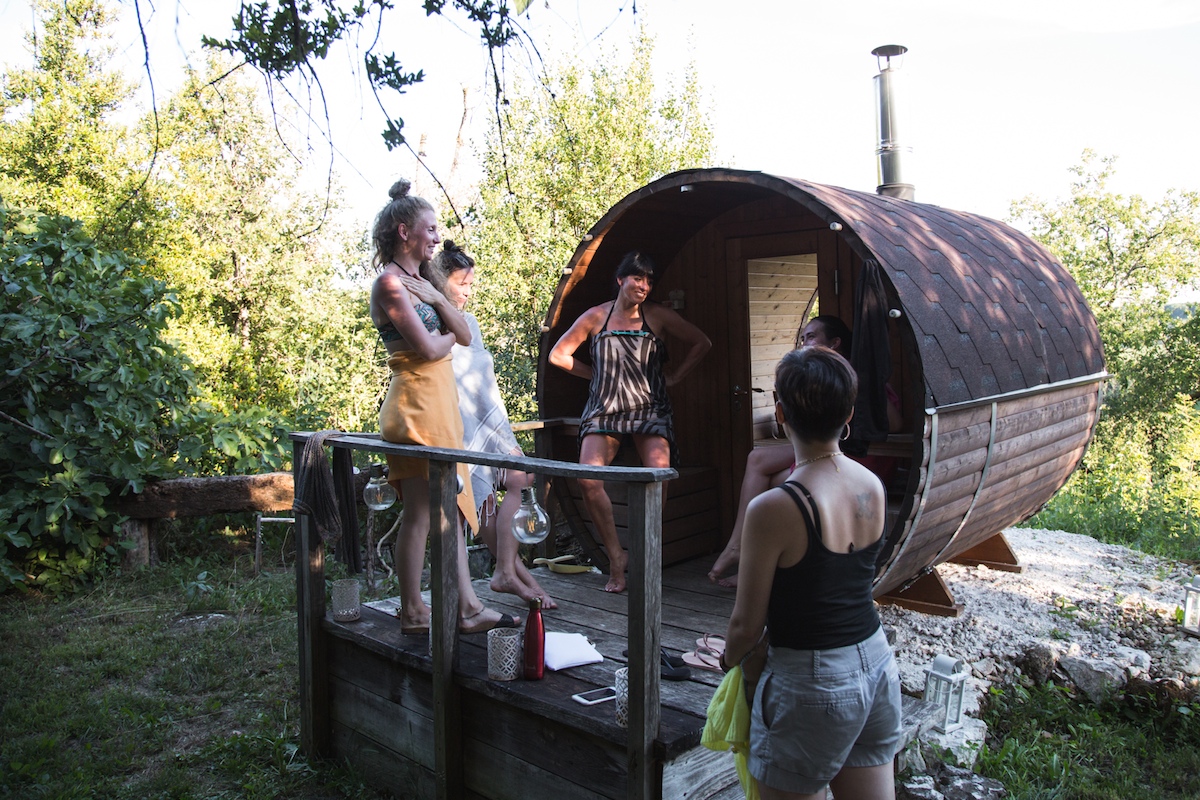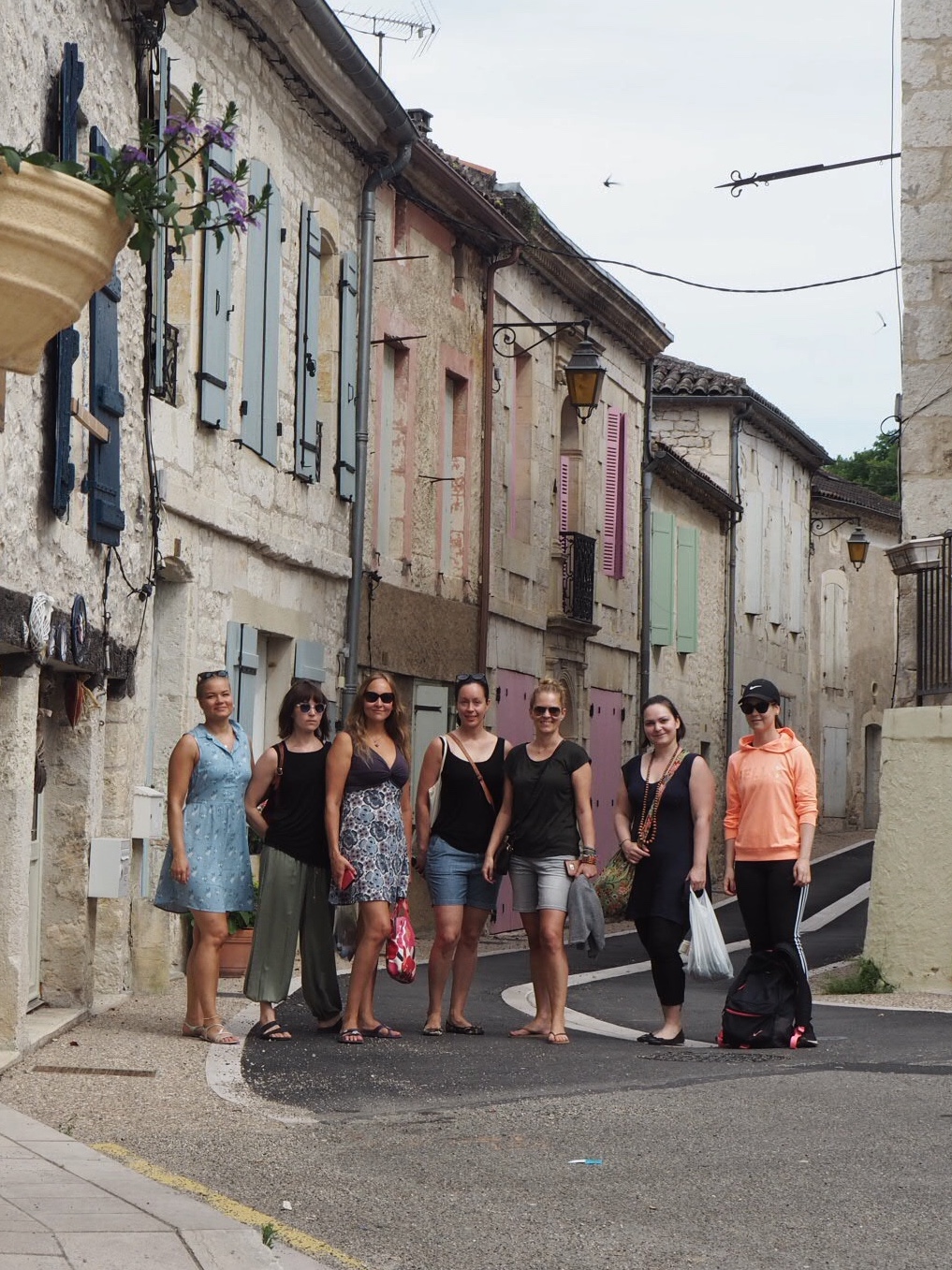 Other Activities
In between the classes and tasty meals you can steal a moment for yourself and your book, curl up in a hammock tucked away under the trees. If you wish to get more active physically, the surroundings are perfect for walks or jogging, and we need to add, that "the Hamlet Hike" around the property with Nicolas has been very popular – just don't wear your high heels! You may dip into the natural pool (no chlorite nor other chemicals!) or no matter rain or shine, we'll heat up the sauna for you to relax and enjoy the views.
Continue reading
Our program is based on a "go with the flow" mentality, this is your vacation, after all! You may participate in our little visits in the region – but it's completely fine if you wish to stay "home" in the Hamlet. We'll definitely do some wine-tasting at our friends' vineyard and on departure day morning we'll visit the nearby medieval village and pick up the freshest from its farmers' market for a champagne brunch before the "au revoirs". That is, "until we meet again" – because we think you might want to return…
Ps. Have a look at the lovely reviews of our previous retreat guests as well as testimonials from Anu Karoliina's students.
Close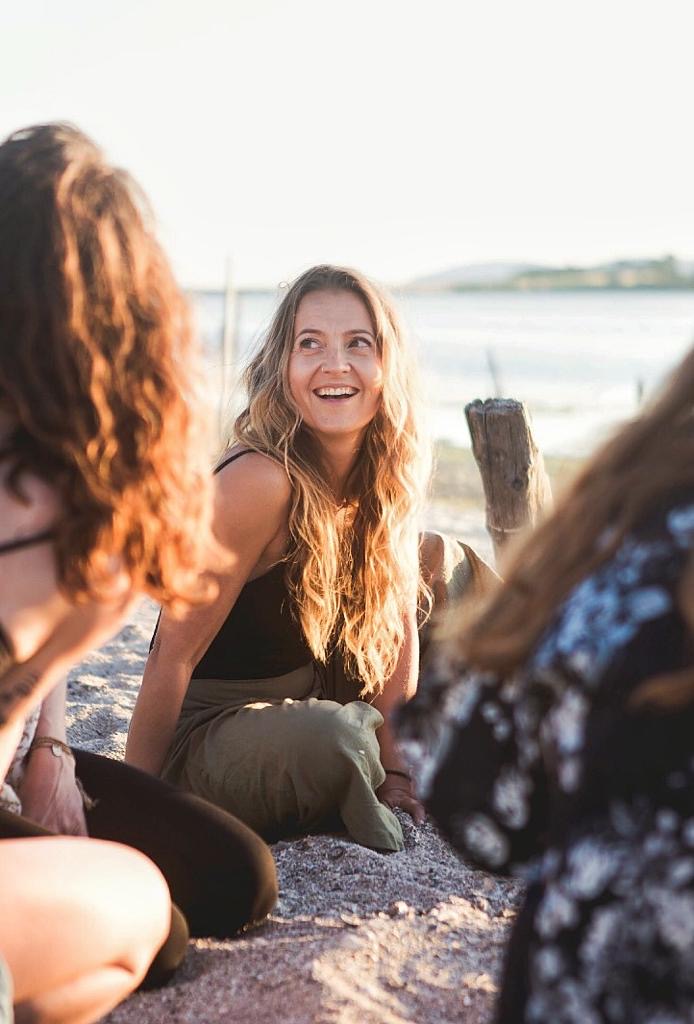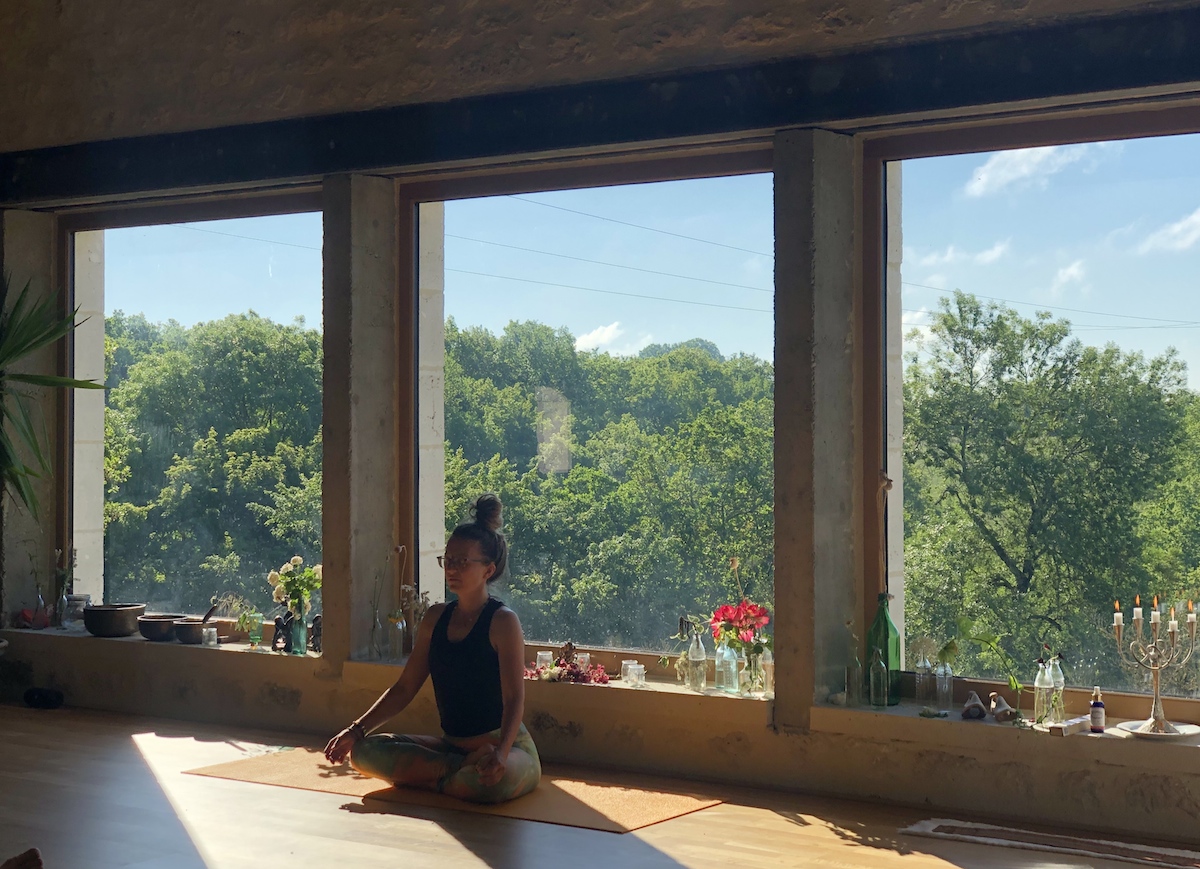 Your Instructor Anu Karoliina
"My passion for teaching yoga springs from my natural calling to seek healing, inner peace and joy through a yoga practice and share that with others. Yoga is a powerful self healing tool that can remarkably enhance our balance and well-being in everyday life. Yoga in itself means connection, so I believe that yoga is universal – there is a yoga for everyone, regardless of age, shape or background. I consider that the actual purpose of a yoga mat is to take all of our worries and cares, so we can rise and step off from it after the practice feeling lighter and happier time after time.
Continue reading
I've been practicing yoga for a decade and studying and teaching since 2015, in Bali, France and Finland. I am well accustomed in teaching various levels of students, from total beginners to more advanced practitioners. Although instead of advanced acrobatics, I focus more on the authentic connection between the breath and the movement, guiding the students to a really all-encompassing rejuvenating experience – a whole body moving meditation. To me yoga is much more than just a physical practice and I often create my classes focusing on particular themes and pay a lot of attention into sequencing them accordingly. The small group size in this retreat will naturally allow an adequate amount of individual attention and guidance in classes.
My teaching style is clear, precise, yet inclusive and gentle so each individual can find their own pace of progressing in their practice. I give a lot of attention to create a smooth full-body experience with pranayama, asana and meditation for you from the first Om to the last one. I find it important to challenge the body and the mind, but allow everyone to listen to their own bodies' needs. I regularly get thanks for creating a warm, relaxed atmosphere for classes, so there will most likely be some laughter from time to time too! I do believe everyone will benefit tremendously from having their home practice. Hopefully after this retreat you will have your own yoga practice to take home with you, to live a happier and fuller life on and off the mat!
To learn more visit my website, follow my Youtube channel or Instagram."
Close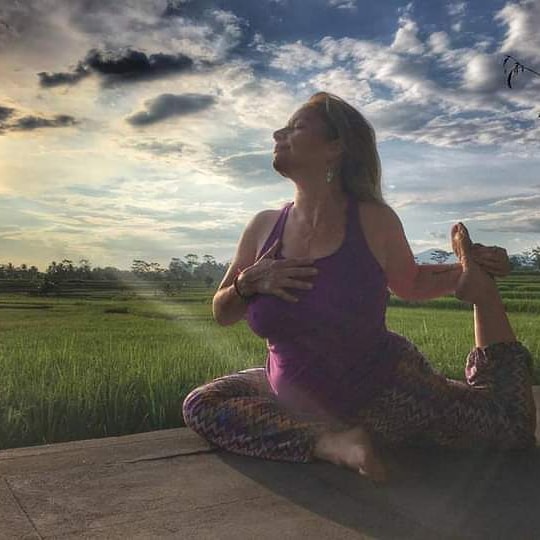 Susan Garcia
Susan Garcia has been practicing for more than 20 years and her mission is to bring the magic of yoga to as many souls as she can.
With yoga, there is always a way and it is her life's work to have everyone understand they should be moving and breathing in ways that feel right for themselves, and no other.
Whenever she can combine her love of travel with the practice of yoga, she does! And to share those passions with clients and friends is far beyond her wildest dreams come true..

Find Susan at the studio she founded in 2014, Grassroots Yoga, New York or on Instagram for daily inspiration.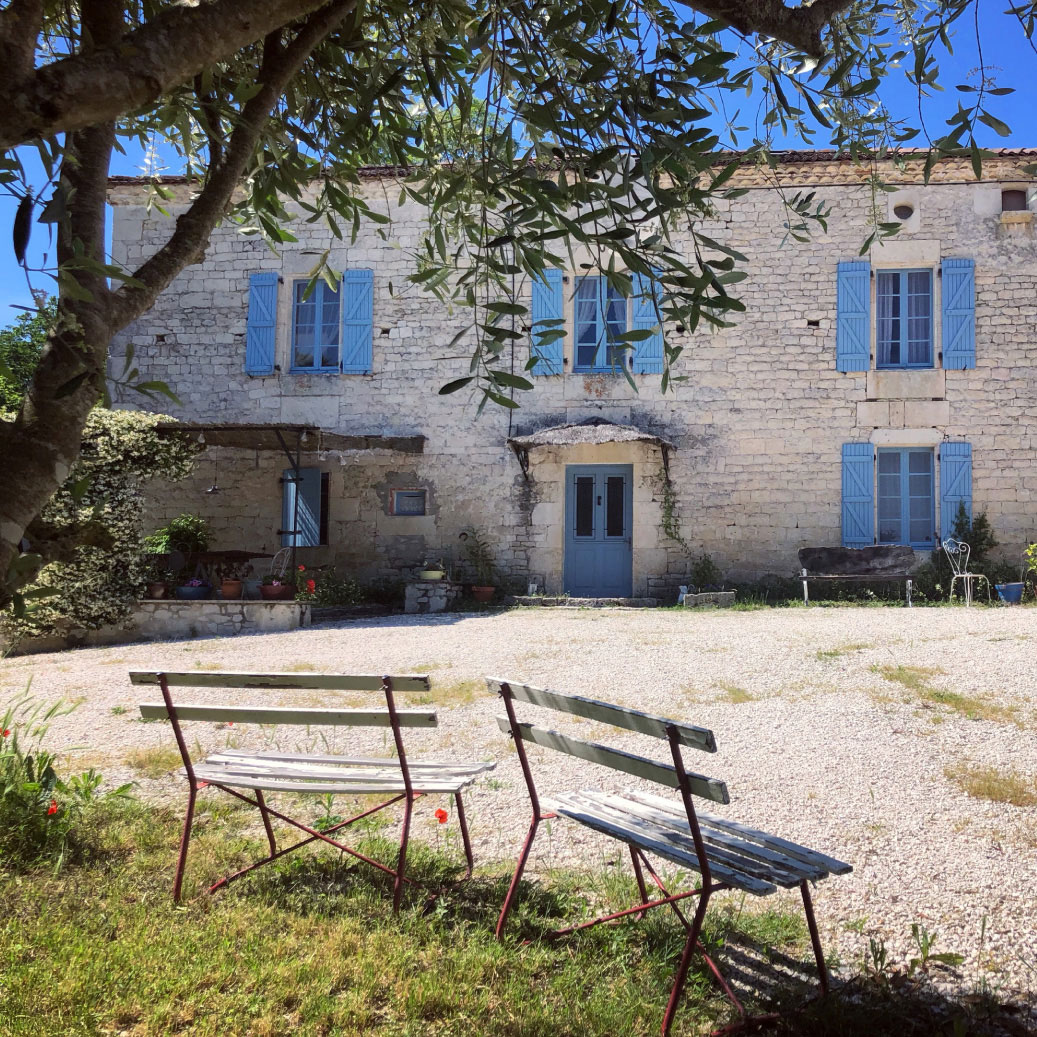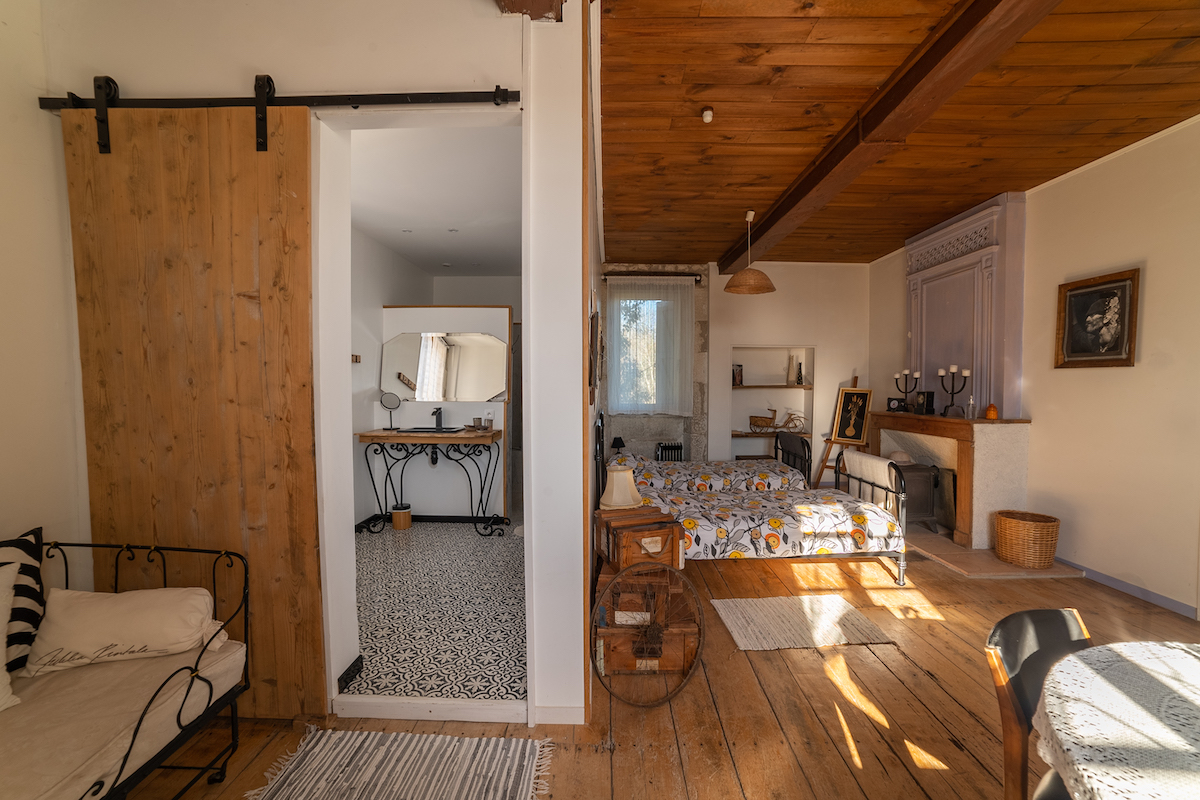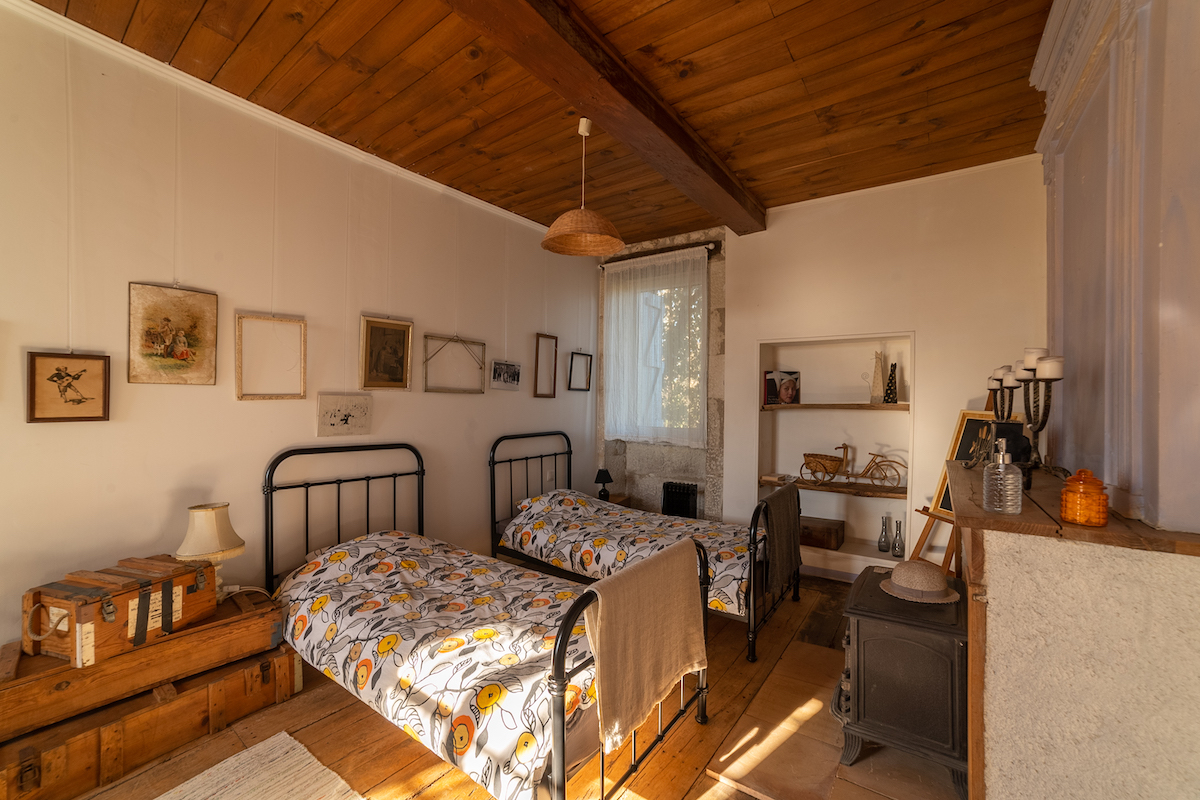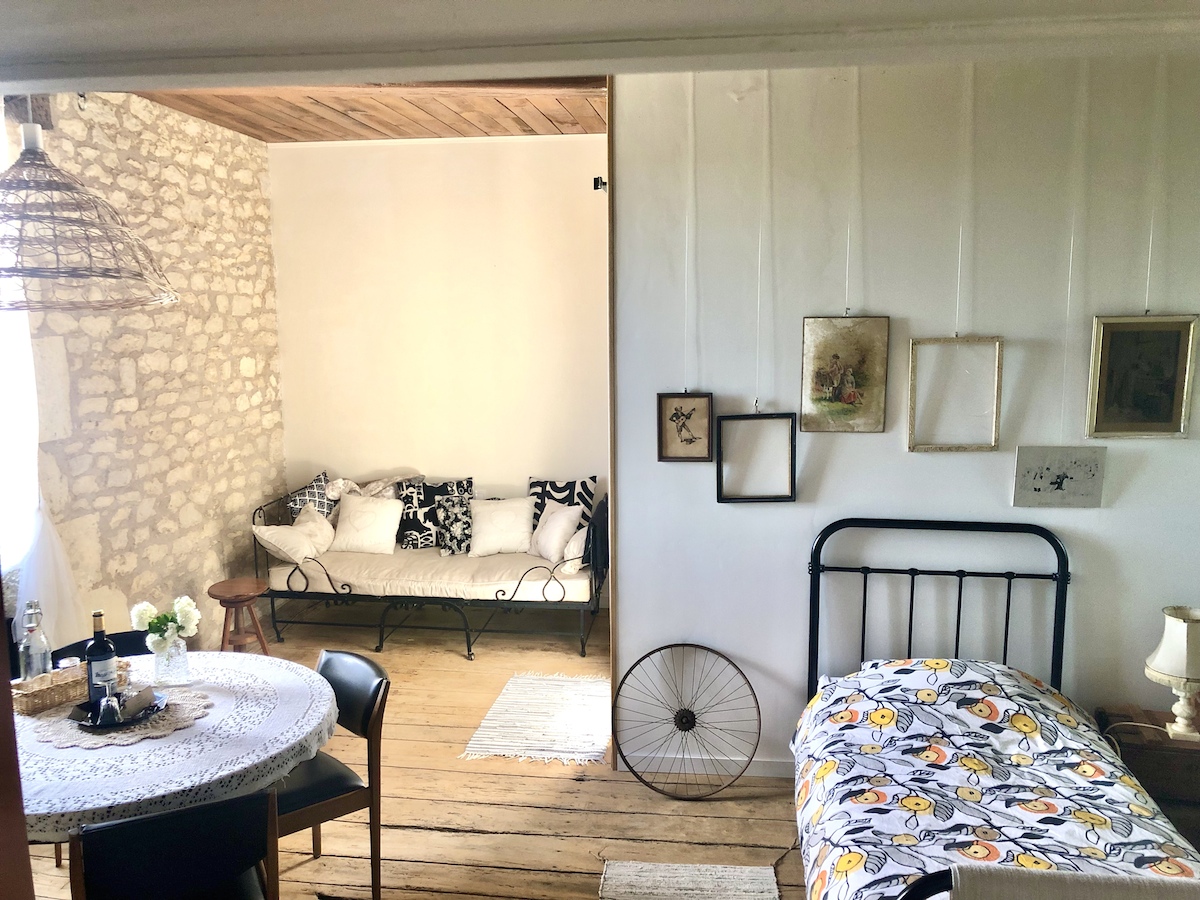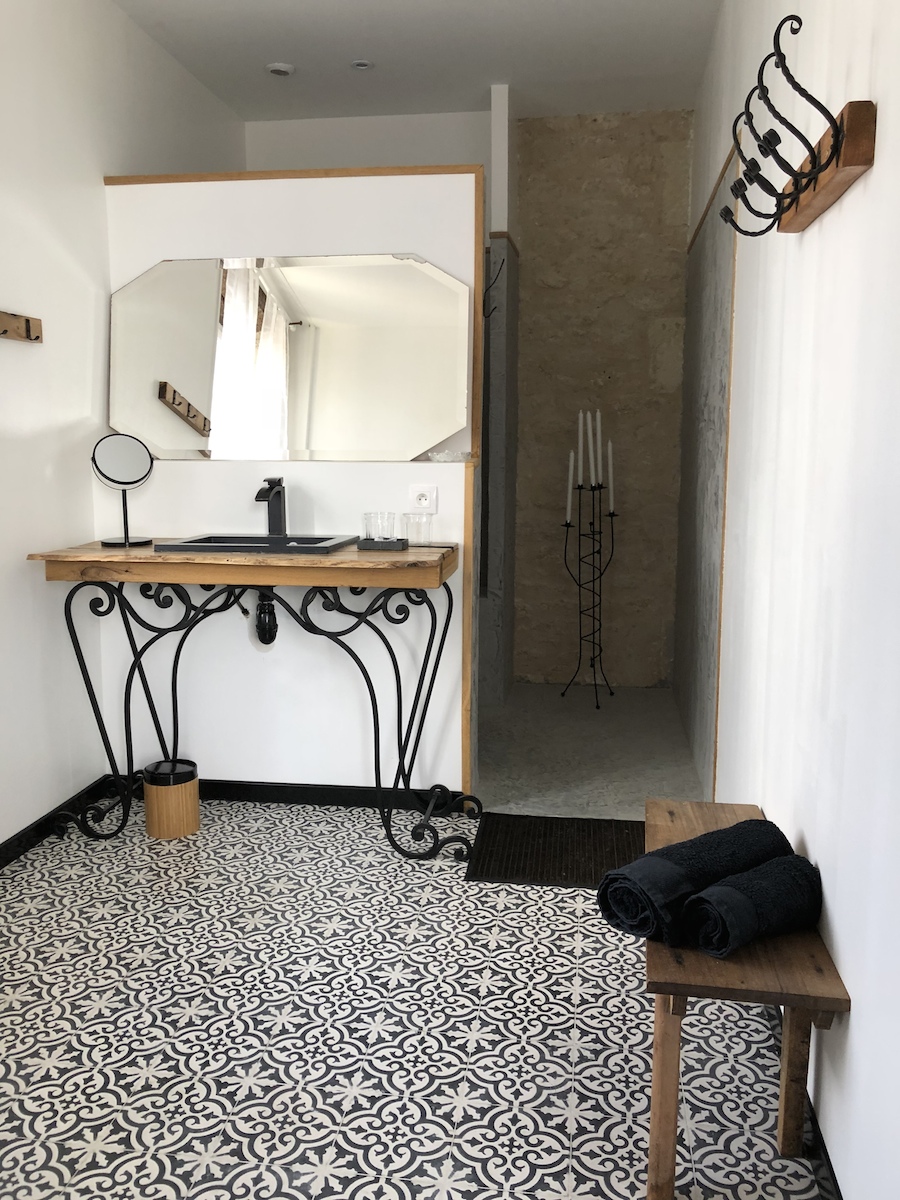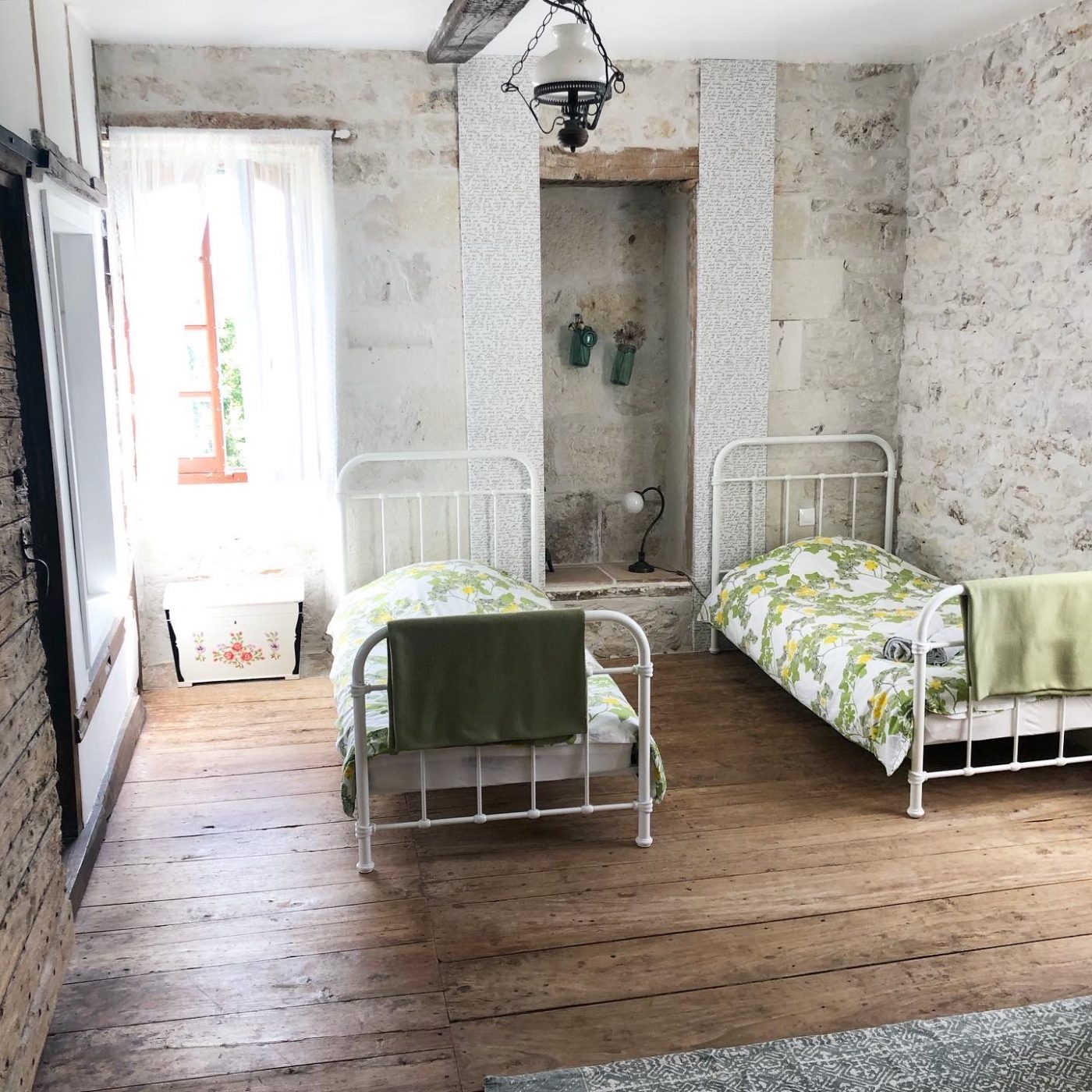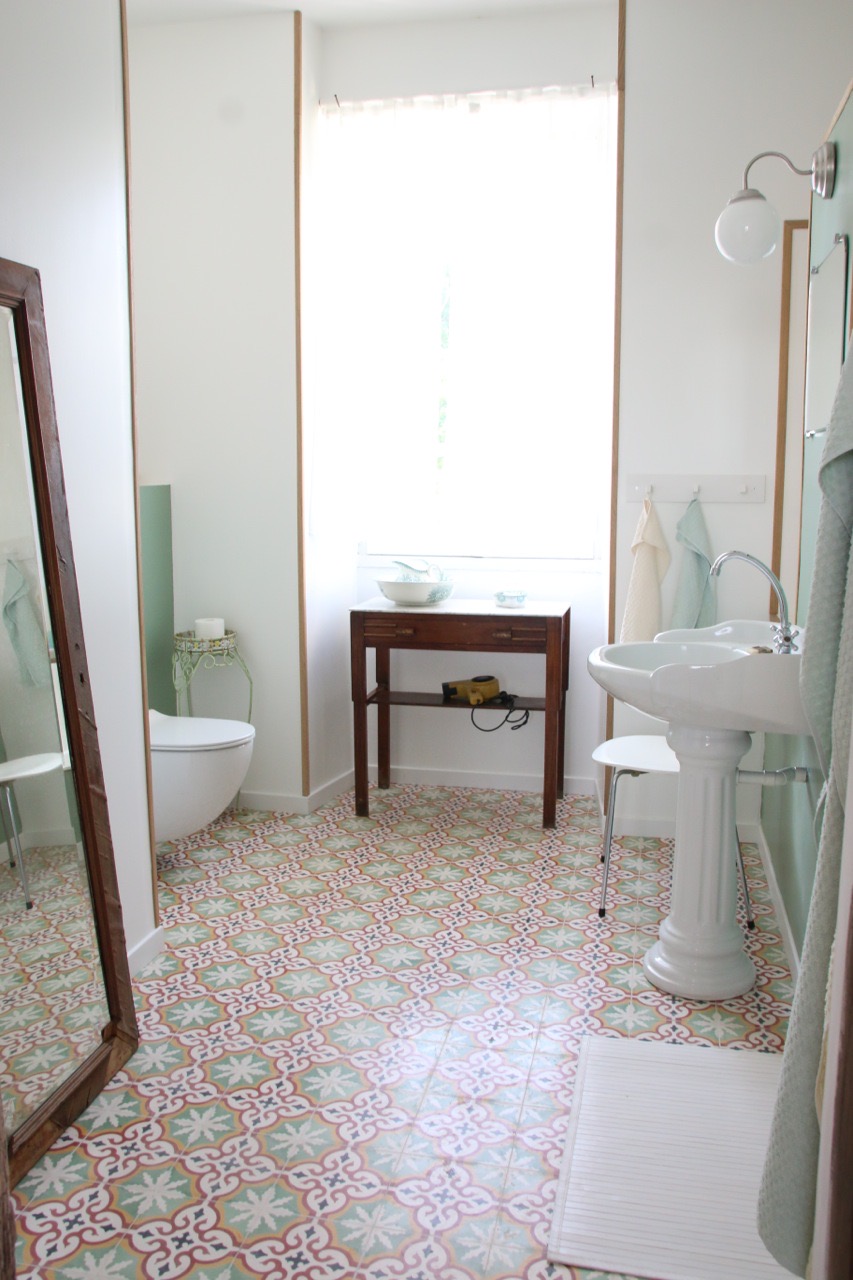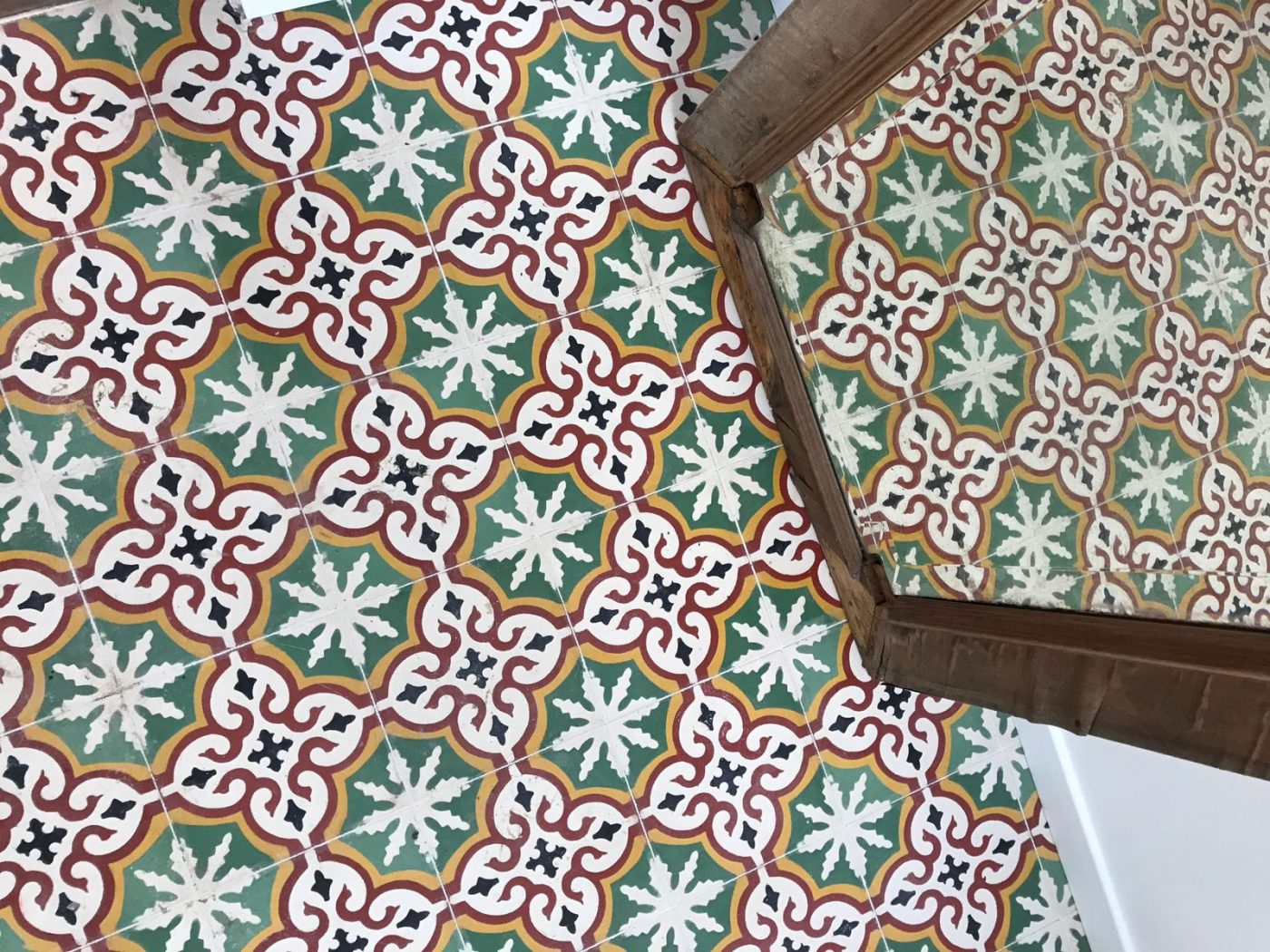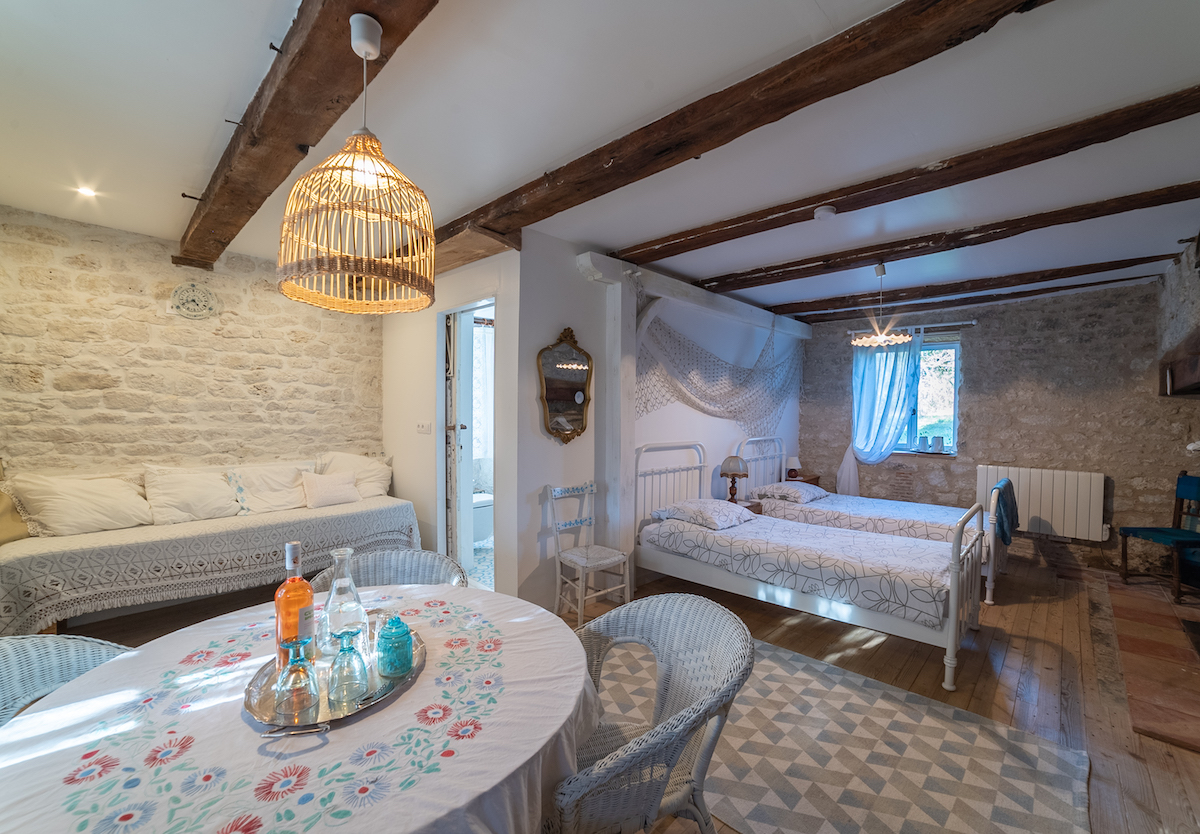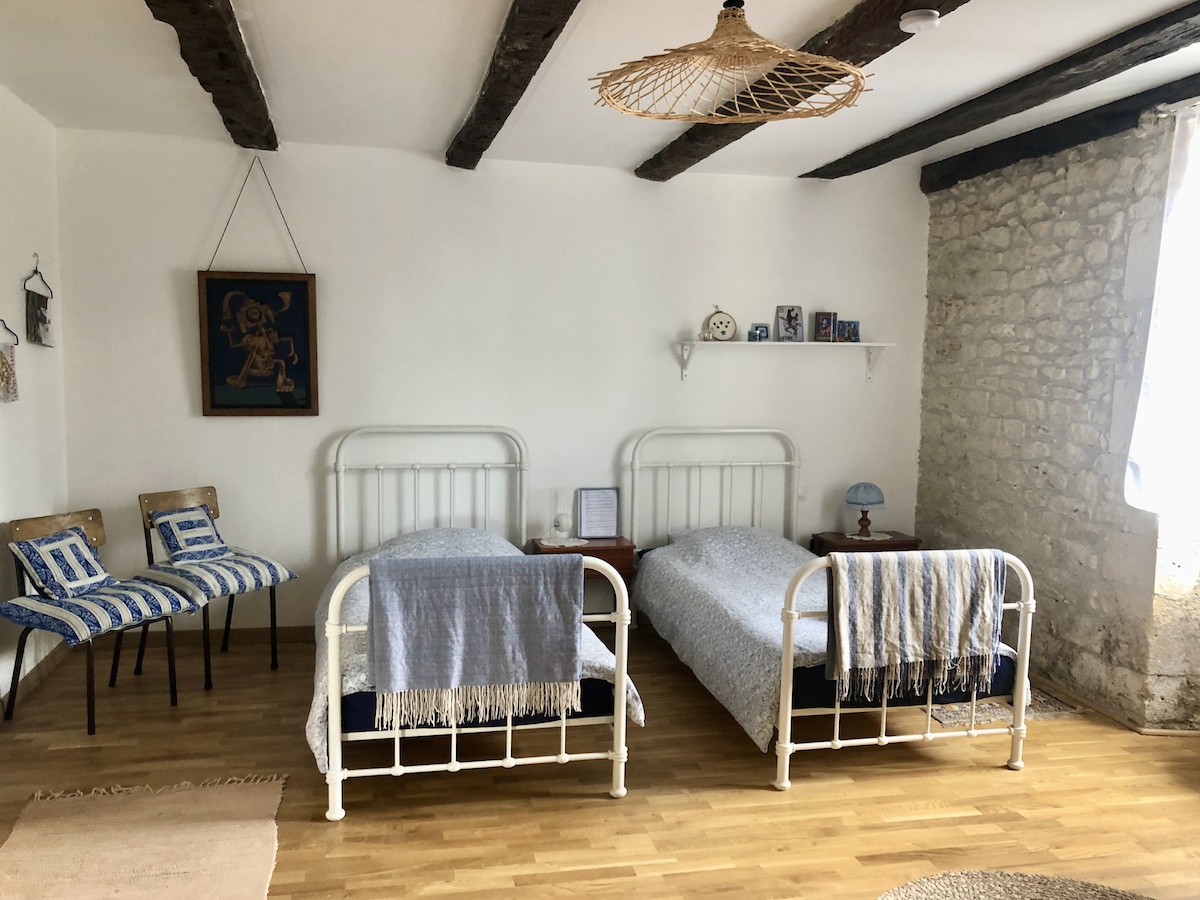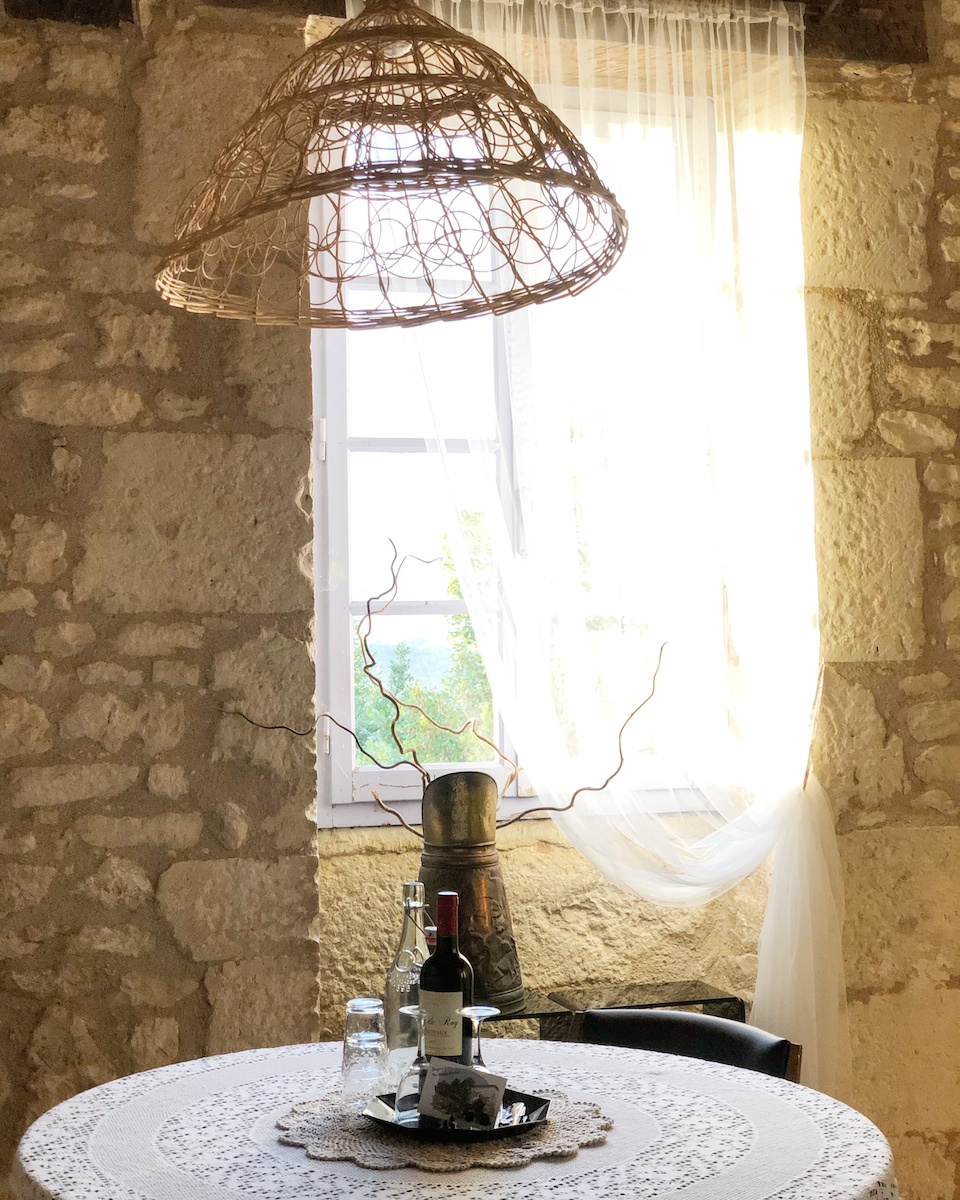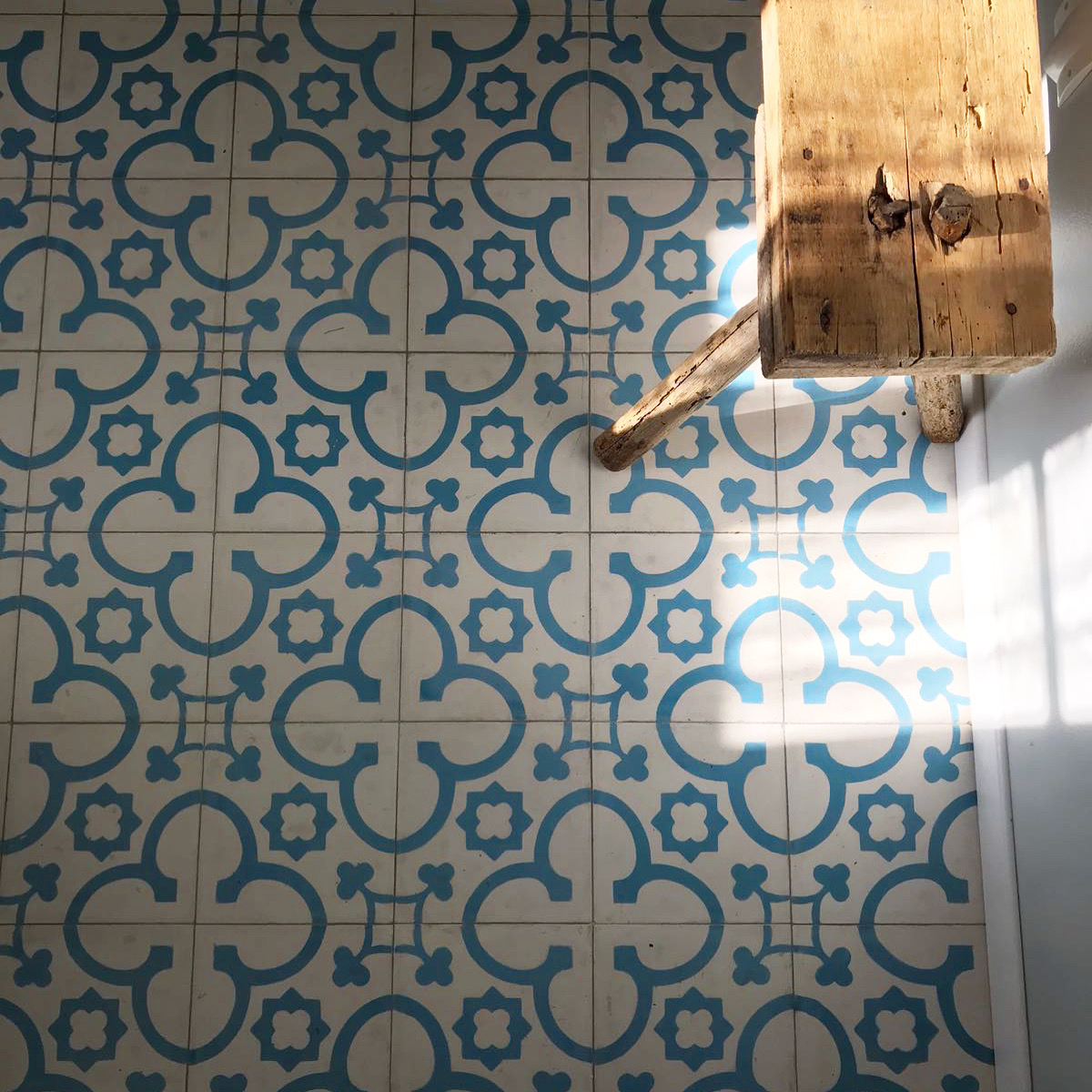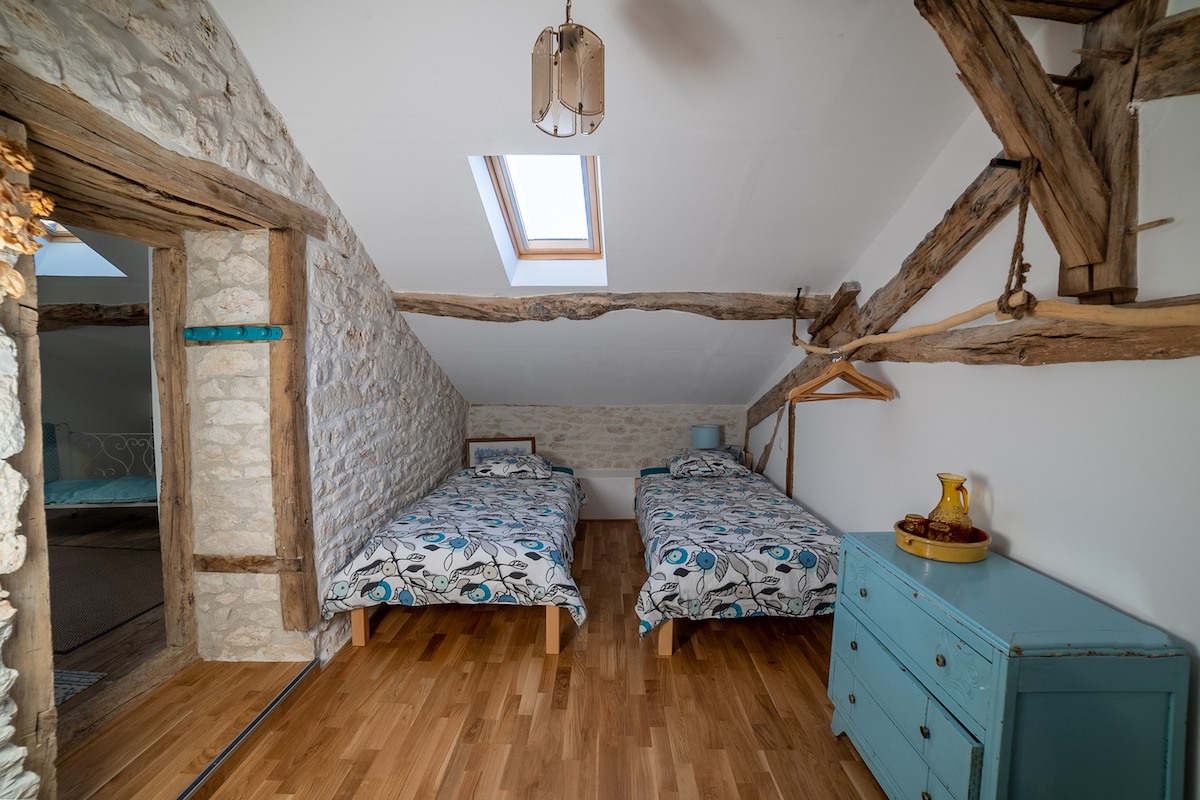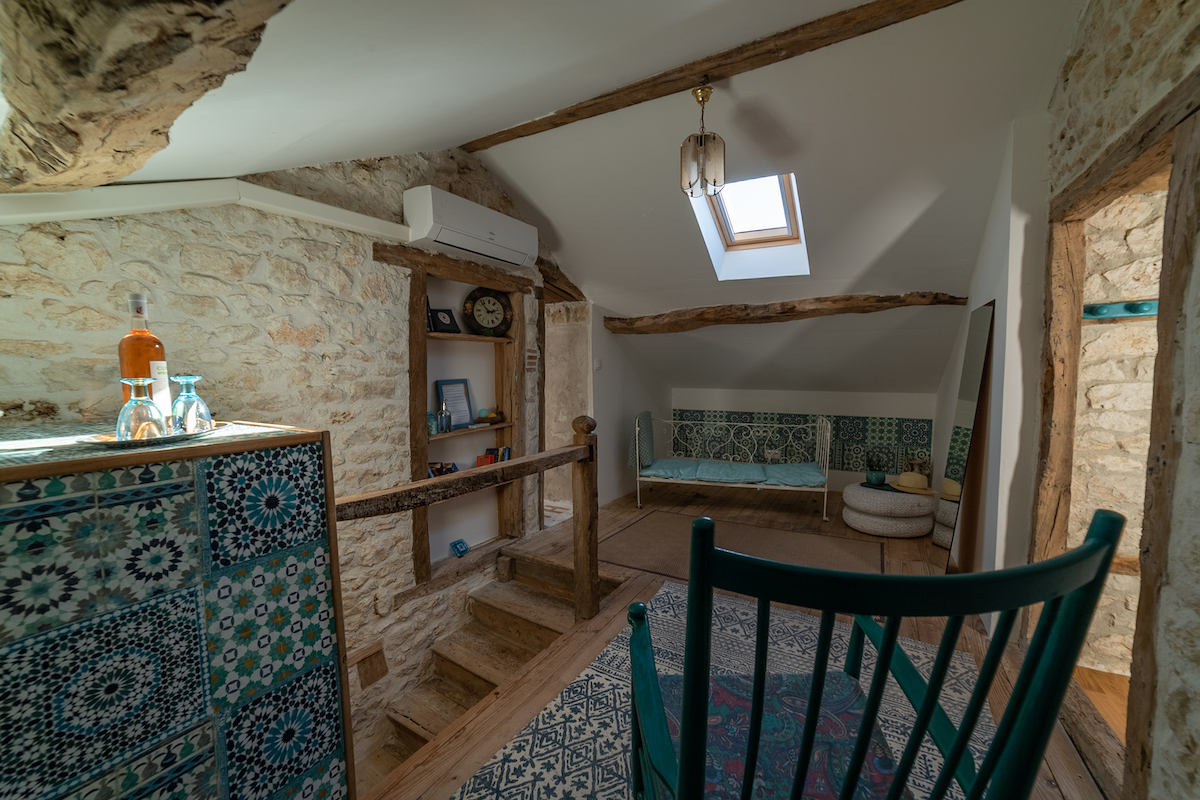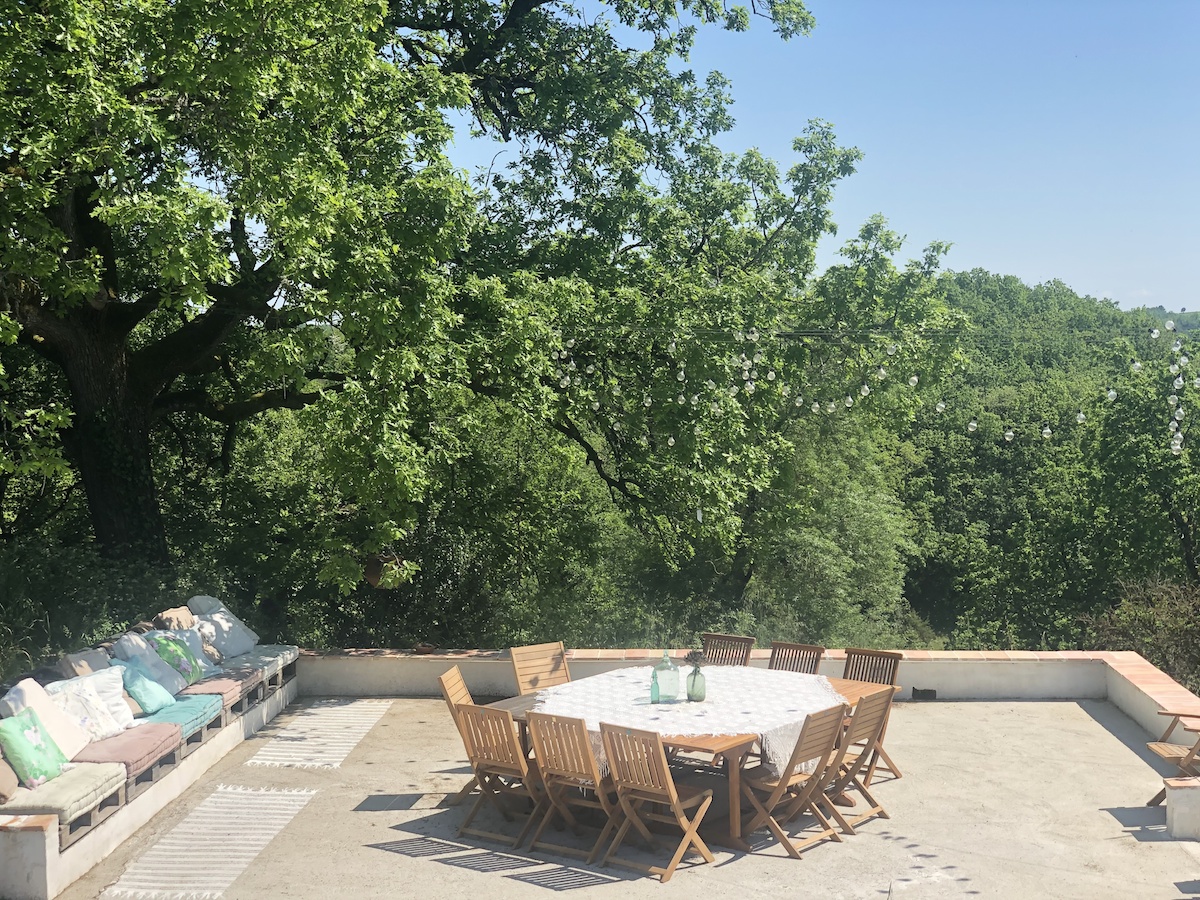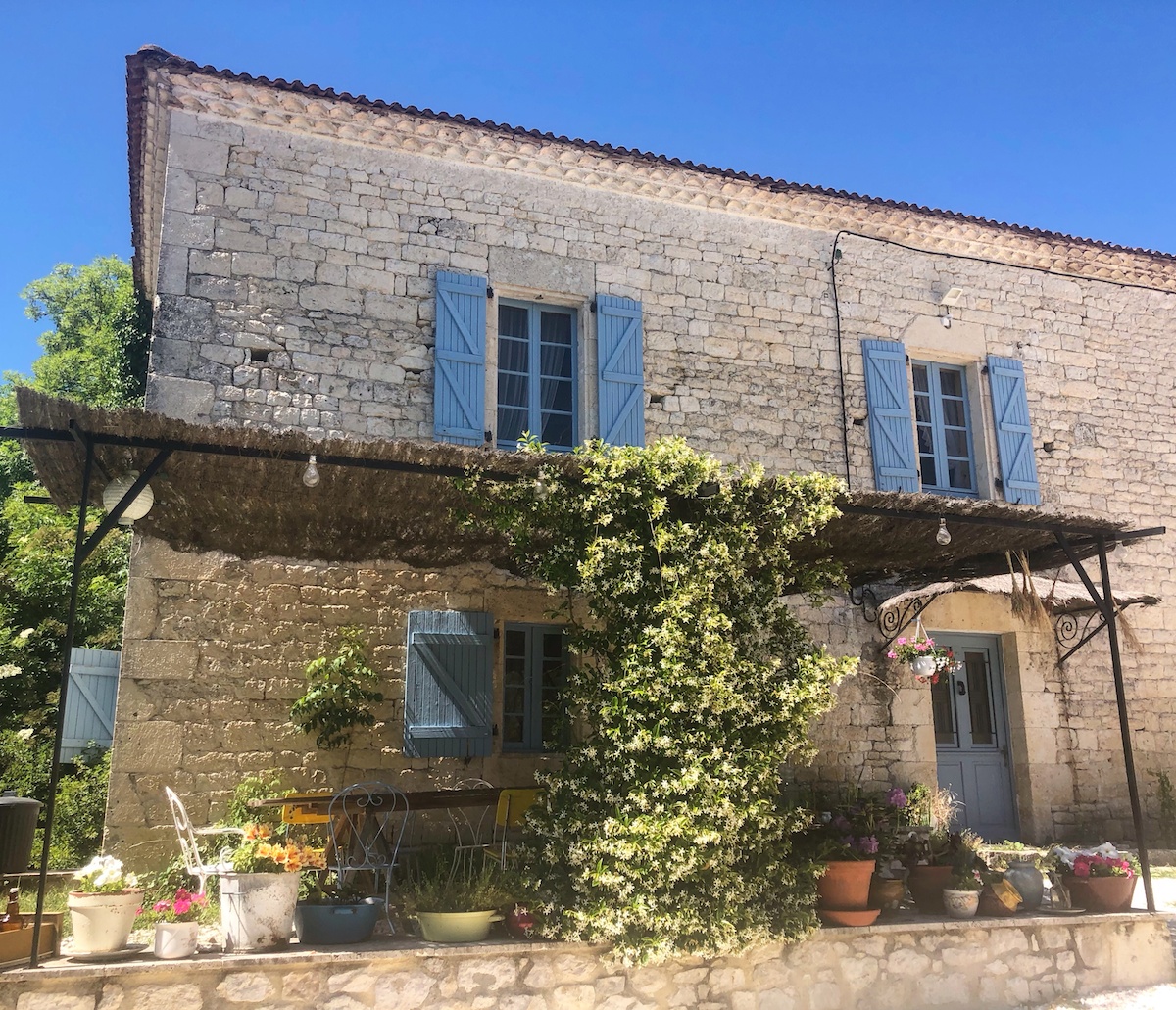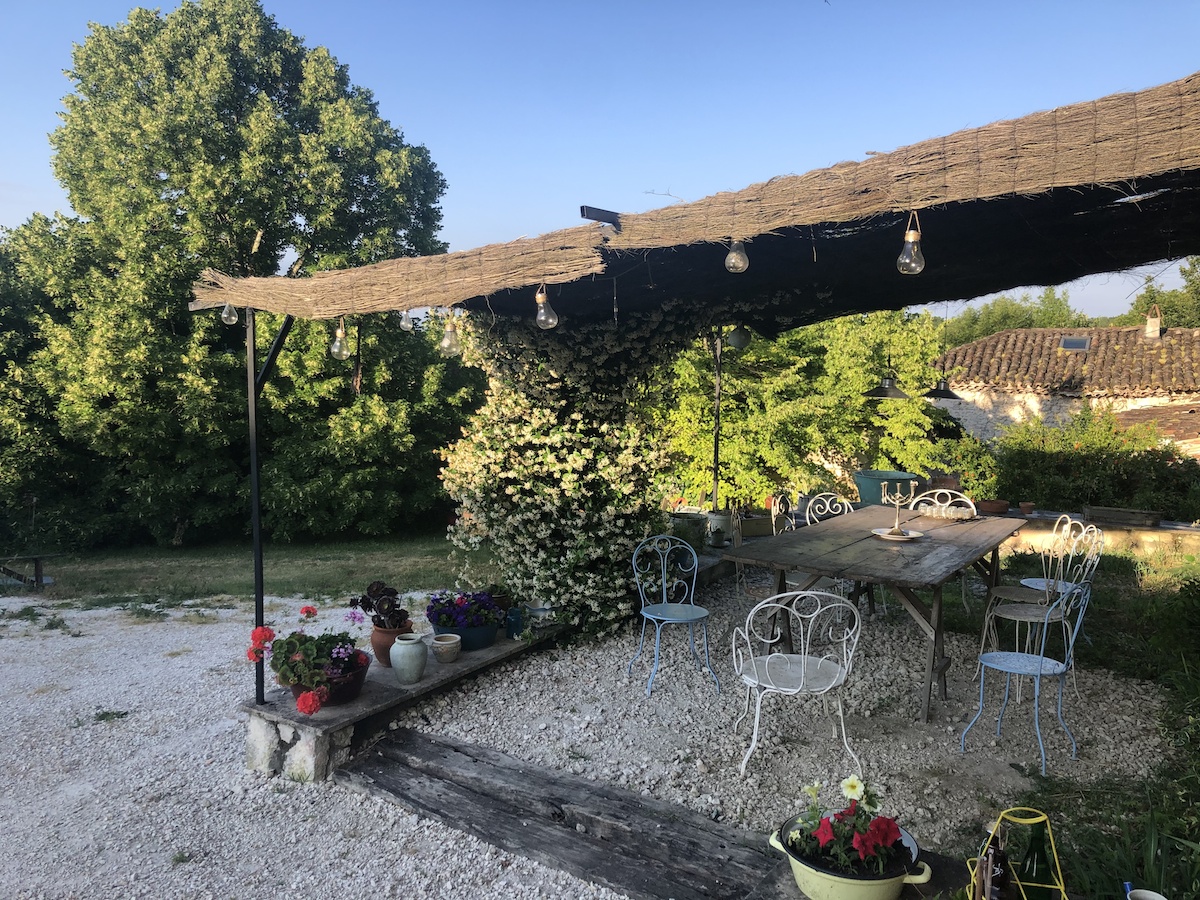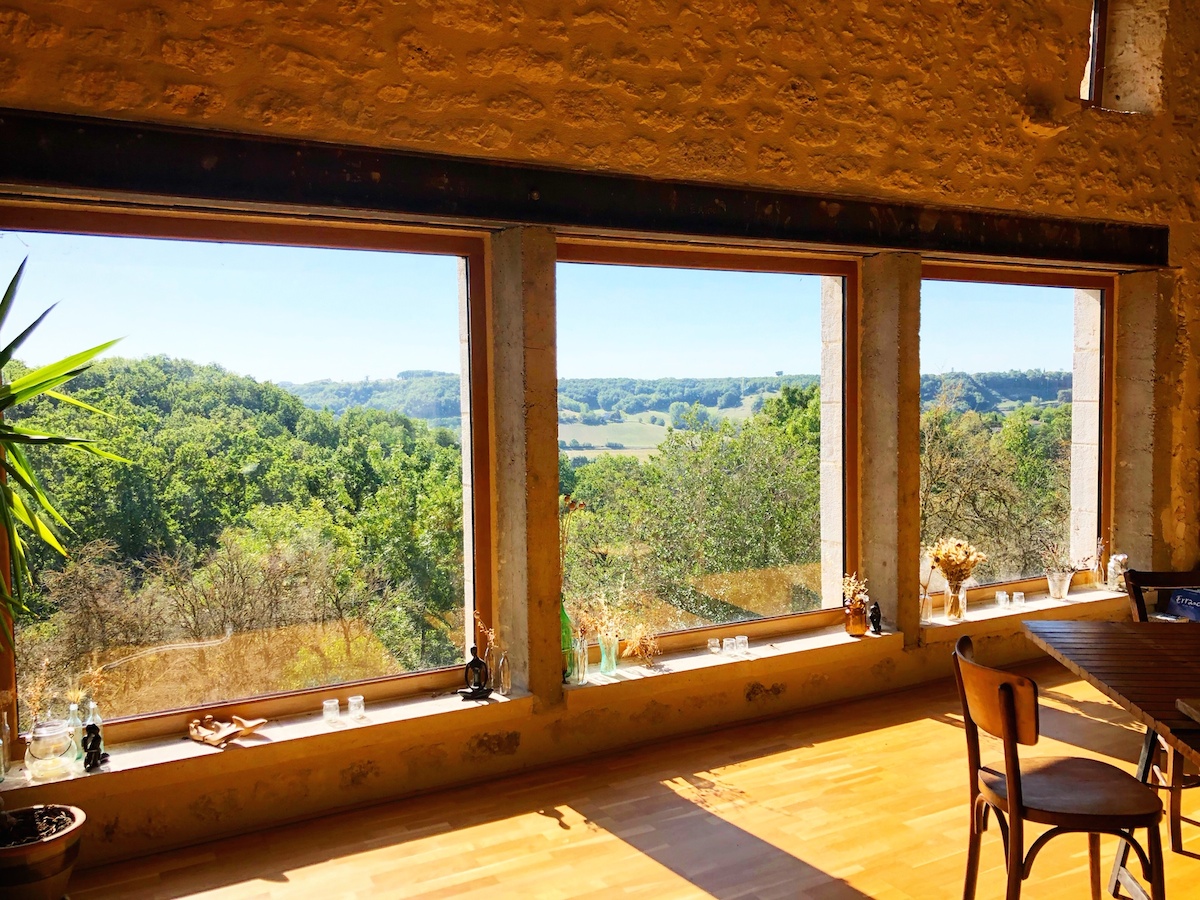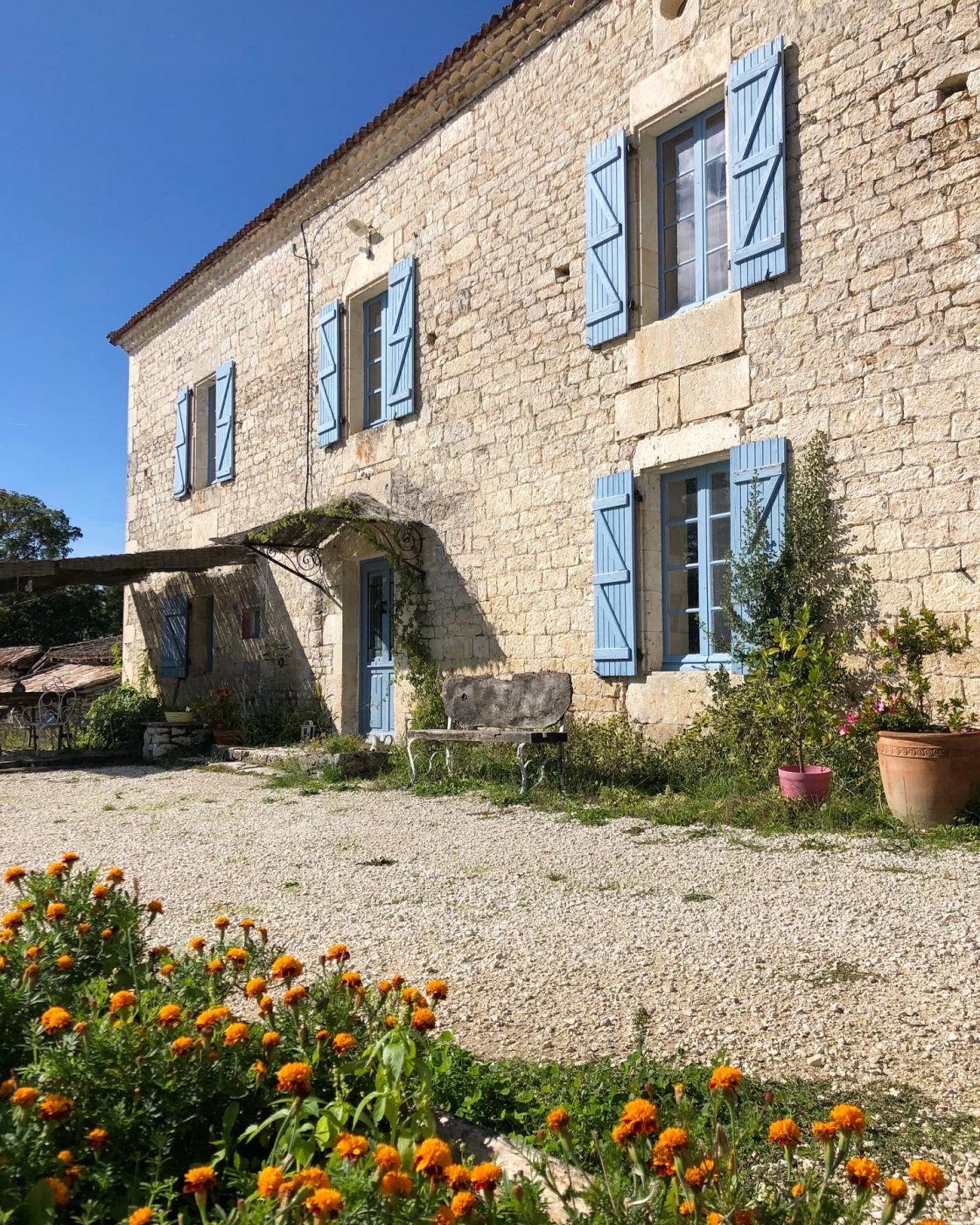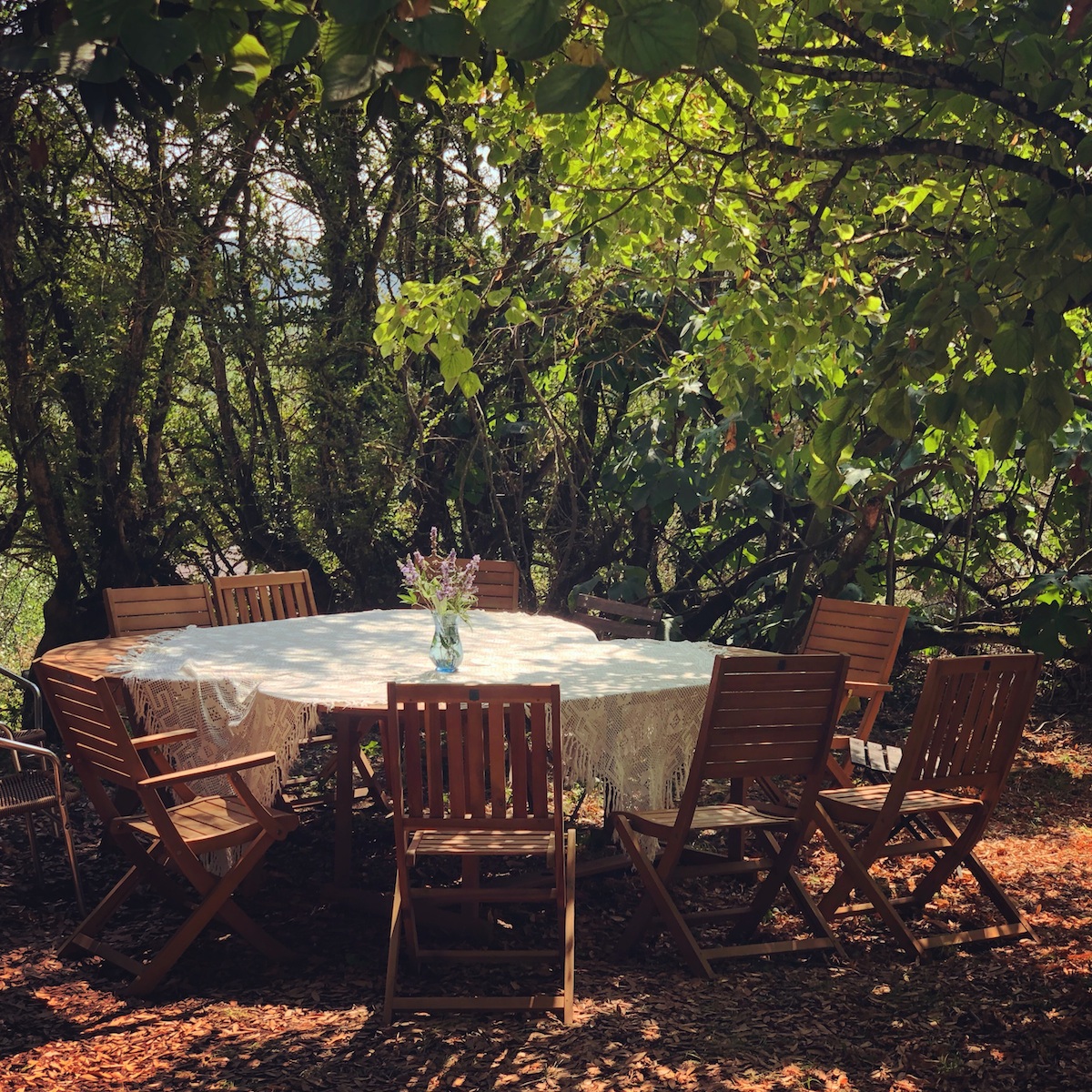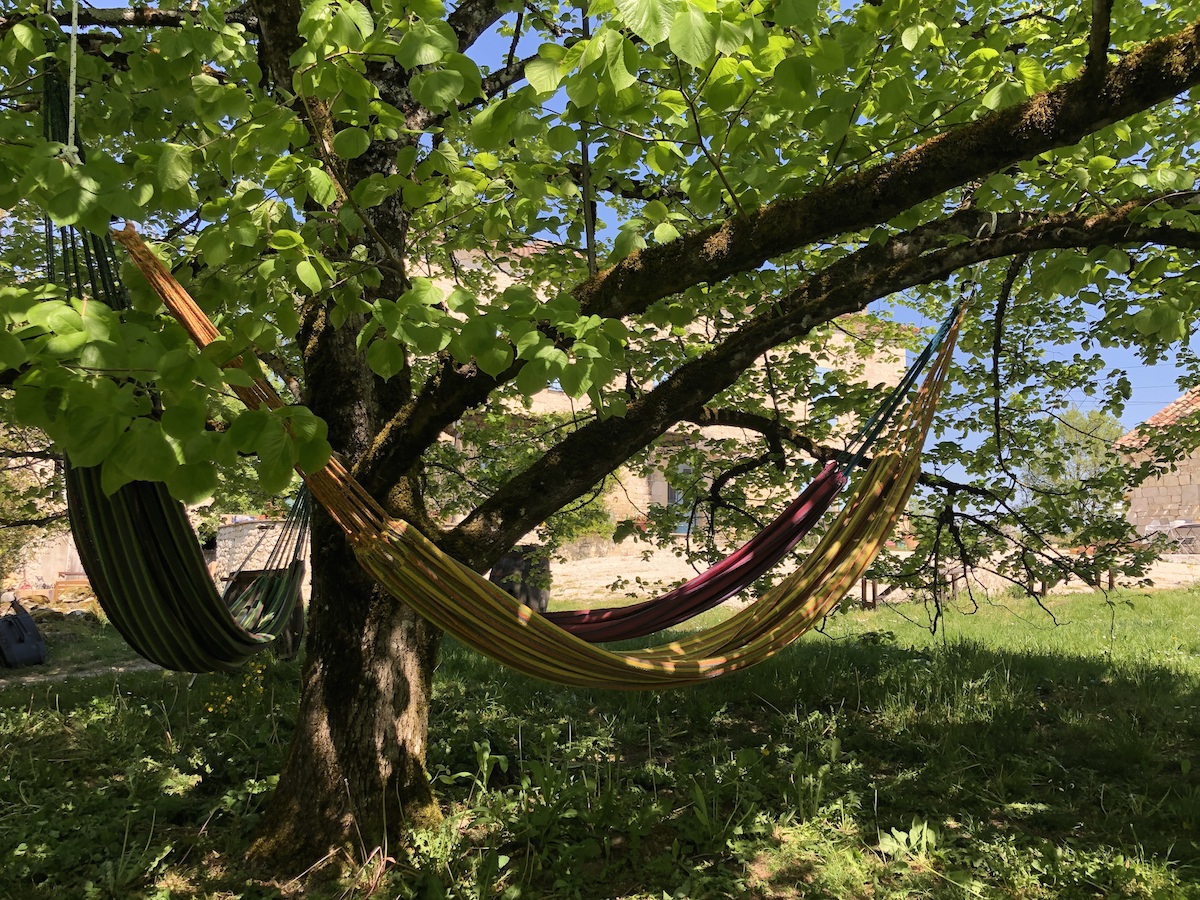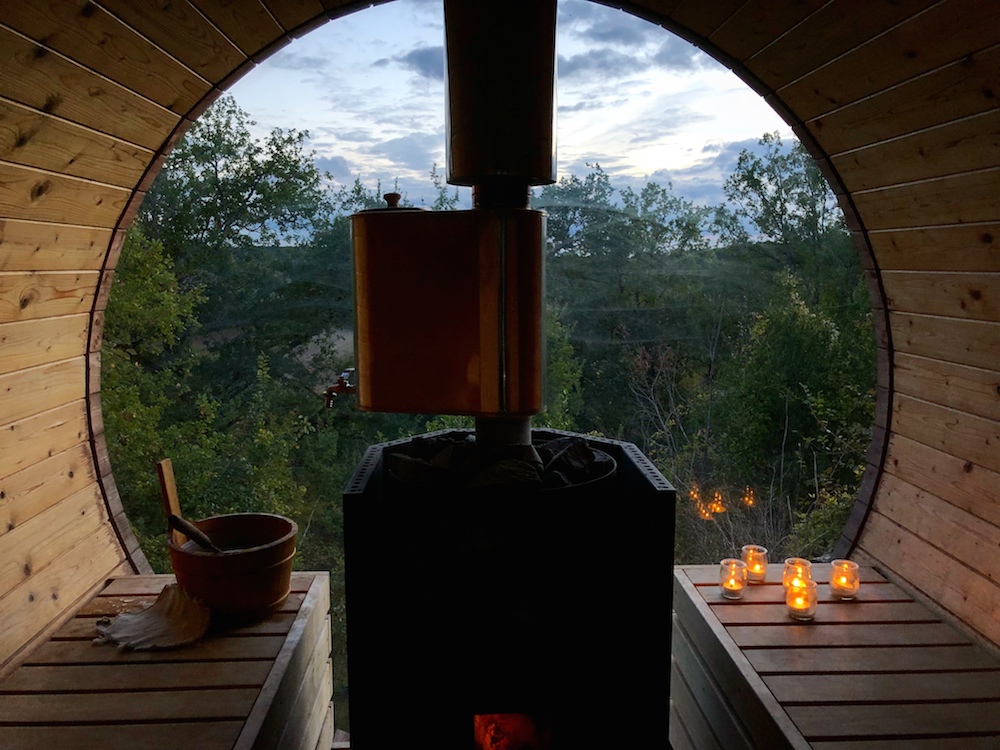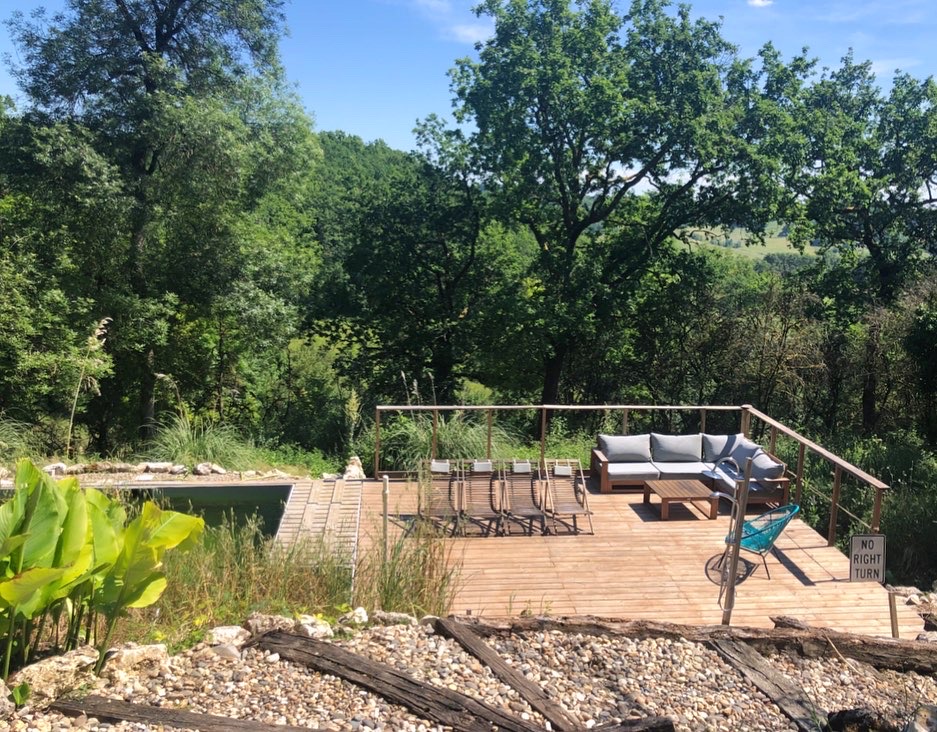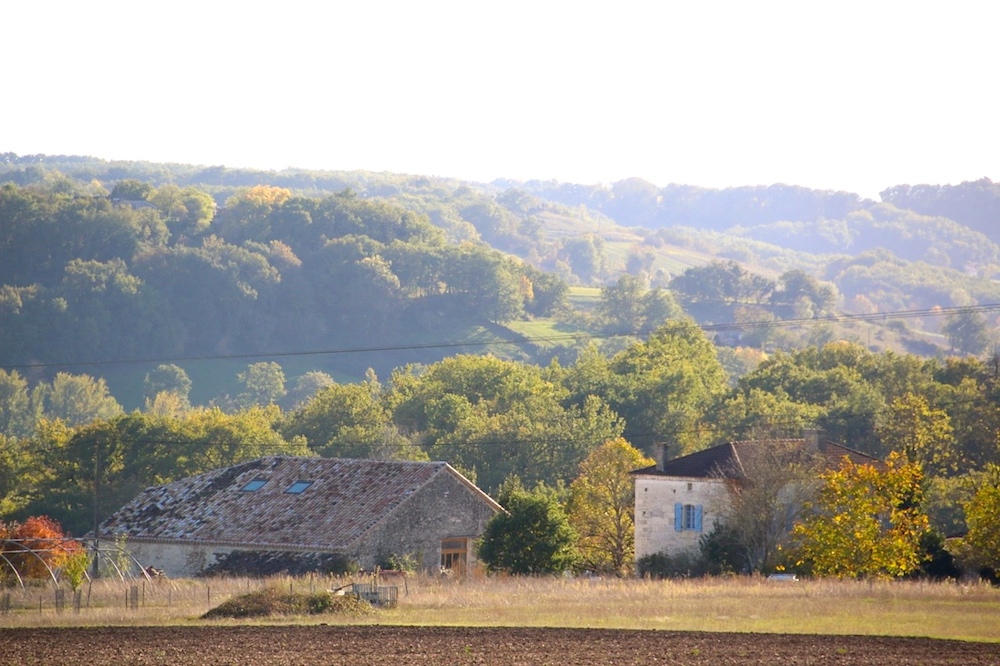 Your Home for the Stay
You will stay in the Guest House of The Happy Hamlet, which centuries ago was home for several families and now has been turned into a place for feeling good. The charming rooms (double, twin or triple) have each an ensuite bathroom with a window. The house has been renovated by preserving as much of the old as possible, yet keeping the comfort in mind. Many recycled treasures have been given new life allowing them to tell you their stories from the past.
Continue reading
The huge barn will be your lounge, salon and kitchen whenever you wish, and the vast property offers woods and prairies, fields and valleys for you to explore. With the practice, meals, discussions, other activities and visits you will surely have plenty to do, to explore and to experience. But you will certainly have your free time, too. Nothing beats the hammock under the trees for good relaxation!
At night, once in bed, you'll be guaranteed a good night's sleep because the only background noise will be the owl informing that everything is.. just fine.
See gallery for more photos of The Happy Hamlet property, the Guest House & rooms, the barn, the outdoors and more. Lovely feedback and reviews from our previous guests can be found on our testimonials page, on our Facebook, and also on Google Business and TripAdvisor .
Close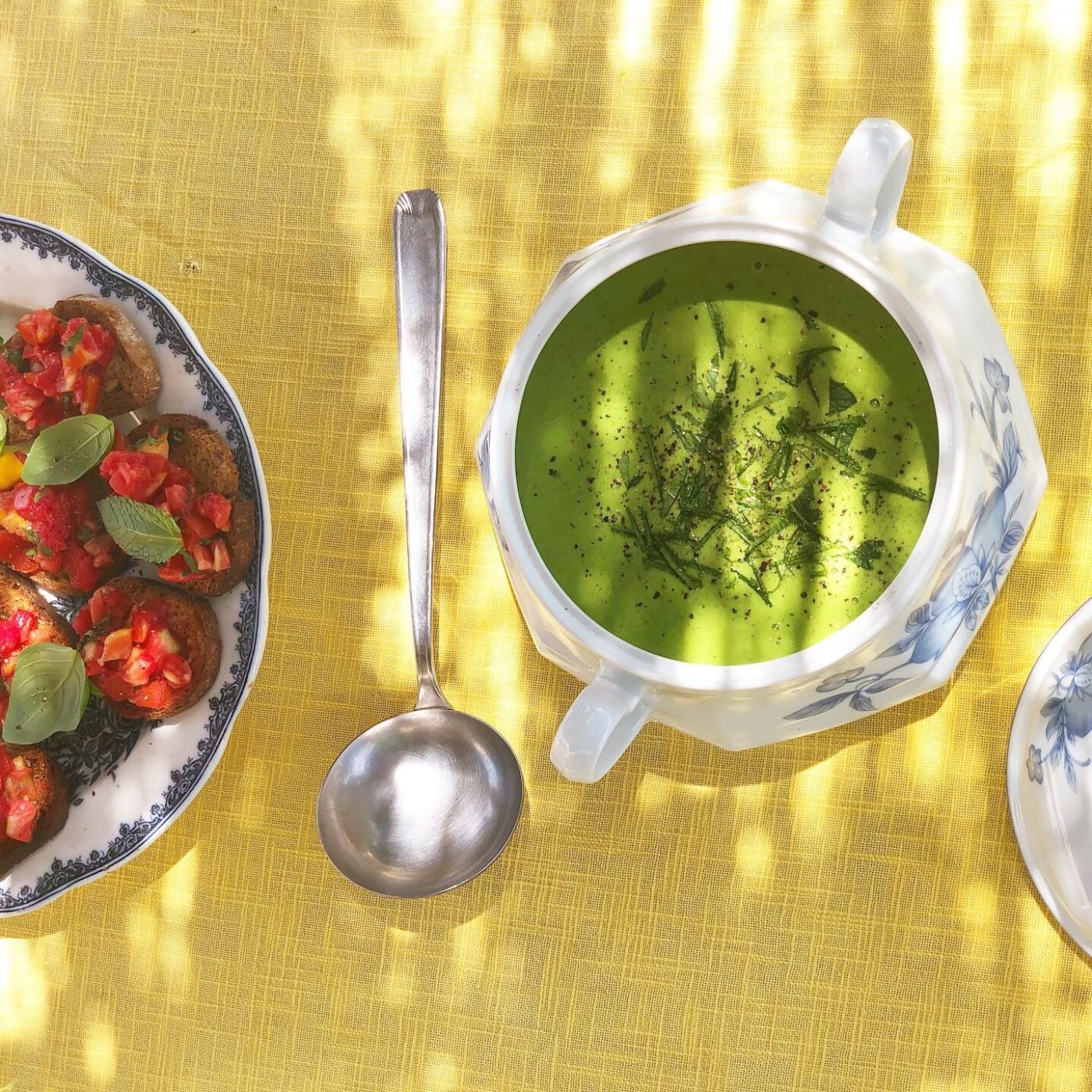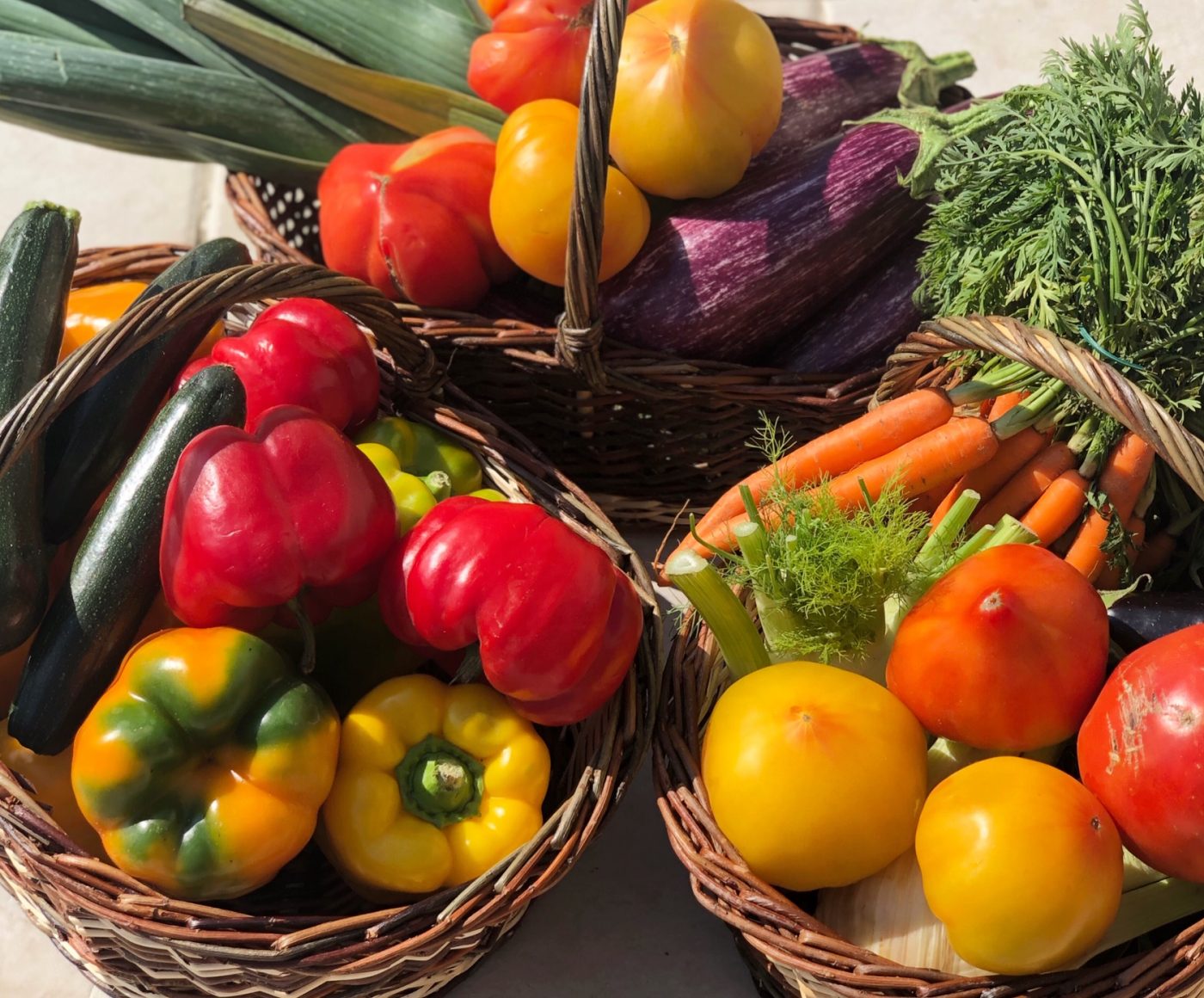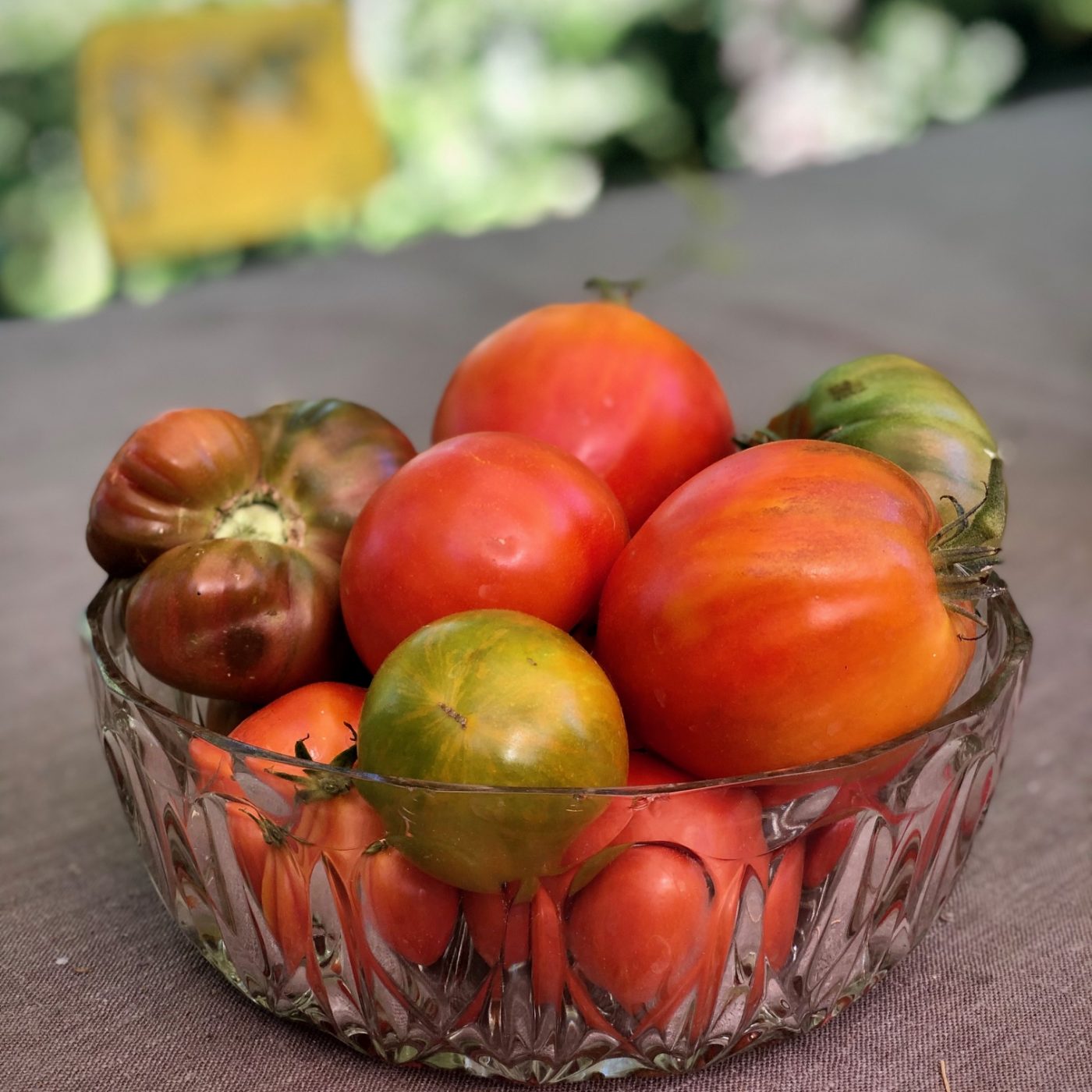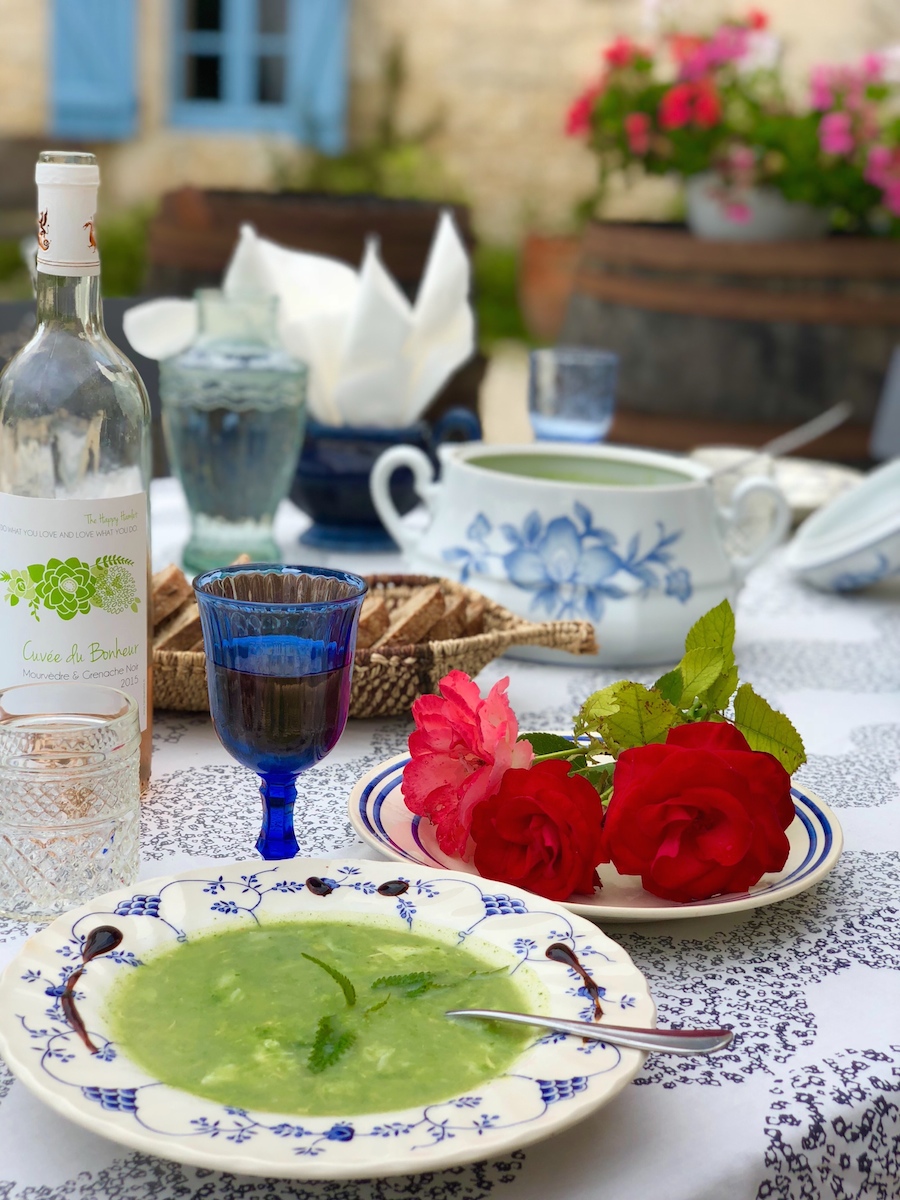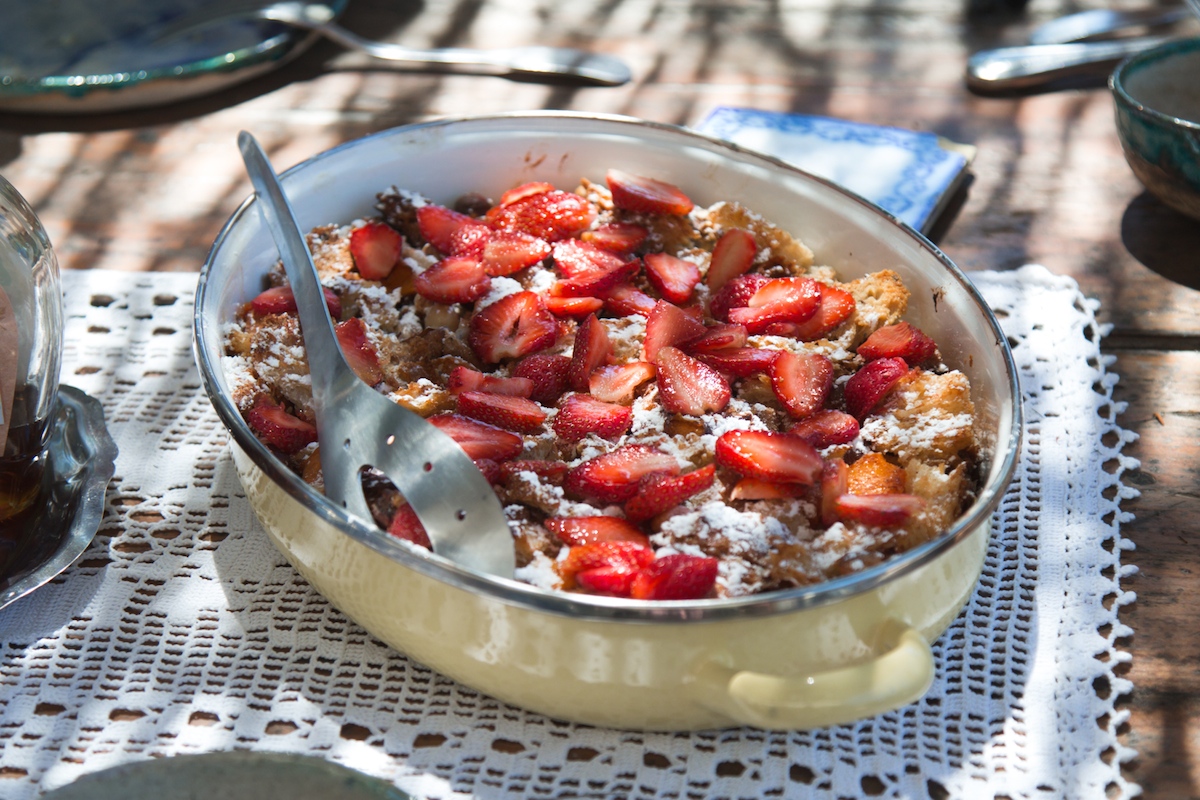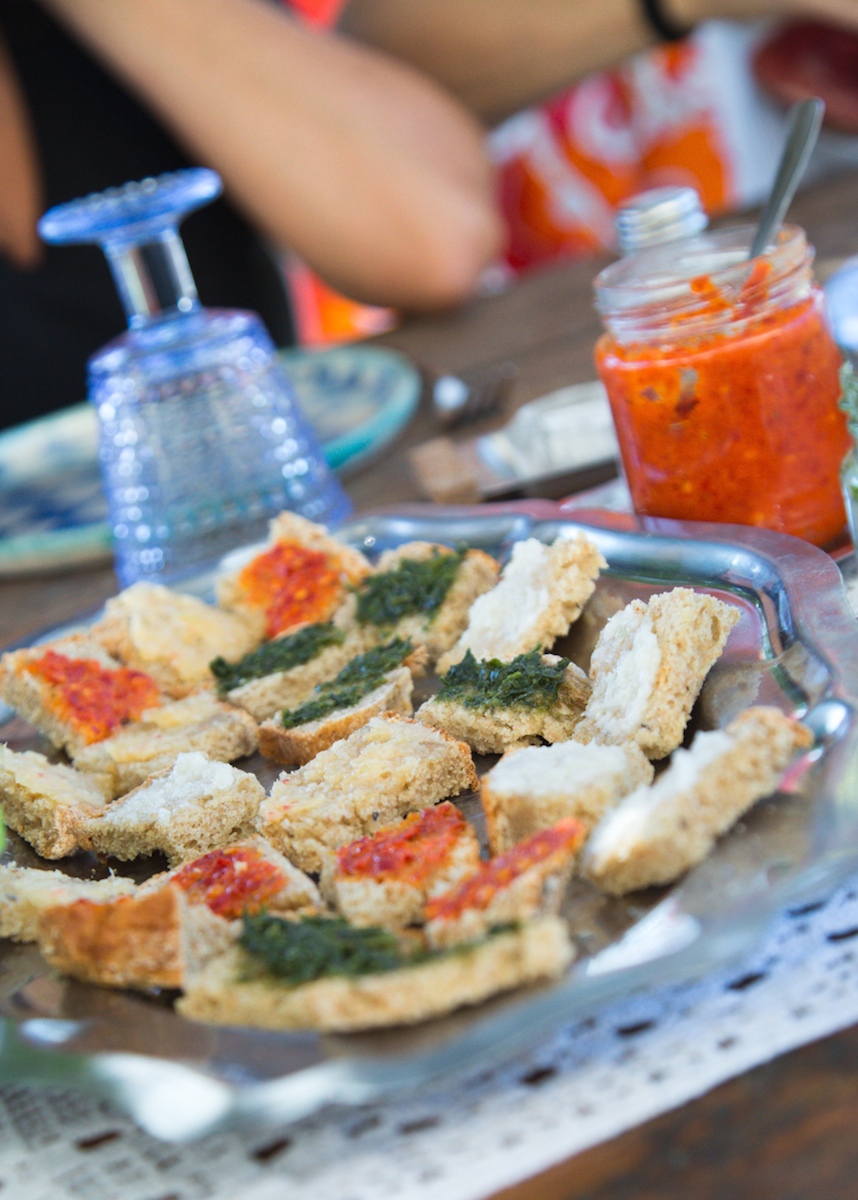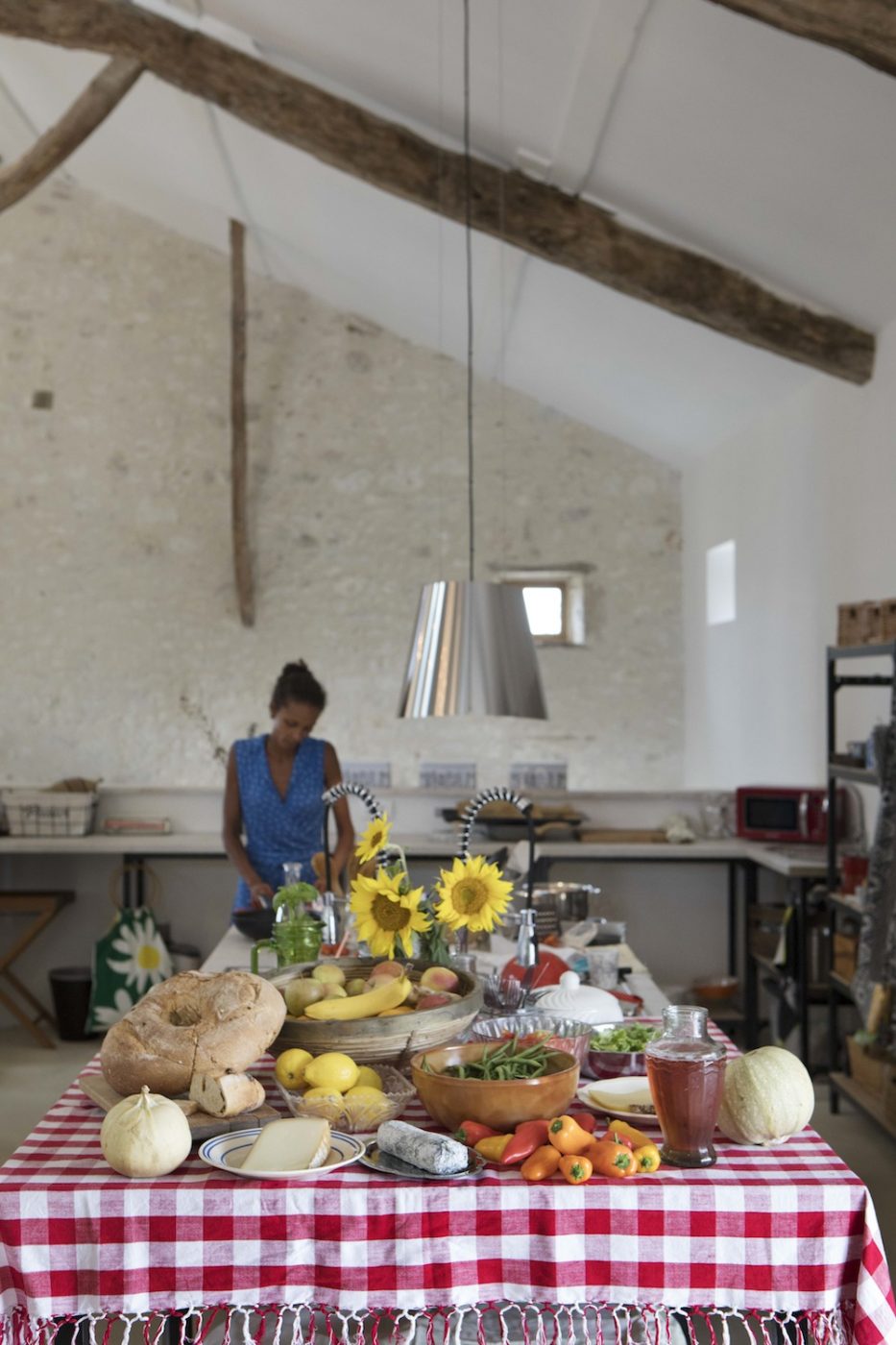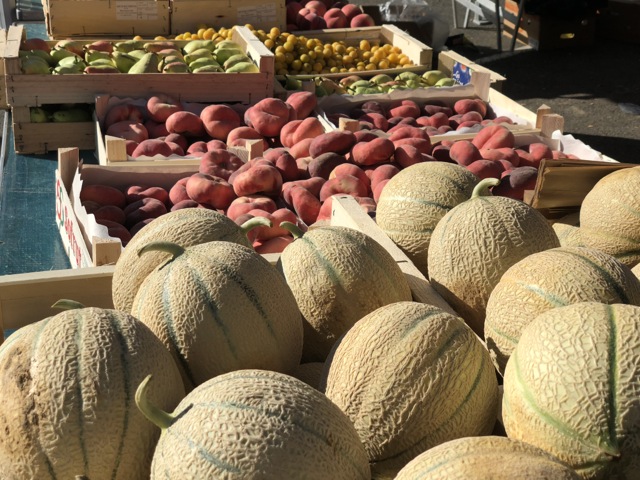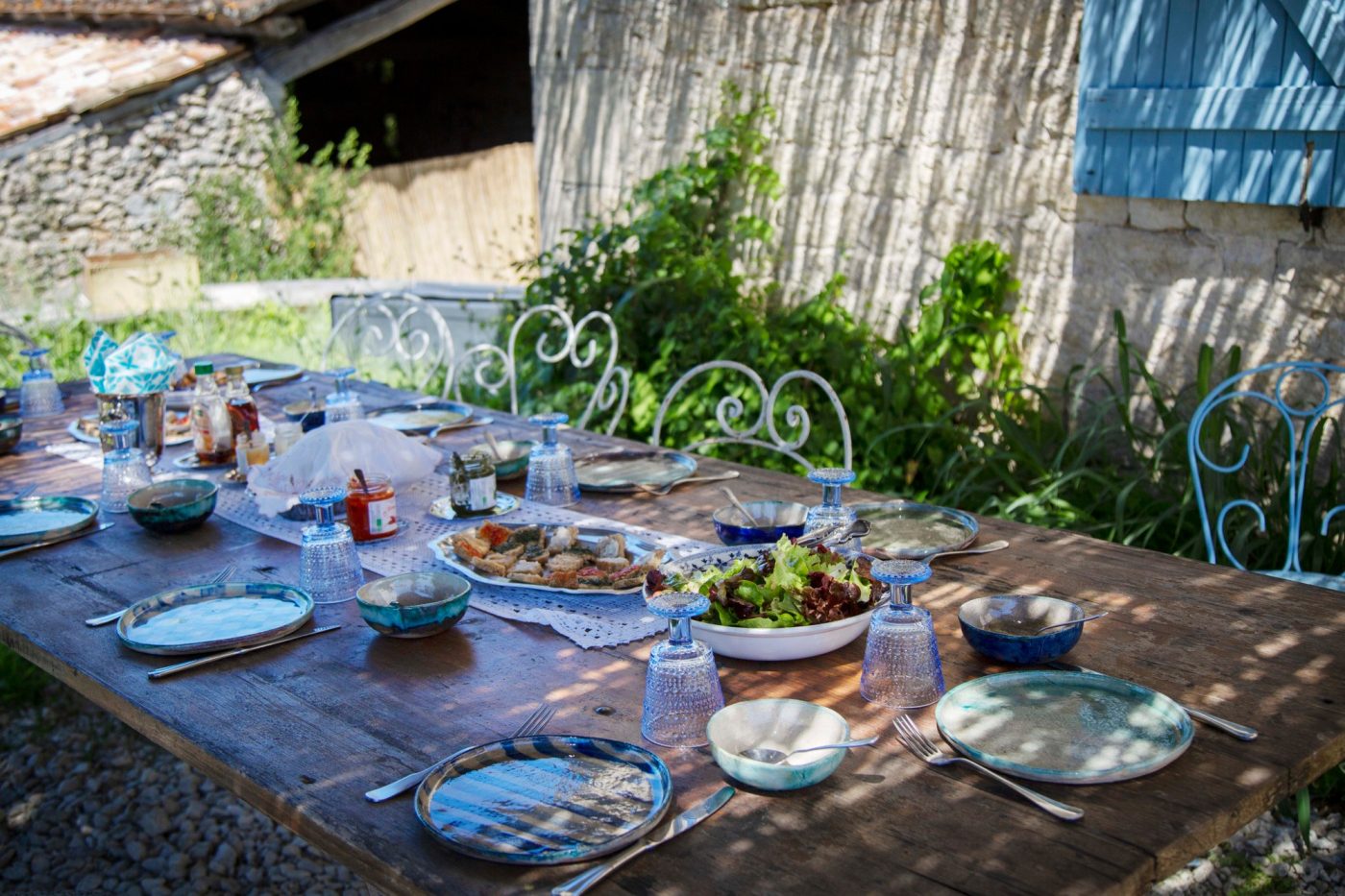 Healthy Local Food
Meals are prepared with own organic produce combined with the offering from the local farmers. You can join the "Hamleters" and visit one of the daily markets to hand-pick all the fresh goodies for a pique-nique.
The region's wine selection is impressive, and you will be able to taste and find your favorites both during the dinners as well as the visits to the vineyards.
Morning coffee/tea & fruits, brunch, dinner, snacks and all drinks are included (wines with dinner). You're really meant to feel "at home", which means that you're welcome to enjoy anything from the garden or kitchen whenever you feel like it.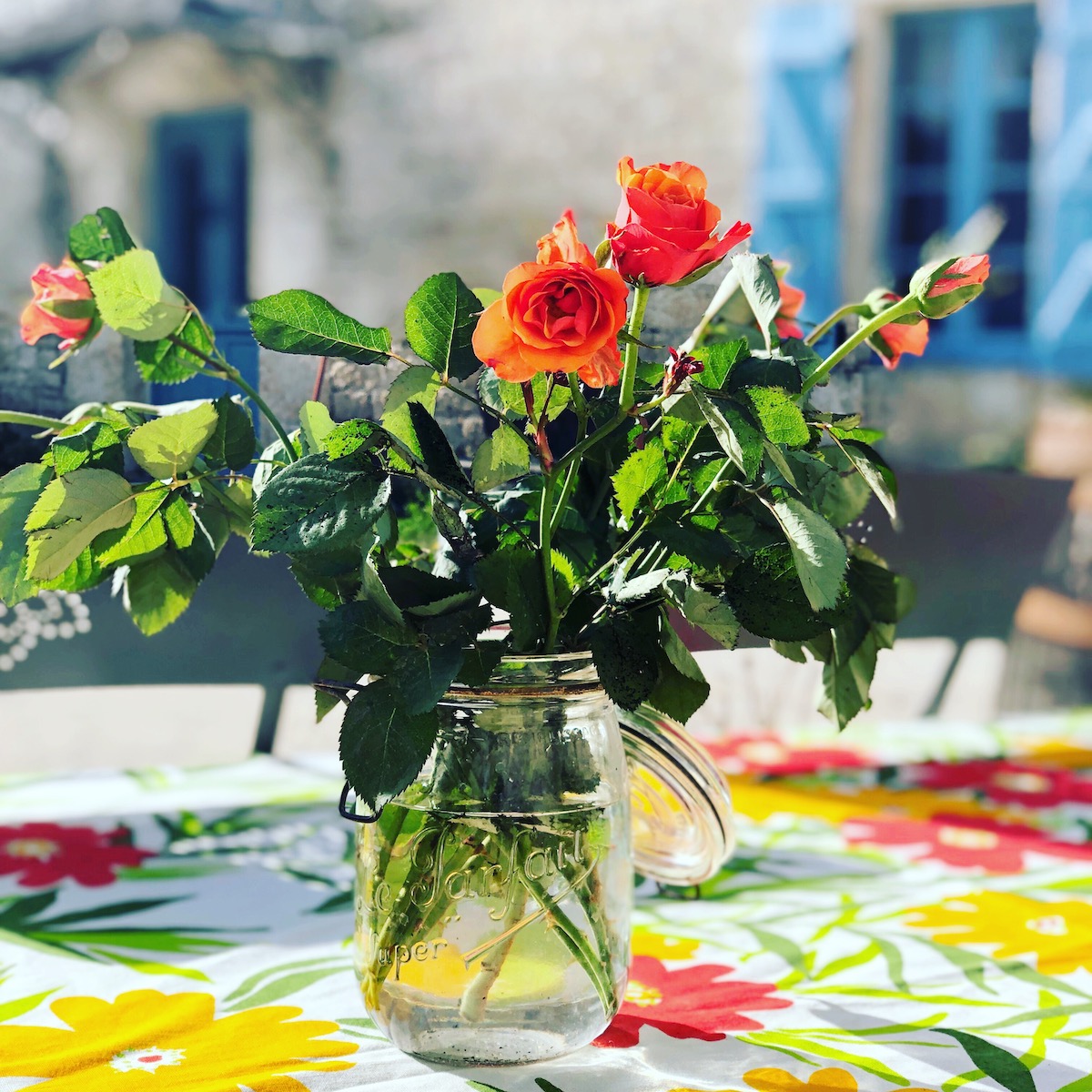 Price & Details
All-inclusive retreat cost: 1550 EUR (incl. VAT)
Included in the price:
Daily meditation, pranayama, Hatha Vinyasa classes (mornings) and Yin yoga / Yoga Pranala classes (evenings)
Sharing Circle
Accommodation (5 nights) in The Happy Hamlet guest house (twin/double or triple room, ensuite bathroom)
All meals (coffee, tea and fruit in the morning, brunch after morning practice, and dinner with wine in the evening)
Property with vast outdoors, natural pool, sauna, various sports/games equipment
Visits in the region and logistics accordingly
One bundled airport transfer from and to Toulouse-Blagnac Airport
Good mood, happy company, recharged body&mind&soul!
Please note that airfares and insurance are not included in the price.
---
Inquiries & Reservations
---
Inquiries on the classes: anukaroliinayoga@gmail.com
Details on the retreat & to reserve your spot: suska@thehappyhamlet.com
Local organiser: SARL HAPPY HAMLET, Lieu dit Gary, 82190 Fauroux, France. Please see The Happy Hamlet conditions for more details.
Please note that our cancellation policy reflects the current global situation. This means that you will get 100% of the fee refunded if you can't attend due to Coronavirus related travel restrictions (updated after your reservation) in France or your home country.
For directions, closest airports and train stations please see our Contact page.
Join the retreat Event on Facebook and follow us on Instagram to get the latest news!
Welcome! Bienvenue!